COVID-19: Bihar's ASHA Workers Die in Silence in the Face of Feigned Government Ignorance
According to Shashi Yadav, president of the ASHA Workers' Union, Bihar, at least four health workers have died during the second wave of COVID-19 while carrying out the vaccination drive.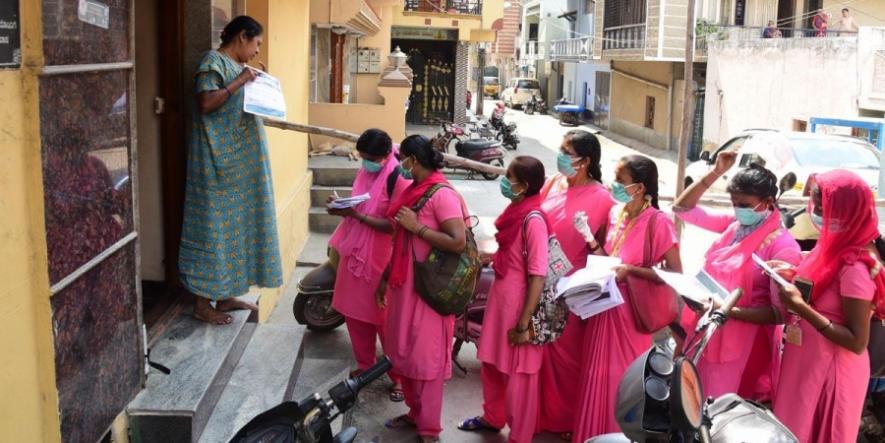 Representational Image. Image Courtesy: New Indian Express
Accredited Social Health Activists (ASHA) in Bihar are battling an existential crisis amid the second wave of the COVID-19 pandemic. With more than a lakh active cases, Bihar is suffering from a dearth of resources to fight a pandemic where front-line health workers are in caught between the devil and the deep blue sea – an insensitive state government and the life threatening COVID-19. The fatigued fraternity of front-line health workers has been stretched beyond measure with state negligence costing lives.
The second COVID-19 wave has seen four ASHA workers losing their lives within a span of 10 days. Two ASHA workers in Banka and one each in Muzaffarpur and Munger are among those who lost to the deadly pandemic.
The 89,437 strong ASHA workforce in the state is on its toes bringing public health facilities to the doorsteps of rural households amid a nationwide spike in cases.
Veena Kumari (45), a health worker in Minapur block of Muzaffarpur district, lost her life on April 26. A wave of grief gripped her village of Ghosaut within minutes of her demise. After an entire day spent in an uninterrupted vaccination drive in villages, she succumbed to COVID-19 at night. Known for her can-do attitude, Veena lost her life on duty serving the rural masses. No concrete help has reached her family during this time, alleged block-level ASHA Workers' Union leader Kavita Devi.
As per Kavita Devi (40), an ASHA worker based in the same block, workers in Bihar are scapegoats during this crisis. They are made to face hardships despite their efforts. The Minapur Primary Health Centre (PHC) in-charge informed Newsclick that ASHAs left no stone unturned in ‌playing ‌a ‌dual‌ ‌role. ‌They ‌spread ‌information ‌about‌ ‌the‌ ‌vaccine ‌and addressed the ‌reservations‌ ‌that the rural masses‌ ‌might‌ ‌have‌ ‌about‌ ‌the ‌jab.
However, she unequivocally condemned the "ungratefulness" of the state health department in not recognising their diligent efforts by not raising their honorarium and extending social benefits. ‌A‌ ‌year‌ ‌on,‌ ‌those like Kavita ‌are‌ ‌still‌ ‌waiting‌ ‌for‌ ‌the‌ ‌extra remuneration ‌promised‌ ‌to‌ them‌ ‌for‌ ‌COVID-19‌ ‌duty. The Ministry of Health and Family Welfare had, in an April 2020 order, directed states to ensure ASHA workers got additional incentives for COVID-19 related work and that they be provided with safety equipment to carry on with their duties.
According to Muzaffarpur's district immunisation officer Dr. Shiv Shankar, the vaccination drive is taking place in phases following SOPs. He denied the overburdening of ASHA workers, saying the drive was most necessary amid the pandemic. He pointed that the state health department and state government were authorised bodies to comment on remuneration.
Poonam Marandi (45), another ASHA based in Chandan block in Banka district, died while on duty. She was coordinating the vaccination drive between panchayats and the Chandan Community Health Centre (CHC) in addition to immunisation for Kala-azar. On April 16, while on field visit, she felt fatigued and was admitted to Katoria Referral Hospital and died during the night, said Purshottam Kumar Thakur, a vaccine courier worker designated to dispatch vaccines from PHCs to health sub-centres in villages.
His wife Poonam Kumari, a co-worker of Marandi, told Newsclick that front-line health workers had "remained prompt from day one of the COVID-19 pandemic, but regular honorariums and expecting COVID incentives is a distant dream. I'm owed 16 months of payment by the health department which is a severe blow to my family's financial condition." Reeta Kumari (35) based in Kumarkhand, Madhepura, has sought social benefits on several occasions and also awaits a pending payment for seven months.
The demise of ASHA worker Suman in Munger was hushed up because the Tarapur Primary Health Centre (PHC) officials did not react to her sudden death, that too during work hours. She was deputed to Tarapur PHC and died on April 11, according to her husband Santosh Kumar. He alleged that there had been no outreach by the district administration for any sort of compensation as is the case for front-line health workers who succumbed to COVID-19.
‌Front-line health workers largely believe that the additional‌ ‌COVID-19 ‌vaccine‌ ‌targets‌ may‌ ‌put a strain‌ ‌on the‌ ‌current‌ly ongoing‌ Kala-azar and Japanese Encephalitis immunisation‌ ‌programme‌ as‌ ‌well‌ ‌as‌ ‌mother-child‌ ‌programmes ‌which‌ ‌are‌ ‌largely‌ ‌dependent‌ ‌on‌ ‌the‌ ‌ASHA‌ ‌workers‌ ‌and‌ ANMs‌ ‌(Auxillary‌ ‌Nursery‌ ‌Midwives).‌ But the unavailability of vaccines in the state has halted the drive.
Meanwhile, the state health department seems to be indifferent to the challenges faced by ASHA workers in the state. An official from the state health department who requested anonymity claimed there was no information on deaths of front-line health workers during the pandemic.
‌‌But instances of ASHA being deprived of vaccination have also surfaced in the early weeks of April. Sarita Gaharwar (32)‌ ‌from‌ ‌Pairaiya‌ ‌Khurd‌ ‌village, Gaya‌, ‌missed‌ ‌out‌ ‌on‌ ‌‌her‌ ‌first‌ vaccination ‌shot. ‌"Other‌ ‌ASHA‌ ‌workers‌ ‌got‌ ‌their‌ ‌vaccine‌ ‌dose‌ ‌as‌ ‌the‌ ‌PHC‌ ‌officer‌ ‌had‌ ‌sent‌ ‌them‌ ‌an‌ ‌SMS.‌ ‌The‌ message‌ ‌never‌ ‌reached‌ ‌me," said Gaharwar‌. ‌She is also ‌worried‌ about‌ ‌the‌ non-‌payment‌ of COVID-19 ‌duty remuneration ‌but‌ added ‌that‌ ‌irrespective‌ ‌of‌ ‌that ‌she‌ ‌would‌ ‌continue‌ ‌to‌ ‌put‌ in‌ ‌her‌ ‌time‌ ‌(and‌ ‌perhaps‌ ‌money)‌ ‌to‌ ‌serve‌ ‌the‌ ‌community‌ ‌during this health crisis.
According to Shashi Yadav, president of ASHA Workers' Union, Bihar, at least four health workers have died during the second wave of COVID-19 while carrying out the vaccination drive. She claimed that state health department has ignored their requests for details of those (ASHA) who lost lives amid the pandemic. Written pleas to the health minister and the CM also stand unanswered. ASHA workers have been persistent in their demand for Rs 10,000 as honorarium and state employee status to ASHA facilitators over the past few years, but none have paid heed to it. Despite several protests at PHCs across Bihar, the government has turned a deaf ear to their demands.
Just last month, slogans of ek hazaar mein dum nahi, Ikkis hazaar masik manday se kam nahi (Rs 1000 is not enough, we won't settle for less than 21,000 rupees as monthly honorarium) resonated at Patna's Gardanibagh during a Mahadharna by ASHA workers.
In a recent move, the All India Scheme Workers Federation (that includes ASHA, Auxillary Nurse Midwife and Mid Day Meal workers) wrote to Prime Minister and Health Minister demanding an insurance cover of Rs 50 lakh, health insurance of Rs 10 lakh, Rs. 10,000 monthly honorarium and beds reserved in hospitals for front-line health workers. The demand came against unfulfilled claims made by the state minister for health Ashwini Choubey in a reply to the Lok Sabha last year where he said ASHAs are receiving benefits of life insurance, accident insurance and pension.
As per data from ASHA unions, the beneficiary count of the above-mentioned accident insurance is only 330; they received an ex-gratia of Rs four lakh, contrary to the Centre's lofty claims.
Aside from unfulfilled promises by the government on insurance and pandemic incentives, ASHAs are working devoid of basic preventive measures such as sanitisers, masks, gloves and PPE kits. Samastipur PHC's ASHA facilitator underwent an RT-PCR test and has been awaiting a report for five days without any institutional support from PHC.
The writer is a freelance journalist based in Bihar.
Get the latest reports & analysis with people's perspective on Protests, movements & deep analytical videos, discussions of the current affairs in your Telegram app. Subscribe to NewsClick's Telegram channel & get Real-Time updates on stories, as they get published on our website.
Subscribe Newsclick On Telegram