COVID-19: Cases Reach New High in J&K as Restrictions Ease
In the wake of increased counter-insurgency operations against militants, maintaining social distancing and avoiding large gathering in Kashmir has been a challenge even as the authorities have enforced strict norms for people to follow.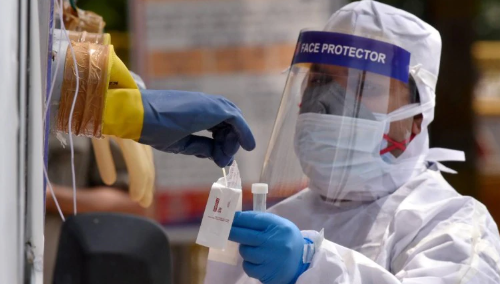 Representational Image. Image Courtesy: PTI
Srinagar: In the last two days, the union territory of Jammu and Kashmir has reported the highest single-day spikes in the number of positive cases and deaths due to COVID-19, more than two months after the first case was reported from the region. The spike comes at a time when the administration has slowly begun to ease restrictions, however, health experts warn there can be a sudden explosion in the number of cases especially in Kashmir valley.
As many as 12 deaths and around 1,000 fresh positive cases of COVID-19 were reported in Kashmir within 72 hours taking the total number of positive cases in the UT to 4,285. According to the official media bulletin on COVID-19, out of these 4,285 cases, 2,916 are active, 1,324 have recovered and 48 have died so far. Out of 48, 40 deaths have occurred in Kashmir division.
Even as the district administrations have not ended the lockdown, easing of restrictions has resulted in people thronging the markets and public spaces raising concerns. The traffic on the roads has increased significantly although all public transport services have still not been allowed to operate. The healthcare professionals told NewsClick that the spike in the number of cases is a result of community transmission and disregard for administrative directives amid increased violence during severe lockdown for over two months.
Also read: Destroying Houses in Kashmir: A Collective Punishment
Dr Adil Ashraf of Sher e Kashmir Institute of Medical Sciences (SKIMS) which is a designated COVID-19 hospital, said that people are not taking the advisories "seriously." "People think these restrictions are like hartal and curfew. They need to understand public gatherings have to be avoided for months to come. It is dangerous indicator," Dr Adil said. 
Deputy Commissioner of Srinagar Shahid Choudhary told NewsClick that the administration had to clarify that the lockdown did not end as people misunderstood the relaxation in several sectors like industries as the end of restrictions. 
"It is creating serious impediments for us as restrictions have not been lifted. Our orders dated June 1 and June 8 clearly mention the rules but, many are using the word unlock which is not true," DC Shahid said. 
Over 230 pregnant women have contracted the disease and in South Kashmir's Anantnag alone, as many as three women have died due to medical negligence. The residents accused the authorities of mismanagement within quarantine centres and inside hospitals while healthcare professionals are urging for a change in norms and SOPs. 
"So many positives detected each day.. where r v going to keep them... and their families/contacts ... do v have to alter our strategy ... testing and quarantine (sic)," Professor & Head CD Hospital Dr Naved Shah wrote on Twitter after he tested positive for COVID-19. 
Currently, even the asymptomatic positive cases are kept under institutional quarantine which the doctors say is putting an unnecessary burden on the infrastructure, something that will impact the response when the cases will peak in the region. The peak in the cases, they say, is yet to happen. But, even before that healthcare professionals say the infrastructure is almost exhausted. 
"The hospitals are filled and most COVID-19 cases that are stable should be home quarantined. There is no need to put the asymptomatic cases in quarantine facilities when they can be managed at home. Then they can be monitored periodically on phone," Dr Adil said. 
Even as the authorities have enforced strict norms for people to follow, maintaining social distancing and avoiding large gathering in Kashmir has been a challenge especially in the wake of counter-insurgency operations against militants. 
Also read: Over Dozen Homes Burned, More Looted During Nawakadal Encounter, Allege Residents
In the last two weeks, J&K police chief Dilbagh Singh said as many as 22 terrorists have been killed, nine of them in the last two days in Shopian district alone where over 130 positive cases have been reported so far. In almost all the operations that ended with the killing of militants in the region, residents have flocked to encounter sites to help families losing homes in the gunfight and also express solidarity with the families of the militants. 
Not just in South Kashmir, following the Nawakadal encounter in Srinagar in which two militants were killed and over a dozen families left homeless in the firing from government forces, hundreds of residents had gathered at the encounter site for days. In the backdrop of these incidents, healthcare experts warn, people are becoming indifferent to administrative SOPs and social distancing norms. 
"The violence in the region and its impact has seemingly outweighed people's response to the pandemic. This has created a strange response from people who are looking at the ease of restriction in that backdrop and not as a precautionary measure against the pandemic," a healthcare professional, who requested anonymity, said. 
Experts had earlier warned about a spike in cases as restrictions would ease. However, there is also a fear that the stringent lockdown could result in a fatigue that would overwhelm the fear of pandemic among the people, more so in the absence of any relief from violence.
"Even as our mortality rate is much less at 1%, we cannot afford to lower guard especially when we have entered the phase of community transmission," a consultant for anesthesia with the Health Department, Dr Masood Rashid said. 
Both Dr Adil and Dr Masood said the policies and administrative SOPs need to be upgraded regularly as per the situation and community responses on the ground. 
"The risk and the response varies on community levels and with different social realities. We need to be in a constant phase of reviews and mapping," Dr Masood told NewsClick. 
The disregard for administrative guidelines also comes in the absence of a political structure in J&K which has made bureaucracy all powerful and unaccountable before common masses. There is no interface between the people and power structure, which has only amplified the sufferings of people especially during the pandemic. The complaints of people facing issues in quarantine, hospitals, testing labs have been falling on deaf ears. 
Divisional Commissioner of Kashmir P K Pole did not respond to queries by NewsClick regarding the administrative response in the wake of community transmission and on the issue of people's grievances. 
Get the latest reports & analysis with people's perspective on Protests, movements & deep analytical videos, discussions of the current affairs in your Telegram app. Subscribe to NewsClick's Telegram channel & get Real-Time updates on stories, as they get published on our website.
Subscribe Newsclick On Telegram