COVID-19 Lockdown: Dearth of Labourers Slows Down Harvesting in Bihar
Agriculture Department officers admitted that harvesting of rabi crops has slowed down even as agricultural activities have been excluded from the lockdown.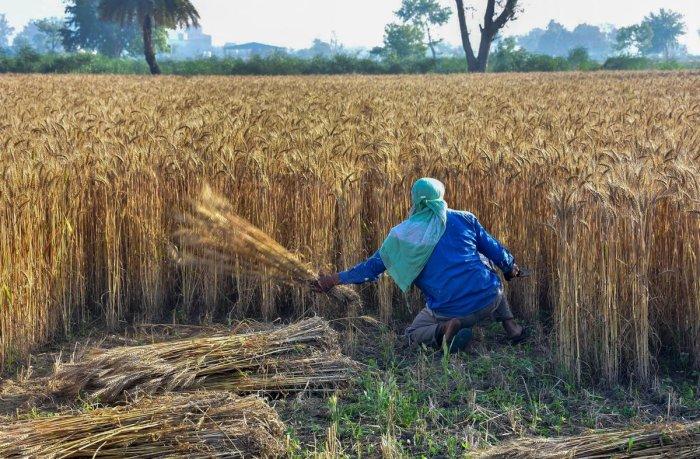 Representational Image. Image Courtesy: PTI
Patna: Dhannanjay Prasad Singh is a worried man. A marginal farmer in a village in Arwal district of Bihar, he invested money and laboured for four and half months to ensure a bumper output of rabi crops including wheat. But he is now helpless as there are no labourers available for harvesting his wheat crop, which is ready and standing in the field, due to the ongoing lockdown that has been imposed to combat the spread of the novel coronavirus.
"I am eagerly searching for labourers and have been waiting since last week for harvesting wheat. There is so much fear that labourers are reluctant to work. What can I do but wait? Because harvesting is labour-intensive work," said Singh, who owns nearly six bigha of fertile land.
Singh informed NewsClick that the first week of April is the right time for harvesting. "I do not remember having faced such a dearth of labourers before," he said.
Singh is not alone. There are thousands of farmers across the state including small as well as well off farmers who are facing difficulties due to lockdown.
Take, for instance, the case of Ramendra Pandey, a landed farmer from the Rohtas district. He used to hire harvesters, but there are no drivers available now. Similarly, Bijendar Kumar, another landed farmer of neighbouring Kaimur district, said that his reaper binder machine is lying useless for over 10 days as rope or thread used for harvesting is not available in the local market. "The thread of the reaper binder machine is brought in from Punjab; it has not come due to the lockdown." Even the operators of the reaper binder machines [used for harvesting] come from Punjab and Haryana during this season, said the farmers. With the lockdown in place, there are only a few of them available in the state who had arrived last month itself.
According to the Agriculture Department officials, there are 3,100 reaper binders and 2,000 harvesters in the state.
Even a small farmer like Ramlakhan Yadav of Paliganj block in Patna district, who has been taking farmland on lease or a contract, is having sleepless nights because labourers are not ready for harvesting of wheat, pulses and oil seeds. "After bad weather,changing patterns of rainfall, now the coronavirus is posing a new challenge and threat to the farmers," he said.
Yadav said, "Agriculture is already a loss-making profession; coronavirus has increased our risk."
However, in half a dozen villages under Purhara Panchayat in Haspura block in Aurangabad district, farmers (mostly small and marginal) and labourers have started harvesting the crops, unlike in other villages.
Also read: April 2020: Indian Healthcare Takes Its Biggest Test Yet
Agriculture Department officers admitted that harvesting of rabi crops has slowed down even as agricultural activities have been excluded from the lockdown. The government, on April 2, lifted restrictions imposed on labourers, allowing them to work in the fields, but advised them to maintain social distancing and high levels of hygiene.
Agriculture scientist Dr Shambhu Prada Gupta told NewsClick that this is the best time for harvesting the early variety of wheat. 'Late variety wheat' can be harvested after five to six days. "Any further delay to harvest early variety wheat will cost farmers because quality would be affected and 10-20% yield will be dropped in the field itself as the crop is fully ready," he said.
Thousands of farmers in Bihar have cultivated wheat on 21 lakh hectare in this rabi season. There is an estimated 6,183,000 metric tonnes of wheat production. Similarly, farmers have cultivated maize on 4,90,000 hectares; the government estimated 2,455,000 metric tonnes production of the maize.
Maize is mainly cultivated in the flood-prone area, in a dozen districts of Koshi and Seemanchal region. Standing maize crop will be ready for harvesting from the second and third week of April.
RK Sohane, director (extension), Bihar Agriculture University in Bhagalpur district, said rabi crops were badly damaged by the unseasonal rain and hail storms in March in the state. Farmers, mainly those cultivated pulses, are expecting compensation following the chief minister's instruction to provide them input grant for their losses.
Pulses are cultivated on 5 lakh hectares across Bihar, with the masur crop covering 1.5 lakh hectares, according to the state government's data.
Last year, heavy rain had damaged paddy crops in mid-December. Farmers had then demanded compensation from the state government, but are yet to get any compensation.
Agriculture is the backbone of Bihar's economy, employing 81% of the workforce and generating nearly 42% of the state's domestic product, according to the state government's figures. About 76% of Bihar's population is dependent on agriculture for their livelihood.
On the other hand, about 1.8 lakh migrant workers, as per the official figures, have returned to the state in the wake of the coronavirus outbreak, after March 22. Most of them have to look for work to earn their livelihood despite risks.
Till Monday, there were 32 COVID-19 positive cases in Bihar, with one person dead. So far, the state has tested 3,037 samples, a number far less when compared to its huge population. There was only one COVID-19 test facility in Bihar until last week.
Also read: Maharashtra: Amid COVID-19 Lockdown, Farmers Selling Milk Face Losses
Get the latest reports & analysis with people's perspective on Protests, movements & deep analytical videos, discussions of the current affairs in your Telegram app. Subscribe to NewsClick's Telegram channel & get Real-Time updates on stories, as they get published on our website.
Subscribe Newsclick On Telegram