COVID-19 Lockdown: Starving Hordes of Stray Cattle Pose Huge Threat to Crops During Harvesting Season
"The government is not providing anything. It has left stray cattle to die in gaushalas and their own people are making money from shelters," alleged a volunteer at an NGO working for rescue of stray animals and birds.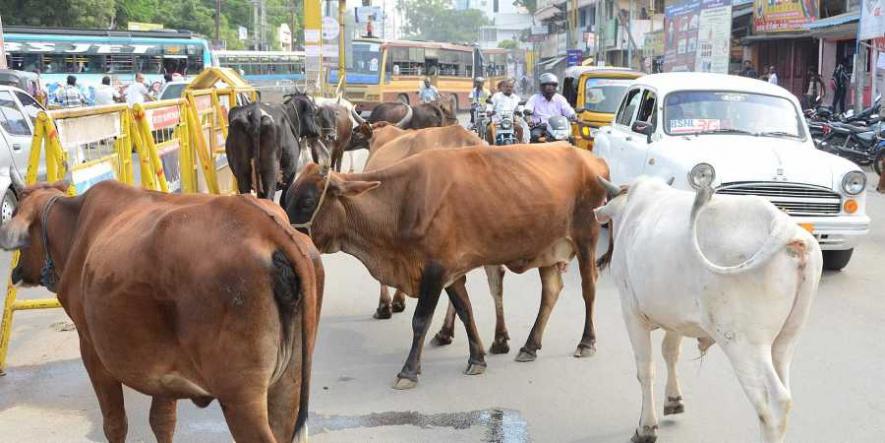 Lucknow: The stray cattle menace has resurfaced in Uttar Pradesh, triggered by the non-availability of food as hotels, restaurants are closed amid the ongoing nationwide lockdown to contain the COVID-19 pandemic. The problem is posing a serious threat, especially during the harvesting season, however, the Yogi Adityanath-led government in the state has shut its eyes to the cries of hungry cattle especially cows. Meanwhile, in Kerala and Maharashtra, the state governments are addressing similar concerns.
The large number of stray cattle which were dependent on food waste from hotels, restaurants, etc., have started entering residential areas in droves looking for food, claimed a number of residents.
STRAY ANIMAL

S

HIT THE MOST
Not only stray cattle, the nationwide lockdown has hit all kinds of stray animals very hard. Speaking with NewsClick, several animal lovers in the state said that if people do not step up to feed these animals, they will starve to death on road. 
Surendra Soni, a volunteer of Prani Seva Samuh, an NGO working for rescue of birds and stray animals, told NewsClick, "Food and water have become scarce for birds and animals after janata curfew and announcement of 21-day lockdown. Hungry stray dogs pose a serious threat to humans and are likely to attack people. If they die of hunger, their carcasses can also cause serious health issues to people."
Talking about the efforts they have undertaken so far, he said, "We distribute 60 bundles of green grass at several points to feed stray cattle. We have many volunteers in different parts of the city who are feeding stray dogs as well. We are also putting up water bowls at different places so that animals and birds can quench their thirst."
On being asked about the government's support to feed stay cattle during the lockdown, he said that people are doing individually as much as they can."The government is not providing anything. It has left stray cattle to die in gaushalas and their own people are making money from shelters," he alleged.
Also read: UP Cow Shelter Policy Fails? Adityanath Announces Rs 900/Month to Farmers for Stray Cattle Care
Meanwhile, social activist and animal lovers are urging people to keep a bowl of water and food outside their houses for strays. 
"We have to take care of the animals in distress too," said Amit Pandey, adding that "we are feeding stray cattle individually as their is no help from the government. Besides cattle, even dogs are provided food."
SLEEPLESS NIGHT

S

F

OR

FARMERS 
It is worth mentioning here that stray cattle have been left to starve in a state, whose chief minister has repeatedly claimed about his concern for cows. From the setting up gaushalas (cow shelter) under the state budget or promoting a health drink made out of cow urine, the BJP government in the state has been always showing off its concern for cows. However, it is in the same state that stray cattle fighting for little food on the roadside and damaging crop when harvesting is in full swing have become a common sight. 
Speaking to NewsClick, Shyam Singh Chahar, a farmer leader from Agra, alleged, "More than a thousand stray cattle starved to death in a year in Agra and many stray cows died at Cheet Gaushala of Kheragarh in the city last week due to shortage of fodder. This is not happening only in Agra but across Uttar Pradesh. The government kept on cheating both farmers and cows. As usual, the stray cattle are entering farmers' fields and eating the standing crop despite the CM making several schemes for stray cattle."
Taking a dig at BJP government, the farmer leader said that CM had given Rs 30 per day to tend to stray cattle but he did not have any idea how anyone can feed a cow in this small amount. "His love for cow is just to score brownie points. Most of the farmers keep their crops in the field after harvesting process but stray cattle, which have nothing to eat at the cow shelters, are giving them sleepless nights," he said.
Lamenting the apathy of the government towards farmers, Shyam Singh said, "The Centre has fixed the minimum support price (MSP) of wheat for the crop season 2019-20 at Rs 1,925 per quintal from farmers but flour mill owners are selling flour at Rs 3,200 per quintal. The difference of Rs 1,275 is huge, which government is making from the farmers. Where is this money going?"
Prem Singh, a farmer leader in Banda, echoed a similar concern. He claimed that allegedly more than 60% stray cattle in Bundelkhand district have died due to starvation and shortage of fodder and water in one year and after Janata curfew, everyday stray animals are dying. 
Meanwhile, Kerala and Maharashtra government ensured that stray cattle, birds and animals are fed. Along with this, the police of state have also been ensuring food for stray animals. Kerala Chief Minister Pinarayi Vijayan himself had made a call to ensure that stray birds and animals, including temple monkeys, are also fed.  
Also read: COVID-19 in Rural India – X: Livelihoods at Risk in Uttar Pradesh's Mahuvatar
Get the latest reports & analysis with people's perspective on Protests, movements & deep analytical videos, discussions of the current affairs in your Telegram app. Subscribe to NewsClick's Telegram channel & get Real-Time updates on stories, as they get published on our website.
Subscribe Newsclick On Telegram