COVID-19 Lockdown: With No Ration Card and Work, Nomadic Tribes in MP Helpless
Promises and assurances from the state are aplenty, yet the ground reality shows the hollowness of these promises.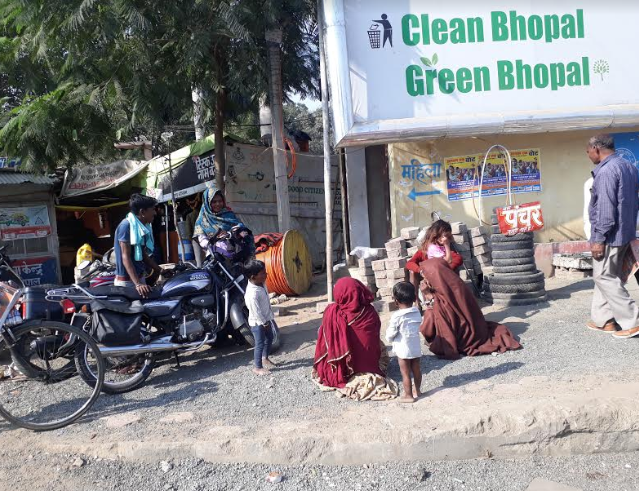 Bhopal: The nomadic, semi-nomadic and gypsies--most of them listed among denotified tribes--appear to be one of the worst hit communities by the COVID-19 lockdown in the state. They cannot move from one place to another due to restrictions, their traditional sources of income have dried up and a very few of them have the documents to receive free ration from the state government.
Madhya Pradesh has 51 denotified, nomadic and semi-nomadic tribes, including Kanjars, Pardis, Sansis and Kuchbandhiyas, according to the Vimukt Ghummakkar Evam Ardhgummakkar Janjati Kalyan Vibhag, Madhya Pradesh which was separated from the Tribal Department in 2012. Even after seven years of its separation, the Department has no official data about the total population of these communities.
But according to a senior Department official, there are over 50 lakh denotified, nomadic and semi-nomadic tribals in the state, while the Vimukt Ghummakkar Evam Ardhgummakkar Janjati Prakost of the Bharatiya Janata Party as also the Congress have pegged the population at around 60 lakh, making for 8% of the state's total population. The state has a sizable population of 7.5 crore, according to the 2011 census.
In Bhopal alone they are said to be around one lakh in number. According to Pallav Thadgar, a social activist who has been working among these communities for the last 15 years, though there is a provision for registering members of these communities under PDS, most of them do not have the requisite documents including their caste certificates.
"Some time back, a government team visited Pardi village in Hoshangabad district, but issued ration cards to barely 10% of the applicants," Pallav said. 
Similarly, the Kanjars living in Dhekpur and Parawan villages in Berasia Tehsil of Bhopal have been left completely helpless, alleged Muskaan, an NGO working among the vulnerable people of the city. Brajesh Verma of Muskaan said that the landless community had no stable income even prior to the lockdown. Their men work as daily wage labourers and women and children beg on major traffic signals of the city.
"Carrying the stigma of a denotified tribe, they were forced to brew liquor and sell it to the passersby. But even this meagre income too has stopped in the lockdown," he said. 
Niranjan Kanjar, a resident of Tarawali, said that of 75 families in the village, only one-third have BPL cards. Those without ration cards have not been able to access the 5 kg food grain (either wheat or rice) provision promised by the state. 
Two weeks after the lockdown, Chief Minister Shivraj Singh Chouhan had announced free ration to the 32 lakh people who have no ration cards or documents. The government is offering 5 kg of rice/wheat to each family once in a week.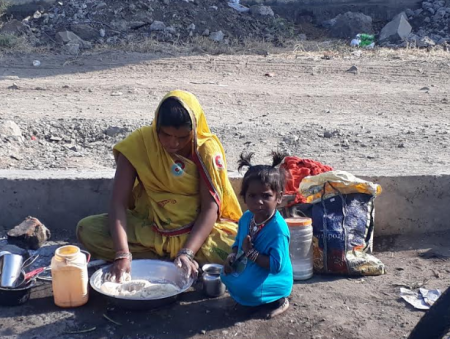 Jugiya Bai said that she does not have a ration card. "I went to the government PDS shop twice, but they told me that the computer was down and asked me to come later. The government has asked us to stay at home, but can a child's hunger wait for even a day? Elders can stay hungry, but the children need food every day," she said. 
Ahilya Kanjar, 21, said that her 25-year-old husband, suffering from a spinal issue, is confined to bed. They have three children. She used to sell locally brewed liquor to provide for her husband's medicines and also household expenses. But even this limited income has stopped. She has taken Rs 20,000 as a loan for her husband's treatment by mortgaging her father's land. If she doesn't repay the loan within three months, she would lose the land. She has no one to look up to.
Promises and assurances from the state are aplenty, yet the ground reality shows the hollowness of these promises. "The situation amongst the daily wage earners, migrant families and the marginalised communities show that the lockdown has been an unorganised and unplanned step. It is pushing vulnerable people over the brink", said Brajesh. 
Social activist Shivani said that her organisation has been trying to get ration cards made for the members of these communities for two years but to no avail. 
According to the Renka Committee 2008 report, formed by the Union Government in 2008, to look into the condition of these tribes in the country, there are more than 11 crore people across the country who belong to the denotified, nomadic and semi-nomadic tribes, as per the 2001 Census, The number could be higher now.
Since the community members hardly stay at a particular place, they barely have any official proof of residence, birth, education, caste, and land. They largely work as daily wage labourers, shepherds, in farms, and are skilled in traditional artworks, says the report.
Also read: MP: Fear of Police Stops People from Withdrawing Money from Jan Dhan Accounts
Get the latest reports & analysis with people's perspective on Protests, movements & deep analytical videos, discussions of the current affairs in your Telegram app. Subscribe to NewsClick's Telegram channel & get Real-Time updates on stories, as they get published on our website.
Subscribe Newsclick On Telegram