COVID-19: No Mid-day Meals or Cooked Meals, Young Mothers in Delhi Struggle to Feed Children
Meanwhile, with no transparency and serious discrepancies, parents are struggling to claim even the most meagre amount that can help them in providing food for their children.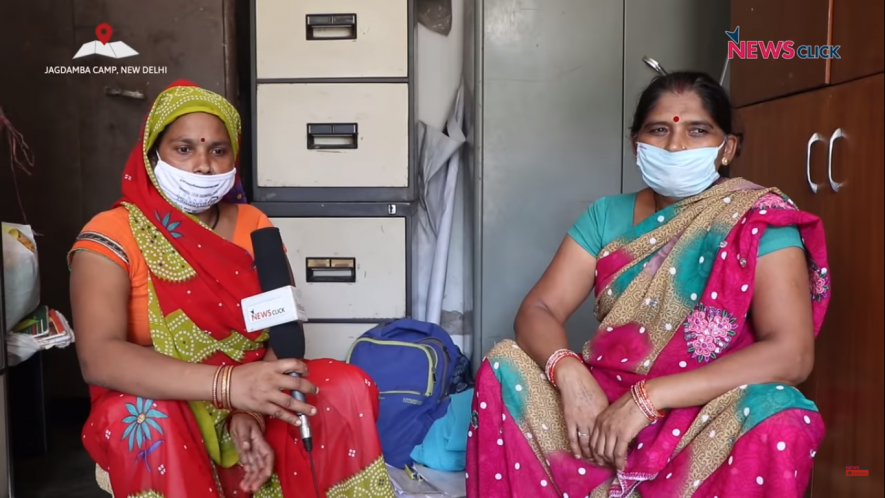 As the COVID-19 pandemic continues to loom large even after six months since its outbreak in the country, the food crisis in the national capital has worsened. With the closure of key measures for providing nutrition by the government, the city's childrean are at the brink of starvation.
Since, schools have been shut from March, those dependent on the crucial mid-day meal scheme have been hit hardest, with their parents scrambling to arrange regular meals for their children. In New Delhi's Jagdamba camp, housing workers from the informal sectors, young mothers have been forced to bear the brunt of this crisis.
'At the brink of starvation, every meal is a challenge'
Gudia*, a resident of the camp, used to work as a domestic worker in a South Delhi neighbourhood. However, after being fired from her job following the pandemic, she is struggling to fend for her family. Speaking to NewsClick, she said, "My husband is a painter. With him finding no work during the pandemic, it has fallen on my head to take care of the house and our children. I have nothing to feed my children, now that cooked meals from the government have now been stopped."
Another resident, Santoshi*, said, "I have no milk in the house. I borrow some rice on some days while on others we go empty stomach. I have five kids to take care of. Earlier at least one meal was arranged by the help of the mid-day scheme but now it's all on me to provide all the meals for my children."
Also read: COVID-19: Ignoring Women and Children's Health Could Lead to Parallel Health Crisis, Say Experts
She added, "My husband and I don't eat anything at all during the day so that we can feed our children and eat the bare minimum at night."
Delhi has one of the highest rates of undernutrition among children in urban areas—-a staggering 11.7% of its children are severely stunted. A parallel health crisis has been triggered as the government arrangements fall flat.
'Got Rs. 74 for food after paying Rs. 100 in the bank'
The Arvind Kejriwal-led state government has claimed that it is providing Rs 540 per child every month under the mid-day meal scheme. However, in its own affidavit in March this year, the government stated that it paid around Rs 7 crore to 8.21 lakh children enrolled with it, which comes to less than Rs 100 per child.
Kusum*, who has been a resident of the camp since several, showed her bank passbook and said, "I have three children. But, I only got money to pay for food of two children and nothing for the third one. The amount which I got is absolutely meagre and infuriating. I got only Rs. 94, after several visits to the bank. What is the use of this money, can I even buy anything with this amount?"
With no transparency and serious discrepancies, parents are struggling to claim any amount that can help them in providing food for their children.
Also watch: COVID-19: Mounting Food Crisis in Delhi, E-coupon System Ended
Another resident, Guddi* said, "When I went to the bank, I was told to pay Rs 100 to get my name registered. We were not told by anyone how much money we will be given. When I finally got the amount, it was a mere Rs. 74. The earlier system of providing cooked meals has now been stopped and I do not understand what I am supposed to do with this amount."
Tussle Between Centre-State Over Funds
With the tussle between the Centre and the state government over funds, it is the children who are bearing the brunt of this hunger crisis. The Centre recently told the Delhi High Court that it has released over Rs 27 crore to the Aam Aadmi Party government as recurring central assistance under the mid-day meal (MDM) scheme for the financial year 2020-21.
The submissions were made in response to the court's query on June 30 as to when the Centre had transferred the money for mid-day meal, for which months and when the Delhi government received these funds.
Commenting on the government's apathetic attitude, Aditi a member of the NGO, Satark Nagrik Sangathan, told NewsClick, "As people suffer due to the lack of rations, the response from the government has been confusing and misleading. The crucial mid-day meal scheme has fallen flat on its face, with people suffering enormously. The data we have compiled shows the inadequacies of government action with some people receiving meagre amounts while the others not being covered at all."
*Names have been changed on request
Get the latest reports & analysis with people's perspective on Protests, movements & deep analytical videos, discussions of the current affairs in your Telegram app. Subscribe to NewsClick's Telegram channel & get Real-Time updates on stories, as they get published on our website.
Subscribe Newsclick On Telegram