COVID-19 Throws Wrench Into Powerlooms of Gaya
The pandemic has impacted the weavers of Patwatoli, who accuse the Nitish Kumar government of ignoring them.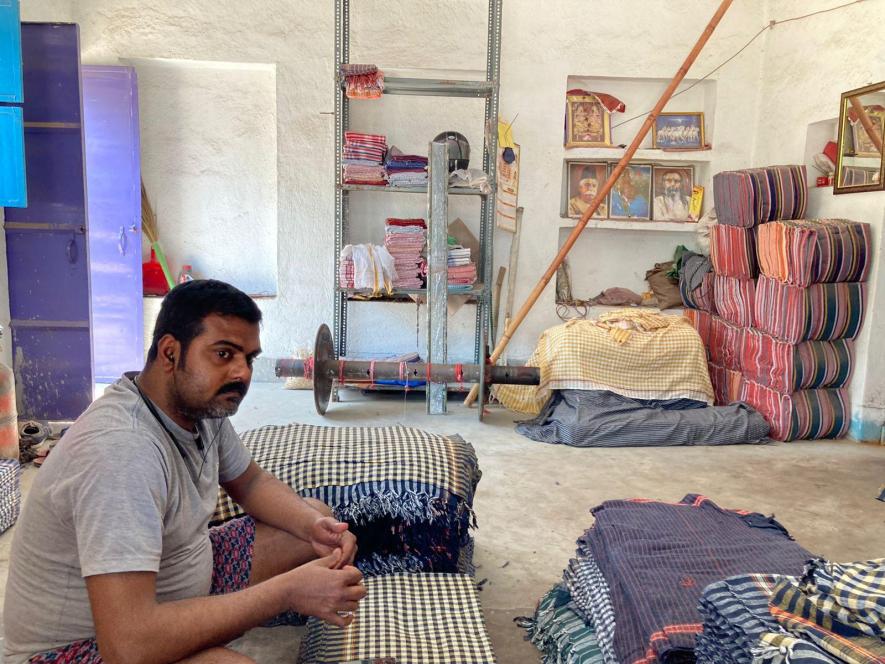 Bablu at his gamcha manufacturing unit at Patwatoli, Gaya.
Sunil Kumar's profound sadness at the abysmal state of Bihar's cloth market is shriller than the large noisy power looms at his manufacturing unit. Located at Patwatoli, one of the oldest and most popular localities in the Gaya district, the unit makes gamchas, widely used as towels and scarfs, in summers.
"The rate of raw materials such as sutta (thread) has skyrocketed, and profit has been marginal in the last one year," says Kumar, one of the largest weavers in the area, lamenting the state of the cloth market in Bihar and the neighbouring states of Jharkhand and Bengal. "Post-lockdown, the market has shrunk." Raw materials like thread and dyes are imported from states such as Punjab, which adds to the manufacturing cost. "Bihar doesn't have any factories that make these raw materials."
As the production of clothes like gamchas, bedsheets, etc. have reduced to 60%, many workers operating the power looms have been laid off. Several owners of power loom units pointed out that the recurrence of COVID-19 waves around summers severely hurts their business.
"Gamchas are mainly used during summers. But the COVID-19 waves in the last two summers has hurt the business. The stock has piled up. We hope to get lucky this summer," says Kumar, whose family has been in the weaving business for generations.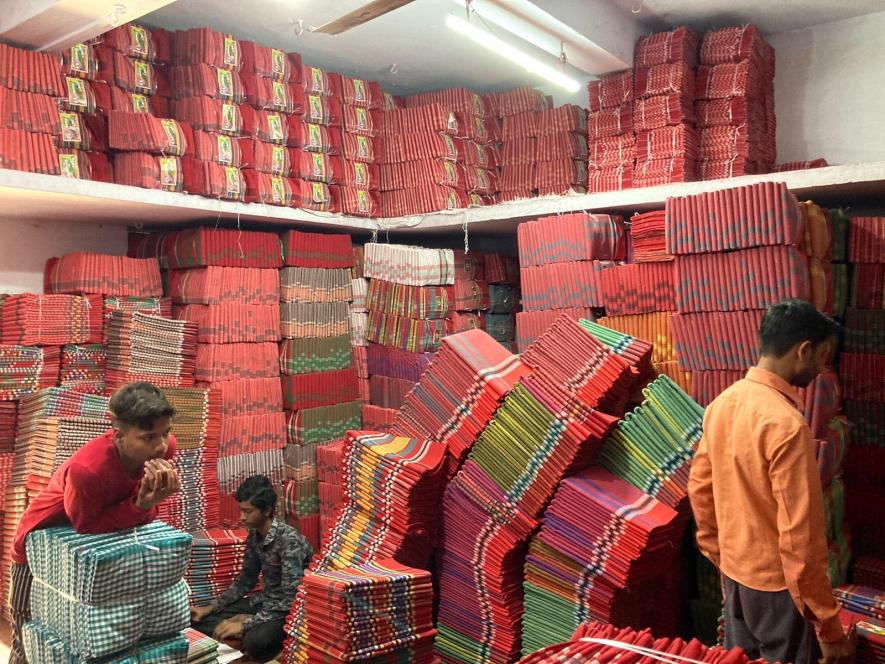 Sunil Kumar's gamcha manufacturing unit.
Spread in an area of around 2 km, Patwatoli is dotted with power looms owned by big and small weavers. "The Patwa caste has been involved in weaving for generations. But weavers are now taking up other occupations," says Janki Prasad, aka Bablu, who has 18 power looms producing gamchas.
Patwatoli is also famous for another reason. It is an 'IIT hub' with the youth crazy about cracking the JEE (Main). The residents claim that every house has, at least, one engineer.
The craze for engineering has affected the art and business of weaving. "I don't want my children to continue with the family business amid high recession and inflation," says Bablu despite struggling to pay the remaining fees of Rs 30,000 for two of his three kids. One of his sons who had to quit school post-lockdown now helps him at running the power looms. "I have enrolled him at a nearby library known as Vriksh, which provides free education. At least, he won't be like my illiterate generation." 
Bablu doesn't believe that every household in the area has an engineer. "Though Patwatoli is known as IITian ka gaon, an area cannot have so many engineers. What we have is families struggling to make ends meet."
The craze for engineering is actually linked to the recession in Patwatoli in the 90s in the so-called 'goonda rule' under the then-chief minister Lalu Prasad Yadav.
Prem Narayan Patwa, president, Shree Durgaji Patwae Jati Sudhar Samiti, tells the reason for the youth opting for other occupations instead of continuing with the traditional handloom and power loom businesses. "When Jagannath Mishra was the chief minister, the Congress government introduced power looms for the first time," says Patwa, who had also worked at handlooms. My family too got one machine. The machine distributed in our locality was called Mangal Kargah (Auspicious Loom)."
When Yadav came to power, says Patwa, the power loom industry was impacted. "Laluji's rule was one of the worst for Bihar, at least, for the industry. Bihar's image took a severe beating with the state becoming infamous for the law of the jungle due to the dominance of goondas. Our business was badly affected. Several families of Patwatoli preferred sending their wards to schools and excelling in academics. Once a student cleared a competitive exam, students from other families followed suit."
Kumar feels that the law of the jungle seems to have returned to Bihar. "It is becoming increasingly difficult to get out of our house after 7 pm," says his brother Rajesh. "Crime has spiked under the present government. This is going to affect us very seriously," adds Patwa.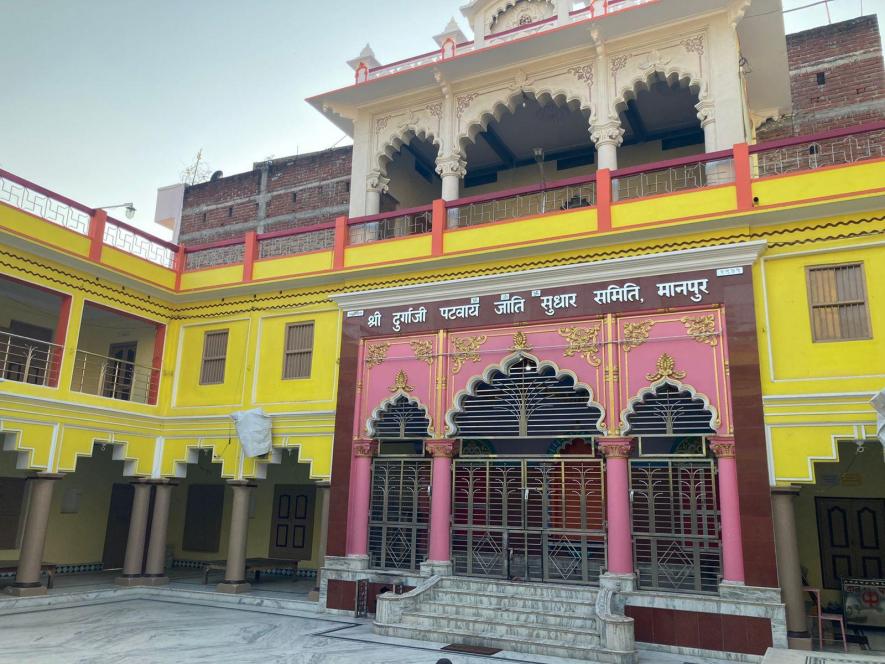 The Shree Durgaji Patwae Jati Sudhar Samiti office, Manpur, Gaya.
The Samiti, which was formed for the betterment of the Patwa caste and weavers, alleges that the Nitish Kumar government has ignored the problems of Patwatoli. "Under Lalu's rule, many weavers disassembled their power looms and migrated to Gujarat. When Nitish Kumar assumed power, things started changing for us. The number of power loom units increased significantly in his first two terms. There are 1,000 power loom units in our area," says Patwa.
However, the state government is now ignoring the weavers, according to Bablu. "Our Bunkar card was supposed to assist my business by providing subsidies for raw materials and loans. But we haven't received any benefit," he alleges showing his wife's card.
Patwa confirms Bablu's allegation. "The card is useless. We haven't benefitted from it," he says adding that only electricity is subsidised. "We pay Rs 3 per unit." But the subsidy doesn't reach all weavers. Bablu waits for the subsidised rates to take effect in his electricity bill.
Weavers also face problems in procuring bank loans in Manpur. "I would do much better if I get a loan to buy supplies and aid my power looms. Sadly, there are too many defaulters in our area with several weavers and non-weavers unable to repay loans. Therefore, the banks have a general perception that loaning money to the residents will be bad business," says Bablu, who has been trying to get a loan for the past three years.
Patwa believes it is not entirely the fault of weavers. "Surely, there are some weavers who didn't repay their loans and their accounts turned NPAs. But Manpur has so many other residents who haven't repaid their loans," he says.
Due to the sagging market, the weavers of Patwatoli have become fiercely competitive. "Weavers are competing fiercely by reducing the quality of goods they produce. For example, I sell a gamcha for Rs 36. Other weavers sell the same quality of gamcha at Rs 34. Weavers are fighting over pennies and stepping over each other's businesses," says Bablu.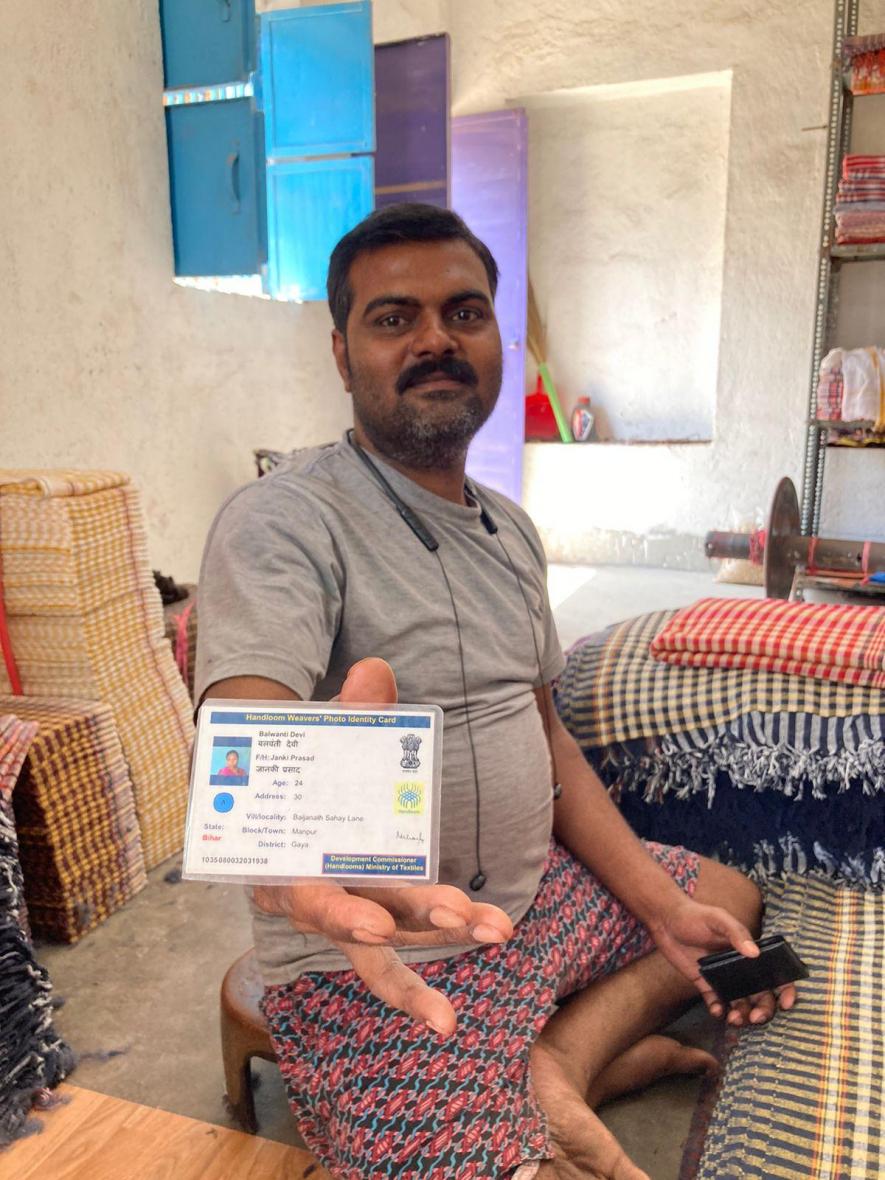 Bablu shows his wife's Bunkar card.
The Samiti resents the state government's plan of setting up an industrial town for the community 40 km away from Patwatoli. "Residents complain of the constant sound of power looms. But is the state government thinking of our interests?" Kumar asks.
"We have traditionally worked here and are connected to a large network of nearby markets. A new industrial town located so far will take up resources and time to turn profitable," contends Patwa. The Samiti has proposed to the state government to set up an industrial town 4 km away on nearly 100 acres near Manpur.
Patwa alleges that the state government has "failed to consider our interests. We had demanded more technologically advanced automatic power looms. Our community has supported this government. Now, we want our demands to be fulfilled," says Patwa.
The writers are freelance journalists.
Get the latest reports & analysis with people's perspective on Protests, movements & deep analytical videos, discussions of the current affairs in your Telegram app. Subscribe to NewsClick's Telegram channel & get Real-Time updates on stories, as they get published on our website.
Subscribe Newsclick On Telegram