COVID-19 'Unlock': Uncertain Future and Vaccine Shortage Leads to Downbeat Industrial Areas in Delhi
Both factory owners and trade unions appeared to be on the same page and said that more planning should have been done by the powers that be before going ahead with the phase-wise unlocking process.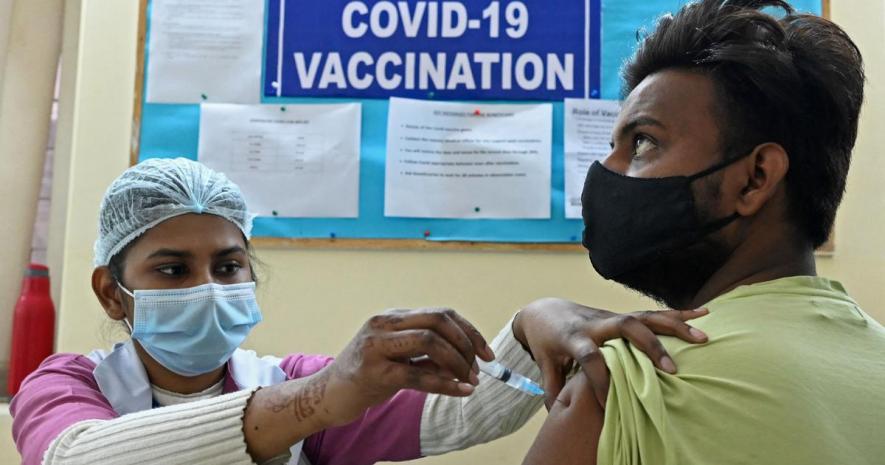 Representational Image. Image Courtesy: AFP
With uncertainty looming large over the days ahead and government-run COVID-19 vaccination centres remaining shut in the national capital for the 18-45 age category due to an apparent shortage in vaccines, the 'unlock' process in Delhi – partial lifting of a six-week lockdown – that began on Monday, didn't result in cheerful responses.
Both factory owners and trade unions, despite their traditional opposition to each other, appeared to be on the same page. Their view is that more planning should have gone into the process by the powers that be before the phase-wise unlocking process was put in place.
The Arvind Kejriwal–led Aam Aadmi Party (AAP) government has allowed a resumption of construction activities and the reopening of factories from Monday in a decision which will be reviewed after a week.
In the wake of a resurgence in COVID-19 cases, full lockdown restrictions were imposed in the national capital earlier since April 19. The process of lifting the lockdown gradually in the city will continue after a review meeting only if cases didn't rise again, CM Kejriwal had stressed.
Breaching a worrying 30% mark earlier in April this year, the positivity rate, an index of the pandemic's severity and its potential spread, is currently at 1.25 per cent.
The permission to resume assembly lines after a six-week long hiatus hasn't, however, raised Satish Chhabra's spirits. A footwear component manufacturer in north-west Delhi's Narela Industrial Area, Chhabra calls the unlocking process nothing more than an "eyewash" for industries in the national capital.
Only "10 to 15%" of the total manufacturing units in Narela will be able to utilise their full production capacity in the immediate future, he argued. "This is so because there is an acute labour shortage. After the lockdown many of the workers left Delhi. We can call them back to work now, but how should we decide on that since there is no clear answer regarding what will happen after a week," he said.
During the second wave of COVID-19 that had brought the capital's healthcare infrastructure to its knees, thereby necessitating a halt on economic activities, over eight lakh migrant workers had left the national capital in the first four weeks of the imposition of such restrictions, data released by the Delhi Transport Department had revealed. However, many more had also left using other means, private buses and trains being the likely source of transportation.
Chhabra, also vice-chairman of the Narela Industrial Complex Welfare Association, added that even the movement of these workers – from home to their work sites – will be difficult as e-passes will be required. "A firm resuming its operations will apply for the passes, but then the worker must possess an Aadhaar card. Also, the system is not without glitches as many would not receive an OTP," he said.
"The Delhi government has allowed factories to reopen but industries don't work in isolation," complained A.K. Sood, president, Okhla Industrial Area (Phase I & II) Association. According to him, raw material shortage is another impediment to resuming operations at the moment given that traders and wholesalers are not allowed to open.
"The machines would require maintenance and for that the arms of the economy that support an industry must be allowed to run their business," said Sood, an engineering component manufacturer.
Apart from the challenges faced by the industrialists, another worry, inadvertently aided by the unlocking process, is the safety of the workers. The inoculation exercise for the 18-45 age group was called off by the AAP government on May 22 after it ran out of vaccines for the said category. The vaccine shots at these government-run centres were free; their cost was being borne by the Delhi government.
Currently, vaccines for the group is available in only paid vaccination facilities in Delhi where the per dose vaccine charge is between Rs 800 and Rs 1300 – a price too much for many workers. Incidentally, Delhi Deputy Chief Minister Manish Sisodia raised this issue on Saturday and hit out at the Central Government for "sitting on" the vaccine distribution system.
"This will lead to many workers going out to their work sites without adequate protection against the virus," said Harpal Singh Tyagi of the Centre of Indian Trade Unions' (CITU) Delhi unit, adding, "The vaccines shouldn't have been charged in the first place. The responsibility of getting everyone vaccinated lies with the government."
When asked about the same, Chhabra claimed that his firm would get its workforce of 10-odd labourers vaccinated before making them re-join work – but only if the doses are free. Meanwhile, Sood said that workers employed in his manufacturing unit – about 100 or so – are not mandated to get themselves vaccinated before joining.
"If the workers are not allowed to join work because of them not getting vaccinated then they'll lose the opportunity to earn a livelihood; by joining work they put themselves and their family members at risk. Because, in any case, paying for the vaccines from one's own pocket will be impossible for many," Tyagi said.
Harish of Inqlabi Mazdoor Kendra, Delhi shared a similar view. "The majority of workers were not paid for the duration of the lockdown. These are already very difficult times for the labouring class. If the industries are to open, it is the government that must ensure that the workers are fully vaccinated," he said.
But vaccinations may only protect a labourer from the viral infection; it is no guarantee for securing work, especially in times when the economy remains in the doldrums. On Monday, this was what 58-year-old Ram Aadhaar had to say after knocking at doors of manufacturing units in west Delhi's Mundka Industrial Area in search of work.
Having been laid off in April this year from a printing press unit where he had worked for 12 years, Aadhaar, who has received one dose of the Covishield vaccine, thought he would get some work on Monday after the factory units were allowed to open, but to no avail.
"Cleaning and maintenance work was going on in most of the factory units. Many told me that labour is not required as even the existing workforce has not yet been called back to join. I am hoping I get some work in the coming days; it will be very difficult to survive otherwise," he said.
Get the latest reports & analysis with people's perspective on Protests, movements & deep analytical videos, discussions of the current affairs in your Telegram app. Subscribe to NewsClick's Telegram channel & get Real-Time updates on stories, as they get published on our website.
Subscribe Newsclick On Telegram