COVID-19: Things Getting Really Bad in Overcrowded Maharashtra Prisons
Even after 2 deceased inmates were found COVID-19 positive, testing is not being done in Taloja where rights activists, mostly 60+, arrested in the Bhima Koregaon case have been lodged.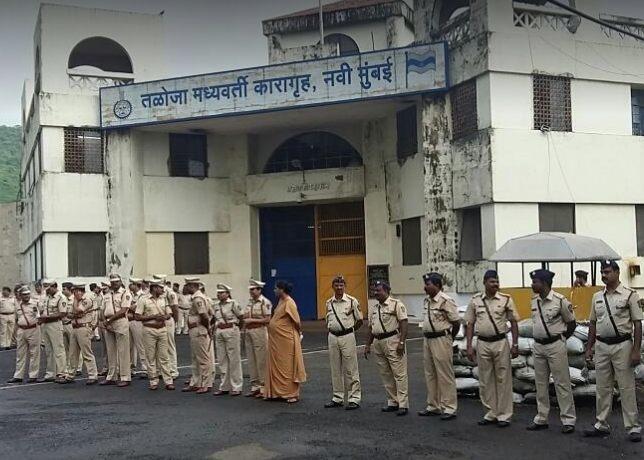 On May 9, 2020, a 53- year old undertrial lodged in Navi Mumbai's Taloja Central Prison was admitted to JJ Hospital in Mumbai. The inmate had been suffering from diabetes, an ailment caused due to high blood sugar. He died the same day. When he was tested for COVID-19, it turned out to be positive. 
Nearly three weeks later, on May 27, a 33-year old undertrial hanged himself inside the hospital of the same prison. After he died, the prison authorities tested his swab. He tested positive for COVID-19 as well.  
In what comes as a shocking revelation is that these are the only two people who have been swab-tested inside Taloja prison, violating the Indian Council of Medical Research's guidelines that mandate asymptomatic prisoners to be tested in a situation like this. In Taloja, though, only the dead got access to the coronavirus test. 
Human rights activists, lawyers and scholars, arrested in the controversial Bhima Koregaon and Elgar Parishad case, have been imprisoned in the same Taloja jail. They are Anand Teltumbde, Surendra Gadling, Varavara Rao, Mahesh Raut, Arun Ferreira, Gautam Navlakha, Sudhir Dhawle, Rona Wilson and Vernon Gonzales. 
Shoma Sen and Sudha Bharadwaj are in the Byculla prison in Mumbai.
Almost all of these persons are aged above 60, and have co-morbidities, making them even more vulnerable to coronavirus. 
Yet, the authorities at Taloja have not made any effort in tracing and testing the people the two deceased positive prisoners may have come in contact with, indicated the Maharashtra government in an affidavit filed in the Bombay High Court on June 15. 
"Mass swab testing of asymptomatic prison inmates may not be undertaken until express assurance of quarantine facility is given by the Municipal Commissioners/Collectors as many of the prisons in the state are overcrowded," the affidavit, in response to the public interest litigation (PIL) filed by the People's Union for Civil Liberties (PUCL), read. 
The affidavit is signed by the IG of prisons and correctional services Maharashtra, Sunil Ramanand. 
Human rights lawyer, Susan Abraham, said this statement implies that if they start testing, many more people will test positive for coronavirus, but the prisons do not have adequate quarantine facilities to deal with it. 
"We have seen on the outside how insufficient testing is used to downplay the number of positive cases," Abraham said, adding that "this is happening on a much larger scale inside the prisons." 
According to the state government affidavit, after a prisoner died of COVID-19 in Pune's Yerwada jail, the jail authorities did not conduct any tests on the rest of the prisoners. That is the only test the prison authorities have conducted so far.
In Dhule, only eight prisoners have been swab-tested, of which four turned out to be positive. One of them was tested after he died.
As early as March 23, the Supreme Court had asked state governments to decongest prisons in order to prevent the spread of coronavirus inside the jail premises. The Maharashtra government, led by Chief Minister Uddhav Thackeray, subsequently constituted a high-power committee (HPC) to decide on the prisoners to be released. 
There are 60 jails in Maharashtra with official capacity of 24,030 inmates. As of March 2020, a total of 36,061 prisoners, or 150% of the ideal number, were lodged in prisons in the state. Overcrowded prisons are fertile ground for the spread of coronavirus.
In Taloja, the capacity stands at 2,134 inmates. But, there were 2,635 of them inside the prison in March. Yet, Teltumbe and Navlakha, both aged around 70, were arrested in May, adding to the overcrowded prison. 
In Byculla, where Sen and Bharadwaj are lodged, the capacity is for 200 inmates, while 352 were lodged inside in March 2020.
The situation is worse in Thane's prison. Against the capacity of 1,105, there were 3,718 inmates as of March 2020, which is more than thrice the number of prisoners that ought to be in.
On May 12, when the coronavirus had already mushroomed ominously in Maharashtra with over 23,000 cases, the high power committee decided to release 17,000 prisoners. The state has now crossed one lakh corona positive cases.
However, the decongestion process in jails has not happened with the alacrity it deserved. The Inspector General of Prisons and Correctional Services, Maharashtra, Sunil Ramanand, on behalf of the state government, submitted that there were 29,762 prisoners in Maharashtra as of May 23, 2020 after having released about 8,000 inmates on parole. 
"In order to manage COVID-19, the prisons need to be decongested to 2/3rd of its official capacity (for effective creation of quarantine wards)," Ramanand's affidavit read. "Hence the manageable prison population in the state of Maharashtra is 16000. A decrease in the current prison population by almost 14000 is needed," it added.
The alarming consequences of not decongesting prisons on a priority basis are evident in the state's affidavit dated June 15. Even after testing extremely limited prisoners, 269 inmates across Maharashtra's jails have tested positive so far. Four of them have died. As many as 73 jail staff has also tested positive for COVID-19. 
The family members of the activists accused in Bhima Koregaon case are particularly worried with these developments, for the virus has penetrated prisons that do not have adequate facilities to tackle the pandemic situation. Sources close to family members of some of these activists said there were 30 people inside one barrack in Taloja, which made the situation worse. The inmates have also not been properly taken care of, they added. 
For instance, Arun Ferreira has had severe toothache, and probably needs a root canal. But, he has been asked to manage with pain killers. 
Worse, poet Varavara Rao, 80, has multiple health conditions. He was hospitalised in Mumbai's JJ Hospital on May 30, after his health deteriorated. But, he was discharged in three days. He has since been in the prison hospital, while his bail application is still pending. 
Susan Abraham, who is also Gonzales' wife, said that inmates with murder and rape charges have been released, but activists in Bhima Koregaon case have been denied basic human rights.
 "The Maharashtra government had expressed sympathies with the accused," she said, adding: "Why is the state government now passing the buck and not stepping in? The pace with which the state government has moved to decongest prisons suggests they have no intention of actually getting it done."
Meanwhile, human rights activists have demanded that the state government should intervene and ensure that these activists are released on health grounds before the situation gets out of control. The unsettling part, though, is that these details would have probably never come out had PUCL not filed the PIL on the conditions inside Maharashtra's prisons.
A lawyer-activist, requesting anonymity, said if the 53-year old diabetic patient died in Taloja on the day he was admitted, it is safe to assume he received medical attention too late. "You are condemning them to die," she said adding that: "You are waiting for someone to reach that stage where they die on the day they are admitted. Sudha Bharadwaj is 59. She has diabetes."
The writer is an independent journalist
Get the latest reports & analysis with people's perspective on Protests, movements & deep analytical videos, discussions of the current affairs in your Telegram app. Subscribe to NewsClick's Telegram channel & get Real-Time updates on stories, as they get published on our website.
Subscribe Newsclick On Telegram