Stuck in Lockdown, Rajasthan Pastoral Nomads Worry for Animals
Several nomadic people usually set out in March on traditional routes, where animals feed on vegetation. Once lockdown is lifted and kharif sowing starts, the animals will be left with nothing to chew on.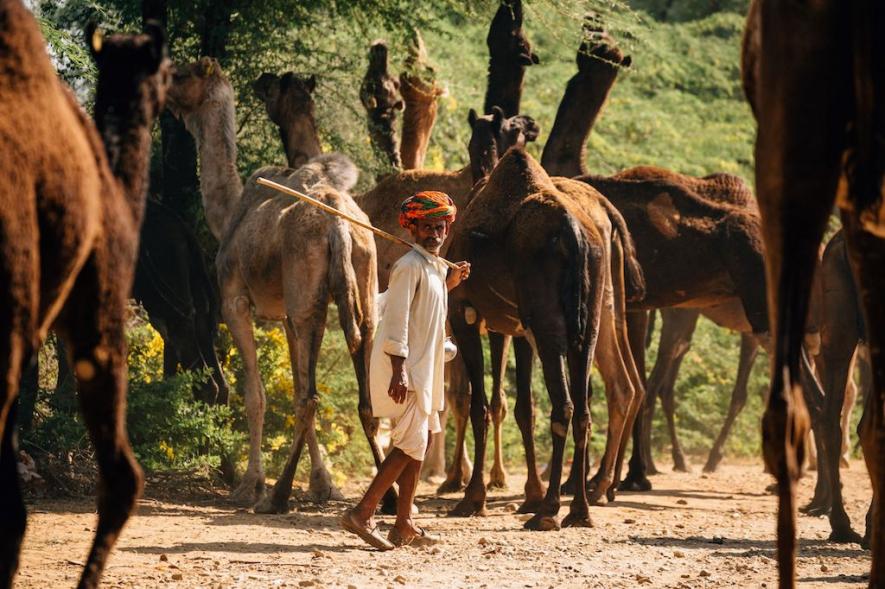 Representational Image/ Photo by Sophie Matterson taken in 2017. This camel herd no longer exists.
Pastoral nomads stranded in the lockdown in Rajasthan's desert region since March 25, are worried about feeding their animals, as once the lockdown lifts, the summer heat would have dried out vegetation on their traditional routes.
The seasonal movement of nomads and their animals is intertwined with the cropping patterns of settled communities along their routes. The nomads usually set out by March, before the summer reaches its peak. This is the time when the rabi (winter) crop is harvested, and the fields are not yet sown with the kharif crop. The vegetation in the fields at this time is what animals are allowed to feed on, and their droppings serve as organic manure. 
However, that narrow window of time is closing fast, and once the lockdown lifts, farmers will be getting fields ready to sow the kharif crop, ahead of the monsoon. Animals, therefore, will not be left with much to chew on at that time.
A report on the plight of nomadic pastoralists in Rajasthan, concentrating on the five districts of Bikaner, Churu, Jaisalmer, Nagaur and Jodhpur, was recently released by the Desert Resource Centre (DRC) of Urmul Group.
Urmul, which started as a dairy in Bikaner in 1983, now comprises an umbrella of organisations working in the desert of Western Rajasthan. Aakriti Srivastava of DRC said some pastoralists have reached Haryana from the desert and find themselves stranded there. Others are still making the journey.
Although the number of novel coronavirus infections in the region was negligible, the state government opened up quarantine facilities for people returning from other countries, and foreign tourists travelling in these districts. Several of those from Iran were found positive, in early April. Quarantine facilities in Jaisalmer and Jodhpur could house 1,000 people.
Rajasthan's Bhilwara district reported several hospital infections, and as the state went into quarantine mode, several nomadic people found themselves unable to move on their traditional routes. This has disrupted their whole movement calendar this season. A survey by DRC found high anxiety among the pastoralists on this account.
That this form of rearing animals should persist in a time of factory farming could come as a surprise. Even though many traditional pastoralists have taken to settled life in recent years, some others continue in their old ways. 
The camel herders of Rajasthan have lived with their herds for centuries, and would earlier even give away the milk free, believing that they were divinely ordained to care of their animals. When researcher Ilse Kohler-Rollesfson first saw the toddler children of the Raika tribe, the traditional camel herders, meandering through the herd like they were all one family, she was surprised at how peacefully the animals co-existed with the Raika families. To milk a camel can be extremely arduous, but Raika's animals are placid, given the nature of their relationship with the animals. Also, only two teats are milked, for the camel calf, too, is allowed her share of milk.
In this video, Kohler-Rollesfson explains the unique relationship between the Raika and their camels. 
The novel coronavirus pandemic has also given the world added reason to protect these livelihoods – nearly 90% of meat consumed in the world comes from animals that are farmed in large factory-like facilities. This is believed to be one cause of the rising frequency of viral epidemics, such as SARS, Nipah and the currently raging COVID-19. 
The stress of animals packed close together, or birds caged with beaks touching, cripples the immune system. The animals and birds lack fresh air and sunlight, and such conditions cause them to be susceptible to viral infection.
Evolutionary biologist Rob Wallace explains in his book, Big Farms Make Big Flu, that the farming of multinational corporations, who take over areas with vast bio-diverse vegetation for mono-cropping, growing palms for palm oil, for instance, makes the earth more vulnerable to pandemics. The loss of biodiversity paves the way for the rapid spread of viral infections as the pathogen does not have to negotiate the diversity that normally retards such spread.
In an article in Seminar magazine in 2017, Ilse Kohler Rollefson explained that the reason camel milk had special properties was that these animals were reared by travelling herders, and nibbled on a wide variety – 36 different species, which feature in Ayurvedic medical remedies –all along the route of the nomadic journey. Such a widely diverse diet is impossible to offer to animals in farms. 
As summer gets more scorching, groups of the Gaderia (shepherds) and Raika move from Western Rajasthan to greener pastures. This year, restrictions on movement have left these groups and their animals with dangerously low levels of food and fodder. Herders said spending too long at one spot meant stressing local resources, as the animals needed food and water that most villages were short of.
The rabi harvest usually leaves something that passing animals can feed on, in fields. The rains were unreliable in the last season too, and the commons that the nomads use are bare; there are few water sources on their traditional routes, and the communities are now faced with stress even without a lockdown, DRC's Srivastava said.
While the government has announced relief for poor families, many of the pastoral communities still do not have Jan Dhan bank accounts and do not stand to benefit from any direct transfers by the government. A DRC survey of 322 pastoral people in Bikaner found that 18% of them had no bank accounts; although over 99% of them had a ration card, almost none had accessed rations in months.
It is estimated that there are over 30 lakh people who continue their traditional nomadic lifestyle in Rajasthan; there was no enumeration of the community in the 2011 census.  
In December 2016, representatives of about 30 nomadic communities came together for a meeting with government officials to discuss their problems. Many of them explained that members of their community had no or little access to facilities offered by the government. When they settled in open spaces, they were often driven off as illegal settlers. Even the burial of their dead was a problem, they said.
Traditionally, nomadic groups, not all pastoral, have performed seasonal tasks for settled communities – undertaking repair of household goods or working as blacksmiths or healers who peddled in traditional herbs or caught wild animals, tamed them and trained them to perform tricks by the roadside. These were skills that helped them eke out a meagre living.
After Independence, laws were introduced that rendered many of these activities "illegal". The Wildlife Protection Act of 1972, for instance, outlawed taming of bears for performance on the street-side.  The Rajasthan Medical Act of 1952 laid down rules for who could practice medicine, making the healing offered through traditional herbs illegal. There is also the Drugs and Magic Remedies (Objectional Advertisements Act) 1954 of the Centre that outlaws medicinal practices of these communities. The nomadic lifestyle meant children seldom attended school for a sustained number of years. Over 70 years after Independence, traditionally nomadic people have remained poorly provisioned by government.
In February last year, the Union government proposed a panel to study the concerns of nomadic and semi-nomadic communities. This panel has still not been set up.
At a meeting with officials in December 2016 that this writer witnessed, many nomads asserted that although the colonial 1871 Criminal Tribes Act was repealed by the Nehru government in 1952, the mindset of the colonial masters continued in the bureaucracy. Even today, nomadic communities are seldom consulted about policies that affect them. When Prime Minister Narendra Modi suddenly announced that the whole country would go into lockdown on March 24, however, it was not just nomads who were caught unawares.
Mool Singh from Nakrasar village in Bikaner, who was about to start moving with the animals, said, "We have fodder to last only a few days more, and we usually move toward Punjab, walking over 300 km. If the lockdown is extended, we don't know what to do."
Gena Ram, of the Raika community, with his herd of camels said:  "Common property resources have poor vegetation. What will my camels eat?"
Meanwhile, rumours are rife that the virus spreads through consumption of meat. Sale of animals may, therefore, be hit. Animal products, too, have seen falling demand, and the DRC report notes that the price of cow milk has dropped about 40% since the beginning of the lockdown.
No government official could be contacted over phone to ascertain what steps were planned to aid this section of population.
The writer is an independent journalist based in Rajasthan.
Get the latest reports & analysis with people's perspective on Protests, movements & deep analytical videos, discussions of the current affairs in your Telegram app. Subscribe to NewsClick's Telegram channel & get Real-Time updates on stories, as they get published on our website.
Subscribe Newsclick On Telegram