COVID Crisis: Rescue Operations for Bonded Labour at Halt, Exploitation Grows
The lockdown has meant limited movement, lack of legal attention and continued exploitation of marginalised workers in informal set-ups agreeing to pay hefty loans and working at meagre wages, all in a bid to survive.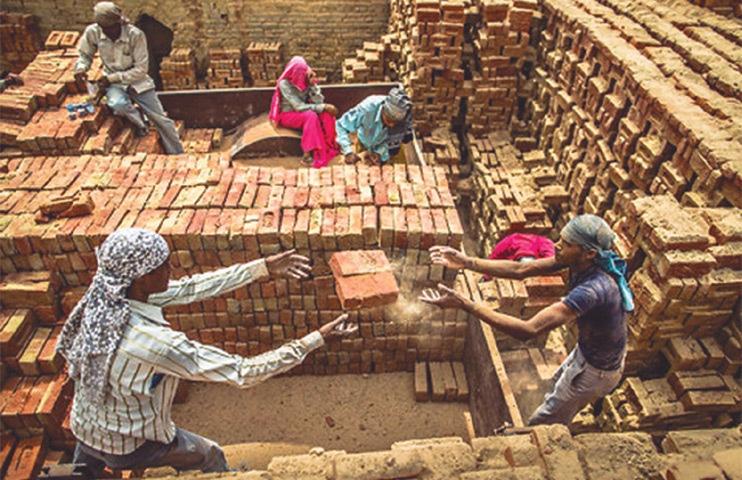 As India continues to suffer through a second wave of the COVID-19 pandemic, India's most vulnerable find themselves trapped in a vortex of abject poverty, violence and the inability to alleviate themselves from exploitation.
Over 40 crore workers in India are employed in the unorganised sector. An increase in debt spurred bondage among those whose working in brick kilns, factories and fields is being witnessed across the country with people trapped in exploitative conditions of long working hours and no freedom of movement, deprived of food and water. Workers are increasingly finding themselves either without work or in conditions where they are forced to work without wages.
India identified at least 135,000 bonded workers in its 2011 Census, while the Australian charity Walk Free Foundation put the number at eight million in its 2018 Global Slavery Index. However, experts hold that these numbers have witnessed a meteoric rise given India's unprecedented lockdown as rescue operations remain halted and rehabilitation remained negligible.
While the National Commission for Human Rights has issued an advisory on bonded labour stressing on five key categories – prevention, identification, rescue, rehabilitation and repatriation and legal aid to the district administration. The commission has given 11 specific recommendations to the Centre and state governments and UTs. However, despite such advisories the situation on the ground remains unhinged.
Speaking to Newsclick, Danish, a brick-kiln worker from Banhera Khas in Uttar Pradesh explained, "I was working in a brick kiln for most of last year until the lockdown happened; when we asked for money we were beaten up and refused to let go. I have four children and live in a rented house, my eldest is five years old. Survival has become increasingly difficult," he added.
"With the COVID pandemic we stopped getting any money and our movement was restricted. There was no accounting done. We were rescued this year, but we have not received any release certificate. We are not able to afford a house or even ration. I fear I will be pushed into the same kind of labour again to survive," he said.
Ideally, under the centrally scheme Rehabilitation of Bonded Labourers, which has been in place since 1978 to rehabilitate those rescued, Danish and many others like him should have received a "release certificate" which would enable them to claim financial aid from the government. When rescued, the labourer is entitled to an immediate cash assistance of Rs. 20,000 and further financial aid of Rs two lakh. A sum of Rs three lakh has been additionally stipulated for women and children, transpersons, sex workers and others rescued in dire circumstances. However, this assistance is only available post a release certificate and a conviction of the accused, which in most cases remains extremely rare.
While Danish managed to be rescued, many others like him continue to remain trapped as the lockdown and COVID-19 has meant severe constraints on rescue operations and nearly no rehabilitation.
Nirmal Gorana of the National Campaign Committee for the Eradication of Bonded Labour (NCCEBL), said that "rescue operations have been completely brought to a halt amid the pandemic. It is the biggest challenge. Courts have also not prioritised the issue given the plethora of other cases. Release certificates are not being made available. In Muzaffarnagar we had rescued 27 people. However, only 15 people were given certificates after a massive tussle with the labour commissioner."
"The pattern we have been witnessing is clearly indicative of an upward increase in the cases of bonded labour, contrasted by a complete malfunctioning of the rehabilitation and rescue processes," he added.
While activists and a conservative analysis suggests a natural increase in debt-bondage, the labour ministry remains in denial about the scale of the crisis.
A senior official – who wished anonymity – at the Ministry of Labour & Employment, also responsible for the draft policy on bonded labour, said: "Since industrial activity has reduced so has bonded labour. We are not saying that it has become negligible but it has been reduced substantially." he added "As far as the violence is concerned, the varied departments of the state government should look into it."
One of the primary reasons for this denial of a crisis remains the limited data available about such cases given the fragmented nature of the informal industry and its non-transparent functioning.
The crisis of bonded labour has also been aggravated by the Centre and the state's dilution of labour norms when lockdown restrictions were lifted. Key states like Uttar Pradesh (UP) and Madhya Pradesh (MP) had passed ordinances to freeze labour laws in order to benefit industries in a bid to revive their economies. Moreover, the crisis is estimated to continue further given large scale informal unemployment in the country and the need of the workforce to survive at any or every wage cost offered to them.
Read More: COVID-19 Ravages India: Migrant Workers Continue to Leave City, Informal Sector Faces Threat
Get the latest reports & analysis with people's perspective on Protests, movements & deep analytical videos, discussions of the current affairs in your Telegram app. Subscribe to NewsClick's Telegram channel & get Real-Time updates on stories, as they get published on our website.
Subscribe Newsclick On Telegram