As COVID Spreads in Rural India, Crumbling Health Infrastructure Fails to Cope
Shortfall in basic facilities and essential personnel haunts the vast network of health centres and district hospitals.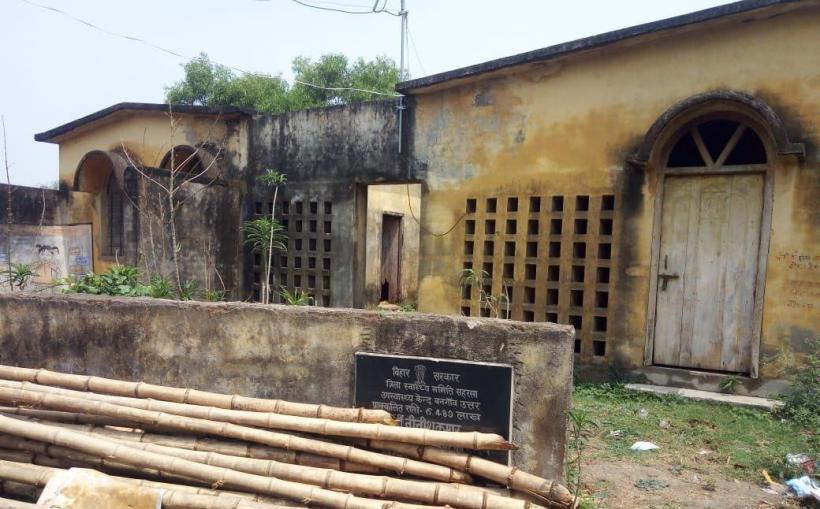 Bangaon sub-health centre, Saharsa
The three-tiered basic health infrastructure topped by district hospitals for tertiary care has been in place for years but neglect and gross underfunding has hollowed it out so much that in the present second wave of COVID, it has completely failed to come to the rescue of the hapless rural population. This dire situation is revealed by a recently released annual report called Rural Health Statistics published by the National Health Mission under the Union Ministry of Health. It covers the status for 2019-20.
As population has grown, the three tiers – sub-centres, primary health centres (PHCs) and community health centres (CHCs) – have increasingly become incapable of handling patients. A shockingly high proportion are not even conforming to the government's own minimum standards for healthcare facilities, including such basics as water supply, electricity, operation theatres or labour rooms, and X-ray machines. 
Equally chilling is the chaos in health personnel placements with some states having excessive staff while others are grossly deficient, but all show major shortfalls in specialists and technicians.
Crumbling Infrastructure
As the chart below shows, there is an increasing shortfall in the number of sub centres, PHCs and CHCs which have not kept pace with growing population. The chart shows what is needed for 2020 population levels and what actually exists.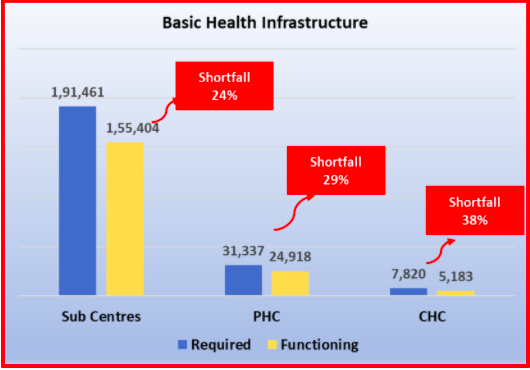 These three tiers are supposed to cater to 5,000, 30,000 and 1,20,000 population, respectively. What this means is that existing centres at each level are catering to much higher populations than they were meant for. Note that as you go upward in the hierarchy, the shortfall becomes bigger. Had this been remedied by opening new centres, the present COVID crisis would have been dealt with more effectively. What happens now is that lack of facilities means delay in medical attention, which means that as the patients' condition worsens, he/she has to be rushed to higher levels of the system, ultimately ending up in hospitals. This also causes people to be forced into greedy arms of private hospitals.
The existing health centres are in decrepit condition, the government report is forced to show: just about 4% of sub- centres, 13% PHCs and 9% CHCs conform to Indian Public Health Standards (IPHS) which lay down detailed norms for what facilities should be provided at each level. For instance, over 44,000 sub-centres and over 1000 PHCs have no electricity supply, while nearly 23,000 sub-centres and nearly 1800 PHCs have no water supply! 
Among the nearly 25,000 PHCs, about 28% don't have a labour room for ensuring safe deliveries – an essential responsibility at the PHC level. A total of 65% of PHCs don't have a fully equipped Operation Theatre (OT) prescribed by the norms. So much so that 30% of PHCs don't even have the minimum four beds for in-patients. 
Care without Trained Health Staff?
The two charts below show the shortage of some of the essential healthcare personnel at the PHC and CHC levels, respectively. The data is drawn from the same RHS 2019-20.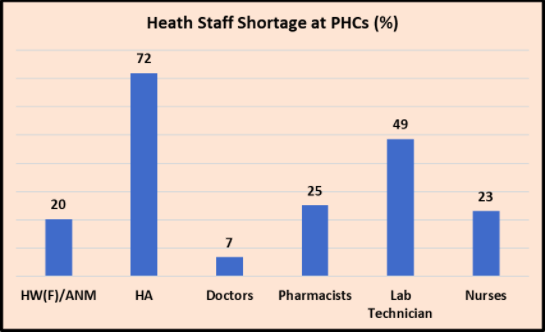 Note that in some cases, like the Health Worker (Female) or the Auxiliary Nurse-cum-Midwife (ANM), or laboratory technicians, the shortages would be debilitating. Basic duties like deliveries or care for inpatients would be impossible if these personnel are not present. 
But, an even worse deficiency is not revealed in this all-India aggregated data. Some states have excess of certain types of personnel while others have a severe shortfall. Take the case of Bihar. The required number of doctors at PHCs is 1,702 (one at each PHC). However, the government has sanctioned 4,129 posts of doctors for PHCs. Perhaps, this is an acknowledgement of the fact that population covered by each PHC is much larger than originally conceived of. But then, here is the rub: of the sanctioned posts only 1,745 have been filled up, leaving vacancies of a whopping 2,384 doctors! Compared with the officially stipulated norm, doctors are in excess but compared with sanctioned posts there is a shortfall of 58%. In calculating the total shortfall for the country, Bihar doesn't show up as having any shortfall. 
Similar chaos and discrepancies can be seen across all types of appointments in most states.
At the CHC level, the most striking deficiency is that of specialists. There are four specialists supposed to be on duty at each of the country's 5,183 CHCs: physician, surgeon, paediatrician, and obstetrician & gynaecologist. The total works out to 20,732 specialists in all across the country. But only 13,266 posts have been sanctioned and only 4,957 specialists are in place actually. 
Some of the states with very poor populations and bad health indicators have the lowest number of specialists. For example, Uttar Pradesh needed 2,844 specialists but had just 816 in place; Rajasthan needed 2,192 but had 438; Madhya Pradesh needed 1,236 but had a mere 46. Surprisingly, some of the advanced states like Gujarat too had a worrisome lack of specialists – 1,392 were required but only 13 specialists were in place.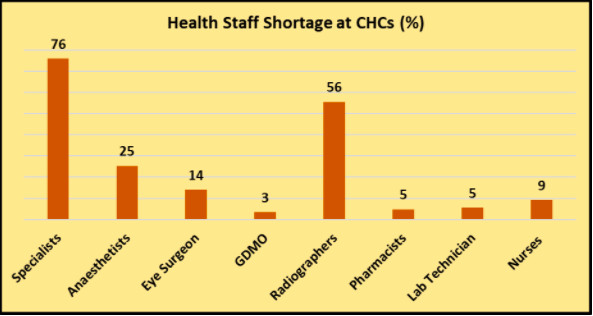 Besides this, other key personnel are also missing causing the whole structure to become dysfunctional. Thus, 56% of radiographers were not appointed. This means that no X-rays could be done at CHCs. 
The rot continues at the district hospital (DH) or sub-district hospital (SDH) level. Detailed data is not available in the report but it does show that there is a shortfall of about 10% doctors and 11% para medical staff in district hospitals, and 21% doctors and 29% para medical staff is short in sub-district hospitals. 
Funds for the National Health Mission – under which this whole rural health system runs – are shared between the Central government and the state governments on 60:40 basis. However, the Central government is much better placed financially to support the system than the state governments. Yet, over the years, there has not been much effort to provide funding for this system. 
During the Narendra Modi era, the whole emphasis has shifted to the insurance-based model which effectively puts the private hospitals centre stage, at the cost of the publicly funded lower tiers of primary healthcare. This has not only pushed millions into poverty and debt during the pandemic, but it has also brutally deprived the poorer sections of any healthcare in this time of crisis
Get the latest reports & analysis with people's perspective on Protests, movements & deep analytical videos, discussions of the current affairs in your Telegram app. Subscribe to NewsClick's Telegram channel & get Real-Time updates on stories, as they get published on our website.
Subscribe Newsclick On Telegram