COVID19: Patients Face Ostracisation as Names, Addresses are Being Made Public
Doctors are being denied entry in residential complexes, Air India crew that braved and rescued patients too is facing ostracisation.
Image Used for Representational Purpose Only
New Delhi: Two days after people were seen clapping on balconies and roads in appreciation of those fighting  COVID-19 from the frontlines, there reports of medical personnel, including doctors, and even Air India crew facing ostracisation in residential complexes. What's more, the government's move to paste stickers on the doors of those under quarantine, are leading to stigmatisation of people.
While the country is grappling with the mammoth task to stop community transmission with more and more state governments resorting to lockdowns, the public identification of suspected patients is  putting their privacy at risk as well as of doctors treating them -- creating an atmosphere riddled with stigma and ostracisation. 
While it is true that there have been some incidents of people dodging mandatory quarantine, probably due to lack of awareness about the gravity of the spread of the virus, the fact that some state governments are placing the names of those suspected of and those who have tested positive for COVID-19 in the public domain is fostering social ostracisation. 
Notices saying "Home is under Quarantine – do not visit" have come up in various states, such as  Punjab, Delhi, Kolkata and Rajasthan. Maharshtra, too, is reportedly following suit soon. Moreover, names of those infected with the virus are also being published in newspapers and magazines.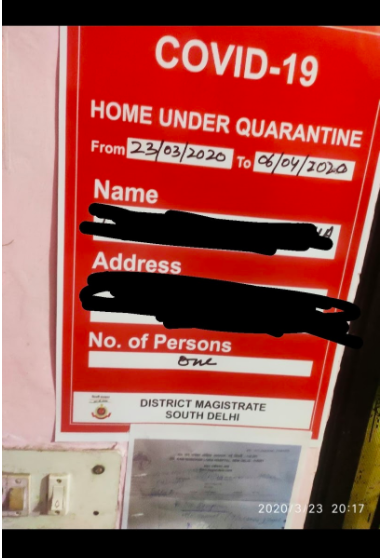 For instance, The Week reported, On March 20, the Rajasthan government made names and addresses of COVID-19 suspects public through newspapers and social media, claiming that this would ensure effective containment of coronavirus transmission. The names of 46 people suspected to have contracted the virus in Ajmer along with their addresses were reportedly listed in some local Hindi newspapers, too. 
Likewise, a list of home-quarantined persons in Nagpur went viral on social media groups, carrying names of over 300 people from the city who have been advised home isolation or self-quarantine. Details included the person's name, address, mobile number, start date of quarantine as well as the police station under which jurisdiction the residents come. 
Air India Crew, Doctors Being Harassed
In yet another instance of ostracisation, National carrier Air India stated, that its crew which brought back Indians stranded in coronavirus hit countries like China, Japan, Italy and Iran are being ostracised by vigilante resident welfare associations (RWA) in many places. Incidentally, the RWAs were in the forefront of clapping and clanging plates in appreciation of those who are in the line of duty.
In a statement, Air India said despite the airline taking all precautions, vigilante RWAs as well as neighbourhood residents were even obstructing the crew from performing their duty, simply because they travelled abroad as part of their duty.
"It is alarming that to note that in many localities, vigilante RWAs and neighbours have started ostracising the crew, obstructing them from performing their duty or even calling in the police, simply because the crew travelled abroad in the course of their duty. These vigilantes have forgotten that many a spouse, parent, sibling, child …...have been brought home safe and secure from affected countries, thanks to the heroic efforts of Air India crew," said an AI statement, appealing to the enforcement agencies to take the required steps to stop this
Also Read:Amid Coronavirus Outbreak, People from Northeast Battle Racist Slurs and Xenophobia
Even doctors are not being spared by these vigilante neigbours and RWAs. The stigmatisation is making life difficult for doctors on duty who are fighting the virus on the frontline. Several doctors have taken to social media to narrate how they are being discriminated against in their housing complex or rented flats. According to a message that has been going viral on WhatsApp, a government doctor was asked to stay away from his housing complex since he had been working with COVID-19 patients. 
From being bullied to being thrown out of their jobs, to being socially secluded, the level of stigmatization is unthinkable," says Chhaya Pachauli, a member of the Jan Swasthya Abhiyaan and director of Prayas organisation.
In the light of these instances, the People's Health Movement has written to Health Minister Dr. Harsh Vardhan to immediately take note of the instances.  Terming the display of names a breach of privacy, the letter stated-- 
Displaying names of such persons is not only a breach of confidentiality, it also does not ensure the containment of the disease, rather, it gives a false sense of security that no one else will be infected. These are arbitrary and reactionary measures that do not serve the purpose and would instead cause fear, isolation and stigmatization. Such measures will drive the disease underground, as people will not come forward for testing, and will likely worsen the situation and hence, should not be undertaken at all.
We request you to adopt procedures and other measures that would not only contain the disease, but also restore the confidence of the people in the health system. It is important for the authorities to desist from causing potential harm to the person who may be infected, by disclosure of their personal details in the public domain. If disclosure is made it may lead to reluctance to approach the health care facility for treatment and testing. In addition, the distrust that would be created between the doctor and patient on breach of confidentiality must be avoided at all cost
Speaking to NewsClick, Dr. Saorjini of the People's Health Movement said, "The state has to ensure the containment of the crisis of course, there is no doubt about it, but they also have to protect the rights of the citizens, the rights of confidentiality and even the basic conditions of food, water and cleanliness have to be maintained, there is naming and shaming which is extremely alarming, right to privacy must be upheld." 
"We do not want people to become even more vulnerable with stigmatising, they are being discriminated upon which needs to immediately stop." 
Following the alarm over such instances, in a first the Odisha government has issued a notice to ensure the confidentiality of patients, activists are now hopeful that other states will follow suit.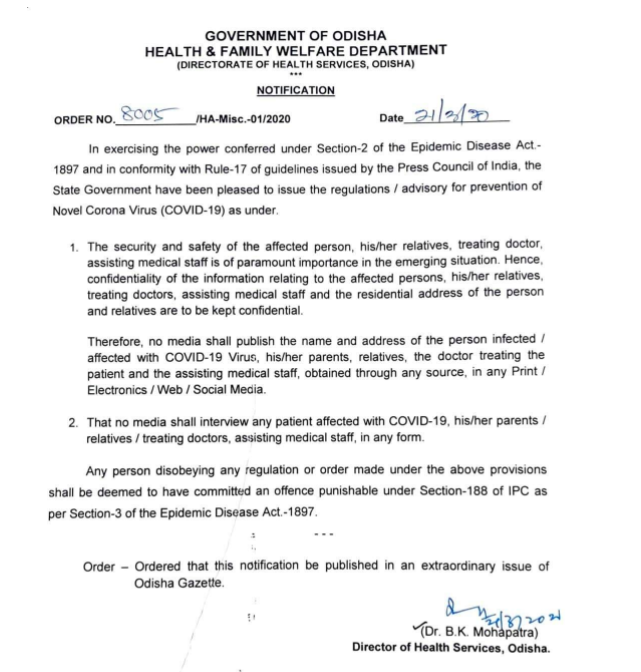 Get the latest reports & analysis with people's perspective on Protests, movements & deep analytical videos, discussions of the current affairs in your Telegram app. Subscribe to NewsClick's Telegram channel & get Real-Time updates on stories, as they get published on our website.
Subscribe Newsclick On Telegram