COVID19: Fake News and Myths are as Dangerous as the Virus Itself
Social media platforms have been abuzz with preventive recipes and myths, adding to a stream of misinformation regarding the novel coronavirus.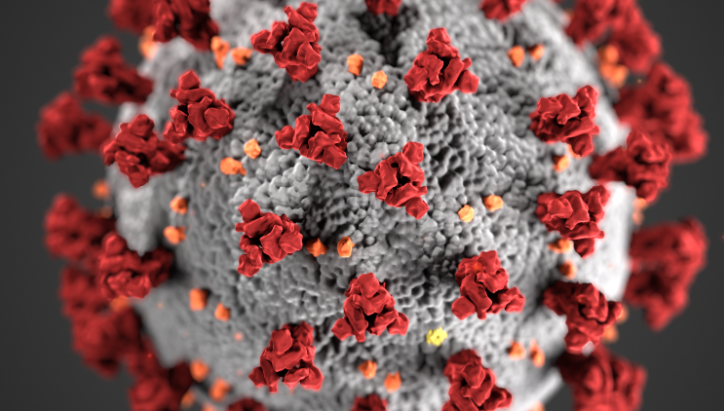 As India gears up for a fight against the novel coronavirus by issuing advisories, and restricting movement, myths and superstitions are fuelling fears and adding to confusion.
From protests against the virus to mattresses that keep it at bay:
India is witnessing a surge in reported cases of those affected by the virus and there is a lot of misinformation at play. Unauthorised 'coronavirus treatment centres' have sprung up across multiple states like Manipur, Bihar, Uttar Pradesh, West Bengal, Karnataka and Kerala.
Speaking to the science journal Nature, psychiatrist Debanjan Banerjee at Bengaluru-based National Institute of Mental Health and Neurosciences (NIMHANS) said: "In the name of 'Ayurveda' or 'herbal' tonics, these centres are giving out high-steroid drugs and natural alkaloids like Rauwolfia or Yohimbine."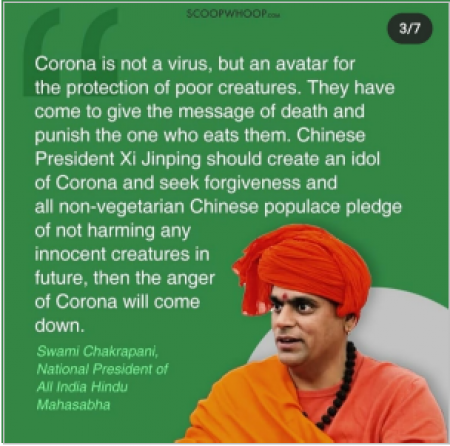 Cow dung and Gaumutra:
Suman Haripriya, a Member of Parliament from the ruling Bharatiya Janata Party (BJP) suggested that cow dung could be used against the coronavirus. The Hindu Mahasabha took this a step further by saying that drinking cow urine could do the same.
Swami Chakrapani, president of the Akhil Bharat Hindu Mahasabha organised a 'Gomutra party' claiming that it would help prevent the spread of coronavirus. He also claimed that the global pandemic has come to punish those who consume non-vegetarian food. The event began with a yagna, which was followed by slogans asking the virus to leave peacefully and not kill any more people. The Gomutra solution however, is adding to woes of the party workers. Af BJP member from Kolkata was arrested after a similar party where a volunteer fell sick after consuming the liquid.
Anil Vij, the Health Minister of Haryana, made an appeal to people to not eat meat. "Be vegetarian," he tweeted. "Do not create viruses like coronavirus, which pose a danger to humanity, by having [meat of] different kinds of animals." A Hindu nationalist group, meanwhile, claimed the coronavirus had come to punish meat-eaters.
The spread of the virus is also giving godmen opportunities to come up with solutions that are gaining legitimacy courtesy mainstream media and political leaders, as these ideas spread without appropriate fact-checks.
As reports of the shortage of hand sanitisers cropped up, so did recipes for home-made gels on social media. On a popular Hindi news channel, Ramdev suggested making herbal hand sanitisers at home. He also said consuming a concoction of ayurvedic herbs, turmeric and basil leaves could help prevent coronavirus.
Read More: 'Panic Buying' of Essentials Amid Rising COVID 19 Cases
Speaking to NewsClick, Dr. Gargeya Telakapalli of the People's Health Movement said: "The right wing is making this a plank for a rhetoric that favours vegetarianism, while there is no evidence of the same. Beyond myths, it is being made into a soft nationalism fuelled by conspiracy theories. The Government remains divided with messages being sent by the Aayush ministry being very different from those by the Ministry of Health and Family Welfare, which kept reiterating that this should not be believed. There are many home remedies being given out which are dangerous in equal measure."
The coronavirus pandemic has also led some businesses to sell products they claim can fight the virus. A 15,000-rupee (£165) "anti-coronavirus" mattress was advertised as virus-resistant. In another instance, posters in the name of 'Corona Baba' were installed at many places in Lucknow. He claimed to cure coronavirus with amulets of Rs 11. On receiving this information, Wazirganj police arrested 'Corona Baba' and sent him to Lucknow jail on the charges of fraud.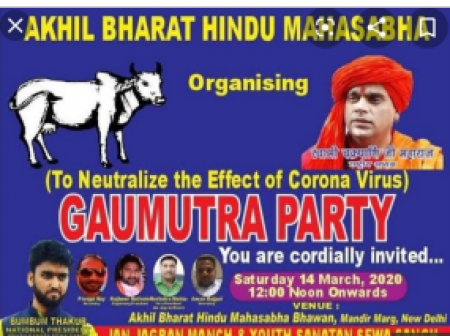 Coronavirus Keertan:
With over 1,00,000 views on YouTube, a video of a group of women has been doing the rounds on social media, in which they can be seen folk song, asking "coronavirus to leave the country".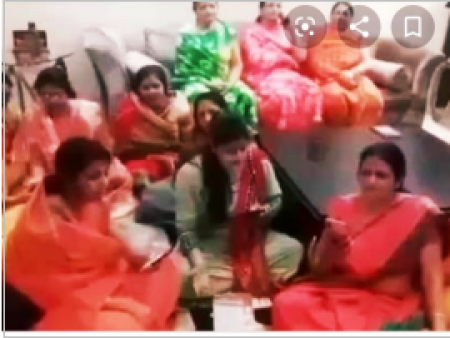 Previously, another video went viral as the "coronavirus protest" which shows a group of young boys, who seem to be a team of footballers covered in mud, shouting "coronavirus go back". The clip, which was reportedly shot during Holi, has gone viral with the video receiving over 1,00,000 views on Twitter. The protest video was inspired by Union Minister Ramdas Athawale chanting 'Go corona, corona go'. Athawale was seen with the Chinese Consul General in Mumbai.
False information regarding the consumption of raw onions, garlic and even silver have been doing the rounds on social media because of which the WHO has issued clarifications on the same. The WHO (World Health Organization) says that while it is "a healthy food that may have some antimicrobial properties", there's no evidence that eating garlic can protect people from the new coronavirus.
Speaking to NewsClick, Sulakshna Nandi, Joint National Convenor of the Jan Swasthya Abhiyan (JSA) said, "The theories are superstitions are dangerous but more dangerous is the legitimacy being given to these practices by the government, which includes the upcoming Ram Navmi mela in Ayodhya and even the Gomutra parties. In Raipur, where I am based, people are congregating and doing yagyas (religious ceremonies) to ward off the virus, but are actually putting themselves at risk and not practising social distancing, these practices which are taking place blatantly need to be countered," she added.
Amid fears of community spread, the UP government has approved a mega Ram Navmi fair, from March 25th to April 2. It claims that the district administration has already made all the arrangements. An official at Ayodhya said that devotees would be asked to wear masks and apprised of 'do's and dont's' to prevent the spread of the virus.
Read More: COVID19: "Tortured not Tested" Say Those Returning from France to Delhi
Get the latest reports & analysis with people's perspective on Protests, movements & deep analytical videos, discussions of the current affairs in your Telegram app. Subscribe to NewsClick's Telegram channel & get Real-Time updates on stories, as they get published on our website.
Subscribe Newsclick On Telegram