Census Data Contradicts Bogey of Bangladeshi Immigrants' 'Flood'
But the relevant data has been removed from the Census website within a month of release.
Image for representational use only.Image Courtesy : Wikimedia Commons/Vismaphotos
It took over eight years for the Census office to release migration-related data collected back in 2011. And, within a month of its release, one particular dataset has been removed. That's Table D-2 which gives the numbers for foreign immigrants. The official Census website now says, in a cryptic footnote, that data on this aspect is "under scrutiny, will be released soon".
Newsclick had downloaded the D-2 table before it disappeared, and some key aspects – which may be the reason why it has been removed – are given below. The redacted Census data showed that there were 23 lakh persons in India who reported that their last place of residence was Bangladesh. This is down from nearly 31 lakh such persons in the previous Census of 2001.
The dataset also gave the duration of stay in the current place. That is, the time since they immigrated. This reveals that more than three quarters of the immigrants (nearly 77%) had come to India before 1991. As shown in the chart below (based on the redacted D-2 table), immigration from Bangladesh has been steadily declining over time.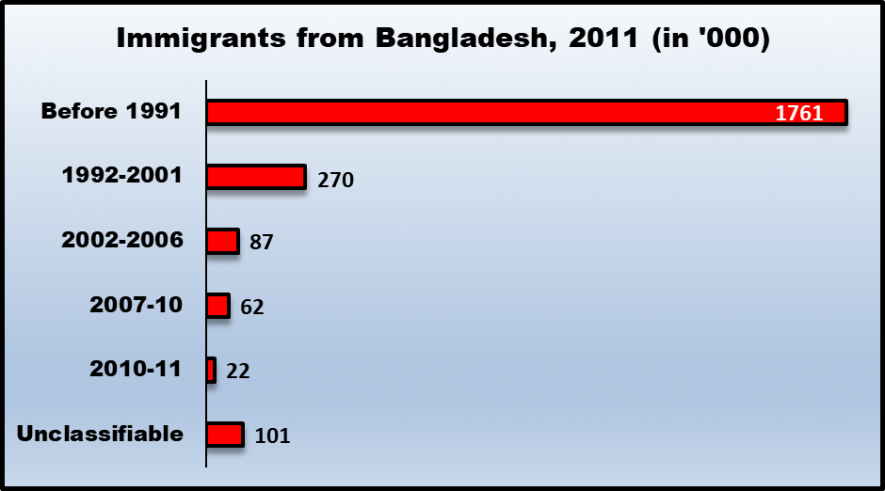 This blows up the persistent campaign by the Sangh Parivar/Bharaitya Janata Party (BJP) that Bangladeshi immigrants are flooding the country and that these "infiltrators" or "illegals" need to be, and will be, thrown out forthwith. It is common to hear top BJP leaders saying that there are 40 lakh Bangladeshis who are illegally staying in India.
Experts believe that the decline in immigration from Bangladesh may be due to a combination of factors, including border fencing and relative improvement in economic conditions in Bangladesh.
Another myth about Bangladeshi immigrants is that they are 'flooding' various parts of India. This, too, has been assiduously propagated by the Sangh Parivar. Their identification and eviction are used as a political slogan even in places where there are just a handful of such immigrants. For instance, this demand has been raised in Delhi where recently, BJP MP Parvesh Varma thundered about it in the Lok Sabha and demanded an Assam-like NRC (National Register of Citizens) exercise to evict "illegal immigrants". However, the Census data shows that Delhi reported only 2,321 immigrants from Bangladesh.
Actually, nearly 95% of the Bangladeshi immigrants are living in West Bengal, Assam and Tripura. The remaining 5% are spread out very thinly, mainly in a few cities. Included amongst these are those immigrants who were settled by the government in different parts of the country after 1971, although their numbers are dwindling with age.
Another myth is that the North-Eastern states are inundated with Bangladeshi "infiltrators". As the chart below shows, the number of Bangladeshi immigrants settled in most states of the North-East is insignificant. Only Tripura has a higher proportion of such immigrants, at about 5,862 per lakh population of the state. This, too, is not a very significant proportion, translating to just about 6% of the population.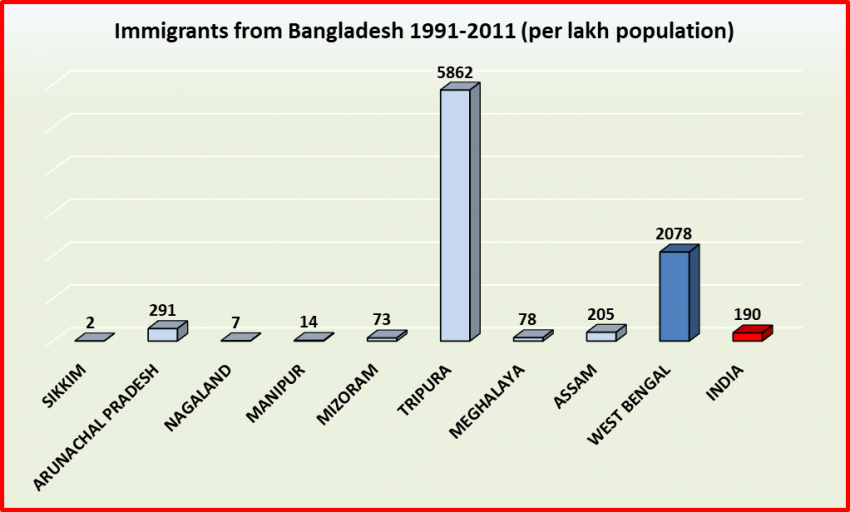 Census figures do not indicate legality or otherwise of the residents' stay in India. The Census enumerator simply enquires about where the person concerned was staying immediately before his/her current residence. It is also possible that some people may incorrectly report to the Census enumerator. But as long as there is no perceived threat or atmosphere of distrust there is no particular reason to believe that such errors or misreporting would be taking place during enumeration.
The year in which Census was conducted – 2011 – was not witnessing any tension or strife as is the case today with NRC hanging like a sword over the heads of lakhs of people. Nor was the Sangh Parivar so aggressively bullying people into asserting their religious identities and linking it to immigration. So, these figures, by and large, do represent the truth. Maybe that's why, the Census office (which comes under the Home Ministry) has removed the dataset.
Get the latest reports & analysis with people's perspective on Protests, movements & deep analytical videos, discussions of the current affairs in your Telegram app. Subscribe to NewsClick's Telegram channel & get Real-Time updates on stories, as they get published on our website.
Subscribe Newsclick On Telegram