Centre Exempts Certain Mining Projects From Public Hearings
The new policy is skewed in favour of the mining industry as mineral-rich areas are populated by the most disadvantaged communities.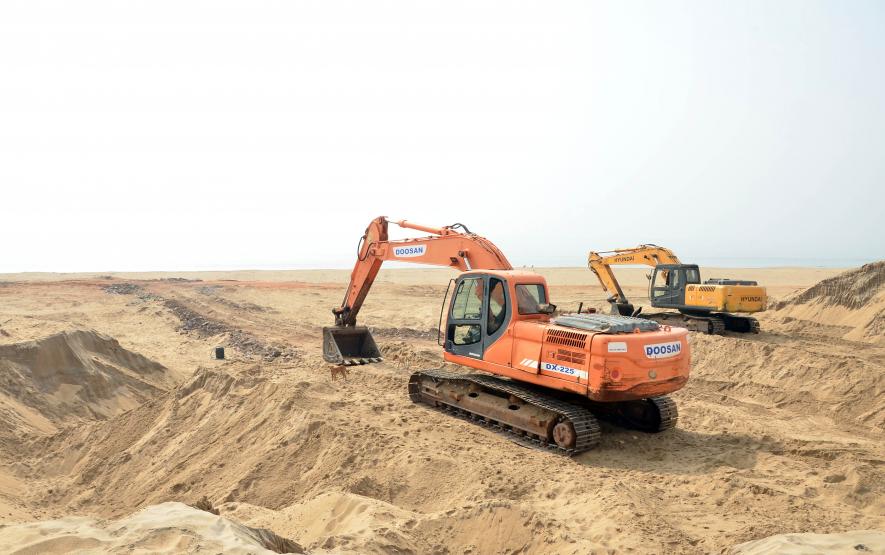 Representational Image. Image Courtesy: OrissaPOST
New Delhi: In a move that could help enrich corporate entities at the cost of some of the most disadvantaged communities of the country, the Narendra Modi government has introduced a policy whereby public hearings will no longer be conducted for certain mining activities.
According to a circular issued by the ministry of environment, forest and climate change (MoEFCC) on October 20, five-star rated mining firms extracting iron, manganese, bauxite and limestone will no longer require public hearings while expanding production capacity by as much as 20%. On the other hand, the circular, issued in the form of an office memorandum by the ministry's Impact Assessment Division, states that only public consultation—through written submissions—will be sufficient to obtain environmental clearance.
Experts have argued that the new policy is skewed in favour of the mining industry because many mineral-rich areas are populated by some of the most disadvantaged communities with low literacy levels. "Deposits of such minerals [mentioned in the circular] are mostly found in districts that have also been designated as tribal majority areas under Schedule 5 of the Constitution. These districts not only have low literacy levels but languages used by the local communities in several of these districts are not recognised under Schedule 8," Ravi Rebbapragada, chairperson, mines, minerals & PEOPLE, an alliance of communities and individuals affected by mining, told Newsclick.
Pointing out how the variance in "local dialects from area to area makes communicating with government departments difficult", Rebbapragada said, "In this scenario, asking for written submissions from local communities instead of conducting public hearings is not only tantamount to ruling them out from the decision-making process but also curtailment of their rights."
For example, the mineral-producing districts of Chhattisgarh, like Surguja (bauxite), Dantewada (iron ore), Kanker (iron ore) and Bastar (limestone), are also categorised under Schedule 5. As per the data of the 2011 Census, literacy levels of Surguja (60%), Dantewada (42.10%) and Bastar (54.40%) are lower than the state average of 70.30% and the national average literacy rate of 64.80%.
Similarly, the mineral-producing districts of Odisha, including Koraput (bauxite) and Mayurbhanj (iron ore), which are also categorised under Schedule 5, have low literacy levels. The literacy rates of Koraput (49.20%) and Mayurbhanj (63.20%) are lower than Odisha's average literacy rate of 72.90%.
Likewise, the Jhabua (manganese) and Dhar (limestone) districts of Madhya Pradesh are not only categorised under Schedule 5 but also have literacy rates of 43.30% and 59% respectively, lower than the state average of 69.30%. The Banswara district of Rajasthan, which is rich in limestone, is again a Schedule 5 district with a literacy rate of 56.30%, lower than the state's average literacy level of 66.10%.
The latest policy, it has been argued, could be in conflict with provisions of the Panchayats (Extension to the Scheduled Areas) Act, 1996—popularly known as the PESA Act, 1996—which bestows upon Gram Sabhas, the lowest unit of local self-governance in Schedule 5 areas, all rights over community resources which may also include minerals.
There is no word on whether the new policy will gradually be extended to other categories of minerals in the future though its provisions will apply only to four minerals for now. The policy note contains no safeguards against possible unethical practices.
What course of action will the government adopt if a mining firm, for example, decides to increase its production capacity several-fold in tranches of 20% each without conducting public hearings? The policy note does not cap the number of expansions that can be undertaken by a mining leaseholder.
According to Rebbapragada, the policy will "mainly benefit the big corporate mining firms, in both private and public sectors, who have large lease areas for extraction of minerals". It is these large firms "who must have managed to get five-star ratings from the government. Small-to-mid-sized players generally lack resources to adhere to sustainable mining practices in a holistic manner", he added. "The system of star ratings of mines is relatively new and not much is known about the process used to provide such ratings".
In May 2016, a system of star-rating for mining leases was introduced which awarded points on a scale of one to five to projects that had undertaken the best initiatives towards implementation of a sustainable development framework.
As per the ministry's memo, the exemption was provided after receiving representations from the Union ministry of mines and "other stakeholders" that procedures for obtaining environmental clearance be simplified to boost production. It has been further mentioned in the memo that the policy decision has been taken on the basis of the recommendations of the Joint Expert Appraisal Committee (coal and non-coal mining sectors) to which the MoEFCC had forwarded these representations for examination. One of the conditions for exemption from public hearing is that the proposed expansion should be within the existing mining lease area that has environmental clearance.
The policy, experts say, dilutes the provisions of the Environment Impact Assessment (EIA) Notification, 2006, as per which 'public hearing' is an essential and mandatory part of the public consultation process undertaken prior to obtaining environmental clearance for almost all new infrastructure projects or for expanding existing projects. Public consultation, thereby, is a two-step process, including public hearing, as per the notification.
The Modi government had come in for severe criticism after notifying the Draft EIA, 2020, under which several environmental safeguards put in place through the original notification of September 2006 were allegedly sought to be diluted.
As per the draft notification, which has since been challenged in court, mining projects falling under categories A and B1 would require public consultation only when production capacity is sought to be expanded by more than 50%. It has been argued, therefore, that in issuing a memo to put in place a policy for skipping public hearings, a backdoor method has been adopted by the Centre to facilitate the mining lobby even as the Draft EIA Notification, 2020, is on hold.
"Effecting a change to a substantive law through an office memorandum is completely illegal. How can a government curtail substantive rights of people through an office memo? An office memo is meant only for procedural laws meant for running an office," Ritwick Dutta, cofounder, Delhi-based LIFE (Legal Initiative for Forest & Environment) told Newsclick. "This memo has been issued despite several Supreme Court and the National Green Tribunal orders that significant changes in laws cannot be made through office memos. It shows the scant respect that the government has for the rule of law and court orders."
Notably, the United Progressive Alliance (UPA) government had exempted public hearings for coal mining projects seeking to expand 25% of the production capacity. However, that policy—which was also incidentally issued through a memorandum in December 2012 by the ministry of environment and forests—permitted only a "one-time expansion" with a ceiling of 2 million tonnes per annum (MTPA) if the extracted coal was to be transported by road and a ceiling of 5 MTPA if by rail.
A few months before the 2014 general elections, the UPA government extended the provision of exemption from public hearing for one-time expansion of coal mines with capacity of up to 8 MTPA to 50% or 1 MTPA, whichever was more. The extension was again provided through an office memorandum in January 2014.
Four days after Modi was sworn in as Prime Minister May 26, 2014, the ministry extended the provisions of the notification issued in January 2014 to those coal mines too that had already expanded their production capacity as a one-time measure following the notification of December 2012.
In July 2014, the government issued another office memorandum empowering the Expert Appraisal Committee to decide on providing exemption from public hearings to coal mines with capacity exceeding 16 MTPA to a ceiling of up to 5 MTPA in cases where extracted minerals were not proposed to be transported by road.
Ayaskant Das is a freelance journalist. Views are personal.
Get the latest reports & analysis with people's perspective on Protests, movements & deep analytical videos, discussions of the current affairs in your Telegram app. Subscribe to NewsClick's Telegram channel & get Real-Time updates on stories, as they get published on our website.
Subscribe Newsclick On Telegram