Chakka Jam: Farmers' Protest Intensifies; State, National Highways Blocked Across Country
Nailing their demand for repeal of three laws and legal guarantee on MSP, farmers took to streets, as protest sites at Delhi's borders were fortified with nails, barricades and barbed wires as well as internet ban.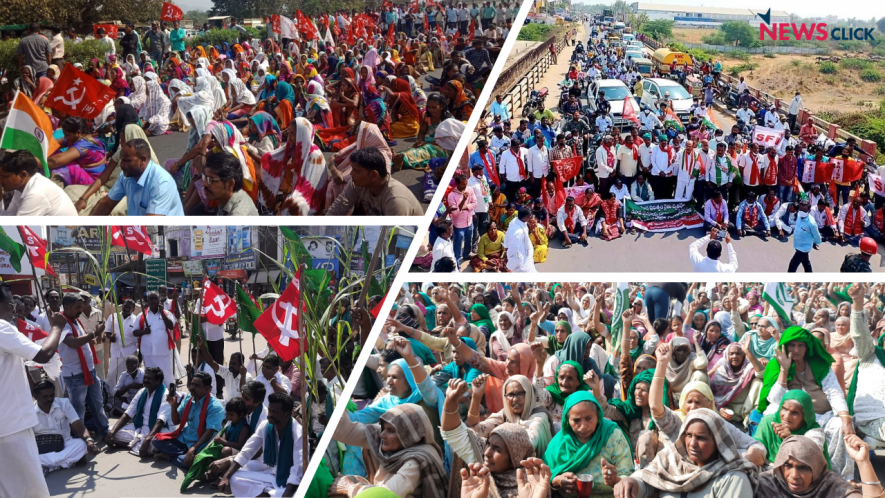 Intensifying their over two-month-long agitation against the three controversial farm laws as well as ban on internet at protest sites, farmers across the country observed a three-hour 'Chakka Jam', sending a strong signal to the Narendra Modi government – repeal the laws or face our growing wrath.
At the call of the Samyukta Kisan Morcha and several other farmer organisations, such as Bharatiya Kisan Union, the protesting farmers stayed away from Delhi and kept Uttar Pradesh and Uttarakhand out of the 'Chakka Jam' protest action, but state and national highways were blocked across the country -- from Maharashtra to Assam, West Bengal, Punjab, Haryana, Rajasthan, Karnataka, Andhra Pradesh, Telangana, Tamil Nadu and many more.
The Chakka Jam also drew widespread support from various political parties and orgnaisations, such as trade unions, student, youth and women organisations and civil society groups. In Delhi, about 50 people were detained, including some trade union leaders.
Following are state-wise reports on the growing anger of farmers:
Maharashtra: Rural Districts Warn Against 'Dirty Tricks'
Mumbai, Amey Tirodkar: On the call of Joint Farmer Labour Struggle Committee of Maharashtra, thousands of farmers participated in the Chakka Jam and slammed the Modi government for the attempts to muzzle protests in Delhi, resorting to violence to defame agitation and also demanded scrapping of threee anti-farm laws. 
Vinod Nikole, a CPI(M) leader, joined by farmers, led the 'chakka jam' action at national highway number 48 in Dhundalwadi of Palghar district. They sat on road and shouted slogans against Modi Sarkar.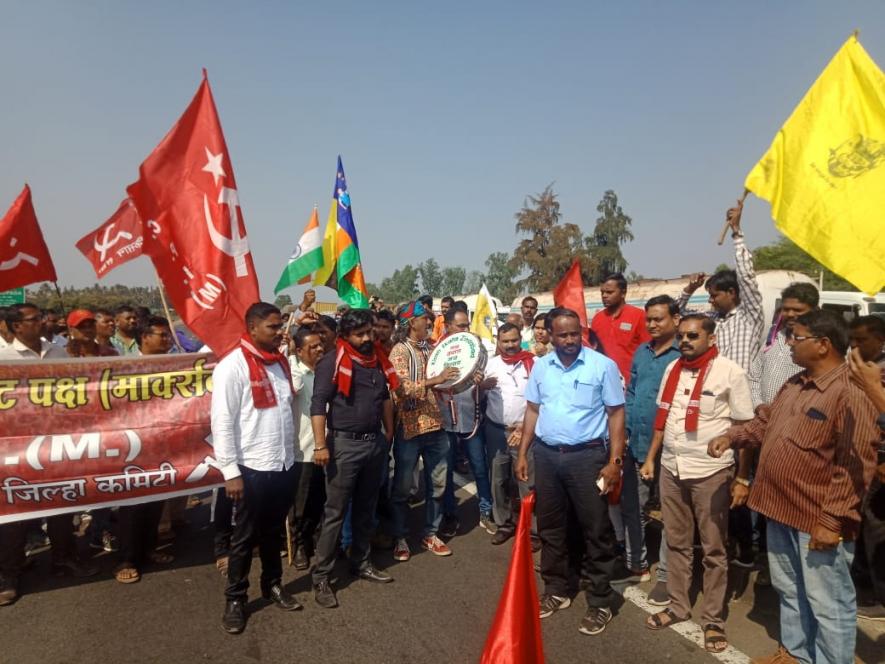 "The government is trying to buy more and more time, checking patience of farmers. It should have scrapped the laws. If it thinks that farmers will gradually fade away from the protest, it is their illusion. We won't stop until the laws are repealed," sad Nikole while addressing the crowd. 
Another strong protest too place in Kinwat of Nanded, where the roads were completely blocked. In Peth tehsil of Nasik district, farmers protested and submitted memorandum to head of tehsil revenue office.
At Ankaleshwar - Burhanpur highway, a 'chakka jam' was led by Loksangharsha Morcha.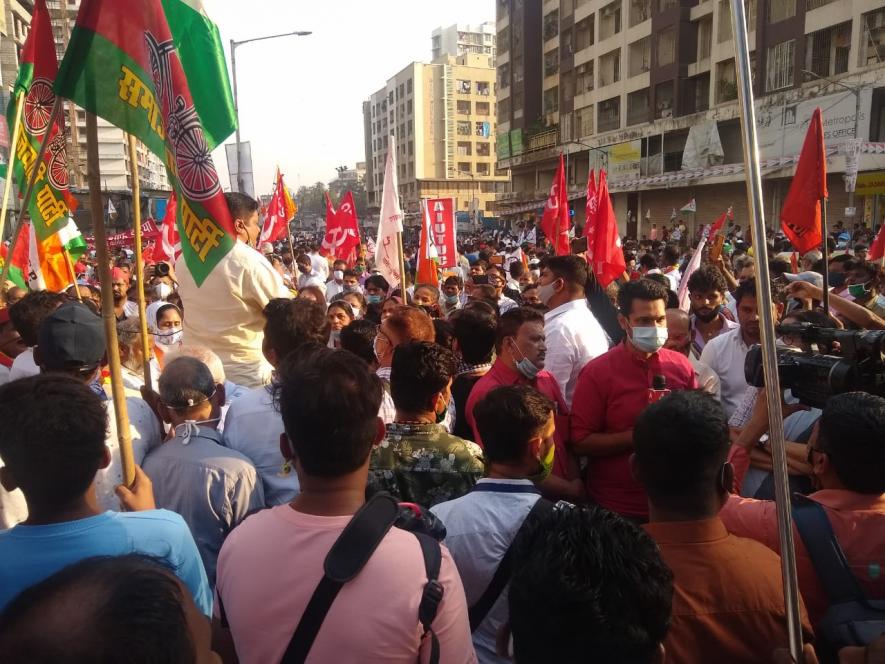 The All India Kisan Sabha and Swabhimani Shetkari Sanghatana led the protest in Ahmednagar and Kolhapur, respectively. Swabhimani workers also protested in Buldhana district
"Modi Sarkar via their men tried to defame historic protest of farmers. The roads in Delhi are blocked like LOC. This government believes that farmers are their enemies. That is why the government is not scrapping the laws against farmers," said Swabhimani leader Ravikant Tupkar. 
Punjab: Thousands Throng Highways
Bathinda, Sagrika Kissu: Thousands of protestors in Punjab blocked highways and roads at several places despite heavy police deployment, as a part of the nation-wide call given by farmers union for road blockade or "Chaaka Jaam" against the three "contentious" agricultural laws.
Protestors could be seen pouring in at the protest sites, amid slogan shouting against the Centre. No untoward incident was reported in Punjab.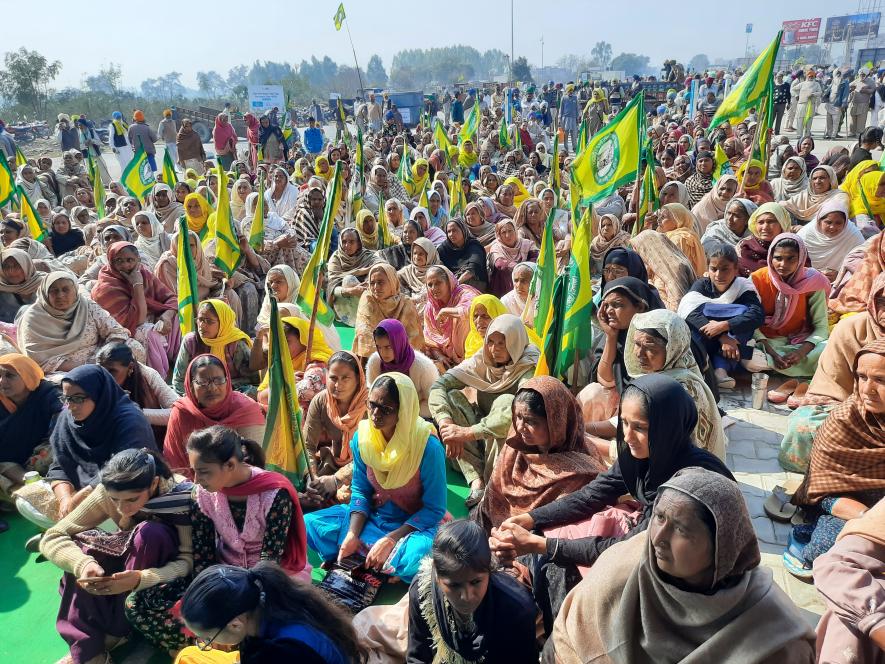 At Lehra-Bega toll plaza on Bathina-Chandigarh highway, around 3,000 protestors blocked a stretch of almost 5 kilometres.
The protest also saw the glimpses of Muslim-Sikh unity.
Mithu Khan, 63, from Jhanduke village in Rampur Tehsil of Bathinda district said he has joined the protest along with his family to express solidarity with the farmers.
"I have come here to raise my voice against the Kaale Kanoon (black laws) and the Modi government who is hell bent to divide India. Our Sikh brothers have always stood with us. It's our time to stand next to them," he said.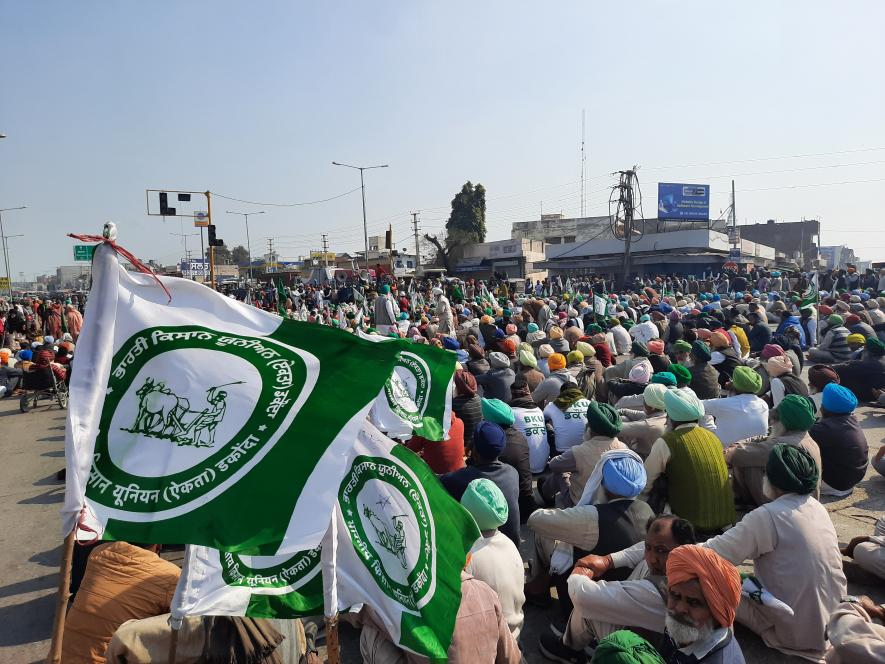 "Punjab is angry," shouted a Jagdev, 44, adding that ignoring the demands of farmers in Union Budget of 2021 exhibited the intentions of the government.
"They ignore us in the Union budget, ban the internet on Delhi borders and they expect us to keep quiet. We won't keep silent. The movement will grow from here on," said Jagdev who, along with hundred others, had blocked the main road to Lehra Mohabbat village in the Nathana Tehsil of Bathinda.
Safai karamcharis belonging to Safai-Sevak Union Punjab also joined protest in solidarity.
Ram Chand, leading the Safai-Sevak Union, said: "We want three farm laws to be repealed. Until the laws are taken back, they will have our unconditional solidarity."
Similar scenes of blockade were seen at Mansa-Sirsa highway and different districts of Punjab including Ludhiana and Patiala.
Delhi (Singhu Border): Angst and Anger on Display
Singhu Border, Ravi Kaushal: Dharmender Singh decided to stay at the Singhu Border despite consistent calls from his client to return to work. Hailing from Ludhiana in Punjab, Singh, a software engineer by profession, said that the consistent insensitive statements by Union ministers only proves that the government is being led by pathological liars.
Singh was referring to the statement made by Union Agriculture Minister Narendra Singh Tomar in Rajya Sabha in thanks motion for President's speech when he said that only one state has problems with recently enacted laws and they have been misled by rumours of corporate takeover of agricultural land. Singh said that the people has chosen to sell the produce in APMC mandis.
"Tomar is lying again that the protests should be against Mandis charging taxes. Why? Punjab collects taxes worth Rs 3,000 crore per year from the mandis. In return, the state government spends it on rural infrastructure. If the private traders purchase our produce at lesser tax rates, it will go to centre, not state. It is another attack on our federal structure."
When asked about the 'chakka jam' call, Singh said,"the farmers will blocking the state and national highways from 12 noon to 3 PM. On the conclusion of the jam, we will blow horns for one minute to show our angst against farm laws."
Baljeet Singh, President, AIKS Punjab, who received a delegation of 35 people from Mullanpur travelling on a tempo, said that the leaders made several arrangements to make this jam a historic programme. However, we have made special arrangements and deputed volunteers to provide a safe passage to ambulances and other persons in need. "It remained a peaceful, non-violent yet successful programme with massive participation", he added
Telugu States: Hundreds Detained in AP, Telangana
Hyderabad, Prudhviraj Rupawat: In Andhra Pradesh and Telangana, hundreds of farmers and Left party leaders were detained by police at multiple places on national and state highways across districts. The road blockades led to massive traffic jams for several hours.
In Andhra Pradesh, Rasta Rokos were held in over 100 centres between 12 PM to 3 PM on all major highways across the state, according to the farmers' organisations
In Vizianagaram, farmers' organisations and Left parties blocked the road near Rajiv Gandhi Statue in the centre of the town.
Farmers blocked National Highway 44 near Mamillapalli in Anantapur district. While members of Left parties, trade unions joined the protest, the regional MLA from YSR Congress Thopudurthi Prakash Reddy participated in the protest to extend solidarity. Hundreds of protesters blocked the Anantapur to Bellary road near Guntakal town in the district.
Similar protests were organised in Vijayawada, Guntur, Eluru, Srikakulam, Tirupathi, Visakhapatnam and Kurnool districts in Andhra Pradesh.
"For over the last two months, lakhs and lakhs of farmers from across states have extended their solidarity and support to the agitating farmers' in National Capital Delhi's borders but the Narendra Modi led government has been trying to sabotage the movement. It will be farcical to forcefully impose these laws on farmers," said V Srinivasa Rao, farmer leader and CPI(M) leader.
On Hyderabad to Vijayawada Highway, near Hayathnagar, tens of farmers were forcefully detained by the police. Congress Party leaders staged protest demonstrations on bullock carts. According to farmers unions, Chakka Jam was successful across districts in Telangana as even hundreds of farmers and leaders of Opposition parties were detained in Adilabad, Peddapalli, Mahabubabad, Mahaboobnagar, Warangal and Khammam districts following road blockades.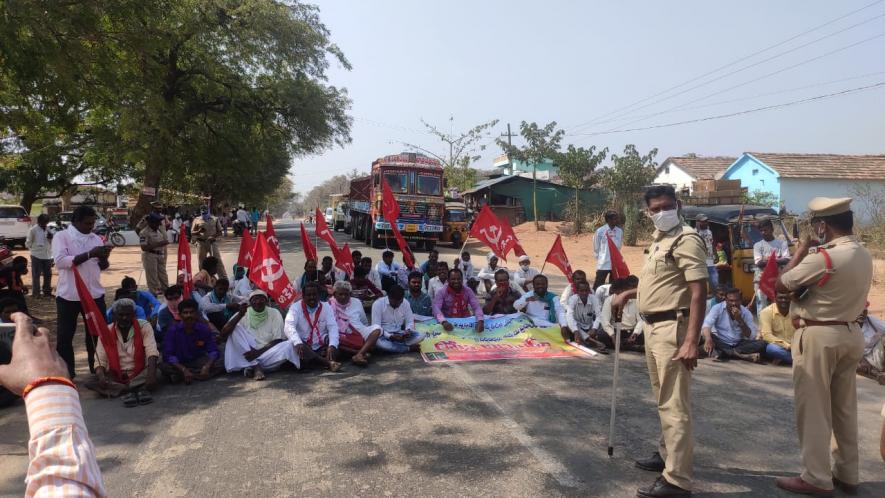 "In Telangana, farmers and agriculture workers from remote villages and tribal hamlets are joining the protests fearing the corporates take over the agriculture sector," said T Sagar, General Secretary of Telangana Rythu Sangham.
In Nalgonda XRoads in Malakpet in Hyderabad, a huge citizens' protest was held in which members of National Alliance of People's Movements,Human Rights Forum and Rythu Swarajya Vedika took part.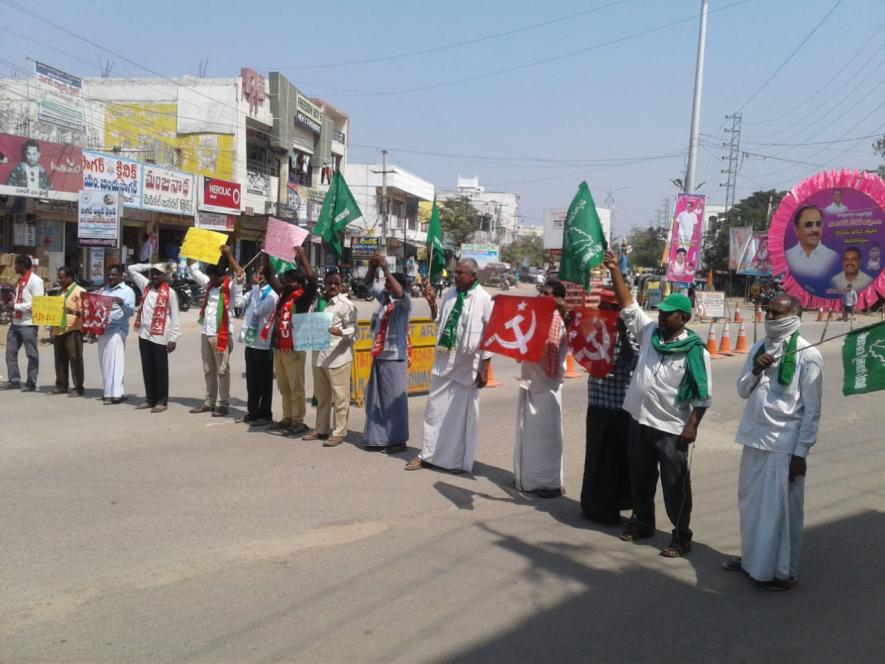 Ravi Kanneganti of Rythu Swarajya Vedika said farmer protests would continue in Telangana until the three laws are scrapped. "All Opposition political parties are planning to organise all-party meetings and joint protests in all the districts against the farm laws. The support for the farmers movement is evident from the voluntary participation of people from all quarters," said Ravi.
Bihar:  Mahagathbandhan Backs Farmers
Patna, Mohd Imran Khan: Road traffic was totally hit across Bihar during the 'chakka jam' by farmers, supported by opposition Mahagathbandhan, including Left parties and Jan Adhikar Party.
Unlike the intended three hours, the 'chakka jam' was for only an hour between 2 pm and 3 pm – in view of the ongoing intermediate exams. The protesting farmers' umbrella body and opposition parties have decided that it will not create inconvenience to the students in view of the ongoing intermediate examination in the state.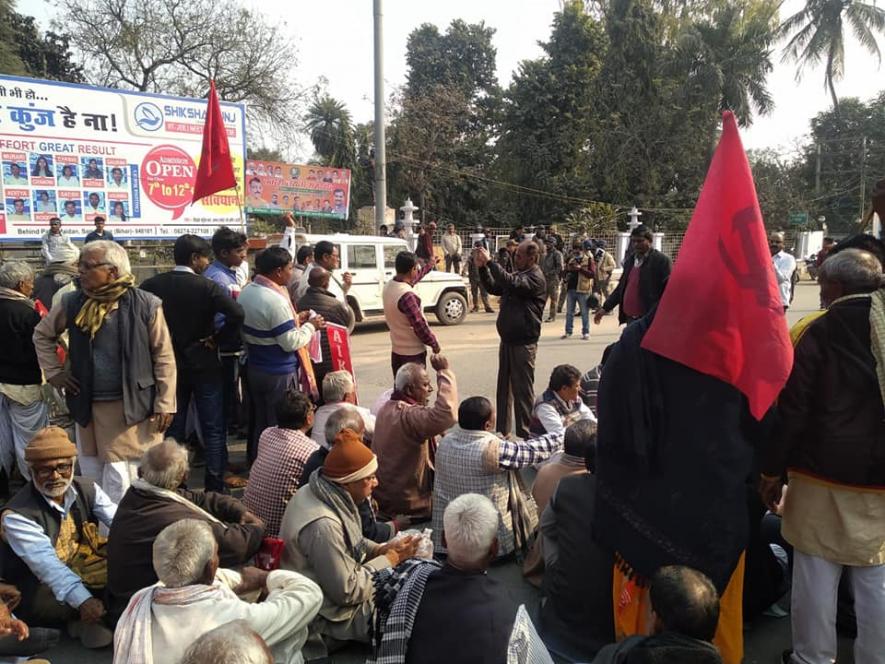 Thousands of farmers,leaders and workers of opposition Mahagathbandhan -RJD, Congress, CPI (M),CPI (ML) and CPI, took to streets and blocked most of the national highways ,state highways and main roads connecting different towns and district headquarters.
"Leaders of parties, their workers and members of farmers' bodies have blocked roads across the state," CPI(M) leader Arun Kumar Mishra said.
Dozens of farmers' organisations under the Bihar Rajya Kisan Sabha staged protests in the state  with its leader, Ashok Singh, saying that the blockade was total and successful.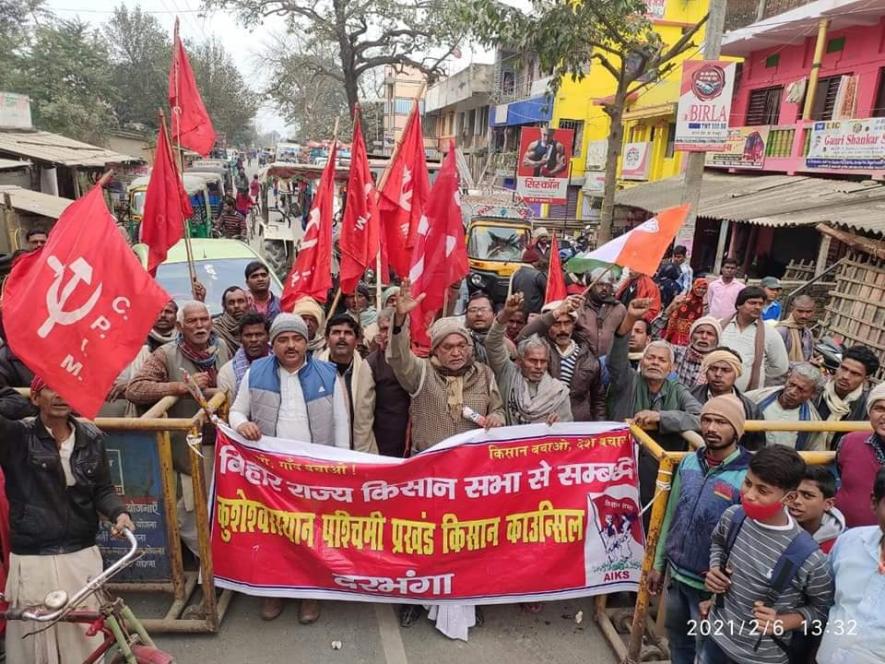 In Patna, Left parties workers in large numbers blocked Chotkohra bridge, Anisabad golambar,Danapur and Digha road, besides hundreds of JAP members who  blocked national highway at Fatuha near Patna.
Begusarai,Gaya,Arwal,Jehanabad,Darbhanga,Muzaffarpur,Katihar,Purnea,Bhojpur,Buxdistricts also saw blockade of roads.
This successful 'chakka jam' came a week after a human chain across Bihar in support of the farmers protesting against the three contentious farm laws .
West Bengal: Blockades in 300 Places
Kolkata, Sandip Chakravarty:  Over 300 places saw 'chakka jam' action in the state. In Burdwan district, the programme was taken up by AIKS in almost all the blocks  and up to village tehsil level Even the main National highway2 and 1 was blocked by AIKS members.
In Haldia and East Medinipore district, police forcibly removed  activists from national highways.According to Shamik Lahiri,  district committee secretary of  South 24 Parganas, 'chakka jam' was done in over 35 places, including Diamond harbour , Sonarpur, Baruipur Bujbuj, Bata , Canning  Ghutiary shariff , Amtolla among others.
In North 24 Paragans, mill workers also joined the protest , which took place in  over 50 places . In Nadia, Murshidabad, Cooch Behar, West Burdwan,  Birbhum  and Bankura also there was good response.
In West Medinipore district in several places of Jungle Mahal, too, the protest action was observed. In Debra of West Medinipore,  a rally was conducted after the successful blockage of national and State Highway, while in Hooghly and Howrah  districts, about 50 places saw protest action.
Assam: Partial Response, Protesters Detained
Guwahati, Sandipan Talukdar: The country wide 'chakkam jam' call evoked partial response in Assam. Overall, transport movement was less and there were protests, sit-ins and road blockade in many parts of the state. Police also detained protestors in some places.
In the state capital, the LDM (Left Democratic Mancha) Assam called for a sit-in protest at the Guwahati Rotary Club. Apart from the Left parties and the constituent organsations of the LDM, others also joined the  protest were Satra Mukti Sangram Samiti, the student outfit of the Krishak MUkti Sangram Samiti led by Akhil Gogoi, Krishak Shramik Sangha etc. along with some intellectuals, columnists and advocates.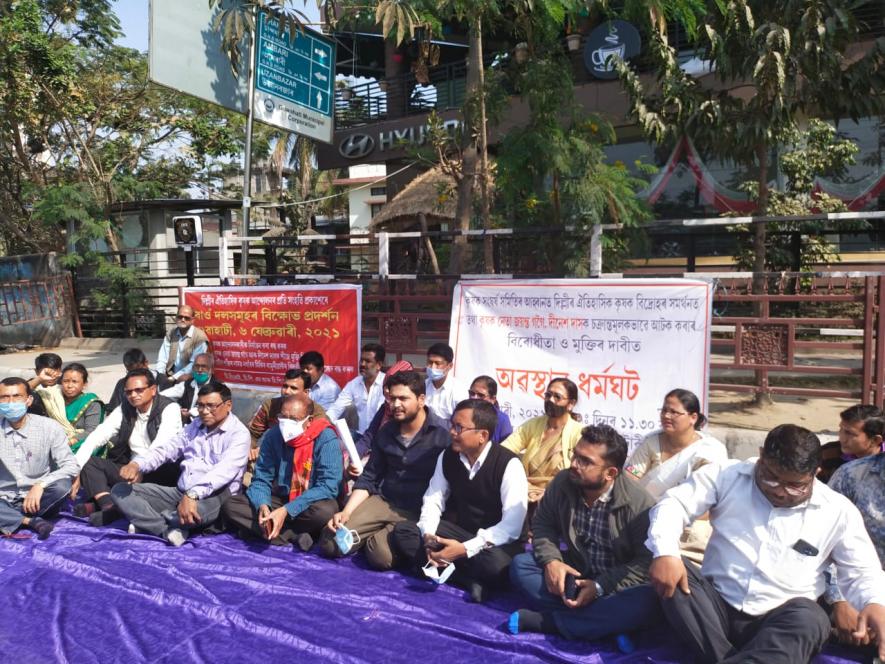 The protest also demanded the immediate release of Jayanta Gogoi and Dinesh Das, the two farmer leaders who were arrested from Guwahati airport after their returning from Delhi after participating in the 'Tractor Rally'. Both were arrested for violating COVID protocol.
Pankaj Das of CPI(ML) said: "What the government has done in last few days in Delhi shows the fascistic attitude in the naked form. While international support is pouring in, the Central government has no time to listen to the farmers. In Assam also, the state government is busy in election gimmicks while people are sleeping in open in the Mikir Bmuni grant and Laika Dodhia."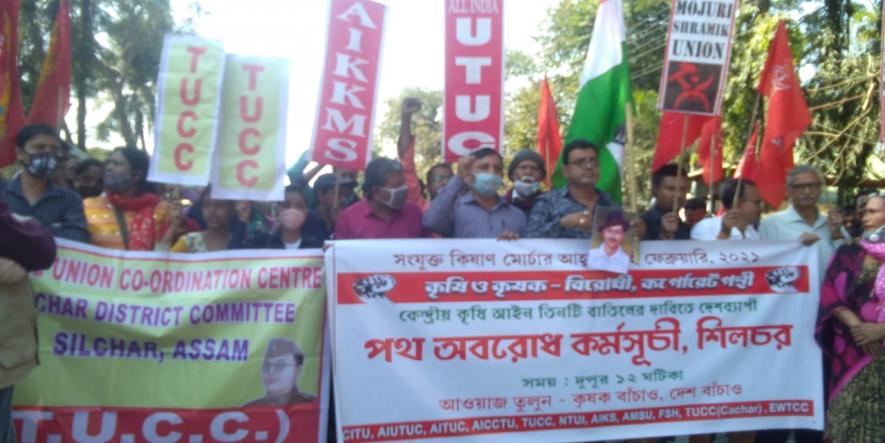 Apart from Guwahati, other places like Silchar, Karimganj, Goalpara also witnessed protests and roadblocks.
In Silchar, Tiken Das, state secretary of the AIKS said that joint protests have been organised in several places and support for farmers was growing in the state. "Farmers movement will be an issue in the forthcoming Assembly election. The arrogant government will be taught a lesson this time."
In the hill district of Karbi Anglong, there was a road blockade. The joint programme took place at Manja of Karbi Anglong blocking the National Highway 36. There were some clashes with police during the programme.
Tamil Nadu: Farmers Hit the Roads
Chennai, Neelambaran A: The farmers once again hit the roads, as part of the nationwide 'Chakka jam' against the three farm laws, saying only the repeal of the controversial laws will end the protests. They also demanded withdrawal of cases filed against the leaders of the kisan organisations and media persons.
Thousands of farmers were detained by the police after they took out rallies before resorting to 'Chakka Jam' across the state.
P Shanmugan, general secretary of Tamil Nadu Vivasayigal Sangam said, "The protest is being held in more than 100 locations across the state, with massive participation of the farmers."
The farmers carried damaged crops and paddy sacks to express their anguish over the farm laws and also demanded fair compensation for the crops damaged during the January rains and condemned the delayed visit of the central team to access the damages.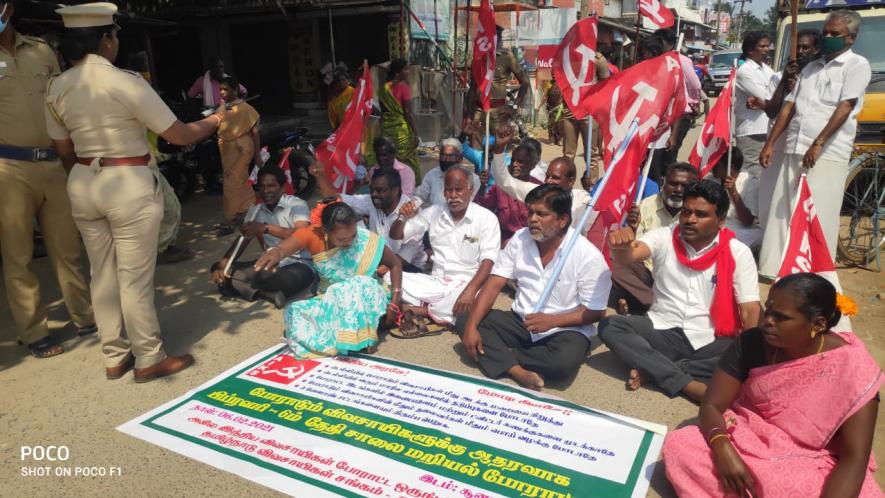 Durai Raj, Mayiladuthurai district secretary of the AIKS said, "The fear among the farmers on loss of livelihood is running high at the outset of the farm laws being implemented. The procurement process needs to be reformed to ensure smooth procurement, but the system itself is under threat now".
Meanwhile, the farmers have planned their next struggle after the finance minister announced the commencement of the Chennai- Salem green corridor road in the  2021-22 financial year.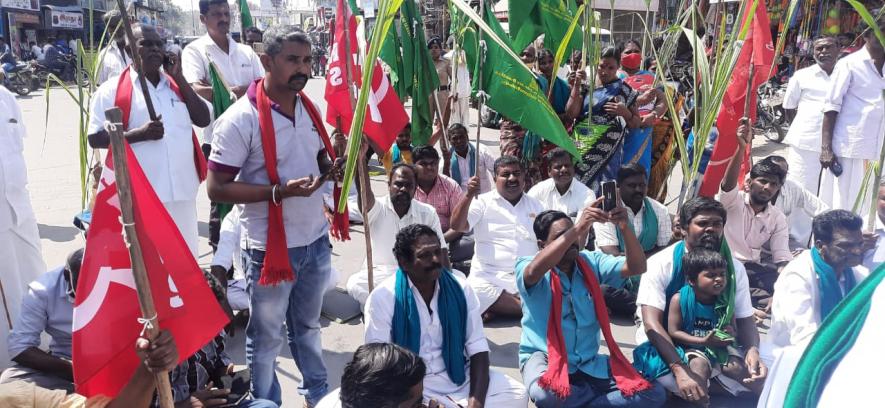 The AIKS will lead a protest march to the government secretariat on February 11 demanding the scrapping of the 277 km long Rs 10,000 crore project, the association has announced.
The sugarcane farmers will also join the protest on the same day, with their charter of demands. The farmers are yet to receive around Rs 1,700 crore payment form private, cooperative and public sector mills. The cane farmers have been demanding an MSP of Rs 5,000 per tonne, while the state government has decided to implement the revenue sharing model. 
Madhya Pradesh: Farmers Cook Rotis on Highway
Bhopal, Kashif Kakvi: Echoes of dissent were felt against the three farm laws across the length and the breadth of Madhya Pradesh on Saturday as the farmers hit the highways to observe "Chakka Jam" at more than 150 sites.
From cooking rotis on the state highway in Ujjain to blocking national highways in three places in Gwalior and one in Seoni, 500-km apart, farmers made their presence in nearly 25 districts with the support from the opposition Congress.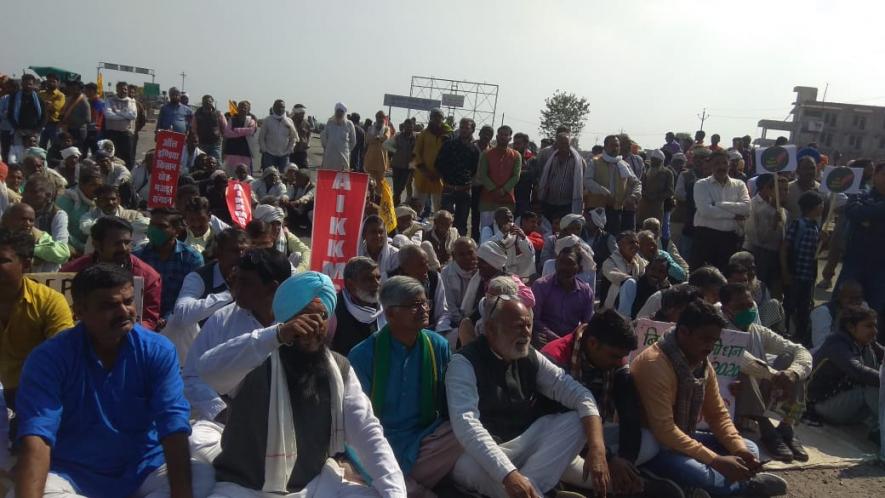 In Dewas, Narmada Bachoa Andolan convener Medha Patkar sat on the highway and blocked roads in Khategaon of Dewas district which led to traffic jam, while in Barwani, the Congress leaders halted traffic for hours in Vadodara-Khandwa highway. In Gwalior and Morena, farmers under the banner of All India Kisan Sangharsh Samiti (AIKSS) and Samyukt Kisan Morcha and AIKS, blocked roads NH-3 amid heavy police deployment.
"In addition to the NH and SH, the farmers have also blocked key roads in their respective panchayats, blocks to register their disappointment against the farm laws," said Patkar.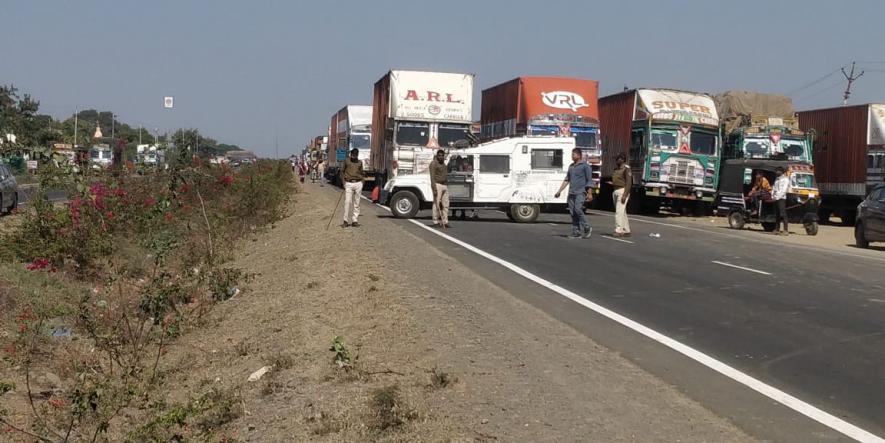 In addition to that, farmers blocked roads in Hoshangabad, Jabalpur, Sagar, Jabalpur, Rewa, Satna, Katni, Mandsaur, Indore, Dhar and others.
"If we include, block level Chakka Jam along with National and State Highways, Madhya Pradesh has witnessed more than 150 incident of road blockage," said Badal Saroj of AIKS and State conveyor of AIKSS. 
Get the latest reports & analysis with people's perspective on Protests, movements & deep analytical videos, discussions of the current affairs in your Telegram app. Subscribe to NewsClick's Telegram channel & get Real-Time updates on stories, as they get published on our website.
Subscribe Newsclick On Telegram