Chamoli Disaster, a Reminder of Vulnerability of Himalayan Glaciers, Glacial Lakes
Since a long time, scientists have been pointing out at climate change posing a big threat to these glaciers and the populations that rely on them.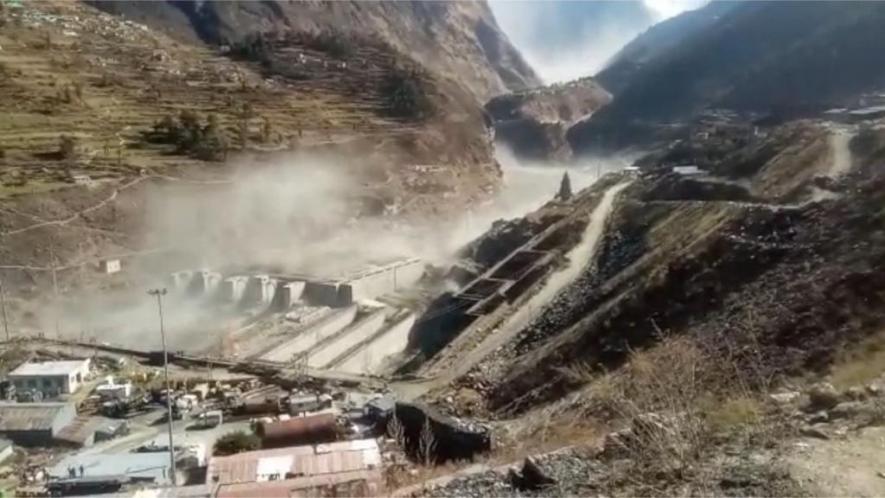 Image Courtesy: Down to Earth
Himalayan glaciers in South Asia region have been playing a pivotal role in providing water for various purposes, such as for drinking purposes, for agriculture, hydropower and biodiversity. Around 240 million people of the region, including 86 million Indians -- roughly the equivalent of the country's five biggest cities combined -- are dependent on the glaciers in the Hindu Kush Himalaya for water supply.
Since a long time, scientists have been pointing out at climate change posing a big threat to these glaciers and the populations that rely on them.
Glacier melting increases the risk of runoffs and floods, as seen in the case of bursting of a lake which was formed with the melting of Chaurabari glacier in Kedarnath in 2013 and now the recent glacier lake burst on February 7 in Chamoli district  of Uttarakhand,  which claimed 35 lives while 204 persons are still missing.
A P Dimri, professor, School of Environmental Science, Jawaharlal Nehru University, said: "The Himalayas are a water tower. With increasing global warming, the upper reaches of the Himalayas are warming faster, leading to more rapid melting of the glaciers. This has resulted in an increasing number of glacier lakes, which are formed by water melting from the ice caps and accumulating at the mouth or snout of the glacier. These lakes also become reservoirs of ice and moraine debris. With an increase in this phenomenon, the breach of glacier lakes poses a severe threat to the communities living downstream."
A 2005 inventory of glaciers and glacial lakes in the Himalayan region, documented by the Kathmandu-based International Centre for Integrated Mountain Development (ICIMOD) and Wadia Institute of Himalayan Geology had identified 127 glacial lakes in Uttarakhand, using satellite images. The study identified 1,439 glaciers (with a total area of 4,060 sq.km), and 127 glacial lakes (with a total area of approximately 2.5 sq km). The research found most of these lakes small and not dangerous.
Teams of scientists have reached Raini village to ascertain and evaluate the  actual causes of flood in Rishi Ganga river in that region.
Mohd Farooq Azam, assistant professor, Glaciology & Hydrology, IIT Indore, explained: "The incident in Uttarakhand may have occurred due to the fracture of a hanging glacier (about 0.2 sq km in size) together with snow and rock avalanches, at 5,600 metre altitude near Trishul Peak. Although it is hard to fully ascertain the source of the water and slurry which was seen in the recent videos, our current hypothesis is that the water accumulated and locked in the debris-snow below the glacier was released when the glacier-rock mass fell, dropping almost 2 km before hitting this marshy land.
Since the temperature in the region currently is sub-zero, river level is much lower than it would be in the monsoon season." Azam further added: "Since 2017, there has been a dramatic appearance of debris-snow accumulation at the bottom of the glacier. The stream flowing out from this glacier earlier was very clear, but after 2017 the glacier stream has been hidden below the accumulated debris-snow. Perhaps this debris-snow would have been absorbing and collecting water coming from the upstream glaciers, which is what we think may have released when the ice-rock avalanche hit it. However, we need for more data from the field as well as satellites to conclude the disaster with some confidence. It may take a few days."
A statement from GB Pant Institute of Himalayan Environment and Development in an email response said: "The Institute's team of faculty is visiting the site for survey and to get the science-based evidence. Till the team completes its survey and submits a report it would be premature to make any statement to support factual narrative. The institute shall share information as soon the team comes back from the site."
The "Special Report on the Ocean and Cryosphere in a Changing Climate" released by the IPCC (Intergovernmental Panel on Climate Change) in 2019 forecast that glaciers would retreat in the upcoming years, causing landslides and floods. In addition to that, more recent research has highlighted the critical situation faced by the Himalayan glaciers:
 Ice loss in the Himalayas doubled in the period 2000-2016, compared with 1975-2000, according to a paper published in the journal, Science, in 2019 that used 40 years of satellite data.
The 2019 Hindu Kush Himalaya Assessment, a comprehensive report coordinated by the ICIMOD, notes that eastern Himalaya glaciers have tended to shrink faster than those in central and western Himalayas.
 A 2018 discussion paper by The Energy and Resources Institute also emphasised that the warming rate over the Himalayan region between 1986 and 2006 was 1.5ºC and is projected to increase up to 3ºC by mid-century, though with differences across the region (p. 10).
Even if global temperature is kept below 1.5ºC, around 35% of the ice mass stored in the High Mountains of Asia will be lost. That number could increase up to 65% in a scenario of high greenhouse gas emissions. These predictions are from a 2017 study published in Nature.
 A 2019 paper published in PNAS estimated that Eastern Himalayas are a hotspot for glacier lake outburst floods, with a risk three times higher than other Himalayan regions.
 A 2020 study looked at the risk of 329 glacial lakes in the Indian Himalayas, considering downstream impact and "potential number of buildings, bridges, and hydropower systems that could be inundated by glacial lake outburst floods in each lake". Of those, they identified 23 as "very high risk lakes" and 50 as "high‐risk lakes". The Shakho Cho and Khangchung Tso glaciers had the "most considerable risk".
The gushing water emanating from breach of glacial lakes has been wreaking havoc in downstream areas when it accumulates debris from hydro power dam projects on its way. Manju Menon, senior fellow, Centre for Policy Research, said: "One of the most unfortunate outcomes of the climate policy discourses globally has been a re-acceptance of large dams by governments as a viable non-fossil fuel source of energy. In India, we had reached a point when massive social and environmental mobilisations on large dams underlined how these structures waste water instead of conserve it and offer false developmental solutions. "
Menon rued that this re-acceptance is ironic because climate change has also made hydrological flows in the Himalayas erratic and unpredictable, in terms of the impacts on glaciers and monsoon patterns. Therefore, planning and implementing large engineering projects on Himalayan rivers is fraught with great risks.
"Most scholars of Himalayan rivers have been warning about these risks for decades, but the environment impact assessment for these projects withhold or underplay this information so that projects get approved. Given that climate change is such a complex phenomenon and is affecting everything in our environments, development and environmental policies should really not be selecting these options that put people at great risk," she said.
Since different teams of various science institutes are assessing and accumulating data with regard to the Chamoli disaster and, they will present their individual reports, but Arun B. Shrestha, regional programme manager, Transboundary River Basins and Cryosphere, ICIMOD, emphasised that the scientist community need to work together to better understand and provide mitigation measures to minimise the human and property losses with regard to Chamoli-like incidents.
 "The unfortunate event in Uttarakhand on February 7 reveals once again the fragility and the inherent hazard characteristics of the Hindu Kush Himalayas. Science has already shown that disasters like the one seen in Uttarakhand is something that we have to be  better prepare for, as the probability of such events happening in the future increases with ongoing rate of climate change  changes. It is imperative that we all start working together, with urgency, to better understand and prepare for such events at the local, national and regional levels. This will be important not just for lives and livelihoods of people in the mountains but also for millions living downstream," said Shrestha.
Seema Sharma is a Chandigarh-based independent journalist who writes on environment, climate change, wildlife , social and gender issues.
Get the latest reports & analysis with people's perspective on Protests, movements & deep analytical videos, discussions of the current affairs in your Telegram app. Subscribe to NewsClick's Telegram channel & get Real-Time updates on stories, as they get published on our website.
Subscribe Newsclick On Telegram