Climate Change Forces Kashmir Paddy Farmers to Consider Other Options
The construction of large housing complexes and brick kilns and the shift to horticulture are the reasons for shrinking land under rice cultivation.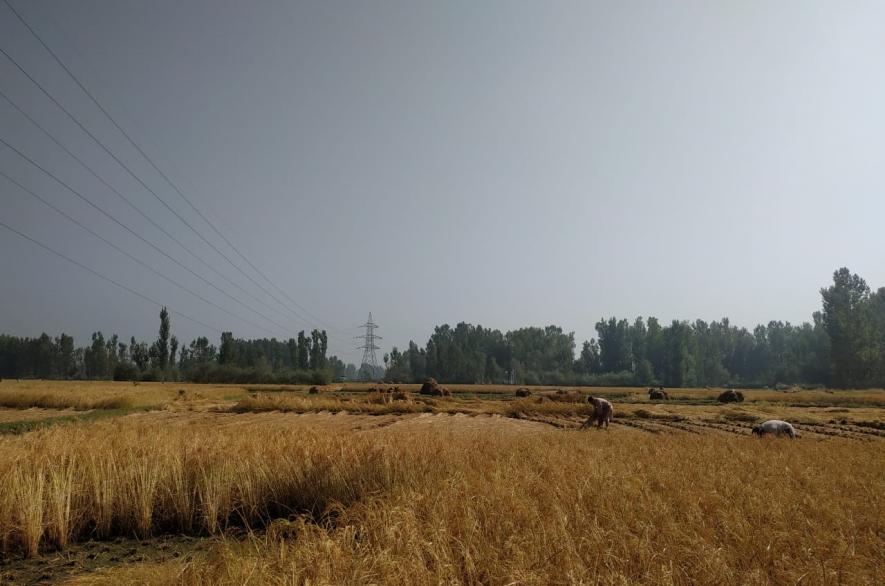 Due to the falling levels of streams and other waterbodies in the Union Territory, the administration advised farmers to not sow paddy this year.
Rising temperatures and a prolonged dry spell, triggered by climate change, have rung alarm bells in Kashmir with the administration advising farmers in several districts not to cultivate paddy this year.
With 80% less precipitation than normal, the temperature was around 8-10 degrees Celsius above normal in March and April. In some places, the average temperature had risen sharply from 15-20 degrees to above 30 degrees.
Due to the falling levels of streams and other waterbodies in the Union Territory (UT), the irrigation and flood control department advised farmers to sow pulses and other less water-consuming crops.
"The farmers are informed that there was very little snowfall this winter … Also, the accumulated snow is melting fast owing to high temperatures. The melting of snow indicates that this year, the water level can get very low in summers which can create difficulties in this year's irrigation season," an advisory in the Baramulla division read.
"February, which is the coldest month in Kashmir, was the hottest. Therefore, I advised farmers in many areas to not sow paddy this year. It's all due to climate change," a senior official in the agriculture department said requesting anonymity. 'The sudden climatic change forced the agriculture and irrigation departments to suggest farmers in Uri and surrounding areas to switch from paddy to maize."
According to official records shared by agriculture department director Iqbal Ahmed Choudhry, the area under paddy cultivation is decreasing every year while yield is increasing. From 1,62,309 hectares in 2012-13, the area under paddy cultivation decreased to 1,34,067 hectares in 2021-22.
Explaining the anomaly between the decreasing area under cultivation and rising yield, Choudhry said, "Earlier seeds were less productive than the recent ones, whose yield is almost double."
The dry spell, according to Choudhry, could be one of the reasons for farmers experimenting by switching from one crop to another. "The positive thing is that we are not losing paddy yield due to lack of rains or irrigation though occasionally farmers test one crop against another to see which is better."
Choudhry is "not concerned about farmers shifting from crop to another but the construction of large housing complexes and brick kilns and the shift to horticulture".
Farmer Ghulam Nabi (45), from Baramulla's Pattan municipality, severe water shortage hit several areas merely a week after paddy cultivation. "The majority of seedlings wilted due to the lack of water. Monsoon in April-May provided some respite. We don't have any other irrigation option. Paddy is our main source of income. We are facing significant losses," he said.
South Kashmir, where farming is a major source of livelihood, has been hit worst by climate change. A severe drought has affected more than 1,000 kanals (around 50 hectares) of paddy land in Wangam, Sheikh Gund and surrounding areas of Shangus zone.
The lack of irrigation water has also affected farmers in the Anantnag regions of Pazalpora, Jablipora, Subhanpura, Kulgad, Tulkhan, Wanihama and Dailgam. "The streams don't flow like earlier," Nabi said. According to officials, Anantnag, which has 3,600 hectares under paddy cultivation, is experiencing a drought-like situation.
Agricultural land in Kulgam, the rice bowl of Kashmir, is dwindling at an alarming rate with experts predicting there will be very little land left for farming in the future. An agriculture official requesting anonymous said that construction of houses and brick kilns are the main reasons for the decreasing farmland.
"Kashmir's agricultural land is disappearing at an alarming rate with the government remaining a bystander. Hundreds of kanals of Abi Awal land have been transformed for commercial use," environmental expert Nazir Ahmed said. "If land conversion proceeds at the current rate, it won't be long before no more paddy fields are left."
As the focus of consumption was surface water, Rayees Ahmad Pir, a scientist with the Central Water Board, noted that the UT has largely untapped groundwater. "The majority of groundwater is unexplored. Groundwater exploration is urgently needed. Compared to other states, Jammu and Kashmir don't have a groundwater board."
Choudhry is more concerned about melting glaciers and rising ocean water levels than rains. "Along with maize and vegetables, paddy is grown on more than 1,35,00 hectares. If there are no rains, it will undoubtedly affect production. But if there are rains next week, everything should be fine because we still have time," he said.
Fifty-year-old Mohammad Shaban Dar, has given up on a good paddy crop. His paddy saplings were affected by the dry weather and more than two weeks of lack of irrigation water. Finally, he opted for maize.
"The paddy crop suffered significantly in Srinagar's Lawaypora and Gund Hassi Bhat. Some of the farmers didn't sow paddy due to the drought-like situation. Around hundred kanals turned dry due to the lack of irrigation," said Dar.
In some areas, farmers breathed a sigh of relief as the recent heavy rains ended the drought-like situation. Rahim Ahangar (48), from Baramulla's Dasselpora village, has 30 kanals of farmland, his only source of livelihood.
According to Ahangar, 80% of farmers in his village were "unable to irrigate their fields this year and sowed maize instead of paddy. "Maize or other pulses can replace Kashmir's traditional rice." The majority of farmers in Dasselpora depend on agriculture, he said adding that he "used to sell half of his crop and consume the other half".
With the construction boom and unplanned development, agricultural land was rapidly converted for commercial purposes in the last decade. Since 2013, almost 30,000 hectares of farmland have been lost, which has led to a decrease in the amount of land under paddy cultivation.
The writers are Kashmir-based independent journalists.
Get the latest reports & analysis with people's perspective on Protests, movements & deep analytical videos, discussions of the current affairs in your Telegram app. Subscribe to NewsClick's Telegram channel & get Real-Time updates on stories, as they get published on our website.
Subscribe Newsclick On Telegram