Coastal Villagers Face Threat to Livelihoods as Land is 'Forcibly' Taken Away for Mamata's Dream Project
Fisherfolk allege TMC workers are threatening them to give up their land for the Digha-Mandarmoni Marine Drive in Purba Medinipur district.
Villagers engaged in drying and sorting of fish.
Purba Medinipur: West Bengal Chief Minister Mamata Banerjee's 29.5-km-long coastal road dream project in Purba Medinipur district of West Bengal, which will connect the four sea beaches in Digha, Tajpur, Shankarpur and Mandarmoni, not only threatens to disrupt the lives and livelihood of thousands of fisherfolk but also the fragile coastal ecology of the region.
The road, being marketed locally as the Digha-Mandarmoni Marine Drive (Saikat Sarani), apparently to facilitate corporates, is being pushed by Banerjee on the grounds of tourism development.
The project at Mandarmoni is proceeding at a brisk pace, triggering apprehension about displacement and loss of livelihood among the residents of the coastal fishing villages and those affiliated to the four fish-landing points—locally known as Matsyakhotis—along the road stretch. Allegations of land occupation, mainly those handed out with temporary pattas to landless villagers for agriculture and pisciculture, without formal notice, paperwork and compensation have surfaced.
Farmlands being filled with fly ash at Soula 2.
Near Soula Bridge, which is under construction and where the Marine Drive will terminate, locals alleged to have been threatened by Trinamool Congress (TMC) workers not to enter their farmlands, which will be used for the project.
"Local workers of the Trinamool Congress threatened us not to enter our farmlands. Standing orders were issued verbally without paperwork or compensation. Now, my land is being filled up with fly ash for construction," alleged Subol Maikap (57), who owned 0.48 decimal of farmland jointly with his brother in Soula village, in a conversation with Newsclick.
Niranjan Dalai (72), another resident of Soula, alleged that his son-in-law Shibaji Jana was similarly disenfranchised from 0.8 decimals of farmland. "Some residents have been compensated. Narayan Jana, a TMC worker, was compensated but not us," he said.
In certain instances, land owned privately for generations has been allegedly occupied. Soula resident Haripada Jana (62) alleged that two acres belonging to his family were occupied without any compensation. "This land was in the name of our family members Basanti Jana and Durga Jana. We were paying rent against the land," he told Newsclick.
Soula No. 2 Matsyakothi is one of the larger fish-landing centres along this stretch. "At least, 24 members of our Matsyakothi have lost agricultural land they owned through temporary pattas. We regularly paid taxes against these land parcels, which were under cultivation. Suddenly, we were asked to hand them over without any compensation or package," Janmajeya Dalai (50), an office-bearer of Soula No. 2 Matsyakothi, said.
"Our livelihood depended on this land. Small-scale agriculture and fishing are the main sources of livelihood in this region," Dalai said adding, "it was only with the efforts of local CPI(M) leader Shakti Sasmal that the pattas were issued in 2008."
The Digha-Shankarpur Development Authority, an autonomous body under the Department of Urban Development and Municipal Affairs, is in charge of the project. The three bridges along this stretch—at Nayakhali, Jalda and Soula—cumulatively account for 4.2 km of the project and are being constructed by the West Bengal Public Works Department (Roads).
Under-construction bridge at Jalda Tajpur.
"But neither of these agencies nor the district administration of Purba Medinipur shared with us the plan or the alignment of the project. The land is being taken away bit by bit with the entire project being executed surreptitiously. Without any public hearing, landowners were given different reasons for the takeover," alleged Gouranga Sasmal (32) of Soula No. 2 Matsyakothi.
However, the Digha-Shankarpur Development Authority said that the road project was planned to help tourists visit all four beaches in one day. According to it, 60% of the land needed for the project is revenue land while the remaining belongs to private owners.
Has the TMC adopted a surreptitious method of land takeover to avoid possible conflicts? "It has been extremely difficult for us to convince the villagers to part with their lands and that the road project, underway since 2016, will boost tourism in the region and ultimately benefit them," Manash Mondal, executive officer, Digha-Shankarpur Development Authority, told the Newsclick.
Explaining why the final layout map of the project has not been shared with the villagers, Mondal said, "We are laying out the alignment of the road in accordance with the progressive availability of land parcels. And this is also the reason that the width of the road ranges between 3.75 metres at some places to 5.5 metres at others. Nevertheless, we have set March 2022 as the completion date of the project."
In the absence of clarity, the villagers feel that a substantial portion of the road will possibly be aligned parallel to the sea coast on a stretch of the beach that has already been turned motorable with the constant movement of light and heavy vehicles.
"Following the mushrooming of hotels and beaches in Mandarmoni in the last 15 years, vehicles constantly ply on a stretch of the beach between the sea and the hotels. Notwithstanding the fact that the stretch is within the hightide line, where seawater ingression is very common, the Marine Drive is being constructed over it to facilitate hotel business. All fish-landing centres will be shut down," said Chandan Bar (38), a fisherman and former member of the Purba Rania panchayat.
Besides employing the men of the coastal villages, who fish using their small motorised boats, the centres have the womenfolk collecting, drying, sorting and packaging fish. Workers at the Chamasuli Matsyakothi, in Arakhbaniya, fear that large parcels of land along the coast used for drying fish will ultimately be taken over for the road project if it is aligned along the beach.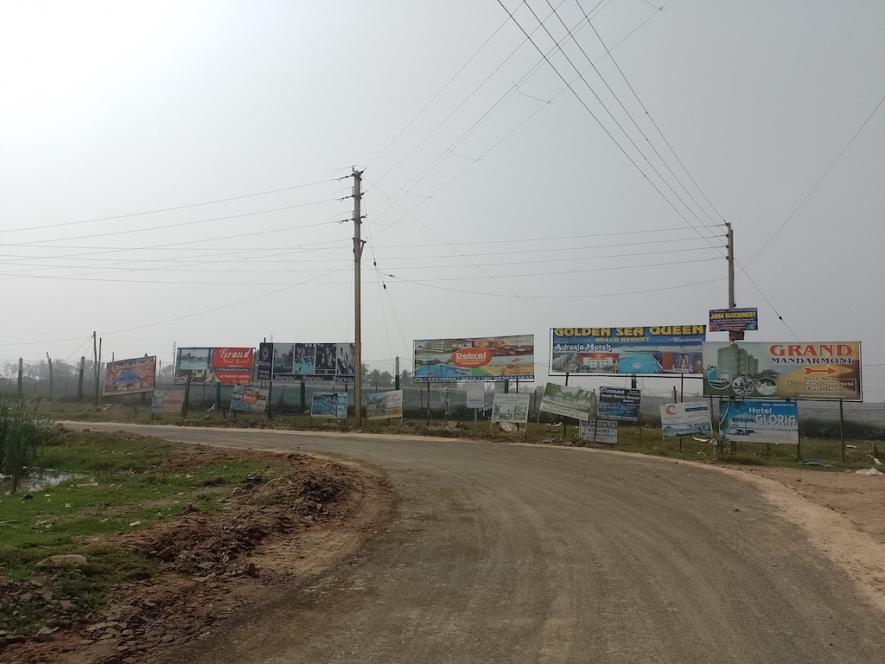 Clusters of ad hoardings of hotels and resorts in Mandarmoni.
The locals allege that while hotel owners flattened sand dunes (from which Mandarmoni derives its name) and cleared large swathes of mangroves for construction, the constant movement of vehicles on the beach has also caused the near-total extinction of red crabs. Very few red crabs are visible at Jalda, near Mandarmoni Mohona, where one of the bridges is being constructed. The bridge is next to the Tajpur Jalda Matsyakothi, which, as per fish workers unions, is the largest Matsyakothi belonging to small motorised boat owners.
"More than half the land belonging to our fish-landing centre has already been taken away. Our fish yield has declined drastically due to mechanised fishing by large trawlers. We had been requesting the government to not allow large mechanised trawlers for, at least, four months so that small fishermen get their minimum yield. Instead, the government is going ahead with this project, which will seal the fate of small fishermen," said Santosh Bar (43), a fisherman at the Jalda Tajpur Matsyakothi.
Officials of Digha-Shankarpur Development Authority and the West Bengal PWD (Roads) avoided answering questions about the status of Coastal Regulation Zone (CRZ) clearance for the project and the three bridges.
A West Bengal Irrigation Department official told Newsclick that the Soula and Nayakhali bridge are being constructed across the Pichaboni and NDC reservoirs (locally known as Khals). These Khals, constructed to drain excess flow from the British-era Odisha Coast Canal into the Bay of Bengal, have sluice gates that prevent overflow into coastal habitations.
The locals said these Khals fall within the hightide line and pointed at artificial embankments constructed by the irrigation department to prevent overflow of tidal water into coastal villages. The Jalda Bridge is being constructed near Tajpur, where, as per the villagers, a minor seaport has also been planned.
Land is the biggest bone of contention among the locals, the government and the resort owners in these sparsely populated coastal villages. The villagers alleged that the revenue land, issued through temporary pattas for agriculture or pisciculture, was taken away from them in shady deals using deeds of business partnerships executed on notarised stamp papers.
"Subsequently, separate agreements will be signed with these revenue landowners for acceptance of a one-time cash payment in lieu of foregoing claims on future profit accrued from business ventures. These agreements will then be ratified by the Panchayat Samitis. A lot of wealthy and influential businessmen from Kolkata and other cities, including film stars and politicians, have invested money in these hotels and resorts," alleged Srikanta Das (64) of Maa Kali Fishermen's Association at the Dadanpatrabad Matsyakothi.
Scores of hotels and beach resorts—most of them allegedly illegal for having been constructed on revenue land without government clearance—have mushroomed in Mandarmoni in the last decade.
Debdulal Das Mahapatra, secretary, Mandarmoni Hoteliers Association and an active TMC member, was also on the board of one of the Panchayat Samitis between 2008 and 2013, when several land deals were ratified. Mahapatra claims that the government has been working towards improving the infrastructure of the region.
Mahapatra's account proves how largescale commercial—and potentially polluting—activities are under way in the region without necessary safeguards. "Approximately, 120 hotels are affiliated to our organisation. A separate electricity substation has been set up for Mandarmoni. Pipelines are also being laid out for transporting potable water. Currently, the hotels extract groundwater for potable use and their swimming pools. Solid waste is disposed of in other ways in the absence of a waste disposal management system. Due to the lack of a sewage disposal system, hotels have their own septic tanks," he told Newsclick.
Mahapatra further claimed that all hotels and resorts have set up effluent treatment plants that treat effluents to water lawns and gardens. "Neither solid waste is dumped nor effluents are discharged into the sea."
The hoteliers association too evaded questions about the status of CRZ clearance for their properties. Extensive damage was caused to these hotels and resorts after seawater rushed into their premises breaching the artificially constructed guard walls during Cyclone Yaas in May. The damaged roads and mangled wooden boats still bear testimony to the devastation caused by the cyclone.
Purnendu Kumar Maji, the district magistrate of Purba Medinipur, told Newsclick that he will enquire into the allegations of the forcible takeover of land. "We will seek information at the block level regarding the allegations of forcible land takeover and take appropriate action if necessary," he said.
"We have already banned construction of hotels and resorts in the region. We are planning to take further action against these hotel and resort owners because their properties fall within the CRZ area. We are consulting environmental experts too in this regard because the sea coast has moved further inside in the last few years," Maji added.
Women workers sorting dried fish before packing.
A substantial portion of the Marine Drive falls within Ramnagar Assembly segment. Despite repeated calls, state fisheries minister Akhil Giri, the sitting TMC MLA from Ramnagar, was not available for comments.
Land sharks have entered the fray with property sale-and-purchase kiosks at various places in the villages. Srikanta Das said that land sharks are desperately trying to convince the villagers to part with their land on the pretext of tourism development. "The youths have been told they will have a bright future once they give away their land and that European women will shed their clothes on these beaches to tan themselves," he added.
Currently, the seacoast offers more than just the potential for tourism. "The marshes along the seacoast offer good-quality reeds. We collect bunches of reeds which are woven into small baskets for carrying flowers. It is our source of livelihood," said Pramila Behera, who was leading a group of half-a-dozen women who had travelled from Chandaneshwar, in Balasore district, across West Bengal's interstate border with Odisha, to collect sea reeds near Soula village.
Get the latest reports & analysis with people's perspective on Protests, movements & deep analytical videos, discussions of the current affairs in your Telegram app. Subscribe to NewsClick's Telegram channel & get Real-Time updates on stories, as they get published on our website.
Subscribe Newsclick On Telegram