Why Modi Government's Claim of 2.8 Lakh Jobs from Commercial Coal Mining is a Myth
It is also believed that more jobs could have been created had the coal blocks been handed over to the public sector CIL instead of auctioning it to private players.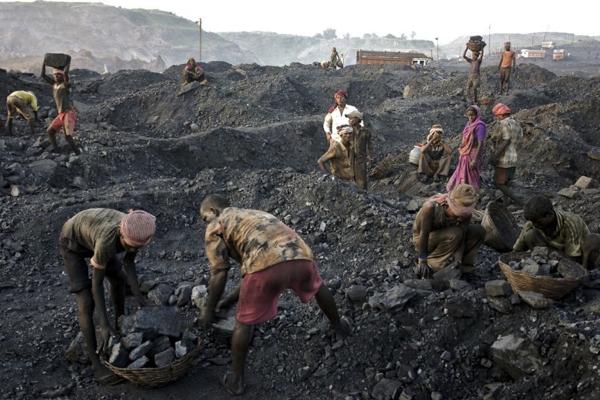 Representational image. | Image Courtesy: mining.com
New Delhi: Though the decision to allow private players into commercial coal mining is expected to increase production of the mineral, it is unlikely to generate the employment claimed by the Bharatiya Janata Party (BJP)-led National Democratic Alliance (NDA) government at the Centre.
On June 18, Prime Minister Narendra Modi launched a two-stage e-auction process for 41 coal blocks across the country. Modi claimed that it would lead to the creation of lakhs of jobs and lead to the unshackling of the coal sector, which had been under the control of public sector behemoth Coal India Limited (CIL) for decades.
Soon thereafter, Union Home Minister Amit Shah lauded PM Modi and further claimed that the historic decision, which is in line with the NDA government's vision of 'Atmanirbhar Bharat', will create as many as 2.8 lakh jobs. Shah added that the move would also attract a capital investment of Rs 33,000 crore and generate an annual revenue of Rs 20,000 crore for state governments.
Those working with people affected by mining projects on ground zero believe that the assessment of the quantum of job creation by the Centre has not been conducted against an analysis of the livelihoods that will be lost from commercial coal mining – due to displacement and a lack of access to forests, water bodies and land. A number of coal blocks that have put up for auction are located either within dense forests or within eco-sensitive zones of protected areas.
"The decision taken by the central government lacks stakeholder participation. Except for the central government and the corporates, other stakeholders were not consulted. The Fifth Schedule of the Constitution of India, which specifies that Tribal Advisory Committees need to be taken into confidence for any project in these areas, has been violated. Besides, for carrying out mining in Schedule 5 areas, that is, areas that have a pre-ponderance of tribal population or are economically backward as compared to neighbouring areas, consultations with Gram Sabhas are also required as per rules of the Panchayats (Extension to the Scheduled Areas) Act, 1996," said Rebbapragada Ravi, Chairperson of mines, minerals and PEOPLE, an alliance of individuals, institutions and communities concerned and affected by mining.
It is a matter of fact that the employment-generation potential in open-cast mining, which involves greater automation and the use of machinery, is lower as compared to underground mining. Besides, the track record of Mine Developer and Operator (MDO) contractors in providing employment avenues for local populations, or in their concern for environmental issues arising out of mining activities, has not been exactly rosy in the past.
Kanchi Kohli of the Delhi-based think tank Centre for Policy Research said that from the perspectives of food security and livelihood issues, there needs to be an enumeration of "how many people will lose access to land, forests and water bodies. Without this enumeration, it will simply be a one-sided exercise to go by how many jobs will be created from increased mining activities. In a period of acute economic crisis, increased mining activities will permanently destroy several livelihoods and food security systems existent in these areas for long periods of time. Forests should not be seen as standing trees alone but as providing entire ecosystems of livelihood. A number of Gram Sabhas from Chhattisgarh have written to the central government that they are already 'Atmanirbhar'," she said.
Whichever way it happens, employment through the latest auctioning process is expected to be done through the contractual system – wherein contractors employ the most downtrodden sections of the local population for manual tasks. The All India Coal Workers Federation, which represents more than five million workers engaged in public sector coal mining, have decided to go on a three-day strike in the first week of July against the Centre's decision to allow commercial coal mining by private players.
"It is at best a myth that 2.8 lakh jobs will be created from the auctions. We do not expect employment generation to be more than 35,000 by way of these auctions. As per the earlier norms, employment was less than 700 heads per one million ton of production. However, this figure came down drastically with the introduction of mechanisation, open-cast mining and the MDO model," the federation's General Secretary, D.D. Ramanandan, told NewsClick.
The federation had also opposed the decision of the central government from last year to allow 100% Foreign Direct Investment (FDI) in coal mining, which, incidentally, had also been pushed through under the garb of generating greater employment and revenues. According to trade union leaders, commercial coal mining will result in the further shrinkage of Coal India Limited, the public sector Maharatna company that provides employment to millions of workers.
"CIL will gradually begin to lose profits and its operational efficiency if private players are given the coal blocks in greater numbers. The auctions, which are being conducted under the camouflage of 'Make in India', will pave the way for the dismantling of Coal India Limited's network across the country. Any loss of profits or dismantling of the operational network will result in the loss of jobs. So, what you give with one hand will be taken away by the other hand," said Tapan Sen, General Secretary of the Centre of Indian Trade Unions (CITU).
On the other hand, it is also believed that more jobs could have been created had the coal blocks been handed over to the public sector CIL instead of auctioning it to private players.
Votaries of free-market capitalism, as well as the BJP-led NDA government at the Centre, have been advocating that an increase in 'exports of domestic coal' and an 'FDI inflow into the coal sector' will result in the creation of indirect jobs. However, a bump in exports is unlikely in the near future, given the fact that there is a burgeoning domestic demand for coal, with a number of thermal power plants not being able to produce to their full potential. As per experts, the private sector will be keen to utilise domestically-produced coal towards 120 million tons of import substitution. Besides, Indian coal is also not preferred in international markets due to its high ash content.
"Foreign investors will find it difficult to procure funds from bankers and investment bankers, who are reluctant to back coal assets due to issues of climate change, environment degradation and global warming associated with its mining. Shareholders of global mining companies have been insisting on a move out of thermal coal mining because of its adverse impact on the environment. This is a process that has intensified in the past four to five years. Even foreign banks operating in India might find it difficult to finance coal-mining activities because they will be forced to comply with restrictions from their global heads. In this situation, it will not be feasible to expect too much to materialise from 100% FDI in coal mining," the former Chairman of CIL, Partha Sarathi Bhattacharya, told NewsClick.
The writer is an independent journalist.
Get the latest reports & analysis with people's perspective on Protests, movements & deep analytical videos, discussions of the current affairs in your Telegram app. Subscribe to NewsClick's Telegram channel & get Real-Time updates on stories, as they get published on our website.
Subscribe Newsclick On Telegram