Communalisation Ahead of Election in Gujarat – Riots in Districts Not BJP Stronghold
Communalisation ahead of state elections has a pattern in Gujarat. Coincidentally, all places that saw communal tension in the past week are not BJP strongholds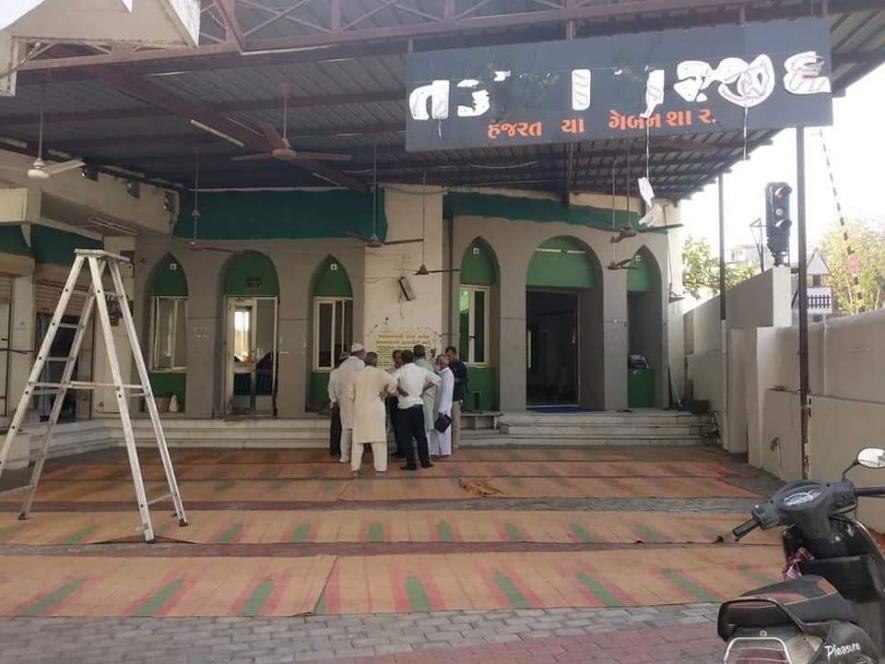 Masjid that was attacked in Himmatnagar
About eight months ahead of the Assembly election in Gujarat, the Bajrang Dal, a sister organisation of Vishwa Hindu Parishad (VHP) conducted its biggest recruitment drive in twenty years in Himmatnagar, Sabarkantha district, on March 13.
Around 2,600 men ranging from 15 to 35 years from Himmatnagar and neighbouring towns joined the organisation after they underwent 'Trishul Diksha' at the ceremony organised at Swaminarayan temple run by Bochasanwasi Akshar Purushottam Swaminarayan (BAPS). Two thousand six hundred recruits took an oath with a Trishul shaped knife in their hands to protect the "Hindu Rashtra, Hindu religion and culture from foreign forces".
From the stage of the event, Hitendrasinh Rajput, the deputy chief of Prachar Prasar of VHP, said, "Bajrang Dal members are usually notorious, but this year doctors, engineers and advocates have joined us."
Another VHP leader made a speech saying, "you must not claim to be a member of Bajrang Dal if your area's police inspector doesn't know your name."
Later as the event concluded, the Bajrang Dal recruits took out a rally with Trishul shaped knives and swords, passing through communally sensitive areas of Himmatnagar under the watch of the local police. Following the event, on March 15, the organisation announced a 'Hindu only' cricket tournament to be held in May this year in Ahmedabad.
On April 10, less than a month from the recruitment drive, VHP organised a rally on the occasion of Ramnavami in Himmatnagar. At around 1 pm, the procession of hundreds of men carrying swords and playing loud music began to enter Chapariya, a Muslim-dominated area between two Hindu localities, Shaktinagar and Mahavirnagar. While some Muslim families locked themselves inside their homes, some went to the terrace, locals of the area claim. Within minutes of the entering Chapariya, the situation turned tense as stone-pelting began from the terrace. As the situation worsened, police lobbed tear gas and imposed section 144. However, later in the day, a mosque was attacked, and communal tension spread to several areas of Himmatnagar.
"Only one rally was permitted at 4 pm on April 10. But since morning, several small groups had been taking out rallies meant for rehearsing. Every time, they carried swords and shouted provocative and communal slogans. Later in the day, a saffron flag was hoisted on the minaret of the mosque in Chapariya, and the shrine inside the mosque was burnt," Shamshad Pathan, Gujarat based minority rights activist who visited the area post riots, told the media.
"I was alone as people had left the mosque premises after Zohar namaz when I heard about riots in the city and locked doors and left for safety. They attacked this place three times that day. The crowd kept coming back – first, they came in the intervening morning, then at 4 pm on April 10. The mob came back again at 9 in the night and at the wee hours of 3 am (on April 11) with swords. They set fire to the shrine inside the mosque each time they came," Qari Mohammed Rafi, Imam of the mosque, told the media.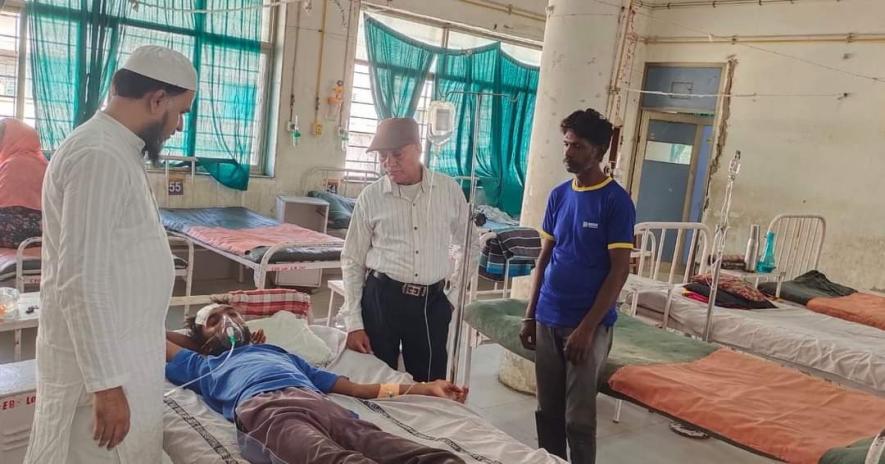 A Muslim man from Himmatnagar injured in the riot
Three State Reserve Police (SRP) companies and local police forces from Ahmedabad, Aravalli, Anand and Mehsana were rushed to Himmatnagar after orders from Ashish Bhatia, the Director-General of Police, Gujarat (DGP). However, in the evening, firecrackers were, and stones were thrown at police, injuring at least three police personnel.
On the same day, a 'Shobha Yatra' to celebrate Ramnavami turned into communal violence in another city – Khambat in the Anand district. In an incident similar to Himmatnagar, a procession of around four thousand men carrying swords, shouting communally charged slogans and playing provocative songs crossed through Shakkarpura, a village inKhambatwith about 30% Muslim population.
One person – a 57-year-old Kanhaiya Lal Rana resident of Chataribazar, Khambat died after succumbing to injuries during the communal violence. The next day, a funeral procession led by local VHP was carried out with his body amid police presence.
Following the incident, the Anand police arrested five Muslim men and declared that the violence was "pre-planned".
"As part of a pre-planned conspiracy, stones were hurled during the Ram Navami procession in Khambhat. The motive of the accused was that once the Ram Navami procession was stoned and threatened, no such religious procession would take place in the future. Razzaq Hussain Maulvi, Majid, Jamshed Khan Pathan, Mastakim Maulvi, Mahmud Saeed and Matin Younis Vora have been detained and an SIT has been formed at the district level to further investigate the incident."Superintendent of police (SP) Ajit Rajiyan told the media.
On April 13, shops belonging to local Muslims in Shakkarpura village were razed in an anti-encroachment drive.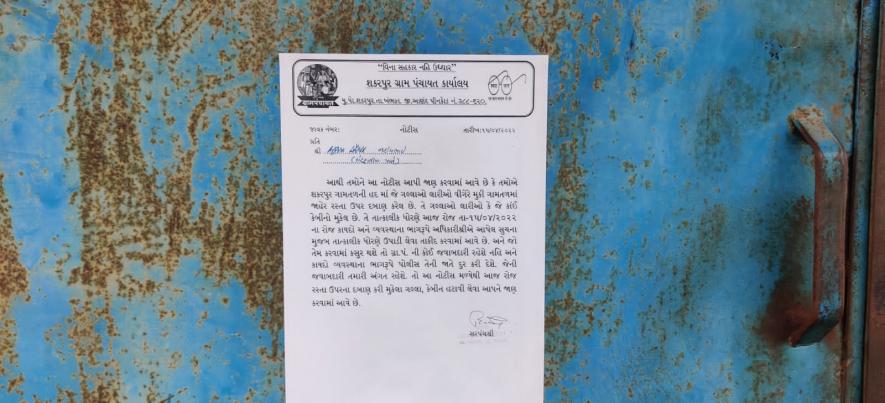 Notice of anti-encroachment drive on a shop owned by a Muslim in Khambat
"These were small shops like a paan dukan (betel leaf shop), a dhobi ka dukan (local laundry shop), a barbershop that had been here for years. A day after some shops were razed, officials noticed an anti-encroachment drive on the remaining shops of local Muslims. However, shops belonging to Hindus along the same road were not served any notice," Janisar Sheikh, a Khambat based activist, told the NewsClick.
"Almost all the men of Shakkarpura fled after the communal tension leaving women and children. In some cases, the whole family fled for fear of safety. Some local men were arrested by local police," added Sheikh.
In another similar incident on April 18, a procession on the occasion of Hanuman Jayantientered a dargah and hoisted a saffron flag on the roof in Veraval, Gir Somnath district of Saurashtra region of the state. The men in the rally were carrying swords and playing loud provocative music. Five people were reportedly arrested following the incident.
Noticeably, amongst the places hit by communal incidents in a week, Anand and Veraval that votes in the Somnath constituency have been a traditional Congress stronghold. In the 2017 Assembly elections, BJP managed to win from Khambat but with a margin of fewer than 2,000 votes. BJP's Maheshkumar Kanhaiyalal Raval got 71459 votes, while Congress's KhushmanbhaiShantilal Patel got 69141 votes. Similarly, in Himmatnagar BJP's Rajubhai Chavda got 94340 votes while Congress's Kamleshbhai Patel got 92628.
Somnath has been a Congress stronghold since the year 1962. BJP won from Somnath in the 2007 Assembly election and in 1995. In 2017 polls, Congress's Vimalbhai Chudasma won the seat by 20,450 votes.
Noticeably, in the year 2001, BJP was rattled after losing gram panchayat elections and three Assembly bye-elections consecutively. Following this, the then Chief Minister Keshubhai Patel was replaced by Narendra Modi. The Assembly election that was due for April 2002 was held in December 2002, nine months after the riots in February that killed thousands, most of whom were Muslims.
Get the latest reports & analysis with people's perspective on Protests, movements & deep analytical videos, discussions of the current affairs in your Telegram app. Subscribe to NewsClick's Telegram channel & get Real-Time updates on stories, as they get published on our website.
Subscribe Newsclick On Telegram