Congress Party at a Crossroads
As far as one can see, the Congress is unlikely to recover its fortunes unless it comes to terms with this history, attempts to retrace some steps to its original foundations and engages in a tough holding-out operation to win back lost ground.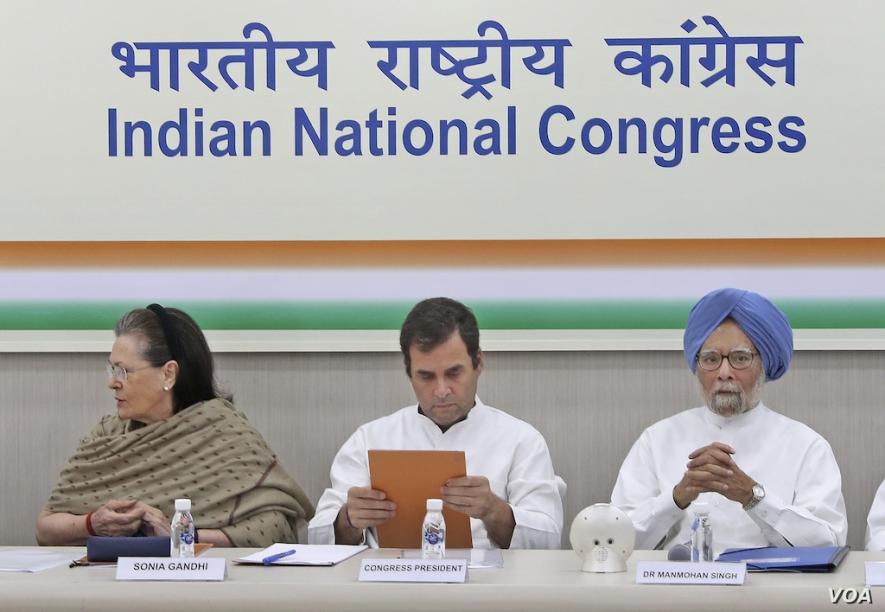 The shambles in which the once-powerful Congress party finds itself has not been a result of the Bharatiya Janata Party's surgical strikes, but an unravelling of its own inner weaknesses. The BJP has made shrewd, if contemptuous, use of them. The Congress' strength was derived, all said and done, from its heritage of the freedom movement which progressively dwindled until it found itself following an altogether different track.
While Gandhiji was not involved in the organisational structure of the party, he inspired and led three of its biggest mass movements. People identified him with the Congress, whether he had formal membership with it or not. The first prominent feature of Gandhi's life-work and legacy was his unremitting concern for the poor and disadvantaged. And this led to unceasing intimate relations with people at the grassroots: As witnessed by his mammoth conversations, correspondence and enormous body of writings meant for a mass-audience.
All Congressmen, for some decades after Independence, shared this outlook and bond, even when they were already affected by personal interests. Though many hated the Communists and even the Socialists blindly, in this they remained sincere. But they were vague about a non-revolutionary road to uplift the poor and looked up to Nehru for guidance. 
I remember having met stalwart Congress leaders up to late fifties of the last century, who had simple habits and an easy rapport with the masses in their everyday life. Second, they had learned the bitter lessons of politics led by communal passions and tried sincerely to uphold secular principles without compromise. I am sure that the shameful episodes leading to the rabid saffron politics that ended in the destruction of the Babri masjid would have shocked them, though many were devout Hindus. 
Third, though craving for power and wealth was already becoming quite evident, and resulting in widespread caricatures of the Gandhi-capped hypocrites in literature and theatre, these Congress stalwarts still did not balk at working for party programmes which aimed after all at improving the lot of the poor.
But towards the end of the 1970s it had become clear that there was a growing disconnect between Congress leaders and workers and the people at large. The people were being perceived more and more as voters, as members of rallies they addressed and as beneficiaries of sops and benefits at their disposal. There arose an invisible hiatus between government programmes and their ostensible targets.
The leaders had already begun to see themselves as complete organisation men, working to win elections. This melded into their personal ambitions and with the external interests of socially and economically powerful forces. Since then, the party's slide into working solely to promote the interests, both of their own and of their patrons in big business and landed interests, became conspicuous. And Congressmen were quite unconcerned about it; being long accustomed to power, they took popular support for granted. Party work turned into various tricks for attracting votes and manipulating public opinion. Secularism was reduced to Hajj subsidies and the like.
The people resented all this in silence. The first tectonic shifts occurred in the late sixties when the Congress was humbled in several state elections. Indira Gandhi turned its fortunes around for some time with help from the CPI. But she was wary of their attempt to curb monopoly capital. She had inherited the concern for the poor but her style was cramped by inexorable decline into dictatorial management and by her preference for supporters in the party who did her bidding without question. Still, to the end, she retained some popularity with the masses and exerted some control over time-serving cronies. But the Emergency turned into such a farce that the collapse of the party's image was bound to be irresistible.
Even when she recovered, the party was no longer as strong and animated as before. It had to gradually slacken its commitment to secularism, and flirt with saffron forces in the false hope that with state power it will manage to control the incidental damage it might sustain. Besides, it became mired in corruption as its leadership became involved with sundry vested interests regionally and nationally in an open affair, incidentally becoming an object lesson to rival parties that learnt the trick of erasing traces of corruption.
Since then, saffron forces have been able not only to occupy the space the Congress had vacated but invested men and money to raise a wall around themselves with incessant ideological and malicious propaganda. 
As far as one can see, the Congress is unlikely to recover its fortunes unless it comes to terms with this history, attempts to retrace some steps to its original foundations and engages in a tough holding-out operation to win back lost ground. It means a renunciation of the dangerous game of nodding towards Hindutva forces. It means winning back the trust of minorities in the teeth of resistance by the latter's compromised leadership. And it means a grassroots endeavour to resume dialogue with the people without expecting a magical electoral resurgence. 
Hiren Gohain writes on social-political issues and is a literary critic.
Get the latest reports & analysis with people's perspective on Protests, movements & deep analytical videos, discussions of the current affairs in your Telegram app. Subscribe to NewsClick's Telegram channel & get Real-Time updates on stories, as they get published on our website.
Subscribe Newsclick On Telegram