Will Centre's COVID-19 'Relief Package' Really Cost it Rs 1.7 Lakh Crore?
Though some initiatives are good, most of the 'relief' is about front-loading existing schemes and pressing the refresh button on decision taken earlier, with hardly much money coming from the Centre's pocket.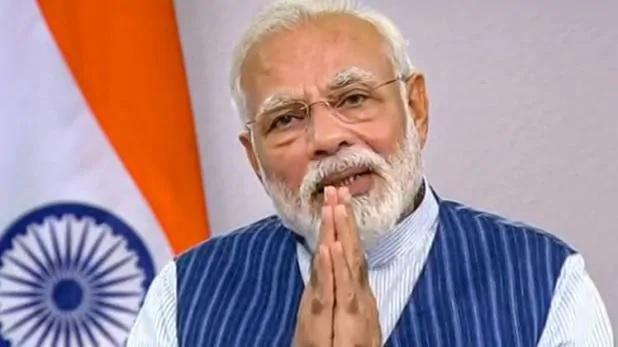 After announcing an unplanned lockdown of an unprepared country to fight the spreading of the COVID-19 virus, the Central government announced a "Relief Package" worth Rs 1.7 lakh crore. The Finance Ministry press release, with the heading "Finance Minister announces Rs 1.70 Lakh Crore relief package under Pradhan Mantri Garib Kalyan Yojana for the poor to help them fight the battle against Corona Virus" makes the intention of the relief package very clear.
While addressing the press to announce the measures taken by the government, finance minister Nirmala Sitharaman said: "Today's measures are intended at reaching out to the poorest of the poor, with food and money in hands, so that they do not face difficulties in buying essential supplies and meeting essential needs."
The "package" has 10 contents. Let us check these to know how much it will help the poor and how it will cost the government Rs 1.7 lakh crore.
The Pradhan Mantri Garib Kalyan Yojana (PMGKY) is an amnesty scheme launched by the Narendra Modi government in 2016 after demonetisation, as a last window for those who had undisclosed income. Under the scheme, those who opt for the scheme shall pay income tax at the rate of 30% of the amount declared, 33% surcharge on the tax amount and a 10% penalty on the undisclosed income.
On June 1, 2017, the then Revenue Secretary, Hasmukh Adhia, said the response to the scheme was not so good and only Rs. 5,000 crore was deposited till that time. In October 2018, many portals that deal with taxes and finances published a government notification which barred any government official from publishing/sharing the details, including data of the PMGKY. A PRS Legislative Research Study mentioned "Official data on the amount collected under the Pradhan Mantri Garib Kalyan Yojana is not available." In such a scenario, it is very interesting that the government announced a Rs 1.70 Lakh crore relief package under that very scheme.
Insurance Scheme – The Fineprint
1. The insurance scheme for health workers fighting COVID-19 in government hospitals and healthcare centres is a very good initiative and should be appreciated. The press release and the details handed over to journalists after Sitharaman's press conference mentions that the scheme will cover all healthcare workers – from doctors to ward boys to ASHA workers -- and it will benefit approximately 22 lakh health workers.
But, the most important point of this scheme is in the fineprint. It reads: "Any health professional, who while treating Covid-19 patients, meet with some accident, then he/she would be compensated with an amount of Rs 50 lakh under the scheme." In fact, this is a group accidental insurance scheme with limited scope and validity. That means that this scheme is applicable only in case of "some accident" to the insured individual while treating a COVID-19 infected patient. And this scheme covers only government (both state and Central) health sector employees.
The National Payment Corporation of India ran a free accidental insurance programme for its RuPay Card holders in 2015-16, with a maximum insurance cover of Rs 2 lakh. The only eligibility criteria was that the "card holder should have done at least one transaction using her/his card within 45 days prior to the accident."
Under the Pradhan Mantri Suraksha Bima Yojana, an annual premium of Rs.12 gives a cover of Rs. 2 Lakh under accidental insurance. With this calculation, the total premium outflow will be only Rs. 66 crore. May be, that is why the finance ministry did not put out any figure to the outflow for this scheme.
For those working in the healthcare sector, a health insurance with a life cover is more important, especially when they are fighting with deadly coronavirus. A mere accident insurance is just another public relations exercise.
Massive Foodgrain Stocks
2. The government said it would provide double the amount of ration for the next three months. The additional quantity will be free and nearly 80 crore people will benefit. The total expenditure will be Rs. 40,000 crore.
The Department of Food and Public Distribution (DFPD), under Ministry of Consumer Affairs, Food & Public Distribution, in its monthly summary for January 2020, states that "The stocks of foodgrains in the Central Pool as on 01.01.2020 were 565.11 LMT (Wheat- 327.96 LMT and Rice- 237.15 LMT), which are much higher than foodgrain stocking norms of 214.10 LMT (wheat 138 LMT and Rice 76.10 LMT) for the quarter beginning January 1,2020. Such high stock of foodgrains is causing serious problem for storage as also for the ongoing paddy procurement operations." That shows, India has massive excess stock of foodgrains and is struggling to have proper storage facility.
According to DFPD's latest data, published in January this year, total annual allocation of foodgrains for the Targeted Public Distribution system (TDPS) under the National Food Security Act (NFSA) for 2019-20 is 549 LMT, excluding Mid-Day Meal Scheme etc. (311.81 MLT Rice, 236.13 MLT Wheat and 1.01 LMT Nutri-cereals / coarse grains). Out of this, 549 MLT, 457.93 LMT was released till January this year. i.e., an average of 41.63 LMT per month.
According to government's PDS tracking portal Annavitran, in 2020-21, Central allocation of foodgrains for PDS is 43,81,191.02 tonnes per month Including for Mid-Day Meal Scheme, Integrated Child Development Services (ICDS) Scheme, Scheme for Adolescent Girls, Annapurna Scheme and Allocation of foodgrains under Welfare Institutions and Hostels Scheme etc.
The budget allocation for food subsidy for 2020-21 is Rs. 115,569.68 crore and the revised budget estimate for 2019-20 is Rs 1,08,688.35 crore. If we take the 2020-21 budget allocation figures, for three months, the food subsidy bill will be only Rs. 28, 892 crore, not Rs.40,000 crore, as claimed by the government. This too will be slightly higher because the food subsidy bill is for all the NFSA schemes put together.
So, by allocating three months' additional foodgrain supply to the electorate at the time of an emergency like this, the government is not doing any favour to the people. This should not be projected as a charity to get PR mileage.
PM- KISAN: What Relief?
3. "Under Pradhan Mantri Garib Kalyan Yojana, benefit to farmers: The first installment of Rs 2,000 due in 2020-21 will be front-loaded and paid in April 2020 itself under the PM KISAN Yojana. It would cover 8.7 crore farmers. It would cover 8.7 crore farmers and Rs. 16,000 crores would be distributed to them."
The Pradhan Mantri Kisan Samman Nidhi (PM - KISAN) was announced on February 1, 2019, with retrospective effect from December 1, 2018. Under the scheme, Rs. 6,000 per year is to be transferred in three installments of Rs. 2,000 each directly into the bank accounts of farmers once in every four months.
The PM – KISAN Dashboard, updated on March 27, 2020, shows that out of the 9.33 crore validated beneficiaries, 8.84 crore were paid the first installment and only 7.85 crore received two installments.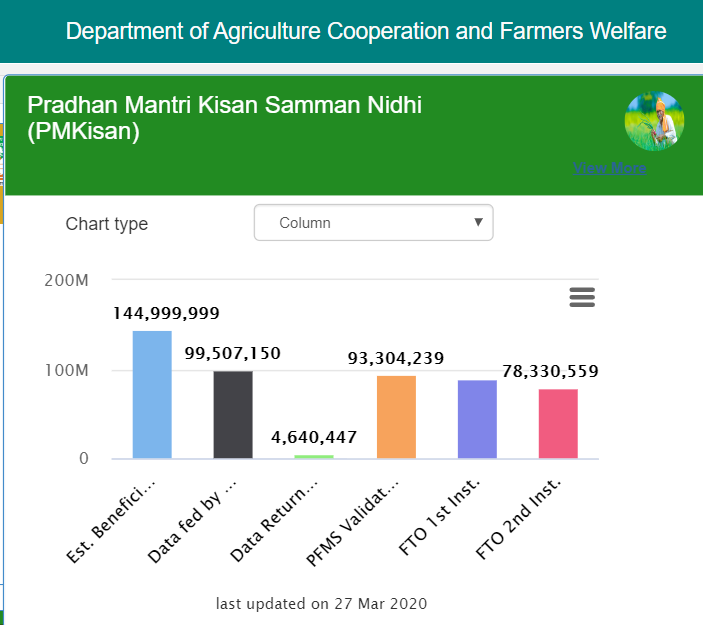 That means, 48.42 lakh beneficiaries are yet to receive the first installment and 1.48 crore (15.82%) of the eligible farmers did not receive the second installment. At the end of the 2019-20, the government is yet to disburse the third installment of the year. In such a scenario, the finance minister's claim that the first installment of 2020-21 will be 'front-loaded' in April is a far-fetched claim. And an exclusion rate of 15.82% for the second installment is yet to be sorted out.
Moreover, this is an ongoing scheme. Asking to count the outflow of this scheme as a component of "Relief Package" to tide over the disruption caused by COVID-19 is an insult to people's intelligence.
Jan Dhan: Is Rs 500/Month Enough?
4. "Cash transfers Under PM Garib Kalyan Yojana: Help to Poor: A total of 20.40 crores PMJDY women account-holders would be given an ex-gratia of Rs 500 per month for next three months. This will help them to run their households during this difficult period. For this purpose, the government of India will spend Rs. 31,000 crore."
The Pradhan Mantri Jan Dhan Yojana (PMJDY) website shows there are 38.28 crore Jan Dhan accounts as on March 18, 2020. A press release by Ministry of Finance on March 3, 2020, says 53% of Jan Dhan account holders (20.28 crore) are women.
A report published by Money Control on February, 2020, says there were 37.87 crore PMJDY accounts as on January 15, 2020 and out of this, 28.7% (10.87 crore) accounts are inoperative. That shows, these account holders either don't have money to operate a bank account or these are not real accounts owned by the intended individual, or a mix of both.
According to RBI Guidelines, "A savings as well as current account should be treated as inoperative/ dormant if there are no transactions in the account for over a period of two years." To re-activate a dormant account, the account holder has to go to the home branch of the bank in person and should give an application. At the time of restrictions in movement and curbs on public transport, how the beneficiary would be able to do this, an issue.
The most important part is, Rs. 500 per month is lower than two days' minimum wages of an agricultural labourer. Even if we take the BPL (below poverty line) threshold, it is Rs. 960 per month for rural and Rs.1,410 per month for urban areas. So, on what basis has the Modi government decided that Rs. 500 will suffice a family's need for a month, is a mystery.
LPG Cylinders: Hyped up Figures
5. Gas cylinders: "Under PM Garib Kalyan Yojana, gas cylinders, free of cost, would be provided to 8 crore poor families for the next three months. Three gas cylinders would be provided during this period. Rs. 13000 crore would be provided for this purpose."
The website of Pradhan Mantri Ujjwala Yojana (PMUY) shows, 8.04 crore LPG connections were released under the scheme till September 7, 2019. The CAG Audit of the scheme shows that the average annual refill consumption of the PMUY LPG consumer is 3.21 cylinders per year. That means, in an average, a BPL family uses a 14.2 kg LPG cylinder for 114 days before refilling it.
The audit report also points out rampant misuse of the scheme by commercial entities. It reads: "Risk of diversion of domestic cylinders for commercial use was noticed as 1.98 lakh PMUY beneficiaries had an average annual consumption of more than 12 cylinders which seems improbable in view of their BPL status. Similarly, 13.96 lakh beneficiaries consumed 3 to 41 refills in a month. Further, IOCL and Hindustan Petroleum Corporation Limited (HPCL) in 3.44 lakh instances issued 2 to 20 refills in a day to a PMUY beneficiary having single bottle cylinder connection."
How on earth did the finance ministry assume that a BPL family will use three LPG cylinders in three months, especially when the access to foodgrains and vegetables are getting limited and prices are sky rocketing due to the lock down?
Still, let us assume that a family will use two cylinders in three months.
As on today, the average subsidised price for a 14.2 kg LPG cylinder is Rs. 495. If we calculate at that price, two free cylinders to PMUY consumers in three months will cost the exchequer Rs.7,960 crore, not Rs. 13,000 crore. We still do not know the whether government will bear the complete expense or will ask Oil Marketing Companies to share a portion of it.
Though the announcement of giving free LPG refills to PMUY consumers is a good initiative, government should not have hyped the figures to score brownie points.
Wages in PF Accounts: How Many Will Benefit?
6. "Help to low wage earners in organised sectors: Wage-earners below Rs 15,000 per month in businesses having less than 100 workers are at risk of losing their employment. Under this package, government proposes to pay 24 percent of their monthly wages into their PF accounts for next three months. This would prevent disruption in their employment. Rs. 5000 crores are being provided for this purpose."
The EPFO data says, it has more than six crore active members. Data on the exact number or the salary bracket groupings are not available. (For example, if an individual is withdrawing only Rs.11,000, that person's employer has to contribute only Rs.403.7). And, the offer by the government is limited only to those firms that employ less than 100 people. Hence, calculating these figures is not possible.
Social Assistance: Front-Loading an Existing Scheme
7. "Support for senior citizens (above 60 years), widows and Divyang: There are around 3 crore aged widows and people in Divyang category who are vulnerable due to economic disruption caused by COVID-19. Government will give them Rs 1,000 to tide over difficulties during next three month. Rs. 3000 crore has been provided for this purpose in the PM Garib Kalyan package."
The National Social Assistance Programme (NSAP) has four components - Indira Gandhi National Old Age Pension Scheme, Indira Gandhi National Widow Pension Scheme, Indira Gandhi National Disability Pension Scheme and National FamilyBenefit Scheme.
Under IGNOAPS, the Central government provides Rs.200 financial assistance to elderly people aged from 60 to 79. For those above 80 years old, the assistance is Rs. 500.
IGNWPS provides Rs. 300 per month to widows of BPL families in the age group of 40 to 79 years. After 80, the amount is increased to Rs.500.
Disabled people of BPL families above 18 years of age are eligible to get a financial assistance of Rs. 300 per month under IGNDPS. Like in the other two schemes under NSAP, IGNDPS also increases by Rs.200 for those who are above 80 years.
In all these three schemes, state governments are encouraged to contribute more money for the welfare of the beneficiary.
The dashboard of the programme shows that 3.28 crore beneficiaries are registered under the scheme as on March 29, 2020. This is actually a fraction of the real number of eligible people. There might be lakhs and lakhs of people who could not get their name registered for various reasons, including unawareness. Age-wise bifurcation data of the beneficiaries of these schemes are not available.
The Modi government's "relief package" says, "Government will give them Rs 1,000 to tide over difficulties during next three months." The fact is that this is an existing scheme, as mentioned above. The government is just front-loading the amount and adding Rs 33.33 per month.
Let us assume, out of these 3.28 crore, 28 lakh people are above 80 years old. For them, the government is not paying anything extra. Then, for three crore people, additional Rs.100 over three months will cost the exchequer only Rs.300 crore. But, this is Modi government. They announced a figure that's 10 times higher! And how does the front-loading of an existing scheme come under the "Covid-19 relief package"?
MGNREGA Hike a Joke
8. MGNREGA: "Under PM Garib Kalyan Yojana, MNREGA wages would be increased by Rs 20 with effect from 1 April, 2020. Wage increase under MNREGA will provide an additional Rs 2,000 benefit annually to a worker. This will benefit approximately 13.62 crore families. Approximately, Rs. 5600 crores will be spent for this purpose."
The MGNREGA website clearly mentions that the average daily wage of an MGNREGA worker is a meager Rs 182.02, which is much lower than the minimum wages of agricultural laborers in many states. On March 23, 2020, through a gazette notification, the Centre increased the MGNREGA wages by Rs. 20 with effect from April 1, 2020. The finance minister announced the wage increase on March 26, as a part of the "Relief Package".
As per the details published in the MGNREGA website, as on March 29, 2020, the average days of employment provided per household under the scheme in 2019-20 was only 47.87 days. If we take the average days of employment under MNREGA for the past five years – from 2015-16 to 2019-20 – it is only 47.858 days.
A total of 36,30,658 households had completed 100 Days of Wage Employmentunder the scheme in 2019-20 and the last five-year average is 41,36,899. An increase of Rs. 20 becomes Rs.2,000 only when the worker gets 100 days of work.
The finance minister claimed that "approximately 13.62 crore families" will benefit with this wage hike. But the MGNREGA website shows though 13.65 crore job cards have been issued under the scheme, only 8.22 crore job cards are active. And out of the total 26.6 crore workers, only 48.23% workers (12.83 crore) are active.
In 2019-20, total number of individuals who worked under the scheme stood at 7.8 crore and the number of households at 5.43 crore. The averages of these two figures for the past five years are 7.71 crore and 5.15 crore, respectively.
If the average days of employment provided per household in past five years is only 47.86 days, an increase of Rs 20 in the wage will add only Rs 957.2, not Rs. 2,000. If 7.71 crore people earn Rs. 957.2 each for a period of one year, government have to spend Rs. 7,380 crore, not Rs. 5,600 crore. The figures mentioned by the finance minister adds up only Rs.411.16 rupees per annum for 13.62 crore families, not Rs. 2000 as claimed.
Trade unions and labour activists are demanding that the minimum wages should be fixed at Rs. 692 per day.
The finance minister attributed this meagre hike of Rs.20 per day, which was already published in the official gazette three days prior to her announcement, and as a help from the government to the poor worker to fight the difficulties caused by the lockdown. Is this a joke?
Help to SHGs: Decided Earlier, Announced Now
9. Self-Help groups: "Women organised through 63 lakhs Self Help Groups (SHGs) support 6.85 crore households. Limit of collateral free lending would be increased from Rs 10 to Rs 20 lakhs. This will help them by additional credit availability."
"As per RBI's instructions issued in 2010, banks are mandated not to insist on collateral on loans upto ₹10 lakh. This circular underpinned the design of the MUDRA scheme and is also drawn upon for SHG lending. On a pure inflation adjusted basis, ₹10 lakh of 2010 is nearly ₹20 lakh now.Increase the limit for non-collateralised loans to ₹20 lakh, this would address a significant proportion of MSEs' needs."
These are the exact words used by the U K Sinha committee in its report submitted to the RBI on June 25, 2019. In December 2019, the Rural Development Ministry had submitted a proposal to the finance ministry asking to increase the collateral-free credit limit to Woman Self Help Groups (WSHGs) operating under the National Rural Livelihood Mission (NRLM). These loans are disbursed under the interest subvention scheme since many years and there are nearly 62.5 lakh SHGs in India, according to the ministry.
There is nothing in this announcement that will help the women members of the SHGs and their families to tie up the difficult times caused by the lockdown and economic slowdown. This is another policy decision taken earlier on recommendation of the ministry concerned, but announced in the middle of a crisis as a relief measure to score brownie points.
Construction Workers: Mere Disbursal of Employers' Cess
10. Building and Other Construction Workers Welfare Fund: "Welfare Fund for Building and Other Constructions Workers has been created under a Central Government Act. There are around 3.5 Crore registered workers in the Fund. State Governments will be given directions to utilise this fund to provide assistance and support to these workers to protect them against economic disruptions."
The Building and Other Construction Workers Cess Act, 1996, implies that every contractor of a government (both central and state), PSUs and local authorities construction work shall deposit 1-2% of the construction cost into the Building and Other Construction Workers Welfare Fund.
Under this Act, there are state-wise Building & Other Construction workers welfare boards which collect this amount from 'employers', and the accumulated funds earn interest. By asking state governments to release small amounts from these funds to the registered members, the Modi government is trying to take credit for the disbursal of funds, which they never did. These funds are not government contribution in any way.
Passing the Buck to States
11. The same way, the District Mineral Foundation (DMF) was established in 2015 through an amendment to the Mines and Mineral (Development and Regulation) Act, 1957. The rate of contribution to DMF is "(a) 10% of royalty in respect of mining leases granted on or after 12.1.2015; (b) 30% of royalty in respect of mining leases granted before 12.1.2015." The fund has to be used for "(i) drinking water supply; (ii) environment preservation and pollution control measures; (iii) health care (iv)education; (v) welfare of women and children; (vi) welfare of aged and disabled people; (vii) skill development; and (viii) Sanitation. The rest of the funds will be utilized undertaking works like for: (i) physical infrastructure; (ii) irrigation; (iii) energy and watershed development; and (iv) any other measures for enhancing environmental quality in mining affected districts."
Now, the Modi government asked state governments (12 states have District Mineral Funds. Reports revealed that, by December 2018, Rs. 22,800 were collected by these 12 state governments in DMF) to utilise this fund "for supplementing and augmenting facilities of medical testing, screening and other requirements in connection with preventing the spread of CVID-19 pandemic as well as treating the patients affected with this pandemic."
By doing this, the Modi government indirectly said: The Central government doesn't have enough funds to support the state governments at the time of a national health emergency and the states should find out their own resources from all possible sources, even if they have to divert funds from other heads.
A back of envelope calculation will prove that the total budget commitment for all the measures announced under the relief package is not more than Rs. 62,000 crore. In a nutshell, the Modi government has used the pandemic to do another PR campaign by fudging the data and mislead the people to hide its failures.
The last word: The name Garib Kalyan Scheme is an inappropriate name. It sounds like mocking the beneficiary.
The writer is an independent journalist. The views are personal.
Get the latest reports & analysis with people's perspective on Protests, movements & deep analytical videos, discussions of the current affairs in your Telegram app. Subscribe to NewsClick's Telegram channel & get Real-Time updates on stories, as they get published on our website.
Subscribe Newsclick On Telegram