Coronavirus Crisis: How to Reach Out to the Poor and Needy
If there is political will, the government can immediately transfer cash to protect the wage for 21 days at the rate of state-wise minimum wage rate for industrial workers.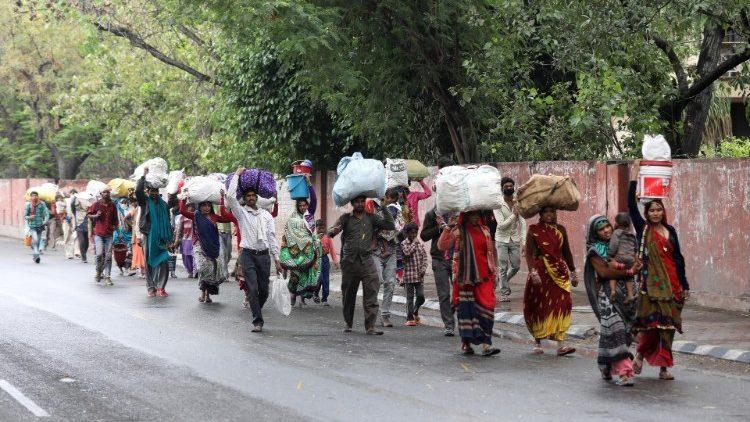 Representational image. | Image Courtesy: Vatican News
The Prime Minister of India has apologised to the poorer section of the population for the hardship imposed upon them by the necessary lockdown due to the coronavirus threat. However, the point is to reach out to the poorer section of the population as early as possible. This piece tries to argue that, along with other measures that the government is planning to execute through public distribution system and PM Jan Dhan Yojana, old age and widow pension, free gas cylinder to the poor etc., the rural job guarantee scheme, MGNREGS, could be one of the main vehicles to make the required cash transfer in this emergency situation.
Following the coronavirus lockdown, the finance minister announced on March 26, that the wage rate under the Mahatma Gandhi National Rural Employment Guarantee Scheme (MGNREGS) would be enhanced from Rs.180 to Rs.202 per day (under the Rs.1.7 lakh crore PM Garib Kalyan Yojana Package). However, the ministry of rural development issued an office order on March 23, saying that the wage rate of Rs.230 (simple all-India average, it would obviously vary from state to state) per day would be applicable to unskilled manual MGNREGS workers from April 1, 2020. Therefore, there is an obvious contradiction here.
In the Act (MGNREGA 2005), it is mentioned that the wage rate should be fixed by the Central government. However, until then, the wage rate should be fixed according to the state-wise minimum wage norms for agricultural labourers. Interestingly, the Chief Labour Commissioner, Ministry of Labour and Employment, had issued an office order dated September 23, 2019 mentioning that the minimum wage for unskilled agricultural labourers should not be less than Rs.347 per day (w.e.f. 1/10/2019) in India. By this logic, the MGNREGS wage rate should be fixed at least at Rs.350, and not at Rs.202 per day, as mentioned by our finance minister.
According to the official website of MGNREGS, the government has the data of 13.65 crore job cards linked with their bank accounts. Since, there is only one job card per family, assuming average family size to be 4.5, it is possible to make cash transfers to 61 crore rural poor population. If there is political willingness, the government may send 21 days' wage at least at the rate Rs.350 per day to all these 13.65 crore bank accounts. If the government sends Rs.7,350 to each bank account, the total expenditure would be Rs.1 lakh crore (=0.5% of GDP=350X21X13.65 crore).
Since, the value of money varies from state to state, the government might wish to set the rates according to the minimum wage rates for unskilled agricultural labourers in different states. This can be done immediately within April 14, simply by borrowing from the Reserve Bank of India (RBI) or by monetisation, which would also protect the aggregate demand from going down to an unprecedented level following this unprecedented epidemic/pandemic. It would not cause any inflation under a demand-constrained situation like this.
Surely, the urban poor cannot be covered under this scheme. However, most of them have either Aadhaar card, PAN card, ration card or voter identity card. Also, the government has data on e-filing of income tax and profit tax. Till last year, the exemption limit on income tax was Rs.2.5 lakh per annum or around Rs.20,000 per month. Therefore, the government can ask the non-income/profit tax payee urban people to send the photograph of their Aadhaar or voter card along with the bank account details through any mobile phone, if they want any assistance.
If there is political will, the government can transfer cash to protect the wage for 21 days at the rate of state-wise minimum wage rate for industrial workers. Obviously, money should not be sent to the same household twice. This needs some computer programming for duplication check and merging of databases after ensuring privacy and confidentiality. But, this is surely possible to execute quickly, given technology and available data and it would require some more government borrowing from the RBI. Seigniorage in 1% of GDP under a catastrophe is not a bad idea.
Families without any bank account would still be left out and they are the poorest of the poor. Electronic money transfer would obviously not be possible to those families – only direct action can save them in this situation. But, almost all the people of non-direct tax payee population, including migrant workers, can be covered in this manner under this crisis. And the expected increase in government expenditure would remain below Rs.1.7 lakh crore.
Many have argued that the present package is grossly insufficient. If the government wishes to spend Rs.1.7 lakh crore more, then the prime minister's apology can be respected in some meaningful manner.
The writer is assistant professor, Centre for Economic Studies and Planning, Jawaharlal Nehru University, Delhi. The views are personal.
Get the latest reports & analysis with people's perspective on Protests, movements & deep analytical videos, discussions of the current affairs in your Telegram app. Subscribe to NewsClick's Telegram channel & get Real-Time updates on stories, as they get published on our website.
Subscribe Newsclick On Telegram