Modi Govt Gives Rs.1.45 Lakh Crore Gift to Corporates
This bounty for corporate houses comes at a time when common people are reeling under a slowdown, joblessness is at record levels and incomes are stagnating.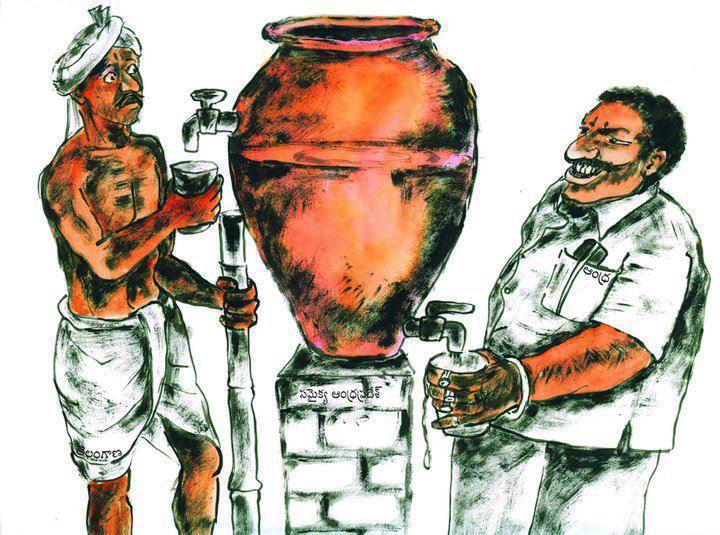 Continuing her series of press conferences, that are becoming like a treasure hunt for corporates, finance minister Nirmala Sitharaman announced today that corporate tax rates will be slashed from the current 30% (average) to 25.17% including all cess/surcharge. Actually, if no other concession is availed of, then the effective tax rate will be down to 22%. In addition to this massive concession, the finance minister also announced a slew of measures easing taxes on new companies, share buybacks, capital gains, etc.
In all, these concessions add up to a staggering Rs.1.45 lakh crore, which Sitharaman described as a "stimulus" to the economy but which actually means that much loss of taxes.
With this latest announcement, the second edition of Modi government has set a dubious record of giving freebies to corporates – in just 120 days it has announced 33% more concessions than the whole of last year. In the combined five and a half years of the Narendra Modi-led Bharatiya Janata Party (BJP) rule since 2014, Rs.5.76 lakh crore worth of corporate freebies have been announced.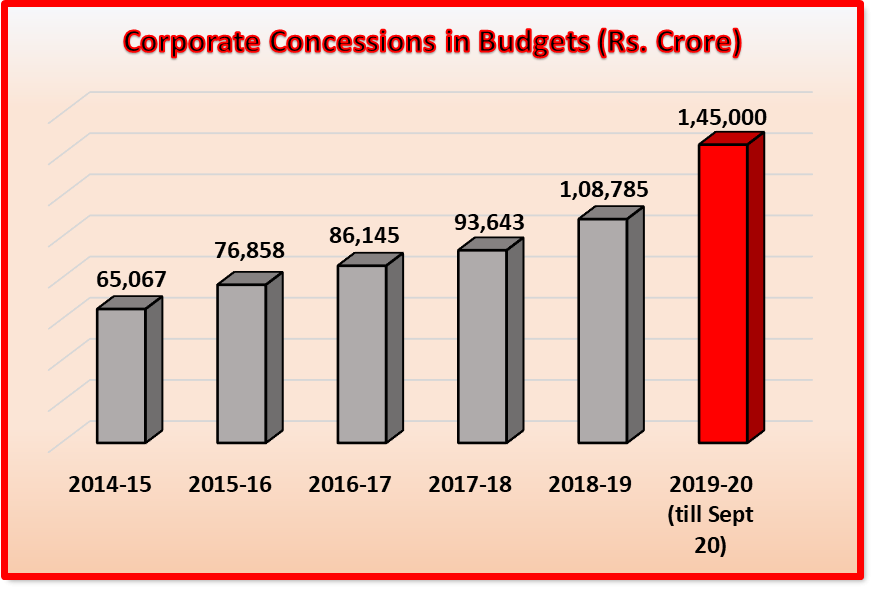 These latest freebies come after Sitharaman has already announced a series of measures earlier, including a Rs.50,000 crore scheme for promoting exports, a Rs.10,000 crore scheme for helping real estate developers in completing unfinished houses, a rollback of angel tax for start-ups, a rollback of super-cess on foreign portfolio investors, bank mergers, invitation to foreign capital to invest up to 100% in coal mining, easing bank credit regulations to provide more funds for investment, and so on.
The ostensible reasoning behind these moves is that corporate India needs help in these difficult times. Such help in the form of tax concessions would boost their activities, give them a better opportunity of expanding, and thus help employment, the argument goes.
There is a fundamental problem with this approach. It ignores the fact that the slowdown is taking place because of faltering demand, which is arising because there is no buying power in the hands of the people. Over 8% of the working age population is unemployed, industrial wages are less than half of what is the accepted norm for a minimum wage, agricultural wages are declining in inflation adjusted terms (they have increased by about 4% in two years!). In such a situation, producing more will be useless because there are no buyers.
The most extreme example of this is that India is currently holding record stocks of foodgrains (713 lakh tonnes in August) yet there are nearly 20 crore undernourished (hungry) people in the country! This macabre anomaly exists because there are no buyers for food grain in the open market – and the government refuses to sell the grain at subsidised prices in addition to what is the "normal" offtake.
What would be needed in such a dire situation is a stimulus for the people – through increase in wages, through better prices for produce of farmers, through a stronger public distribution system, through increasing government spending on education and health, etc.
However, the Modi government is standing the whole thing on its head. It is giving more and more money to corporates either directly (like spending Rs.10,000 crores in helping real estate tycoons complete their unfinished houses, or like writing off NPAs or non-performing assets of corporates) or indirectly, by reducing taxes (as in the present corporate tax cut and other cuts earlier).
This will have very damaging consequences for the people. Tax revenue is already flagging because of the slowdown. Cutting tax rates will mean an even greater fall in tax revenue. Which will mean that the government will have that much less money to spend on various welfare measures for the people.
In short, the more concessions are given to corporates, the less people are going to get from the government. Conversely, the more freebies are given to corporates, the higher will be their private profit because there is no avenue for them to make and sell more goods. As the chart above shows, massive concessions were given to corporates over the past five years – yet the country has steadily slid into a slowdown today. The lesson is clear: spend money on the people not on corporate houses, this will automatically give a stimulus to the whole economy. Otherwise, you are just lining the pockets of the super rich.
Get the latest reports & analysis with people's perspective on Protests, movements & deep analytical videos, discussions of the current affairs in your Telegram app. Subscribe to NewsClick's Telegram channel & get Real-Time updates on stories, as they get published on our website.
Subscribe Newsclick On Telegram