Covid-19: Days of Inaction Lead to Mayhem in Delhi's Hospitals
The abject failure of the Central and Delhi governments to make adequate arrangements during the lockdown, has led to painful instances of patients running from pillar to post to get hospital admission, and some even dying.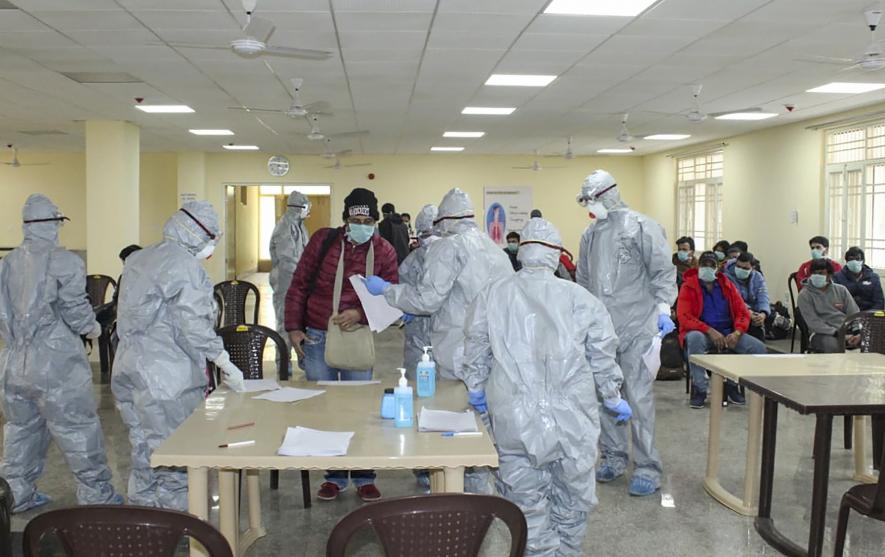 After the Prime Minister declared a sudden lockdown on March 25, Shiv Kumar and his wife Nandini, residents of Madangir in South Delhi, were struggling to cope with financial constraints as their income flow came to a sudden halt. Both were self-employed. Then, one day, Nandini complained of high fever, cough and sore throat. An anxious Shiv took her to Max Hospital in Saket where doctors tested her for novel coronavirus or COVID-19, and her results were found positive. Shiv was asked deposit Rs 50,000 immediately for admission and prepare for further expenses for the treatment.
A distraught Shiv Kumar told NewsClick: "When I was asked to submit Rs 50,000, I was shocked. My income had stopped and I did not earn a single penny in the past three months. Fortunately, a friend introduced me to a social activist who requested Max authorities to admit Nandini under the Economically Weaker Sections (EWS) quota...The situation is bad. The hospital admitted my wife but refused admission to another patient citing lack of beds."
Kumar said he does not know the source of infection. When asked why he did not choose government hospitals, such as Safdarjung, he said his wife earlier did not have a pleasant experience with the Central government-run hospital.
But it is not just poor patients like Shiv Kumar who being refused admission. Several reports and social media posts reveal and endless saga of lack of medical access.
Take the case of Rita Mal, Under Secretary in Department of Revenue, Ministry of Finance. She and her husband were tested positive for coronavirus on May 29 and the doctors subsequently suggested home quarantine for them. IN a social media post, Mal says that despite taking all precautions, her husband's condition started worsening on June 6. She took him to the closest hospital, B L Kapur Hospital in Karol Bagh, where she was told that no beds were.
Mal said she kept pleading for tests but the doctors advised her to look for beds in other hospitals. Infuriated and anguished, Mal went on dharna after hours of ordeal. Although doctors agreed for tests, she was informed that Sir Ganga Ram Hospital and Metro Hospital were fully occupied. She finally took her husband to Lok Nayak Jai Prakash Hospital where doctors admitted him and started treatment.
In her post, Mal writes: "Being a COVID positive patient myself, I had to go to hospital with him since we both live alone. I explained my situation to the doctors but they could not offer any help. There said no beds were available. And since no beds were available, they refused to carry out any tests as well. It was a most horrible time of my life. I was begging the doctors to do the tests and promised them that I would take my husband back home after the tests were done, but they flatly refused. I decided to sit on Dharna since I had no choice. Going home didn't make sense as his condition was not very good and I myself was not in condition to take care of him on my own."
The cases of Shiv Kumar and Rita Mal reflect the panic among common persons struggling to seek treatment and the chaos in hospitals. There have been instances of people running around six-seven hospitals trying to get their near and dear ones admitted.
The chaos in Delhi's hospitals was kind of admitted by Delhi's Deputy Chief Minister Manish Sisodia, who cautioned that the national capital would witness 5.5 lakh cases by July-end and would require 80,000 beds. An analysis of the number of beds in Delhi hospitals suggests that the state has24,383 beds and15,072 beds in the public and private sectors, respectively.
As per a study by The Centre for Disease Dynamic, Economics Policy, Princeton University, Delhi has1,219 ICU beds and 754 ICU beds in the public and private sector hospitals, respectively. An analysis suggests that both public and private hospitals have deployed equal resources although for different purposes. NewsClick had reported how a leading private player like Sir Ganga Ram Hospital did not hesitate to charge whopping amounts up to Rs 16 lakh from patients.
Another issue impacting patients was highlighted recently by the Delhi High Court which said the Delhi government was not updating data like availability of beds and ventilators in real time, forcing patients to run from pillar to post. "We, therefore, direct Government of NCT of Delhi as well as the central government that they shall take all necessary steps for ensuring real-time updating of data, without too much of a time lag, so that the information being received by the public is current," a bench of Chief Justice D N Patel and Justice Prateek Jalan ordered.
When NewsClick looked at the Delhi Corona App, it found that the data regarding several hospitals has not been updated for 11 hours.
Another matter of concern for residents of Delhi is the number of infected healthcare workers. Reports suggest thatAIIMS at present has 480 infected doctors, nurses and healthcare workers, Lok Nayak Jai Prakash Hospital has 83and Ram Manohar Lohia Hospital has 81 infected personnel. AIIMS has already lost three healthcare workers.
Malini Aisola, co-convenor, All India Drug Action Network, accused bot the state and Central governments for waking up late. A slew of measures by the Delhi Government came only after it realised that things will soon slip out of its hands, she said, adding that "governments, both Centre and the state, did not work out a cohesive plan to combat the pandemic during initial lockdowns. If you look at the decisions of Delhi government, be it reserving more than 20% seats in 22 private hospitals or other correction orders, you will find they started working late."
Health activist Ashok Agarwal, whose petition was cited by Delhi Lt Governor Anil Baijal while overturning the Delhi Government order for reserving Delhi hospitals for patients of Delhi, said the tendency for preferring private hospitals over government hospitals was fuelled after mishandling of cases, including ill treatment of dead bodies in Lok Nayak Jai Prakash Hospital.
Talking to NewsClick, Agarwal said: "The fiasco became public with the theatrics of the (Arvind) Kejriwal government which indulged in blame game. First, they bragged about health infrastructure initiatives like Mohalla Clinics etc. Its fine but they did not reveal that 50% vacancies had still not been filled. Now, the application of the Delhi Government suggests that most of the beds are in government hospitals like LNJP. But, why would a person go there when s/he is certain that there is not enough staff in hospitals to look after them?"
Asked if the crisis could have been better handled, Agarwal said: "Of course. Look at Kerala. They managed it meticulously from the first day. If the Kejriwal government still wants to manage the crisis effectively, it must take over the management of private hospitals for the time being. If Maharashtra can do it, why can't Delhi?"
Asha Sharma, Delhi secretariat member, of the Communist Party of India (Marxist), who attended the all-party meeting called by the LG, said the state needed to ramp up its testing and tracing mechanism to avoid fate suggested by leading epidemiologists.
Talking to NewsClick, Sharma said: "In Delhi, there was inadequate tracing and testing during the lockdown period, which would be the reason for the increased number of cases now. It is also not understood why around 10 private laboratories are banned totally for not following procedures as there are other methods to penalise them. Banning tests affects patients. From our own experience it is clear that there is no measure to trace and test those who come in close contact with COVID-19 patients. With the scheduled full-fledged opening up and signs of community transmission, the situation is even more precarious now."
Read Also: COVID-19: Devoid of Profit in Lockdown's Early Phases, Private Hospitals Resort to Predatory Pricing, Say Patients and Activists
Get the latest reports & analysis with people's perspective on Protests, movements & deep analytical videos, discussions of the current affairs in your Telegram app. Subscribe to NewsClick's Telegram channel & get Real-Time updates on stories, as they get published on our website.
Subscribe Newsclick On Telegram