Covid-19: No Excuses for Criminal Neglect, Health Minister Harsh Vardhan Should Resign
Dr Harsh Vardhan has shown little interest in protecting the people of this country. He speaks only the language of servility.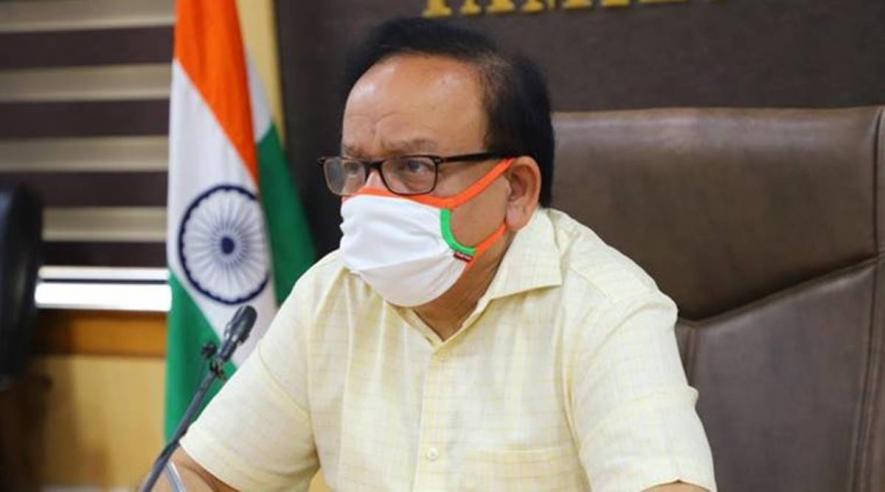 Image Courtesy: The Indian Express
India leads the world in reported Covid-19 infections and in recorded deaths. We are recording nearly four lakh cases and almost 4,000 deaths every day. Every one in two global cases in this deadly pandemic is coming out of our country. Our daily death rate is 1.3 times that of Brazil, which was the world's worst Covid hotspot for almost all of last year.
There is hardly any home in the national capital with its 20 crore population that is unaffected by the pandemic. We are subsumed by images of people crying for hospital beds, begging for oxygen and of cremation sites overflowing with an unending lines of corpses. Amidst this unfolding tragedy, the Union Minister of Health Dr Harsh Vardhan declared on April 27 that "India was better prepared mentally and physically this year with more experience to beat the COVID-19 pandemic as compared to 2020."
This is the greatest travesty one could hear. 'Better prepared' is the equivalent of Marie Antoinette telling her starving countrymen, 'If they don't have bread give them cakes.'
Dr Vardhan must be aware that India's premier medical institutions are facing an oxygen shortage while thousands are dead, felled not by the virus but due to the lack of oxygen. On May 1, as many as 12 Covid patients died at Batra Hospital in the capital after it ran out of medical oxygen. Amongst the dead was Dr RK Himthani, head of the gastroenterology unit of the same hospital.
This is not a reference to small nukkad nursing homes and maternity clinics where patients have been left gasping for breath, but India's premier hospitals such as Sir Ganga Ram Hospital, Max Hospital, Jaipur Golden Hospital and ESI Hospital in Jaipur to name a few.
The story of the oxygen catastrophe is being repeated across the nation. Even worse is the flourishing black market for oxygen with one cylinder of 48 kgs being sold for Rs 1 lakh there. Hospital beds are simply unavailable. There is a thriving black market for all corona-related drugs and oxygen saturation machines.
No less than Dr Tedros Adhanom Ghebreyesus, head honcho of the World Health Organisation, who said, "The situation in India is beyond heartbreaking."
Has Dr Vardhan or anyone in his ministry made any attempt to curb these malpractices? To make the situation worse, ambulances are known to be now charging up to one lakh of rupees to cover a distance of a couple of kilometres. No wonder, thousands of corona patients are simply dropping dead within the four walls of their homes. Those who do manage to reach a hospital are dying at the hospital doorsteps with desperate relatives left pleading with hospital authorities for a bed.
The second wave of Covid-19 has exposed glaring gaps in the country's health infrastructure as also the government being utterly unprepared to deal with this crisis. Nowhere is this vacuum more evident than the crucial service deliveries required at every step of treatment for this pandemic.
But till only a few days ago, Dr Vardhan was appearing on news channels claiming that everything was all right. We would now like to know from him why both he and his officers prevaricated on the setting up of Pressure Swing Adsorption Medical Oxygen Generation Plants, given that clearance was there for the starting of 162 oxygen plants across India including 8 in Delhi, 14 in Uttar Pradesh, 3 in Chandigarh and 6 in Haryana and funds had been released by PM CARES last year itself.
But this is only one example of Dr Vardhan's criminal neglect made worse by the fact that he is a qualified ENT surgeon and so, he can make no excuses that he does not understand the nuances of this pandemic. It is probably because of his medical background that he was given this portfolio.
The question arises whether, as an MBBS qualified doctor, he should have warned the government about the consequences of holding super spreader events such as the Kumbh Mela attended by over nine million Indians who had not bothered to mask up. Nor did he have the gumption to convey to the prime minister that holding election rallies when the virus was on an upswing could endanger the lives of millions of people.
The results are there for all to see. States that had managed to control the coronavirus spread earlier are now seeing spiralling figures including the state of Uttarakhand, which hosted the Kumbh Mela and presently has one of the highest positivity rates with neither the medical infrastructure or the medical staff able to deal with this calamity.
Vardhan has had to bite his words on occasion after occasion and yet he speaks on relentlessly. "We are in the end game of the COVID-19 pandemic in India," he announced gleefully in the month of February.
This is not to say the health minister (as also other bureaucrats ) was not warned about a second wave. The Indian SARS-CoV-2 Genetics Consortium has brought together the views of ten premier national laboratories to detect genomic variants of the coronavirus and these scientists warned a senior official reporting directly to the prime minister of the dangerous implications of these variants in early March as they did to Dr Vardhan.
These findings were shared with the health ministry's National Centre for Disease Control before March 10, warning that infections could spread to every part of the country, but to little avail. INSACOG researchers first detected B.1.617, which is now known as the Indian variant of the virus, as early as in February. Imagine if the central government in co-ordination with the states had taken timely action, then? They could have taken steps to control this catastrophe unfolding before our eyes on a daily basis.
Vardhan's blind obsequiousness to the great leader was at its peak while addressing the 62nd Annual Delhi State Medical Conference in the capital last month when he eulogised at length the government's vaccine policy. Striking a congratulatory note, he said that over 2 crore Covid-19 vaccine shots have been administered so far and the vaccination rate had been increased to 15 lakhs per day. 
"Unlike most other countries, we have a steady supply of COVID-19 vaccines that are safe with proven immunogenicity and efficacy. Based on the initial results, these Made in India vaccines have shown some of the lowest adverse events following immunization anywhere in the world," he said.
Vardhan further asserted that "India could not be safe from coronavirus and COVID19 if rest of the world continued to be unsafe, which is why it is essential to curb COVID-19 vaccine nationalism. "
He went on to state that under the leadership of Prime Minister Narendra Modi, India has emerged as the world's pharmacy, and it supplied 5.51 crore Covid-19 vaccines to 62 different countries.
"At a time of global crisis, under the leadership of Modi Ji, India has emerged as an example to the world in international cooperation. It was Modi ji's insistence that COVID-19 vaccines should be provided with no strings attached, and the countries without the vaccine supply should not be taken advantage of at the time of a global humanitarian crisis," he said.
Vardhan's words have been thrown back at him a thousand times over. In a series of tweets, Dr Eric Feigl-Ding, a renowned epidemiologist, called for the resignation of India's Union Health Minister Dr. Harsh Vardhan over gross mismanagement. Dr Feigl-Ding is also Senior Fellow at the Federation of American Scientists in Washington DC and Chief Health Economist for Microclinic International, who was one of the first doctors to warn against the seriousness of the coronavirus last year.
Vardhan was "unfit" to be the Health Minister of India and Dr Feigl-Ding called for his resignation citing that Jordan's Health Minister resigned after just seven people died from a shortage of oxygen at hospitals.
He further tweeted, "And India's #COVID19 humanitarian crisis is not a "domestic issue"—it's out of control pandemic is endangering whole WORLD by allowing the virus to spread around Earth globe Asia-Australia because of lack of any India containment, and allowing more mutant variants to arise! That's why I speak out!"
"Hence, calling for @drharshvardhan to either protect India & the world or to resign is *not* "domestic meddling". India is a global crisis hotspot and potential incubator of a prolonged pandemic. This is a pandemic damnit! You have direct responsibility. Protect the people" he said in another tweet.
Dr Vardhan has shown little interest in protecting the people of this country. He speaks only the language of servility. While recently inaugurating a blood donation camp, Dr Vardhan could not stop eulogising in the highly laudatory vocabulary reserved for the prime minister as he spoke on how Narendra Modi had launched the largest vaccination drive in world in January, which was now being accelerated further to vaccinate all young people from May 1.
Questions are being asked regarding this whole vaccination drive. Former health secretary K. Sujata Rao has demanded an explanation from the government as to how pharma companies were being allowed to determine the cost of the vaccine. Also, on why the onus of drug procurement had been placed on state governments, many of whom were ill-prepared to roll out such a large vaccination drive at such a short notice given that they simply had no vaccines.
The key question asked by none other than the Supreme Court is that -- when India has in the past unrolled world's largest vaccination drive under the aegis of the central government, what stopped them from using this blueprint once again.
Well, these are questions which Dr Vardhan needs to answer. We also need to know why he went ahead and endorsed Patanjali's Coronil as being a wonder drug that would treat Covid-19. Also, what led the Ayush Ministry to give clearance to this drug simply because it was being manufactured by a BJP sympathiser even as these claims were shot down by the WHO.
But Dr Vardhan is given to making vacuous claims. In August last year, he had declared, "Let me assure everybody that there is no need to panic, we are more than adequately prepared to deal with any contingency."
His claims lie in tatters as do our lives. With the virus having spread to every corner of our nation including our villages that are so ill equipped in health infrastructure, each individual has been left to fend for himself. Maybe the virulence of this virus has taken everyone by surprise including our scientists and virologists, but to date, Vardhan has not moved to create a dedicated team to monitor oxygen supplies, beds, vacancies in hospitals, medicines reaching hospitals and chemists across the country. No infrastructure in place! He is obviously waiting for his top leader to give directions for he seems incapable of doing so himself.
Get the latest reports & analysis with people's perspective on Protests, movements & deep analytical videos, discussions of the current affairs in your Telegram app. Subscribe to NewsClick's Telegram channel & get Real-Time updates on stories, as they get published on our website.
Subscribe Newsclick On Telegram