Critical Remarks on Ramcharitmanas Mirror Thoughts of Vivekananda, Gandhi
The flagging of some "offensive" stanzas should be seen as continuation of the struggle for freeing OBCs from the overarching Hindutva framework, and for equality, equal opportunity and dignity.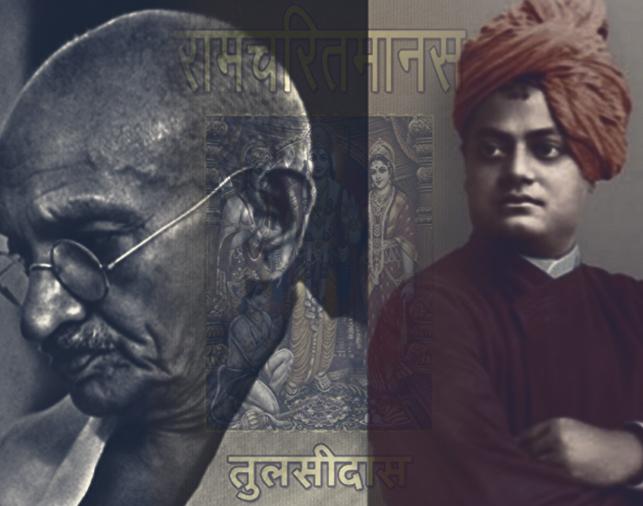 Tulsidas's Ramcharitmanas is a revered book commanding piety and devotion from millions of people who derive spiritual solace from it. During the last several weeks, many stanzas of the Ramcharitmanas, including the stanza, "Drums, boors, shudras, animals and women, all are fit to be beaten", are being flagged by some leaders belonging to other backward classes (OBCs) in Uttar Pradesh and Bihar for driving home the point that these offend people on the basis of their caste and gender identities.
The 'Offending' Stanzas
For instance, Swami Prasad Maurya of the Samajwadi Party, stated that the Ramcharitmanas was derogatory to women, dalits, tribals and backward classes. Earlier, Chandra Shekhar, education minister in the Bihar government and RJD (Rashtriya Janata Dal) leader stated that some stanzas "outrage" the dignity of dalits and women, and mentions the word shudra which violates the honour and self-esteem of those who are placed in the lower end of the caste hierarchy. Such sharp remarks generated a huge uproar.
The coming together of dalits and OBCs, by targeting those stanzas, has the potential of altering the political discourse and outcome by shifting OBC-dalit support away from the ruling Bharatiya Janata Party (BJP), which has strategically adopted social engineering to enlist their support for electoral purposes within the broad framework of Hindutva, which whitewashes caste oppression and divisions and accepts the supremacy of upper caste people.
Maurya, a prominent OBC leader in UP, who flagged those stanzas, was assaulted allegedly by a Mahant of Hanuman Gadi of that state when they participated in a TV debate in Lucknow. People who were outraged and angry with the Mahant for the assault on Maurya, allegedly started beating the Mahant. This angered some high caste people who thought that Mahants, usually held in high esteem by people cutting across caste lines, could never be beaten up by OBCs.
Criticism of Ramcharitmanas in 1970s and 1980s
Is this the first time that some of the stanzas of the Ramcharitmanas are being targeted for their content for showing "contempt" to people on account of their ascribed caste status? The uproar against those stanzas in UP and Bihar this month is not the first of its kind. Decades ago, several others had criticised the Ramcharitmanas for depicting dalits, shudras and women in a "disrespectful" manner. For instance, Ramswaroop Verma, who founded Arjak Sangh in the late 1960s, for the cause of social equality and to oppose brahminism, had established a party, Soshit Samaj Dal in the 1970s. He asked his supporters to burn copies of Manusmriti and Ramcharitmanas on B R Ambedkar's birth anniversary on April 14, 1978 to protest against some of its contents perpetuating caste bias and upholding brahminism.
Four years earlier, in 1974, Rampal Singh, a MLA in the UP Assembly, had torn the pages of Ramcharitmanas inside the Assembly. Even Kanshi Ram and Mayawati of the Bahujan Samaj Party have raised critical voices against Manusmriti and other texts, some portions of which "offended" people by citing their placement in the lower part of the caste hierarchy. So, the critical observations of Maurya and Chandra Shekhar on Ramacharitmanas mirror the remarks earlier made by Verma and others in the 1970s and the 1980s.
Gandhi's Critical Remarks on Ramcharitmanas 
It is illuminating to note that the aforementioned scathing observations on Ramacharitmanas also mirror the thoughts of Mahatma Gandhi. It is lesser known that a 106 years ago, on February 1,1917, Gandhi wrote a foreword to Bhogindrarao Divetia's book "Striyon ane Samajseva", wherein he said that some of the things in our old Sanskrit texts, as also a famous couplet in Tulsidas's Ramcharitmanas, "Drums, boors, shudras, animals and women, all are fit to be beaten," were responsible for the inferior status of women in society.
Gandhi often invoked Lord Ram during our freedom struggle and asserted that he was a Sanatani Hindu. It is against that backdrop that this critical articulation on Ramcharitmanas is revealing.
In that foreword, while taking a critical stand against that stanza, Gandhi described himself as a devotee of Tulsidas and stated that his devotion was not blind. However, he thought that the couplet could have been an interpolation, and added "...or if it is really by Tulsidas, he must have written it without thought, only expressing the prevalent attitude".
Referring to some of the utterances in the Sanskrit texts offending women and outcastes, Gandhi pointed out that people justified those utterances on the ground that those verses, coined in Sanskrit, flowed from the scriptures. He appealed for getting rid of that false notion and doing away with the age-old attitude that regarded women as inferior.
It is clear that the articulation of some OBC leaders in UP and Bihar that some stanzas of Ramcharitmanas constitute an affront to women, dalits, tribals and backward classes, run parallel to what Gandhi wrote in 1917. Their remarks on Ramcharitmanas were interpreted by a section of influential people as an offence against Lord Ram, the central character of Ramcharitmanas. But they clarified that they have nothing but reverence for Ram and their remarks only pointed out the insults heaped on women, dalits, tribals and backward classes. In fact, two women members of the Samajwadi Party were expelled for criticising Maurya's critical remarks. The expulsions were justified by the party on the ground that it followed Rammanohar Lohia's ideals of democracy, secularism and samajwad (socialism). 
Swami Vivekananda Predicted Rise of Shudras
It is also notable that much before Gandhi took a critical stand on some stanzas of scriptures and the Ramcharaitmanas, it was Swami Vivekananda who, with deep anguish, wrote about the subhuman treatment accorded to the shudras within the Hindu fold. After his return to India following the completion of his historic trip to the US in 1893, he was described pejoratively by some so-called social reformers as a shudra and, therefore, he had no right to become a sanyasi, a monk. Stating that he was not at all hurt if they called him a shudra, he interpreted it as a little reparation for the tyranny of his ancestors over the poor. Such an account is available in Swami Vivekananda's book, Lectures from Colombo to Almora, which forms part of Volume 3 of the Complete Works of Swami Vivekananda.
According to him, the shudras rendered invaluable services to society with their toil and labour and yet were deprived of their access to spiritual knowledge and education. In his article, "Modern India" ,written in 1899 and published in volume 4 of the Complete Works of Swami Vivekananda, he wrote: "And where are they (Shudras) through whose physical labour only are possible the influence of the Brahmin, the prowess of the Kshatriya, and the fortune of the Vaishya?" He asked: "What is their history, who, being the real body of society, are designated at all times in all countries as "baseborn"? — for whom kind India prescribed the mild punishments, "Cut out his tongue, chop off his flesh", and others of like nature, for such a grave offence as any attempt on their part to gain a share of the knowledge and wisdom monopolised by her higher classes". With anguish, he described shudras as "moving corpses" of India and "beasts of burden" and asked "...what is their lot in life?"
In his lecture on "The Future of India", forming part of Swami Vivekananda's book, Lectures From Colombo to Almora, he said: "There are books where you read such fierce words as these: "If the Shudra hears the Vedas, fill his ears with molten lead, and if he remembers a line, cut his tongue out. If he says to the Brahmin, 'You Brahmin', cut his tongue out". This is diabolical old barbarism no doubt."
Those remarks of Swami Vivekananda alluded to some provisions of the Manusmriti prescribing brutal penal measures on shudras for breaching caste norms that prohibited them to acquire education and spiritual knowledge.
In fact, the meaning and message embodied in the aforesaid writings of Swami Vivekananda resonate in the critical remarks of Maurya and Chandra Shekhar on some stanzas of Ramcharitmanas. 
In the above mentioned article, "Modern India", Swami Vivekananda presciently wrote:
"Yet, a time will come when there will be the rising of the Shudra class, with their Shudra-hood.." He explained that they would become great and assume supremacy not by "acquiring the characteristic qualities of the Vaishya or the Kshatriya" but "with their inborn Shudra nature and habits". He then said that ideals of socialism would become the anchor on which such transformation would take place and herald social revolution. Prophetic words indeed!
The questioning of stanzas of Ramcharitmanas constitutes a step for uniting non- dalit OBCs so that they are freed from the overarching Hindutva framework. One has to wait and see to what extent these political goals are realised. Whatever be the outcome, these critical remarks on the Ramcharitmanas are evocative of what Swami Vivekananda and Mahatma Gandhi wrote way back in the late 19th century and second decade of the 20th century, respectively. The struggle for equality, equal opportunity and dignity is being taken forward on a continuous basis.
The writer served as Officer on Special Duty to President of India K R Narayanan. The views are personal.
Get the latest reports & analysis with people's perspective on Protests, movements & deep analytical videos, discussions of the current affairs in your Telegram app. Subscribe to NewsClick's Telegram channel & get Real-Time updates on stories, as they get published on our website.
Subscribe Newsclick On Telegram