DMK Govt's Scheme to Address School Dropouts Impactful, but Some are Left out
'Illam Thedi Kalvi' (education at your doorstep) was launched to keep government school students within the folds of formal education after the disruption during the pandemic period.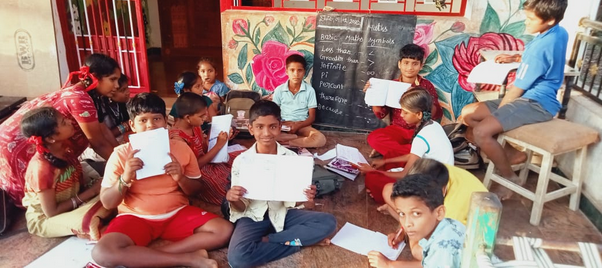 An ITK centre in the Cuddalore Zone. Image courtesy: Santhakumar
Tamil Nadu School Education Minister Anbil Mahesh Poyyamozhi announced on June 14 that the 'Illam Thedi Kalvi' (education at your doorstep) initiative will be extended for another six months. The initiative is the state government's effort to contain school dropouts and help students return to formal education after the long gap due to the COVID-19 pandemic.
There was doubt whether the ITK scheme would continue, given that schools reopened for physical classes on June 13 in the state. The volunteers for the scheme, around 1.8 lakh, anxiously awaited the minister's announcement and were delighted at the scheme's extension.
These volunteers, the majority of whom are women, were trained to engage students through activities and play-based methods. They were sent on the ground to identify students who required support and encourage them to attend the daily ITK centre. The students gather in their neighbourhoods in the evening and are kept occupied through creative teaching methods.
NewsClick reached out to several volunteers and coordinators to learn about the extent of the scheme. Many of them said that in the informal setting of the ITK, as opposed to the classroom, students are learning with enthusiasm and they do not feel burdened. However, they also said the government's contribution should be more. They feel the state is more interested in portraying the scheme as an achievement than addressing its drawbacks. 
There are impediments to taking the scheme to the forest and tribal areas. In the urban areas, the coordinators have difficulty finding common spaces that can function as ITK centres.
'LIMITED GOVT CONTRIBUTION'
Understanding the importance of the scheme, certain civil society and youth organisations came forward to implement it. These include Tamil Nadu Science Forum (TNSF),  Movement for the Protection of School Education and Democratic Youth Federation of India (DYFI).
The activists of these organisations already had the experience of working among students, and in local areas, they are able to take the scheme forward to children creatively. TNSF has been running 'Tulir Illams', a neighbourhood-based club for children, for more than 30 years, and it has come in handy to implement ITK.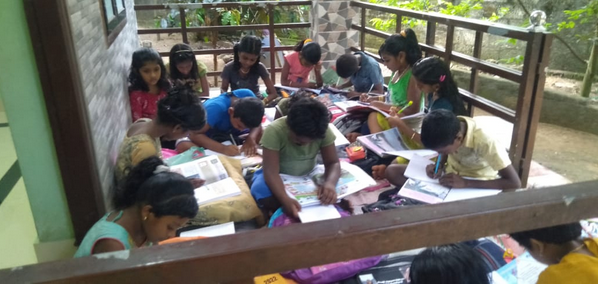 An ITK centre outside a house in Kanyakumari zone. Image courtesy: Sivasree
Sivasree Ramesh, the Coordinator of Kanyakumari Zone and activist of TNSF, said, "The contribution of the government has been limited, it is only printing books and distributing them to the volunteers. Volunteers are paid a pittance of Rs 1,000 per month, but the amount of time, work and effort expected from them is too much."
He also said, "There was no effort taken to reach out to far-off places. There is a tribal settlement in Thatchamalai, Kanyakumari; we to take a boat to reach there and it costs Rs 300 one way. There were hardly any students who completed schooling there, but we identified one person and encouraged her to apply as a volunteer. But she could not clear the exam, so there is no ITK centre in the settlement". 
Santhakumar, Zonal Committee member of Cuddalore Zone, said, "The initial training and the volunteers' excitement has contributed to running the centres, but more training is needed to communicate the content of the books to the students."
ENTHUSIASTIC VOLUNTEERS
The Volunteers of ITK are college students, housewives, private school teachers and company workers. Most of them are overqualified, and a school pass out is the minimum qualification; some are lawyers, and some are people with doctorate and nursing degrees.
Volunteers joined the scheme for two reasons – to contribute to society and others in the hope that they will eventually be incorporated into government work.
Santhakumar said, "The scheme is completely run on the goodwill of volunteers. I was surprised that so many came to be a part of it for no real compensation. Many housewives, who were bound at home, have found a chance to step out and be recognised."
Subhashini, an ITK volunteer in Panruti, said, "I like running the centre. I feel like I am doing something worthwhile. I am at home all day, so it feels good to both learn and teach."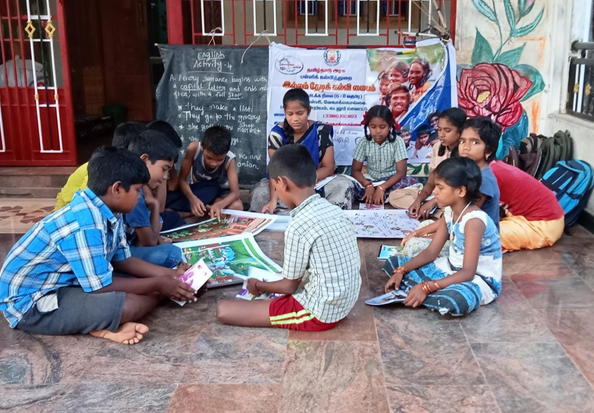 At an ITK centre in Panruti.  Image courtesy: Subhashini.
However, many of the volunteers left mid-way, leaving the centre stranded. Some of them got married and moved out of the neighbourhood, and some quit to prepare for the TNPSC exams.
Moreover, due to technicalities, the incentive of nearly one-fifth of the volunteers has been stuck since May 2022. 
Malarvizhi, ITK Coordinator, Chennai Zone, said, "Initially, the volunteer incentive was given in cash; the funds were sent to each zone from where it was further disseminated. But there was a lag on the part of the officials. So, the state decided to credit the incentive directly to the bank accounts of the volunteers. Due to disparity in details, the incentive of 37,000 volunteers is currently withheld."
POSITIVE RESPONSE
ITK volunteers who have been working with the children since January 2022 say that they see a lot of progress and positive changes with the students through this method of teaching. It helps students to open up, speak out and engage with each other freely. Moreover, there are fewer students, so there is space for all of them to participate.
Shalini, a B.Ed student and ITK volunteer for Irular students in Chengelpettu district, said, "In the beginning, two students were hesitant to even talk. Now, they play, talk to me and even ask to clear their doubts. They have developed an interest in studying. An eighth standard student refused to go to school, but he recently told me that he had passed eighth grade's exam and asked me to help him get admitted into a school for the ninth standard."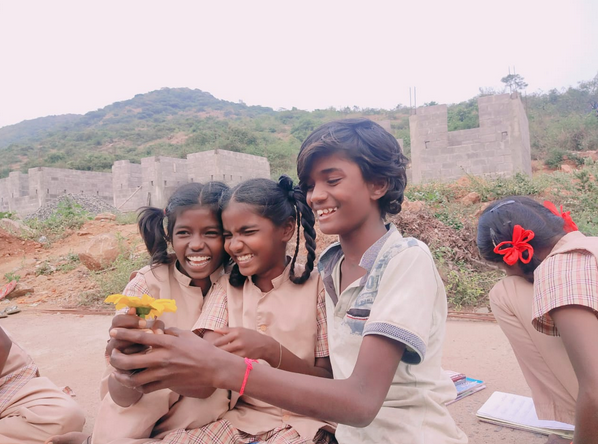 Irular tribe students in an ITK centre. Image courtesy: Shalini
"These tribal students prefer learning from the ITK centre rather than going to school where they feel sidelined due to their social locations. One student told me to come teach them from morning to evening," said Shalini.
Anandhi, a private school teacher who is an ITK volunteer in Koyambedu, Chennai, said, "During the pandemic, the children ran out of the ability to concentrate. Through the play methods in ITK, we are trying to expand their concentration."
Santhakumar said, "During the COVID-19 period, due to the drop in overall economic conditions, many private school students joined government schools. Looking at the creative methods of teaching imparted in ITK centres, parents of these students are impressed and are convinced that public education is not as bad as they assumed."
Along with announcing the extension of the scheme, the minister said that ITK would end in a phased-out manner. Educationists and volunteers believe that the scheme's real impact would be felt only if it is carried out for a longer period.
Get the latest reports & analysis with people's perspective on Protests, movements & deep analytical videos, discussions of the current affairs in your Telegram app. Subscribe to NewsClick's Telegram channel & get Real-Time updates on stories, as they get published on our website.
Subscribe Newsclick On Telegram