DU Bust Row Shows Right-Wing Desperation to Project Savarkar as Youth Icon
Efforts to equate revolutionary and secular Bhagat Singh and Subhash Bose, with a communally divisive and British-friendly Savarkar, cannot change RSS' history vis-a-vis the freedom struggle.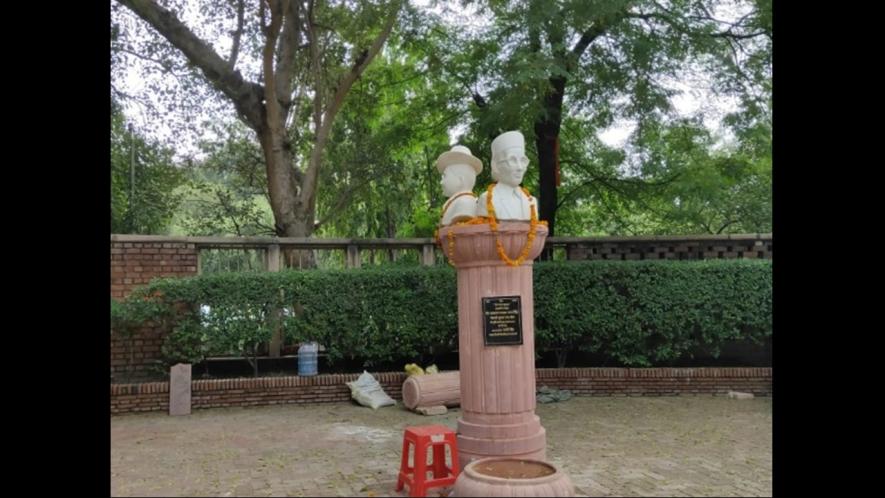 The Sangh Parivar is desperately trying to portray Vinayak Damodar Savarkar as a brave anti-imperialist freedom fighter among the youth of our country. To showcase him as a brave personality, the Rashtriya Swayamsevak Sangh (RSS) family calls him "Veer Savarkar", this is the nomenclature of VD Savarkar popularised in Vidya Bharti school textbooks and in RSS shakhas.
Despite all these efforts, the Sangh family has failed to establish Savarkar as a youth icon. But they haven't given up. Another effort towards this end was carried out in Delhi University when the RSS-affiliated Akhil Bharatiya Vidyarthi Parishad-led Delhi University Students Union (DUSU) illegally installed a pillar with busts of "Veer" Savarkar, Subhash Chandra Bose and Bhagat Singh outside the gate of Arts Faculty in North Campus. Despite the University administration and the central government being right-wing, ABVP installed this pillar in the dark of night around 2 a.m in a hush-hush manner, because they knew that this act would not have received the popular support of students. Later, however, they were forced to remove the bust by the university authorities as no permission had been granted.
The Conspiracy to Establish Savarkar as a Freedom Fighter
"Aazadi ke naayak Veer Savarkar, Bhagat Singh, Netaji Subhas Chandra Bose ki moorti sthaapna 20 August 2019 ko ki gayi," were the words chiselled in the plaque along with the busts. This reflects the ABVP's real intention of equating Savarkar with some of the great freedom fighters. This is ridiculous because both Bhagat Singh and Bose sacrificed their lives for the freedom movement. Whereas, the followers of Savarkar have no historical contribution to present before the people of India. They are spreading half-baked narratives through Wikipedia, where there is not even a mention of the mercy petition that Savarkar sent to the Britisher rulers. But ABVP forgot that in a university campus, students don't rely on Wikipedia for knowledge and have reliable access to history. Just prior to the union elections, ABVP cannot fool students by creating a deliberate controversy to hide their failure to run DUSU.
Savarkar Has Nothing to Inspire
Every nation has its icons and heroes to inspire the youth. India also had leaders who inspired millions of youth during the Independence movement, who continue to inspire the youth today. Bhagat Singh and Bose are two such leaders. They are symbols of unity and national integration. On the other side, Savarkar did or said nothing inspirational for the younger generation.
This incident was an effort by ABVP to recreate history, but the mercy petitions of Savarkar and his divisive communal politics cannot be erased from history. Savarkar was associated with Free India Society and Abhinav Bharat during his early days as a student in London. He was arrested when a member of Free Indian Society killed an official in India Office (London) and was sent to Andaman's cellular jail (popularly known as Kala Pani) as punishment for two-life imprisonment terms of 25 years each. This was the end of his 'freedom struggle' and a new Savarkar took birth. This 'reformed' Savarkar was antithetical to the earlier Savarkar. He wrote multiple mercy petitions to the British government pleading for his release. After confessing that he was misguided into taking the revolutionary road and writing multiple mercy petitions, he was released after spending 10 years in jail. His mercy petitions need no reference as these are easily available in the public domain, and are quite troublesome for the Hindutva forces, which boast of their "immense contribution" to India's freedom struggle.
In one of the letters, Savarkar has written:
"If the government in their manifold beneficence and mercy release me, I for one cannot but be the staunchest advocate of constitutional progress and loyalty to the English government which is the foremost condition of that progress... Moreover, my conversion to the constitutional line would bring back all those misled young men in India and abroad who were once looking up to me as their guide... The Mighty alone can afford to be merciful and therefore where else can the prodigal son return but to the parental doors of the government?"
Savarkar proved to be a man of his words as kept the promises he made in his mercy plea by proving his loyalty to the British Empire throughout his life. Such a person cannot inspire our youth.
On the contrary, our hero is Bhagat Singh, along with Rajguru and Sukhdev, who went to the gallows in the Lahore Conspiracy Case; who was unrepentant, uncompromising and an unequivocal revolutionary till the day of his martyrdom and criticised the very idea of a mercy petition. He gave his life to inspire millions of Indians by demonstrating how to truly live up to the slogan of Inquilab Zindabad (Long Live Revolution).
Savarkar Worked Against the Rreedom Movement
Another important figure of freedom struggle was Subhas Chandra Bose, who was raising his Indian National Army to confront the British in India, while Savarkar was helping the colonial government recruit lakhs of Indians into its armed forces. When Indians were participating in the Quit India Movement, Savarkar was helping the British rulers by working against the movement. This cannot be considered as simply his opposition to the Indian National Congress but a pure act of betrayal and un-patriotic behaviour, as all shades of people throughout the country participated in Quit India. It was under Savarkar's leadership that the Hindu Mahasabha passed a resolution on August 31, 1942, asking all its members to remain at their jobs. He further issued an appeal that all Hindu Sanghathanists, holding any post or position of vantage in government services, should continue to perform their regular duties ignoring the Quit India Movement call.
The Difference in Ideology
Bhagat Singh and Bose are known for their secular values and their vision of an egalitarian, secular India, while Savarkar has a rich history of radical communal activism that helped the Britishers in furthering their 'divide and rule' policy. Bhagat Singh has written and criticised communalism relentlessly on various occasions.
Savarkar was a champion of the two-nation theory and the ideology of Hindutva. He made it clear on various occasions as "We Hindus are a nation by ourselves ... we Hindus are marked out as an abiding Nation by ourselves'' (presidential address to the Hindu Mahasabha in December 1939). On this account, he was not against Mohd Ali Jinnah, "I have no quarrel with Mr. Jinnah's two-nation theory. We, Hindus, are a nation by ourselves and it is a historical fact that Hindus and Muslims are two nations".
Savarkar's entire philosophy of Hindutva revolved around the concept of Hindu Rashtra based on religious lines, which goes against our constitutional values. On the other side, Bhagat Singh and Bose gave their lives not only to free India from British rule but also to build an inclusive India on the true foundations of secularism. This is the basic difference in ideology among the three and any effort to equate Savarkar with the duo cannot negate this.
The Sangh Parivar's desperation to spin stories around figures like Savarkar is understandable, as they have not produced any freedom fighter who martyred his life in fighting colonial rule. If we go by the pre-Independence literature of RSS, we won't find anything that contests or critiques their loyal British masters.
Savarkar belongs to a period of history when the politics of communalism was taking its shape. All the Sangh Parivar's efforts to project Savarkar as one of the leading figures of the anti-colonial movement backfire because it sparks off a discussion on his cowardliness, betrayal of the national movement and his divisive and communal ideology.
The effort by ABVP to place equate him with other freedom fighters is nothing but an insult to our great martyrs. They were killed twice -- once by Britishers, and the second time at the hands of communal forces. This needs to be opposed and fought against because it is not just a matter of installation of Savarkar's bust in one university, but an ugly effort by the Sangh Parivar to project Savarkar as an ally of Bhagat Singh and Bose. This is an effort to equate persons who were against the constitutional 'Idea of India' and were loyal to the imperialist rulers, with those have made numerous sacrifices to build an India based on the core values of justice and equality for all its citizens. It is our collective responsibility to challenge every attempt by RSS to appropriate Bhagat Singh and other national heroes and label them as one of 'theirs'.
The writer is former All India General Secretary of Students' Federation of India and now works with the All India Agricultural Workers Union. The views expressed are personal.
Get the latest reports & analysis with people's perspective on Protests, movements & deep analytical videos, discussions of the current affairs in your Telegram app. Subscribe to NewsClick's Telegram channel & get Real-Time updates on stories, as they get published on our website.
Subscribe Newsclick On Telegram