47 Potentially Dangerous Glacial Lakes Identified in 3 River Basins That Run Through Bihar
The disappearance of the glaciers will affect river channel flow dynamics in downstream areas and impact human settlements, including Bihar, in the long run, say experts.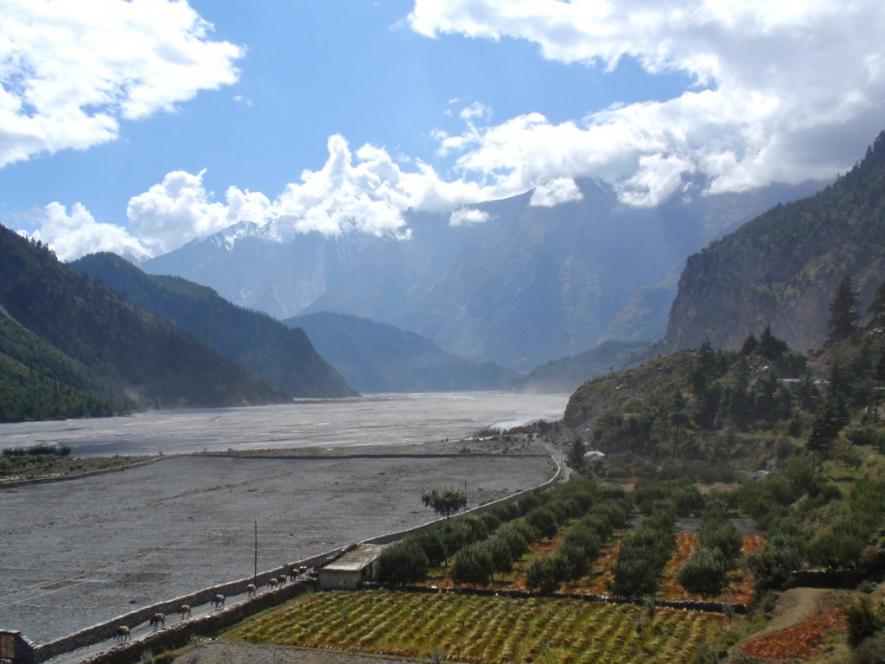 Image Used for Representational Purpose Only
Patna: Amid various challenges posed by climate change, as many as 47 potentially dangerous glacial lakes (PDGLs) have been identified in Koshi, Gandaki, and Karnali river basins of Nepal, Tibet Autonomous Region of China, and India. These glacial lakes are at risk of breaching their natural dams, which will result in glacial lake outburst floods (GLOFs), according to a latest research report.
According to the report released early this week, GLOFs are a prominent water-induced hazard in Nepal and other mountainous countries in the Hindu Kush Himalaya (HKH), and occur when melting glaciers create reservoirs of water that can suddenly burst leading to floods downstream. 
The report was jointly prepared by Kathmandu-based International Centre for Integrated Mountain Development (ICIMOD) and the United Nations Development Programme (UNDP) in Nepal based on Landsat images and using remote sensing tools and techniques.
"GLOF event in upstream might not have that significant an impact in the downstream regions (including Bihar in India) directly. However, given that glaciers are an important aspect of the riverine system as a whole, the disappearance of glaciers would affect river channel flow dynamics in downstream areas in the long run," Sudan B. Maharjan, one of the lead authors of the report and a Remote Sensing Analyst at ICIMOD, told NewsClick.
However, he pointed out that heavy damages could take place in case GLOF happens. "No doubt it is a threat in all three river basins," he said.
LESSER IMPACT OF GLACIAL LAKE OUTBURST ON PLAINS
Maharjan said there would not be much of an impact due to GLOFs based on the distance from the glacial lake and the energy of the flood as glacial lake outburst reduces when it enters the plains. Also, increase in water levels will be negligible in the plain area compared with the monsoon floods.
"There will be no effects of GLOF along the river in Indian Territory. But we have identified one potentially dangerous glacial lake with Rank 1 which lies in the upstream of Kali River (main tributary of Ghaghara River). The river flows along the western border of Nepal with India. If the lake breaches out, it could impact areas along the Kali River in both sides of the country (India and Nepal)"he said.
The report lists PDGLs Including 25 glacial lakes in China, 21 in Nepal, and one in India, which "need to be closely monitored to reduce the vulnerability of mountain people and settlements downstream in the three river basins."
Of the 47 glacial lakes identified as potentially dangerous, 42 are within the Koshi basin, making it the river basin facing the highest risk. The Gandaki and Karnali basins have three and two such dangerous lakes respectively, the report said.
THE CURIOUS CASE OF BIHAR
The present study area lies within the river basins of Koshi, Gandaki, and Karnali, all of which are major tributaries of the Ganges. The catchments of these river basins are transboundary, straddling the Tibet Autonomous Region (TAR) of China (upper section), Nepal (upper and middle sections), and India (largely the lower section, barring the western middle section of the Kali River). Some of the tributaries have their source in the TAR, before flowing through Nepal to finally merge with the Ganges River in India. 
The study found 3,624 glacial lakes located in the three basins, of which 2,070 lakes are in Nepal, 1,509 lakes in the TAR China, and 45 lakes in India. As many as 1,410 lakes are larger than or equal to 0.02 sq km, which are considered large enough to cause a glacial lake outburst flood (GLOF). Lakes associated with a large, retreating glacier and steeply sloping landforms in their surroundings are susceptible to GLOF.
Koshi, Gandaki, and Karnali all run through Bihar, which is the most flood-affected state in the country, accounting for close to 17.2% of the total flood-prone area, according to the official website of the Water Resources Department. Presently, 28 out of 38 districts of Bihar are prone to being flooded.
Koshi River travels 205 km in Bihar to join the Ganges near Kursela in Katihar district. On the other side, the Gandak enters Bihar at Tharhi near the Indo-Nepal border and flows 273 km southeast across the Gangetic plain in Bihar through West Champaran, Gopalganj, Saran and Muzaffarpur districts to join the Ganges at Sonepur. Gandak is one of the major left bank tributary of the Ganges.
Karnali or Ghaghara travels 72 km in Bihar. It enters Bihar near Guthani in Siwan district and joins the Ganges at Revelganj (Chapra) in Saran district. The river carries more water than the Ganges before its confluence.
Koshi is known as the 'sorrow of Bihar' for devastating floods that cause heavy damage annually. It is a river of unstable nature and shifts its course frequently. The river, which flowed near Purnia earlier, now flows west of Saharsa. Its unstable nature has been attributed to the heavy silt carried during the monsoon season. Eastern Koshi embankment was breached in 2008 flooding five districts of northern Bihar and affecting millions of people. Even this year during the ongoing monsoon season, Koshi has continued to create havoc in large areas in the state.
Similarly, Gandak and Ghaghara, along with Bagmati river that flows from Nepal to Bihar, flooded several districts. As per the latest official data released by the state Disaster Management Department, nearly 8.4 million (8,367,671) people have been affected by the floods this year.
IMPACT OF CLIMATE CHANGE
David Molden, director general of ICIMOD, says that Himalayan glaciers are vulnerable to global climate change. They have been melting at an unprecedented rate since the mid-20th century, impacting flow regimes in major associated river basins. The shrinking, thinning, and retreating of glaciers not only impact water resources and river flows, but also lead to the formation of new lakes as well as the expansion of existing glacial lakes while increasing the risk of glacial lake outburst floods. 
Historically, GLOFs have had catastrophic consequences in Nepal, leading to a loss of lives and livestock, and damages to multi-million dollar infrastructure projects and transportation routes through the direct impacts of flooding and then cascading impacts such as landslides, erosion, and sedimentation in river valleys.
Often such damages are irreparable for years or even decades, with huge costs to the economy and impacts on downstream populations. Twenty-six GLOF events have been recorded in Nepal, and 11 of these have had transboundary impacts. Recorded information on GLOF events shows an increment in the frequency and magnitude of these disasters in recent decades.
If climate change continues at its present pace, rates of glacier mass loss and shrinkage, and the formation and expansion of glacial lakes will increase further. This could escalate the occurrence of GLOFs and other glacial hazards and in turn, impact the availability of water resources, Molden says.
In view of these rapid changes in glacier environments and increased risk to lives due to the expansion of settlements and infrastructure along rivers, regular monitoring, periodic mapping, and hazard assessment of glacial lakes are required to ensure GLOF risk management and planning, and implementation of risk reduction strategies.
Records show that, on an average, Nepal loses 333 lives and property worth over $17.24 million (Nepali Rs 2,099 million) each year due to extreme climate events. Since 1977, Nepal has experienced 26 GLOF events, of which 14 originated in the country. Further, with the changing climate resulting in an increasing rate of glacial melt, GLOF remain an ever-present threat for Nepal.
ICIMOD and its partners have been involved in preparing and updating databases of glacial lakes and the identification of potentially dangerous glacial lakes in the Hindu Kush Himalaya since the early 2000s. This report builds on a comprehensive study undertaken by ICIMOD in 2011.
Later on, there have been initiatives to tackle the risks. In 2016, in partnership with the Global Environment Facility and UNDP, the Nepal government successfully lowered the water levels in Imja Tsho and installed a community-based early warning and response system as a mitigative climate action. Periodically updated and standardised glacial lake inventories like this one provide crucial information for evidence-based planning of tailored mitigation measures to address future GLOF risks.
Get the latest reports & analysis with people's perspective on Protests, movements & deep analytical videos, discussions of the current affairs in your Telegram app. Subscribe to NewsClick's Telegram channel & get Real-Time updates on stories, as they get published on our website.
Subscribe Newsclick On Telegram