Death, Injury, and Trauma: Life of Children in Conflict
Many children from Kashmir have also been left maimed for life; hundreds have been left blinded after being hit by pellet shot-guns.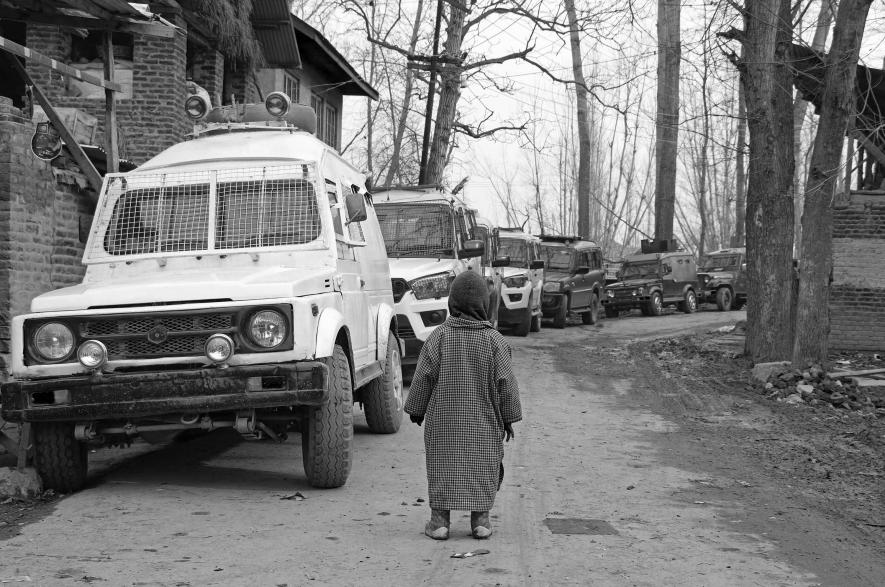 (A boy looks at armed forces' vehicles during a counter-insurgency operation in Tral area of Pulwama in South Kashmir on June 25, 2020). Picture: Kamran Yousuf/NewsClick
Srinagar: The picture of a four-year-old sitting atop his lifeless grandfather as he lied on the roadside—shot dead—in North Kashmir's Sopore area is a manifestation of the horrors children in Kashmir have to experience amid the raging conflict. 
The toddler's 65-year-old grandfather Bashir Ahmad Khan was killed along with a Central Reserve Police Force (CRPF) trooper after militants reportedly attacked paramilitary forces earlier Wednesday morning. Soon after the incident, the J&K police shared the horrifying picture on social media, claiming to have rescued the child, in an attempt to emphasise the consequences of the militancy and violence in the region.
The police, however, drew ire as many expressed their disapproval over the police using the child's tragedy under the circumstances and for violating child laws. 
Nevertheless, it did point to the trauma children witness as they grow up in restive Kashmir.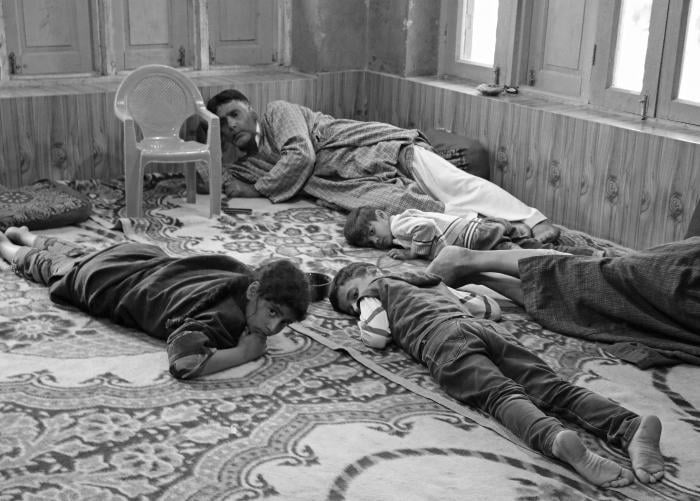 (A family including their three children duck at their home to evade bullets during a gunfight in Beighpora village of Pulwama on May 4, 2020. The encounter ended with the killing of Hizbul Mujahideen's top commander Riyaz Naikoo and his associate). Picture: Kamran Yousuf/NewsClick
This year, despite the outbreak of the COVID-19 pandemic, there has been an escalation in the violence in the region that has witnessed increased militant attacks and encounters between militants and government forces.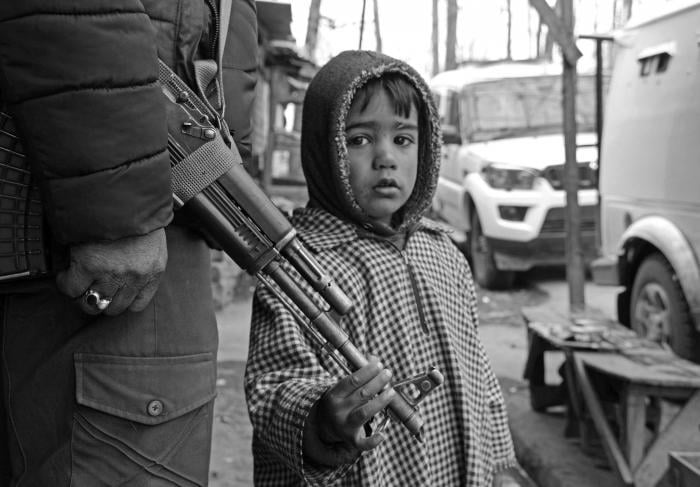 (Picture: A boy, after being removed from an encounter site, holds the gun of a policeman in Tral village of Pulwama where a gunfight between militants and government forces was underway on June 25, 2020.) Picture: Kamran Yousuf/NewsClick
According to the Srinagar-based rights group Jammu and Kashmir Coalition of Civil Society (JKCCS), the union territory of Jammu and Kashmir witnessed as many as 229 killings in the first six months due to conflict-related violence; of these, 32 were civilians'. This includes at least three children and two women who were killed while dozens were left injured. 
Earlier on June 25, four-year-old Nihaan Bhat was killed in a "cross-firing" following a militant attack in South Kashmir's Bijbehara area. Nihaan was accompanying his father Mohammad Yaseen Bhat when he was killed.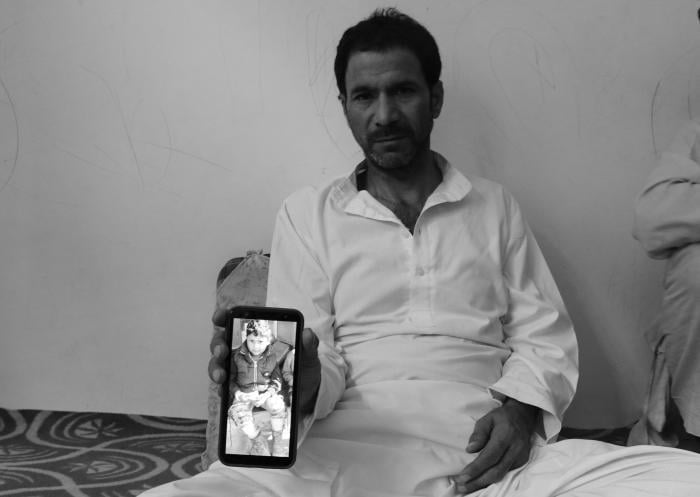 (Days after his four-year-old son was killed during a militant attack, Mohammed Yaseen Bhat displays his son Nihaan's picture at his Kulgam residence in South Kashmir on June 28, 2020) Picture: Kamran Yousuf/NewsClick
Three decades have passed since the armed insurgency erupted in Kashmir in 1989; tens of thousands have died including women and children in violence and in many of these cases, the violence was carried out by the government forces. Between 2003-18, according to a JKCCS report called 'Terrorized: Impact of Violence on the Children of Jammu and Kashmir', as many as 318 children have been killed and none of the perpetrators have been brought to justice.
It has been a decade since 17-year-old Tufail Mattoo was killed on June 11, 2010, after allegedly getting hit by J&K Police's teargas shell. The killers were never charged despite his father Mohammad Ashraf Mattoo's years-long legal battle. "Every Kashmiri has a woeful story to tell. I stand vindicated; I exposed them and they are the losers because they can't face the facts, which makes them unable to deliver justice," Mattoo told NewsClick on his son's 10th death anniversary.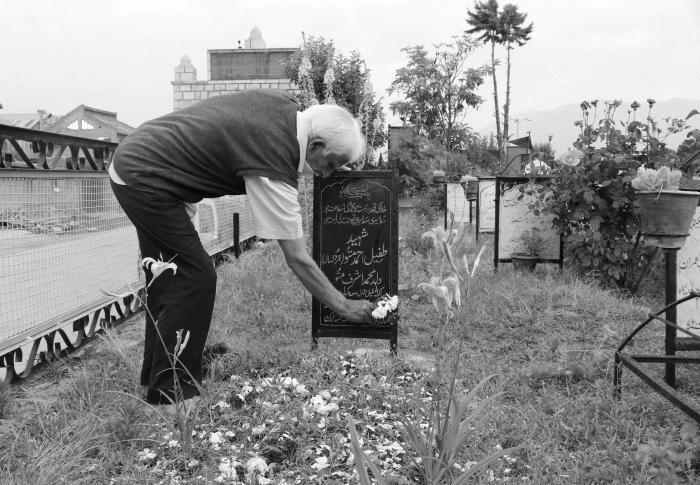 (Mohammad Ashraf Mattoo places flowers over the grave of Tufail Mattoo on his 10th death anniversary at Shaheed Marguzar (Martyr's graveyard) in Srinagar on June 11, 2020). Picture: Kamran Yousuf/NewsClick
According to the police, around 120 militants have been killed in Kashmir valley in the first half of the year 2020—a majority of them locals and 11 foreigners, believed to be from Pakistan. The operation against militants has often resulted in the destruction of homes near the encounter sites. Earlier on May 19, during an operation in Srinagar's Downtown area, nearly two dozen homes were destroyed, leaving the families without any shelter. 
Scores of homes have been destroyed across Kashmir during these operations leaving families including women and children homeless.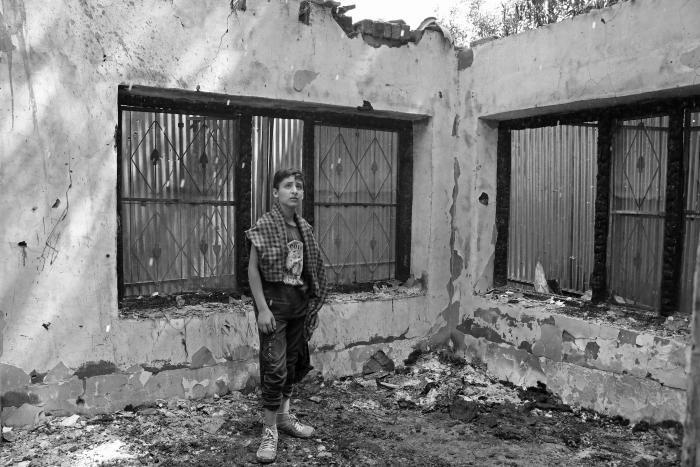 (A boy inside a house destroyed during an encounter in Pinjura village of Shopian in South Kashmir on June 8, 2020. Two houses were completely damaged during a counter-insurgency operation that resulted in the killing of four militants.) Picture: Kamran Yousuf/NewsClick
Human Rights defender Khurram Parvez said there are two main aspects of conflict and violence on children in Kashmir. "The first is that the children have been victimised themselves. Secondly, the children are witnessing the violence like what happened in the Sopore incident and both have a devastating impact on them," Parvez said. 
Khurram said it is not normal for any society where children are exposed to violence. 
"It compels children to think about their identity, politics, and other issues. There are implications where violence then becomes normal and acceptable," he said  
The award-winning activist added that today, the challenges have compounded in the age of the internet and the parents are unaware of how to respond to these challenges.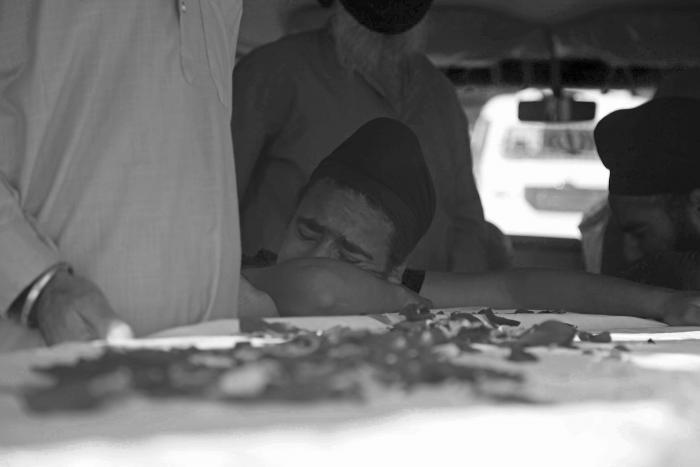 (Policeman Anoop Singh's teenage son mourns his father's killing by militants in South Kashmir's Pulwama on May 21, 2020. According to official data, over 30 security forces personnel have been killed so far in 2020). Picture: Kamran Yousuf/NewsClick
Many children in the region have also been left maimed for life, hundreds have been left blinded after being hit by pellet shotguns. A large number of Kashmiri youths including children lost eyesight in at least one or both eyes during the 2016 protests that erupted after the killing of Hizbul Mujahideen commander Burhan Wani. Many children suffered pellet gun injuries this year and among them are children who are looking at a dark future.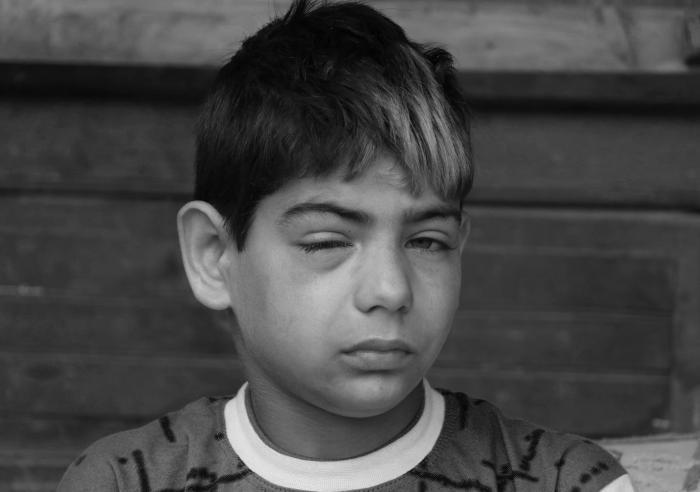 (Shahid at his Kareemabad home after he was hit by pellets fired by government forces in his village at Pulwama in South Kashmir on May 28, 2020. The eight-year-old, born 15 years after his parents were married, is undergoing treatment for one of his eyes, but is not sure if he can see properly again). Picture: Kamran Yousuf/NewsClick
Mental health experts in Kashmir have said time and again that conflict in the region has led to catastrophic consequences affecting the lives of the people in the region—especially the children.  
Dr Shoib works as a consultant neuropsychiatrist at Srinagar's Jawahar Lal Nehru Memorial (JLNM) Hospital. He said that early psychological trauma of any kind has long-lasting effects on the psyche.
"In extreme cases, patients may develop Post Traumatic Stress Disorder (PTSD) and there has been an increase in depression and PTSD because of long-term violence and other psychological disorders in the past 20 years," Dr Shoib told NewsClick.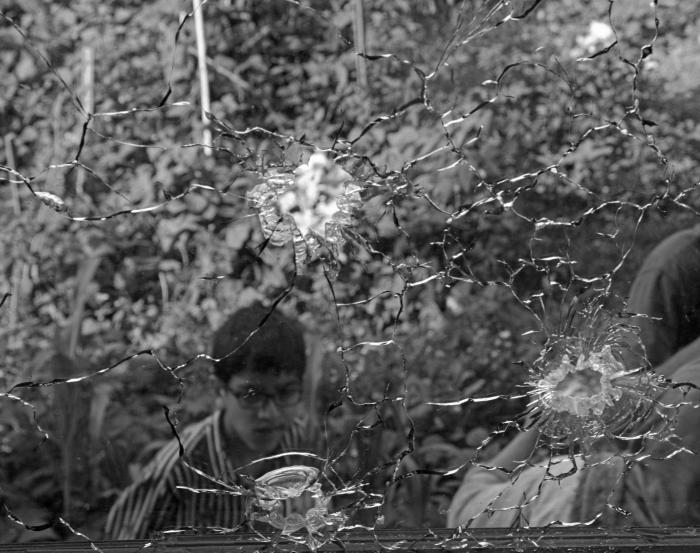 (A boy standing outside a house following an encounter between militants and government forces in Malbagh locality of Srinagar on July 3, 2020. A militant and a CRPF trooper were killed during the encounter in the city outskirts). 
It is due to persistent trauma in the Valley, Dr Shoib says, we see increased aggression among our youth. "It doesn't affect only individuals, but the whole society is involved. There is no doubt that turbulence has affected every aspect of life in Jammu and Kashmir," he added.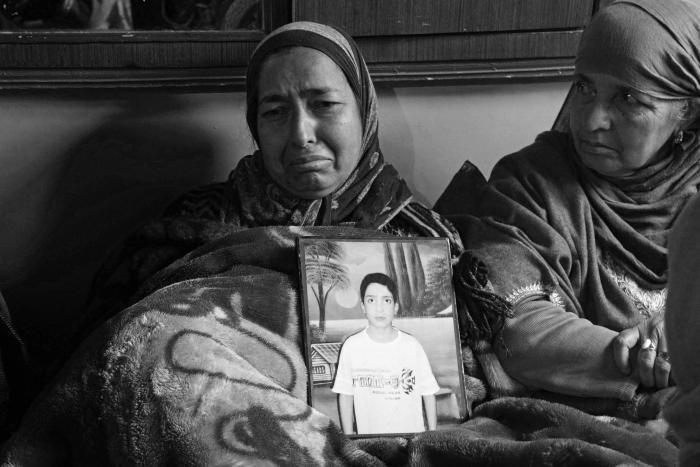 (Parveena displays a photograph of her teenage son Tehseen Nazir, who was killed by a police vehicle in Nowgam area of Srinagar city on January 7, 2020. Tehseen was on his way to tuition classes when a speeding police van crushed him to death). Kamran Yousuf/NewsClick
Also read: Lockdown in Kashmir Fails the Standard of Reasonableness and Proportionality
Get the latest reports & analysis with people's perspective on Protests, movements & deep analytical videos, discussions of the current affairs in your Telegram app. Subscribe to NewsClick's Telegram channel & get Real-Time updates on stories, as they get published on our website.
Subscribe Newsclick On Telegram