Death of a Tribal Labourer Highlights Need for Social Security for Migrant Workers
'The family was not aware that they should have gone to the police with the dead body and get a post-mortem done. All of them looked confused when asked if they had gone to the police or doctors after her death...'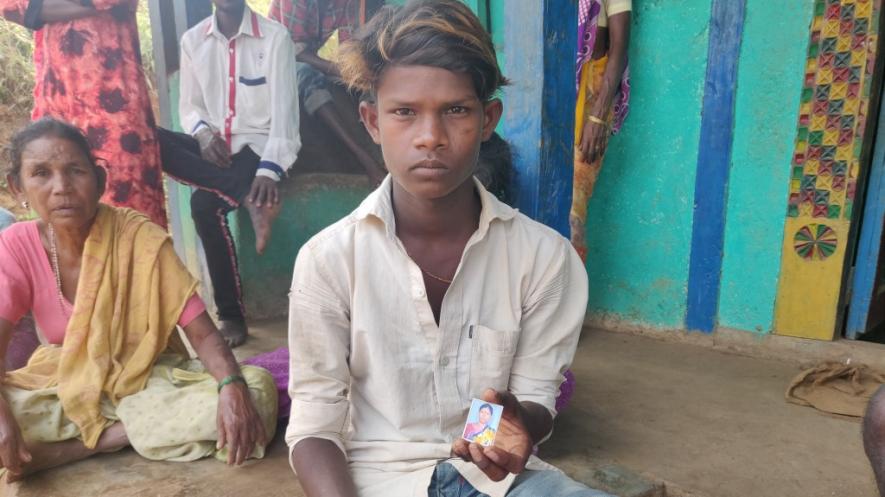 Chandrabai Thanekar's 16-year-old son Ramesh holding her photo. 
Palghar: While there are laws for the protection of migrant workers' welfare in the informal sector, they are rarely implemented. The death of a tribal migrant woman who worked in the paddy fields near Bhiwandi underlines the need for social security for migrant labourers.
Forty-year-old Chandrabai Thalekar, the mother of three minors and a member of the Katkari tribal community, died in a building arranged by her employer on October 30. Chandrabai, a resident of Bhuritek in Palghar, had been working to harvest paddy at Raju Patil's farm in Lonad near Bhiwandi in Thane district for 12 days before she died. The Katkari tribe members are among three Particularly Vulnerable Tribal Groups in Maharashtra.
Soni wiped her tears with the traditionally wrapped sari she was wearing. She sat alongside other relatives who had gathered to mourn. "We were chatting on the third floor of the building on the evening of October 30. She said she was feeling the onset of a cold. Raju Patil, the farmer who hired us, took her to a doctor. I don't know where though. She had medicines prescribed by the doctor after she returned," he said.
"At midnight she complained of a chest ache and pain in her calves. Then she started to bleed. My daughter died within a few minutes. Raju Patil sent all of us, including the dead body of my daughter, back to Bhuritek in a vehicle the same night. We performed her last rites in the morning on October 31," her mother said.
Ramesh, Chandrabai's 16-year-old son, sported coloured hair and was clad in jeans and a shirt. He looked distraught and did not wish to speak. Jairam Wagh, a neighbour and relative, asked him about how much money the family received. Chandrabai, her mother, her son Ramesh, her husband Eknath and her mother-in-law had been harvesting paddy at Patil's farm for Rs 400 a day for the last 12 days.
"Patil had given Rs 10,000 before we left Bhiwandi. He had given my mother some money which she used to buy soap and oil," Ramesh said. He had no idea of how much money the family should have received. Eknath, who was in the house, did not wish to talk despite a couple of requests.
The family was not aware that they should have gone to the police with the dead body and get a post-mortem done. All of them looked confused when asked if they had gone to the police or doctors after her death. Jairam, her neighbour, said they did not know what to do.
Ravindra (7) and Surekha (12), Chandra's younger kids, were not aware of their loss and were playing in the house.
No Security for Informal Labour
"This was the fifth case of the death of a seasonal labourer from the informal sector, in Jawhar and the Mokhada area of Palghar. The death of a member of the community is a serious issue. They are illiterate, cannot argue with contractors or even local people like us. Contractors or employers never pay them in full and they don't understand that they are being exploited," said Sita Ghatal, a local activist.
Close to 90% of the total workforce in India works in the informal sector, as per the Ministry of Labour and Employment. They work in brick kilns, shops, construction sites and farms without any legal cover. About 69% of labourers do not receive benefits of social security like paid leaves.
"Acts like Minimum Wages Acts, Compensation Acts, and Unorganised Workers' Social Security Act are applicable for their security and welfare. But neither do employers register their name nor do labourers ask for it," said Deepak Paradhar, an activist with Ajeevika Bureau, an organisation that works for the welfare of labourers in the informal sector.
Over 648 migrant labourers have died so far due to non-COVID-19 reasons, including a lack of medical care, accidents, crimes, and suicides since the lockdown was announced, data says. Close to 75 labourers died as a result of not getting medical care on time. The government of India has not maintained any database to record deaths of labourers during the lockdown. As a result, families did not get any compensation from the government.
Over 100 million people undertake short-term migration work, and a majority of them are members of the Scheduled Castes (SCs) and Scheduled Tribes (STs) communities. They are forced to undertake hazardous and physically strenuous jobs in working environments that actively flout labour laws on wages, work hours, and living conditions. It affects their health but they hardly get any attention.
"Agrarian labourers who migrate to nearby districts in farms often die or meet with an accident. But there is no law to hold the contractor or owner of the farm responsible to fix accountability. They don't provide medical care to labourers most of the time," said Laxman Hake, an activist who works for sugarcane labourers in Maharashtra.
The writer is an independent journalist from Maharashtra.
Get the latest reports & analysis with people's perspective on Protests, movements & deep analytical videos, discussions of the current affairs in your Telegram app. Subscribe to NewsClick's Telegram channel & get Real-Time updates on stories, as they get published on our website.
Subscribe Newsclick On Telegram