Dec 19: Massive Countrywide Protest Against CAA+NRC Called by Left
Meanwhile, the government is defending the law by putting out a series of half-truths and diversionary statements without addressing the real concerns.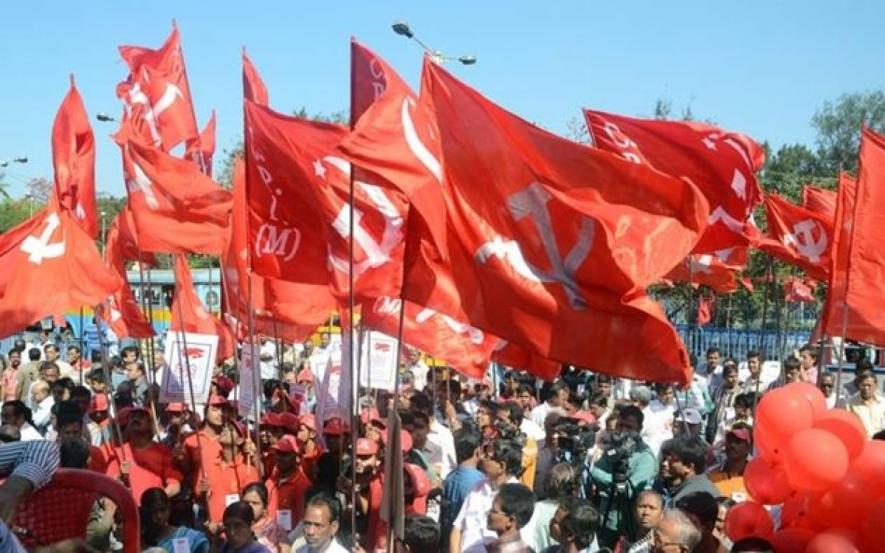 As protests against the Citizenship Amendment Act (CAA) and proposed NRC continue for the 10th day, a day of protest across the country has been called for by five major Left parties. Dozens of other organisations of employees, workers, farmers, students, women, cultural activists have extended support, and people from all walks of life are expected to join in.
Since the law was passed by Parliament on December 11, protests have erupted in virtually all parts of the country. In many places, the police and armed forces have been deployed by the government to crush the protests leading to at least five deaths while hundreds of others have suffered injuries and detention.
Notably, students in over 50 major universities and institutions have protested at the new law and the brutal response of the government. The unprecedented police attack on students of Jamia Millia Islamia (Delhi) and Aligarh Muslim University students shocked the country and led to outraged and angry protests.
The Left parties' call for united protests on December 19 is the next step in this ongoing protest and represents the coming together of various strands of opposition to the hated CAA and its proposed follow up, the NRC. It is the expression of support for secularism as enshrined in the Constitution and also to pledge for all out fight against the communal and divisive agenda of RSS/BJP. The Left has been in the forefront of the opposition to withdrawal of autonomy from J&K, again, one of the favourite demands of the Rashtriya Swayamsevak Sangh (RSS).
In response to the spreading opposition to CAA and NRC, Prime Minister Modi and Home Minister Amit Shah have not only defended the law and obstinately asserted that the government will stand by it, but they have also unleashed a barrage of lies and half-truths about it in order to confuse people. The Home Ministry has even released a Q&A on the CAA seeking to 'clarify' everything. Here are some of the things they have been saying, and the reality behind it.
"CAA will not affect citizens of India", "CAA will not target Muslim citizens of India" etc.
Reality: The issue is not just CAA. Shah had repeatedly asserted that his government is planning to start the country-wide NRC exercise. It is this combination of CAA and NRC that people are fearing. If the NRC exercise does take place, then all 130 crore+ people of the country will have to produce evidence that they are citizens. Under existing law, this includes many types of documents like being children of Indian citizens, having been born in India before the cut off date, etc. Quite apart from the fact that this kind of documentation will be difficult to arrange for most disadvantaged people of country, the CAA will ensure that only Muslims will need to show 1+11 years of continuous stay in the country. So, the NRC exercise will in reality become a much more severe examination for only one community—the Muslims.
It should be noted that these statements are deploying the word 'citizens'; not people or janata or any such commonly used synonym. If you are going to declare some persons non-citizens under CAA, then to say that it won't affect citizens is meaningless.
"No Indian citizen will be deported or jailed under CAA"
Reality: Again, it does not matter that CAA has nothing to do with deportation and internment of illegal residents. There are separate laws for that, and the first Modi government had already amended those laws in 2015 and 2016 in the same direction as the CAA—by excluding Muslims. The two laws are the Foreigners Act, 1946 and the Passport (Entry into India) Act, 1920. Under these, the central government is empowered to regulate the entry, exit and residence of foreigners within India. The amended version says that Hindus, Sikhs, Buddhists, Jains, Parsis and Christians from Afghanistan, Bangladesh and Pakistan, who arrived in India on or before December 31, 2014 will be exempted. That leaves out only Muslims. This means that the exempted groups of illegal migrants will not be deported or imprisoned for being in India without valid documents.
In other words, during the NRC exercise, if Muslims are found to be living in India, but are unable to produce the required documents, they will be declared illegal residents and, under the laws, they will be "interned", subjected to medical examination, required to meet only permitted people, move about within restricted areas only, provide fingerprints, etc. and follow various other restrictions. The burden of proof for establishing that they are not illegal residents will lie with the person according to Section 9 of the Foreigners Act.
"Citizenship status will not be affected by CAA"
Reality: According to the Q&A issued by the Home Ministry on December 17, on the citizenship issue, "Appropriate rules under the CAA are being framed. They will operationalise various provisions of the CAA."
Obviously, the Act itself has not framed anything and left it to the government to frame any rule or regulation on what will be the standards for citizenship and how these will be implemented. Again, it is an outright lie to say that citizenship will not be affected at all. Given the government's track record, it is feared—and rightly—that discrimination based on religion will be incorporated in such rules and tough conditions laid.
"Opposition wants to make Pakistanis Indian citizens"
Reality: The statement that "Congress and its friends" want to make all Pakistanis Indian citizens was made by none other than Prime Minister himself at an election rally in Jharkhand. It is one of those sleights of hands that the PM and other BJP/RSS leaders are constantly indulging in. What he is implying is that Opposition parties want to make foreign Muslims Indian citizens. Through this, he is trying to portray himself as a protector of Hindus and India against outsider Muslims.
But any opposition to the CAA does not mean making all foreign Muslims Indian citizens! The objection to CAA is that it is discriminating against one community (Muslims) only. To raise this does not mean that all Pakistanis are invited to come to India—leaving aside the fact that they hardly want to come and settle in India.
This class of rhetoric—raising a bogey-man to deflect from the point—is serving a communal purpose for Modi as was his earlier instinctive reaction that you can recognise who is indulging in violence from their clothes (meaning again, Muslims). That the Prime Minister would be stooping to such depths is tragic and immensely worrying for Indians.
It is clear that the Modi government, motivated as it is by the RSS view that only Hindus should stay in India, is on the defensive in the face of such massive protests. They had perhaps not estimated the true depth of people's love and commitment to communal solidarity, and to the Constitution. Yet, the government, typically, is refusing to back down. It is because of this that the Left parties protest across the country has acquired greater significance—the government cannot be allowed to escape from peoples' pressure.
Also read: India's Government is Going to War Against its Own People
Get the latest reports & analysis with people's perspective on Protests, movements & deep analytical videos, discussions of the current affairs in your Telegram app. Subscribe to NewsClick's Telegram channel & get Real-Time updates on stories, as they get published on our website.
Subscribe Newsclick On Telegram