Decline in Tiger Population in Odisha Linked to Poaching?
Odisha has excellent habitat and vast forests for tigers to live and flourish. However, rampant poaching of prey base and tigers is taking a toll on their population.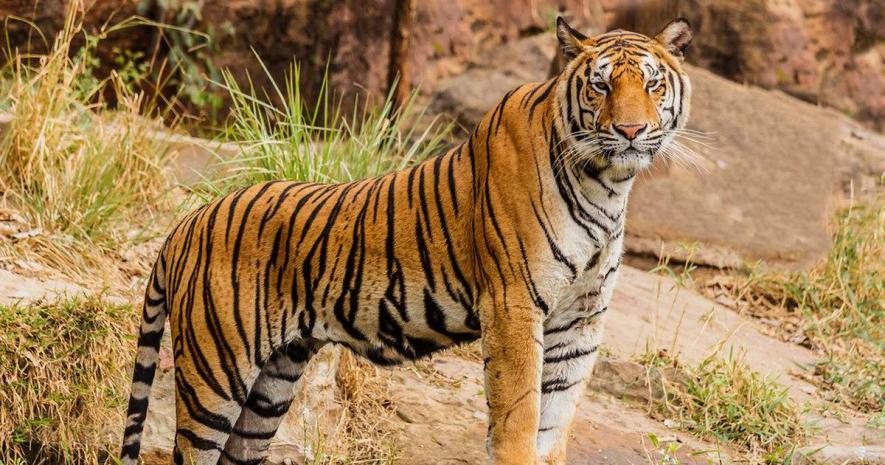 New Delhi: Although the latest tiger census report of National Tiger Conservation Authority has asserted a steady rise in India's tiger population, the number of big cats has gone down considerably in the past few years in Odisha, a cause of concern for the environment, forest, and also for tiger lovers.
The full report of the All-India Tiger census results of 2018 was released by Environment and Forests Minister Prakash Javedakar on Tuesday.
India is ready to take leadership, work with 13 tiger range countries for management of tiger reserves, Javadaker said after the release of the report.
While the all-India results of 2,967 tigers (2018) compared to 2,226 tigers in 2014 have brought cheer to some, the two tiger reserves of Odisha, Satkosia and Simlipal, have revealed shocking decline in their population. Most other states have done well adding huge numbers in the four year period after 2014.
This is a periodic count undertaken throughout the country by NTCA in collaboration with state Forest Departments and NGOs. The camera capture-recapture method is used for the count, which is the latest available scientific method accepted worldwide.
According to the report, a total of 141 camera traps were laid in Simlipal, and 4,400 trap nights were spent in capturing tiger pictures. Only eight individuals were recorded within the Simlipal Reserve though 12 were found utilising the Reserve as per data collected during 2018-19.
However, the unique feature is that the melanistic black tigers' presence was recorded in Simlipal which is the only place in the world that has them.
A summary of the results of the camera traps laid in Odisha is given below :
Since there were 28 tigers in 2014 in Odisha, what happened to the newborn tigers who are more than one year old? Asks Wildlife Society of Orissa Secretary Biswajit Mohanty.
The census ignores tiger cubs younger than one-year-old, as the survival is uncertain.
Mohanty said that the state should have added at least 12 to 15 tigers in the last four years.
However, Odisha has a minimum of 10 tigers as recorded in the camera traps. The only possible explanation is rampant poaching which is taking a heavy toll on tigers in Odisha.In 2002, Odisha had reported 192 wild tigers, which included 60 cubs. Excluding the cubs to bring parity with the count of 2018, there were 132 wild tigers. This has now fallen to only 28. So, in 16 years, we have lost 104 adult tigers in Odisha though at least Rs 60 crores have been spent on their protection and management by the state.
The following states have reported a dramatic increase of tigers as per the NTCA census results for 2014 and 2018 [while Odisha stagnated]:
"Some reserves like Similipal, Amrabad, Nagarjunsagar SriSailam, Palamau, Sanjay-Dubri, Manas, Buxa, Dampa, Anshi Dandeli, Pakke, Nameri, and Kawal are below their potential and require resources and targeted management," according to the report.
The report said that as the Satkosia tiger reserve and corridors are shared with people, it is also important to strengthen the social carrying capacity.
"Community participation, alternative livelihoods, and law enforcement are required before tigers can be supplemented here. The failed supplementation of tigers here was primarily due to hostility of local communities and their intensive use of the Tiger Reserve resources for livelihoods," the report said.
The report further stated, "With a high reasonably good ungulate biomass in the park, Similipal Tiger Reserve has the potential to sustain higher tiger densities. However, consistently low density of tiger in the tiger reserve over the years calls for active management intervention to retain this genetically unique population."
"The tiger population, if increased, can then act as a source population to neighboring forest divisions of Keonjhar and Kuldiha. The management has done a good job of relocating several human settlements from the Tiger Reserve and with good protection from poaching the tiger population should recover in the near future."
"However, due to the current small size of the tiger population, it may be prudent to supplement a few tigers from Bandhavgarh tiger reserve (Kolipakam et al. 2018) to circumvent stochastic extinction events that operate in small populations."
While Chhattisgarh and Mizoram have reported a decline in tiger numbers, Odisha is the only state that has reported constant figures. Since tigers are good breeders—provided there is sufficient prey base and protection from poaching—the state could have easily doubled the tiger numbers to at least 264 in 16 years.
Simlipal Tiger Reserve has lost 75 wild tigers as per the state govt census figures of 2006 and 2016. No accountability was fixed on the forest officials though crores of rupees have been spent on tiger protection till mid-2020.
Similarly, Satkosia Tiger Reserve has only one wild tiger now. Out of the two relocated tigers, one was killed last year by poachers while one has been caged due to conflict with local villagers.
Odisha has excellent habitat and vast forests for tigers to live and flourish. However, rampant poaching of prey base and tigers is taking a toll on their population. The Forest Department has miserably failed to control poaching even in Tiger Reserves like Simlipal and Satkosia. Tigers are targeted for their bones, claws, skin, and whiskers by professional poachers in Odisha.
Get the latest reports & analysis with people's perspective on Protests, movements & deep analytical videos, discussions of the current affairs in your Telegram app. Subscribe to NewsClick's Telegram channel & get Real-Time updates on stories, as they get published on our website.
Subscribe Newsclick On Telegram