'Delhi Chalo': The Anatomy of a Well-Organised Protest at Singhu Border
Not only have the farmers come prepared, they are also gearing up for the long haul. With relatives managing things back home and locals coming forward to help, the Centre may be looking at sleepless nights in the near future.
Farmers preparing the drink that helps in keeping the body warm against the cold nights. Image clicked by Ronak Chhabra
New Delhi: The spirit of community service, part of the very core of Sikh tradition, is making its presence felt in the ongoing agitation by the farmers as part of the 'Delhi Chalo' protest.
Camping at Delhi's northern Singhu border, on the arterial GT Karnal highway, the farmers from Punjab and Haryana had on Sunday, November 29, made it clear that they are in it for the long haul, just in case the Centre has any doubts.
Large numbers of protesting farmers are also staying put at the Tikri border, near West Delhi's Mundka village. Plans to block the five highway entry points into Delhi – Sonipat, Rohtak, Hapur, Jaipur, and Agra – have been announced.
If the announcement doesn't worry the Narendra Modi-led Central Government, which had earlier kept mum on their 'Delhi Chalo' call, a disciplined protest which could last for months at the Singhu Border – which could serve as a model to other protest sites – must bother the dispensation.
Articulated and formulated in Sikh teachings, seva, which roughly translates to a practice of service, is conspicuous here. Everything required for the protesters to continue camping at the Singhu border is being taken care of by them. While more than a month's worth of planning went into making arrangements for the same, unforeseen challenges have been tided over with the help of the locals.
The vanguard at the protest area are a motley group of protesters in their twenties and thirties. A violent clash had broken out between the Delhi Police and the marching farmers on Friday, November 27, which saw the use of tear gas and water canons on the protesters.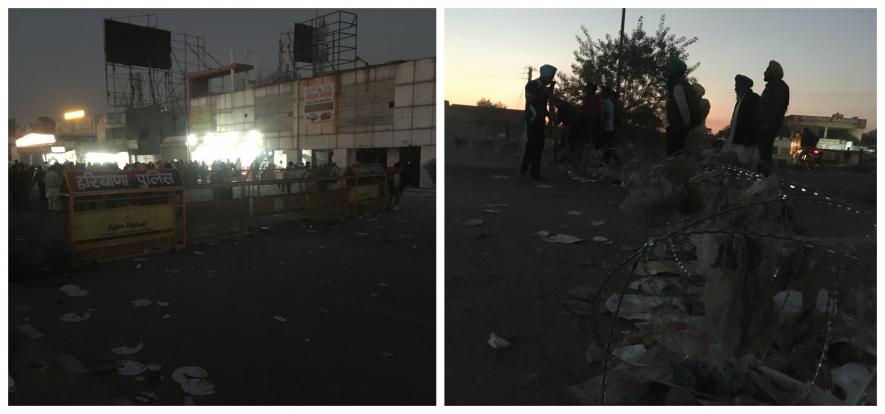 Barricades had been put up and metal barbed wires were installed - this time by the farmers to avoid any violent engagement. Images clicked by Ronak Chhabra
"The government wants to pick on us and show us as people who have come here to fuel violence. It is how they plan on putting an end to our agitation," a protester, hailing from Haryana, told NewsClick. "But we won't let that happen," he added. This farmer, whose family owns around three acres of land, wished to remain anonymous. He ensures that the protesters are not seen near the barricades installed by the Delhi Police to demarcate the protest site.
"We will not give the police another opportunity to further target us; we are here to let our voices be heard and not to cause any damage," said another farmer, who hails from Moga district in Punjab. He told NewsClick that in order to maintain a distance from the police, barricades had been put up and metal barbed wires were installed, this time by the farmers, in order to avoid any violent engagement.
About 200 metres away from the 'front line' is where a langar (community dining) space has been set up, where food is being served three times a day, and not just to the protesting farmers. "Farmers, workers, locals – everyone who comes here is being served food. We also prepare tea for them," said 65-year-old Jagjit Singh from Punjab's Mohali district, adding that this was only one among the many community dining spaces that have been created.
The reasons for the farmers' protest are not lost on those around either. Amresh Kumar, a 22-year-old migrant worker from Bihar, had to catch a train back home. Despite his bus being caught up in the traffic on the highway, he is sympathetic. Travelling from Ambala, he said he was inconvenienced, "but isn't that this is what government is supposed to ensure, that the public doesn't face any difficulties. It should have ensured that the farmers were heard before this."
Singh, who was a member of Krantikari Kisan Union, told NewsClick that each union has come prepared with ration for the langar sewa. Farmers, led by as many as 31 unions from Punjab and a prominent one from Haryana are currently protesting at the Singhu Border.
Asked how long the ration would last, Singh said: "We currently prepared for at least two months. However, we have already started collecting more ration if the situation comes to that." He added that thirteen trolleys of ration – in addition to what has already arrived – will be reaching the Singhu border on Monday, ensuring that they do not run out of food anytime soon.
Singh added that food is also being served by the Gurudwara Bangla Sahib, a prominent place of worship for the Sikhs in Delhi. A local pump service provider has come forward to provide water for bathing for the protesters, according to Singh.
Several allegations about 'who is behind the protest' have also been raised by the mainstream media. The operations are primarily being financed, as Singh said, by contributions which the unions started collecting a month ago, soon after the 'Delhi Chalo' programme was called for in September this year. "Families back in the pind (villages) contributed whatever they could – Rs 100 or Rs 500. Others provided us with wheat, rice and vegetables," he added.
Operations are being run as efficiently as possible in order for the protest to last for as long as required. Some farmers said that they were in Delhi but the rest of their families were back home in the village, taking care of the home front. A farmer at the Tikri border said: "Only since they are back home can we be here." Some farmers also mentioned that they have divided themselves in groups. Batches of people can go back home on a rotational basis and keep things ticking along.
With the mercury dipping, the farmers have also come prepared to brave the cold nights. Around a kilometre into the protest site, Jeb Singh, a retired engineer whose family owns agricultural land in Amritsar district, was supervising the mixing of a khuraak (a dose), which he claimed would provide warmth and "josh" to the body.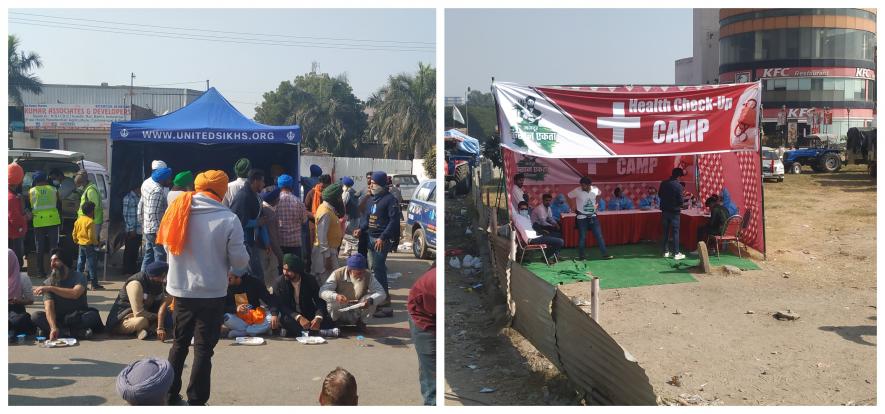 A langar seva organised by United Sikhs at Singhu Border (Left); a health checkup kiosk set up by a farmers' outfit (Right)
"We call it 'Ragda' and it is very helpful for the body in the winters," Singh said, with a grin on his face. The drink contains khus-khus, kaali-mirch, badaam, elaichi and kaaju, among other ingredients which are first mixed together then added to milk.
"We are preparing the drink everyday for anyone who asks for it. It's like doing sewa only," Singh said, adding that "the farmers have come here to protect their lands from the clutches of the corporate houses." It is a possible outcome that the three farm legislations could lead to, which was the fear among many of those at the Singhu border.
Media reports have also elaborated on how locals from Haryana are coming forward to to help, with food, clothes and quilts. At Singhu, kiosks have been set up by United Sikhs, a global charitable organisation and by Khalsa Aid, an international NGO, for help and support.
Days after the tension at the protest site subsided, a stage is now being built to ensure that a platform is given to those who want to make speeches and conduct public meetings. Meanwhile, protest songs rent the air throughout the day, at some venue or the other, by the student groups from Punjab and Haryana, who have joined the farmers in their protest.
Harpal Singh, organising secretary, Bharatiya Kisan Union (Charuni) told NewsClick that everyone is coming forward to ensure that things move smoothly.
On Saturday, Union Home Minister Amit Shah made an offer to the farmers, asking them to shift the protest to Burari, where arrangements have been made for them to continue with their demonstration. Even as this would have allowed the farmers unions to have "early talks" with the Centre, it was rejected.
Prepared to fend for themselves, the 'proper arrangement' bait by the Centre is not enough to end the blockade at the highways, at least not for now.
With inputs from Sonali Lochan
Get the latest reports & analysis with people's perspective on Protests, movements & deep analytical videos, discussions of the current affairs in your Telegram app. Subscribe to NewsClick's Telegram channel & get Real-Time updates on stories, as they get published on our website.
Subscribe Newsclick On Telegram