Delhi Elections: BJP's Last Throw of Dice
With two days to go, BJP has pitched everything it has into the Delhi battle, but is it working?
Elections to the Delhi Assembly are slated for February 8. Public campaigning will close on February 6 evening. So, as is normal, the campaigning is at fever pitch and is likely to get even more frenzied. In the past two days, a galaxy of bigwigs from BJP and Congress have held rallies. Prime Minister Narendra Modi himself had two rallies, Uttar Pradesh Chief Minister Yogi Adityanath held several, Home Minister Amit Shah continued with his day-to-day campaigning. It has now been announced that 240 MPs of the BJP will spend one night in a designated colony of lower middle class or poor people to wean them away from the Aam Admi Party (AAP) whose popularity is seemingly insurmountable.
Since the Congress is barely campaigning, and the Gandhi siblings (Rahul and Priyanka) appeared for the first time only on February 4 for rallies, the fight is clearly between BJP and AAP. This has added to BJP's woes, as any increase in Congress votes would have been at the cost of AAP and thus helpful to BJP. A straight fight is more difficult. That's why the high-powered push by BJP.
Before evaluating the state of play, a look at what the two rivals have brought to the table till now is necessary.
As reported earlier by NewsClick, BJP has unleashed an incendiary campaign of open hate against the Muslim community, that has shocked Delhi's residents, as also elsewhere. This message, in its diverse forms, is being taken to the people by everybody in BJP, from Shah down to various other campaigners, MPs, and, of course, the Rashtriya Swayamsevak Sangh cadres working overtime. An enormous amount of money would have been required for this, because the whole metropolis is plastered with hoardings, and ads on television and the internet (through Google) are relentless. But then, the BJP has the wherewithal, having collected the lion's share of donations and electoral bonds.
On the other side, AAP has scrupulously stuck to talking about its work and achievements throughout. So much so, they have even taken a kind of neutral position on Shaheen Bagh. The contrast between the cleanness of their campaign with the dangerously dirty propaganda of BJP couldn't be greater.
Effect of BJP's Poison Campaign
The billion-dollar question is this: has this poison campaign worked? The answer is not easy. But based on inputs from NewsClick reporters covering the election and from a variety of sources, it appears that it has definitely muddied the waters. It has somewhat managed to stem the fast eroding core support base of BJP in Delhi, which was mainly sections of the middle class, traders, owners of small and medium units, the rural rich (in the small rural or semi-rural belt of Delhi) and the bureaucracy. Voters from these sections are badly affected by different economic policies of the Modi government, including goods and services tax, handling of the slowdown, unemployment, unkept promises about concessions and relief in taxes or corruption, etc. And, with AAP government's record of work, including the key policies of reducing electricity and water tariffs, these BJP supporters were happy to vote for AAP in Delhi while voting for BJP at the Centre.
The BJP's poison campaign – including such lies and hyperbole as "Kejriwal is with traitors" -- has affected a section of the population. But here is the thing: in the last election, they would have voted for BJP in any case. BJP has about 33% vote share in Delhi as its core support base in recent years. These sections were included in it. So, their inclination (if any) to again vote for BJP is not really making any big gains for the party. It is firefighting at best, to retain its vote base.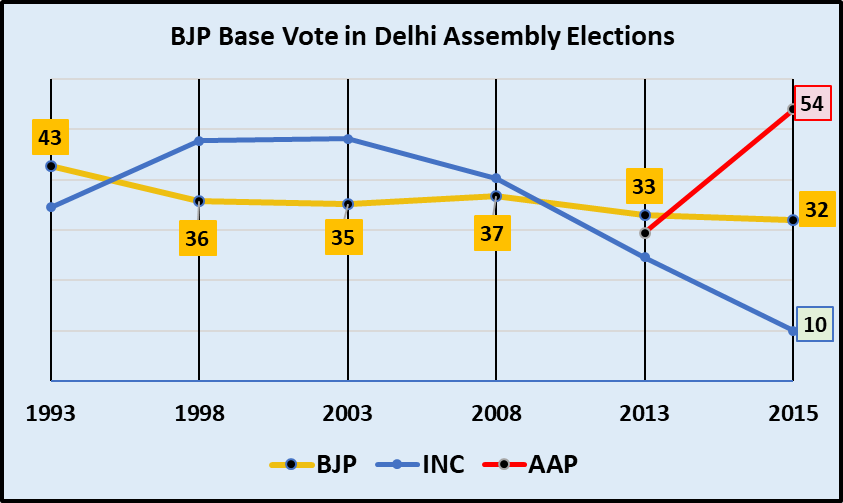 Hasn't the BJP campaign drawn new sections into their fold at all? It may have, but then they have lost some sections also. It is incorrect – perhaps patronisingly so – to think that everybody is open to and susceptible to communal propaganda, and is drawn into the RSS ideological fold by default.
Delhi saw massive protests against CAA-NRC (Citizenship Amendment Act- National Register of Citizens) in December 2019, mostly by young people, students or young professionals. This is a generation that does not vibe well with Hindu-Muslim discord, or any such obscurantist thinking. Its culture is secular and maybe, globalised. An estimated 20 lakh voters are going to vote for the first time in this election. It is difficult to believe that any significant share of them is with the BJP on these issues. So, that is an erosion from the middle class that is generally perceived to be with BJP.
In addition, there are a vast number of people who may have some resonance with the BJP campaign but still openly admit that Kejriwal's work record is excellent. Their dilemma is conveniently resolved by voting for AAP in Delhi Assembly and for BJP in the Lok Sabha elections.
AAP's Stronghold
And then there is the core base of AAP. It is mostly the working people, employees in offices, factory workers, small shop keepers, daily earners (loaders, rickshaw pullers, construction workers), domestic service providers (like maids, cooks, security persons), public service providers (like auto rickshaw drivers) and so on. There are a thousand vocations in Delhi, but a common thread is their poor housing conditions with poor civic amenities, limited incomes, limited opportunities, struggling yet aspirational, with children getting educated and well informed. They have not only benefitted from AAP's welfare policies but also feel strongly that AAP is closer to them than BJP and Congress. This was once, the base of Congress but it has coalesced under AAP, experimentally in 2015, definitively now, five years later. Their numbers are not small – estimates vary depending upon what parameters you are using – but there are 60-70 lakh people at the very least. Voters, not population. And a vast bulk of them are with AAP. That's the base it is starting from.
So, where does all this leave us? It looks as if, the BJP poison campaign has succeeded in – at the most – pulling its vote share to about 38-40% in the best case. Congress will decline probably to 6-7% from its 10% last time. And AAP will still win comfortably. There is one dark caveat: all this will hold only if some new event does not tilt the balance in the remaining three days. The BJP dirty tricks department will be straining at the leash to do its business. That would be its very last throw of the dice.
Get the latest reports & analysis with people's perspective on Protests, movements & deep analytical videos, discussions of the current affairs in your Telegram app. Subscribe to NewsClick's Telegram channel & get Real-Time updates on stories, as they get published on our website.
Subscribe Newsclick On Telegram