Delhi Elections: Despite BJP's Communal Remarks Spree, Shaheen Bagh Protest Unshaken
Inspired by Shaheen Bagh, the growing number of 24/7 sit-in protests seems to have piqued the Narendra Modi government.
Giving a wide berth to the issues of governance, basic amenities and welfare of the marginalised, the Bharatiya Janata Party (BJP) has turned all its cannons to one target—Shaheen Bag, the epicentre of Delhi's anti CAA-NRC mobilisation. Inspired by Shaheen Bagh, the growing number of 24/7 sit-in protests seems to have piqued the Narendra Modi government so much that a contingent of ministers and BJP leaders are leaving no stone unturned to discredit the protesters.
BJP's Strategy: Demonise, Discredit and Deviate
Joining the long list of BJP leaders spewing hate, BJP MP Parvesh Verma has said that if Shaheen Bagh continues, there will be a Kashmir-like situation in Delhi and "they [the protestors]" will enter people's homes and rape "sisters and daughters" unless BJP is voted to power. BJP MP from West Delhi, Verma, was campaigning for the upcoming Assembly elections in Delhi when he also said that all mosques on the government lands will be razed and Shaheen Bagh will be cleared within an hour if the BJP is voted to power.
Speaking to ANI, Verma said, "There's time today, Modi ji and Amit Shah won't come to save you tomorrow..."
The BJP's Anurag Thakur, Union Minister of State for Finance, had invited condemnation and an Election Commission notice after his speech in which he urged a crowd at an election rally in Delhi to say "goli maaro" – or shoot down the traitors – in a widely shared video.
The minister, who was campaigning for the BJP candidate in Rithala, Northwest Delhi for the February 8 polls, can be seen prompting "desh ke gaddaron ko… [to the traitors..]", to which, the crowd responds saying "…goli maaro saalon ko [gun them down]".
Following these remarks, on January 29, the Election Commission has ordered removal of Thakur and Verma from the list of BJP's list of star campaigners for the Delhi Assembly elections.
After December 11, when the highly criticised citizenship law was passed, there have been 25 instances of VIP hate speeches, based on publicly-sourced information compiled by NDTV. This accounts to almost one hateful comment a day! The party has been resorting to communally loaded comments, call for violent action and blatant questioning of patriotism. However, this should not come as a big surprise. During the first five years of Prime Minister Narendra Modi's government (2014-19), there were 174 instances of VIP hate speech—an average of three per month.
Union Home Minister Amit Shah, too, in his campaign, has said that Delhi should "vote to get rid of Shaheen Bagh". He also wants Shaheen Bagh to "feel the current" when people press the button on the EVM on February 8 [to vote BJP]. Then again, the former BJP president claims that CM Kejriwal is not giving permission to "prosecute the tukde tukde [divisive] gang".
Uttar Pradesh Chief Minister Yogi Adityanath has issued yet another threat to those who are protesting against the discriminatory Citizenship Amendment Act (CAA). This time he has threatened those raising "azadi" slogans with sedition charges. Attempting to debase the women-led protest of Shaheen Bagh, the CM had even asked, "Where are the men?" His statement, too, received flak from a large section of the society, owing to its unabashed misogyny and sexism.
Also read: India Needs Secularism Reimagined Not Just Reclaimed
Adityanath claimed that raising slogans of azaadi was "conspiring" against India. "If anyone will raise slogans of 'azaadi' in the name of protesting, it will amount to sedition and the government will take strict action. It can't be accepted. People can't be allowed to conspire against India from Indian soil," ANI quoted the chief minister as saying at a rally in Kanpur.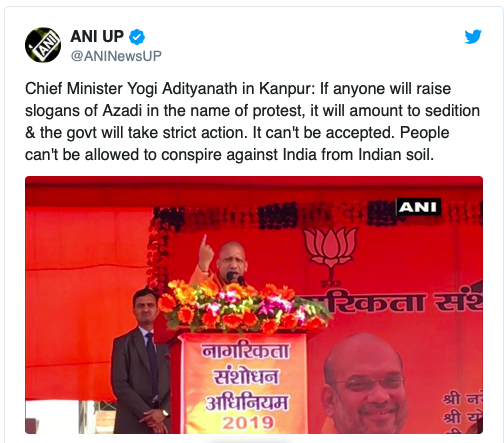 Reacting to the comments made by BJP leaders in their election campaign, Nusrat Alam, a protesters from Shaheen Bagh, said, "The BJP is clearly rattled with us and especially with the fact that the women are stepping out, taking to the streets. The leaders making these comments are shameless. But no matter what they say, we will not move from here. The movement does not have anything to do with the elections. We don't want to be made pawns in their election campaign or a poll plank."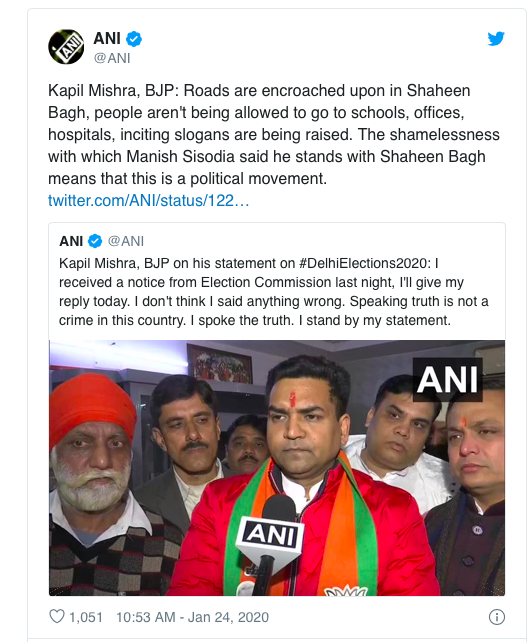 BJP leaders Vijay Goel and Sambit Patra have described Shaheen Bagh as "Shame Bagh" where agitators are "defaming the country to earn Rs 500 each". They also accused the Aam Aadmi Party and Congress of playing politics to garner "votes of a particular community". BJP's national spokesperson Patra said that the month-long protest at Delhi's Shaheen Bagh is "dishaheen" (directionless) and "anti-India" speeches are being made by the organisers of the protest. Addressing a press conference in New Delhi, Patra said that the speeches being made at Shaheen Bagh are "disturbing" and "seditious".
"The BJP is opportunistic in their propaganda. They aren't speaking about education, healthcare or the GDP. Our focus is being purposely shifted away from real issues," said Ritu, a Delhi resident, who has been following the BJP's election campaign closely.
A protester, who wished to stay anonymous, told NewsClick, "The language of the BJP reflects its own character. The party is primarily doing this for propaganda. They are terming us as anti-nationals or dishaheen even when we are conducting absolutely peaceful protests."
Uttarakhand Chief Minister Trivendra Singh Rawat had even claimed that those who raise slogans of "Bharat tere tukde honge (The Union of India shall be broken)" are the ones behind the protests at Delhi's Shaheen Bagh and that they will not be allowed to succeed.
"BJP's frustration is visible. The party has no real issues to discuss or any progress that they have made. Instead of engaging with the ordinary citizens who are sitting here and protesting, the government is hell bent on discrediting their movement and its peaceful nature. There is no violence here. Shaheen Bagh is internationally being talked about. This is why the BJP is demonising us," said Deepanshu Sahu, a student volunteer at Shaheen Bagh.
BJP leaders' comments in the past
In Kolkata, the BJP's Bengal president Dilip Ghosh, in referring to anti-CAA protesters, had said: "Didi's (Mamata Banerjee) police didn't take action against the people who destroyed public properties, as they are her voters. Our government in UP, Assam and Karnataka have shot these people like dogs". Two police complaints have been registered against him.
In Aligarh, BJP leader Raghuraj Singh said, "If you raise slogans against Prime Minister Narendra Modi or Chief Minister Yogi Adityanath, I will bury you alive.
On December 15, PM Modi referred to anti-CAA protesters during a rally in Dumka, Jharkhand and said, "You can easily make out who is spreading violence by the clothes they wear".
On December 27, Amit Shah said at a rally in Shimla: "Congress government was there for 10 years under Sonia Gandhi and Manmohan Singh. Every day, Alia, Malia, Jamalia would come from Pakistan and behead our soldiers."
Also read: 18-Year-Old Girls With Stakes in Azaadi Will Save Indian Democracy
Get the latest reports & analysis with people's perspective on Protests, movements & deep analytical videos, discussions of the current affairs in your Telegram app. Subscribe to NewsClick's Telegram channel & get Real-Time updates on stories, as they get published on our website.
Subscribe Newsclick On Telegram