Delhi Riots: A Year Later Bail Orders Puncture BJP Narrative?
Court rulings in several cases related to last year's violence show up BJP leader Kapil Mishra's vituperative social media campaign as a cruel joke.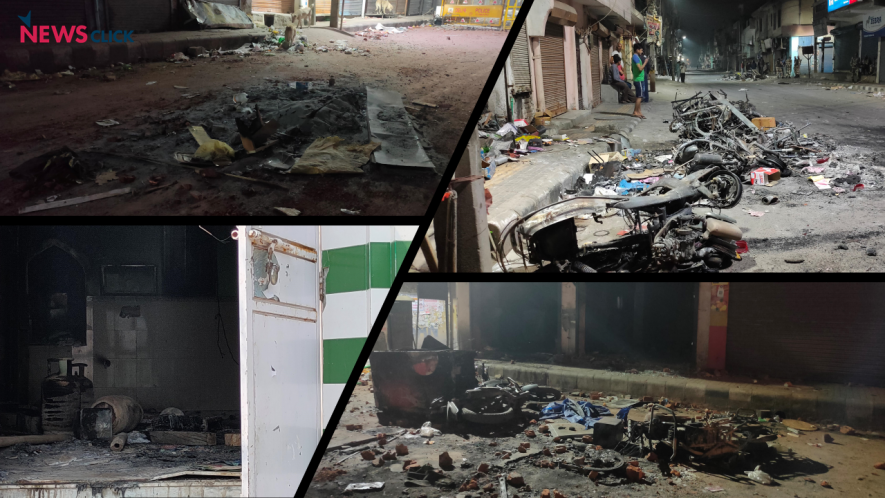 On 20 February, Bharatiya Janata Party leader Kapil Mishra posted on Twitter a video announcing the release of Delhi Riots: A Tale of Burn and Blame, a film made to mark one year of the riots in northeast Delhi that falls today, 23 February. The video depicts scenes of violence with a voice-over intoning, "Haath kaate, pair kaata, pakad-pakad kar goli marein—Cut hands, cut legs, caught people and fired bullets at them."
A few seconds later, another voice declares, "Jis tareeke se mera bhai kata gaya, bilkul kasai ka kaam tha—The way my brother was killed, it was absolutely the work of the butcher." The use of the Urdu word kasai, or butcher, should leave none in doubt that the film will depict Muslims as villains of the 2020 Delhi riots.
Mishra went into overdrive thereafter. He tweeted the video several times and repeatedly announced that a discussion on last year's violence would be conducted, on 22 February, by the three women authors of Delhi Riots 2020: The Untold Story, which Bloomsbury India dropped from its list of publications last year.
Mishra also claimed to have written a letter to Delhi's Lieutenant Governor demanding that the house of [suspended] Aam Aadmi Party councillor Tahir Hussain, who is alleged to have conspired to foment the riots in February last year, should be demolished. In yet another Twitter post, he said, "Last year, same time, they were planning to burn my city. They blocked roads and burnt our homes…"
For a person widely perceived to have triggered the Delhi riots last year, through his vituperative speech, Mishra's social media campaign seems a cruel joke on those who were killed during the violence—and whose families suffered a serious economic setback. But then, it should not surprise: The Delhi riots were an outcome of a narrative that sought to portray those protesting against the Citizenship Amendment Act, 2019 (CAA) as anti-national.
The narrative was sought to be legitimised by the investigations of Delhi Police, which claimed a band of protestors conspired to "terrorise" the Union government into withdrawing the CAA. This theory is spelt out in the chargesheet filed in FIR 59/2020, which invokes the Unlawful Activities (Prevention) Act. Tahir Hussain is among the accused.
Although the investigation into the Delhi riots is still underway, many of the accused in other cases—some of whom were simultaneously booked under FIR 59—applied and got bail. Some of the judicial orders granting them bail brings into sharp focus the shoddy and motivated manner in which the Delhi Police conducted their investigations into the riots. A perusal of these orders establishes the absurdity of building a narrative based on flimsy, even fake, evidence, regardless of what the BJP might have to say.
Khalid Saifi; FIR 101/2020
This FIR pertains to bottles, stones, petrol and acid bombs, etc., being thrown from the rooftop of the building of Tahir Hussain, the principal accused in FIR 101/2020, on 24 February last year. Khalid Saifi, a 39-year-old businessman, is among the accused. Additional Sessions Judge Vinod Yadav, in his order granting bail to Saifi, noted that "it has nowhere been the case of prosecution that the [bail] applicant [Saifi] was physically present at the scene of the crime." He was, for instance, not seen in any CCTV footage/viral videos. "Even the CDR [Call Data Record] location of the mobile phone of the applicant [Saifi] has not been found at the scene of crime on the date of the incident," Yadav said. Saifi, the judge said, had been roped into the case based on his own disclosure statement and that of Hussain.
It was the prosecution's case that Saifi had been in regular touch with Hussain and Umar Khalid, the youth leader also booked under FIR 59. This charge was based on the fact that on 8 January 2020 their call records showed they were in Shaheen Bagh, the epicenter of the countrywide anti-CAA protests. Yadav, however, thought that this "prima facie does not in any way go on to establish the criminal conspiracy alleged" against Saifi.
Prosecution witness Rahul Kasana, in his statement to the police, spoke of a meeting between Saifi, Khalid, and Hussain. Kasana is also a witness in FIR No. 59. In this case, FIR 101, Yadav noted, Kasana's statement was recorded on 21 May 2020, "on which date he did not utter a single word against the applicant [Saifi] qua 'criminal conspiracy' and now all of a sudden, he vide his statement recorded…in the matter on 27.09.2020 blew the trumpet of 'criminal conspiracy' against the applicant. This prima facie does not appeal to the senses."
Yadav said he had restrained himself from analysing Kasana's statement of 27 September, even though the date of recording of the statement itself speaks volumes about the credibility thereof." Why? On 27 September, Kasana had said that while he was standing outside a building in Shaheen Bagh, where he had dropped Hussain, he saw Saifi and Khalid going into the same building. Yadav observed, "In my humble opinion, chargesheeting the applicant [Saifi] in this case on the basis of such an insignificant material is total non-application of mind by the police which goes to the extent of vindictiveness."
Saifi was granted bail in FIR 101.
Arif alias Mota; FIR No 158/2020
Arif is accused in the death of a young boy, Zakir, among the four killed by a riotous mob on 25 February. Arif, who was said to be part of the mob, was granted bail. Additional Sessions Judge Vinod Yadav noted: "It is very obfuscatory that a Muslim boy would become part of an 'unlawful assembly' which mostly consisted of members of the Hindu community, the common object whereof was to cause the maximum damage to the property, life and limb(s) of the other community. So, prima facie, the applicant [Arif] cannot be said to be part of the 'unlawful assembly' or share 'common object' with them on the date of the incident."
Death of Shahid
Shahid died of a gunshot on the rooftop of the Saptarishi building, where a mob had gathered and pelted stones and seemingly engaged in firing. In FIR No. 84/2020, Junaid, Chand Mohammad, and Irshad have been accused of killing Shahid. Delhi High Court Judge Suresh Kumar Kait, however, said the nature of injury showed Shahid had been fired from long-distance, not close range, as had been the argument to book Junaid, Chand and Irshad.
Pointing out that the prosecution had used the word "possibility" in the chargesheet, Kait said, "Because they are not sure from where this gunshot injury came then how can they be sure that it is a close-range shot when they are already mentioning that this a 'possibility' not a surety or certainty." He said the investigating agency's conclusion was not "scientifically possible".
Kait pointed to other inconsistencies in the prosecution's case. For instance, he said it was hard to believe that a communal riot can be used by the petitioners to "cause death of the person of their own community". He said even the prosecution admitted that the trio asked members of the Hindu community, namely, Mukesh, Narayan, Arvind, and their families, to leave Saptarashi to save their lives. "If, they were really involved in this communal riot and wanted to cause harm to the members of the other community/Hindu community, they would not have tried to save the lives of the above-named members of the other community," Kait said.
Irshad Ahmed; FIR No 80/2020
On 25 February 2020, Irshad was said to have been one of around 100 people who were chucking stones from Tahir Hussain's building. The prosecution claimed Irshad was an associate of Hussain, who allegedly told the police that the former had been on the rooftop. One Rohit identified and confirmed Irshad's role in pelting stones, as did constables Pawan and Ankit, who were eyewitnesses to the alleged crime. Kait said, "They [Pawan and Ankit] have not made any complaint on the date of the incident, i.e. 25.02.2020, whereas the FIR was lodged on 28.02.2020. Thus, the said witnesses seem to be planted one(s)." Irshad was granted bail.
Devangana Kalita; FIR 50/2020
Like Khalid Saifi, Devangana Kalita is also an accused in FIR 59. In FIR 50/2020, though, Devangana was accused of organising, mobilising, and instigating a mob to turn violent on 25 February 2020, leading to the death of one Aaman.
The chargesheet in FIR 50, filed on 2 June 2020, had a disclosure statement of one Shahrukh, but, as the Delhi High Court judge Kait said, he had not named Devangana. Kait said he had been "through the inner case diary produced in a sealed cover along with pen drive." He found that though "her presence is seen in peaceful agitation, which is a fundamental right guaranteed under Article 19 of the Constitution of India, however, [the prosecution have] failed to produce any material that she in her speech instigated women…or gave hatred speech" that led to the death Aaman.
This apart, he said after perusing through the diary he found that "statements of witnesses (identity withheld) were recorded much belated", on 30 June, 3 July, and 8 July, "including statements recorded under Section 164 [Criminal Procedure Code] on 08.07.2020, whereas that witness is claimed to be present throughout, since December 2019, when the agitation initially started against CAA." Decoded of legalese, Kait's observation implies that the recording of statements of protected witnesses, whose names are not revealed in the chargesheet, makes the evidence suspect. Devangana was given bail.
Gurmeet Singh; FIR no 61/2020
Gurmeet, a rickshaw puller, was arrested in a case in which one Rizwan suffered a serious bullet injury at 11.30 pm on 25 February 2020. Rizwan had not seen who in the mob had fired at him. However, an eyewitness, Rafiq, told the police that while he was selling vegetables that night, he saw a mob attack Muslims as well as resort to firing. Rafiq identified 5-6 people in the mob, Gurmeet being one of them.
Additional Sessions Judge Amitabh Rawat gave bail to Gurmeet. The judge pointed out, "The witness [Rafiq] has given this statement on 24.04.2020 while the incident pertain to 25.02.2020. The applicant was not arrested, in the present case, on the instance of any witness but was formally arrested at Mandoli Jail. If that is so, then how the witness Rafiq has identified the accused by his face is still anyone's guess. There is a gaping hole between the two said aspects." Gurmeet was granted bail.
Firoz Khan; FIR 105/2020
During last year's riots, one Mohd Shanawaz's shop was allegedly vandalised by a mob of around 250-300 people. Shanawaz in his statement, based on which an FIR was registered, claimed that when the rioters came, he called the police repeatedly, but their phones were busy. He, therefore, ran away to save his life. Constable Vikas, in his statement recorded on 5 March 2020, said he was present at the site and identified Firoz Khan and Mohd Anwar among the vandals.
Delhi High Court Judge Anup Jairam Bhambhani pointed to the contradiction in Shanawaz and Vikas' statements: "Even on first blush, it is not understood as to why the complainant would say that he failed to reach the police by telephone, if Ct [constable] Vikas was already present there." Once again, the witness' statement seems suspect.
The prosecution claimed Shanawaz and Anwar, who had been earlier granted bail, were identified from the footage of the CCTV camera at Rajdhani School, which is located 400 meters from Shanawaz's shop. The distance between the two spots can be covered by a "five-minute walk but on two different sides of a turn in the road." Bhambhani observed, "It appears incredible therefore that camera/s installed in the school would be able to 'see' the complainant's (Shanawaz's) shop." Firoz Khan was granted bail.
The Delhi Police continue to summon people for investigation. Sources say the endeavour now is to track funds contributed to civil society organisations by foreign-based individuals, particularly those Muslim, who have been worried at the politics of hate sweeping across India. After one-year of the Delhi riots, do not be surprised to hear the chatter that it was financed by jihadis. A fake narrative can only dig up imagined evidence, which, obviously, Kapil Mishra and BJP trolls will tweet.
The author is an independent journalist. The views are personal.
Get the latest reports & analysis with people's perspective on Protests, movements & deep analytical videos, discussions of the current affairs in your Telegram app. Subscribe to NewsClick's Telegram channel & get Real-Time updates on stories, as they get published on our website.
Subscribe Newsclick On Telegram