Delhi Riots: A Year Later, No Breakthrough in Six Murder Cases
The Delhi Police pegs the total number of arrests at 1,825 in 755 FIRs registered in connection with the February 2020 riots in the national capital. A total of 693 FIRs are being investigated by concerned police stations.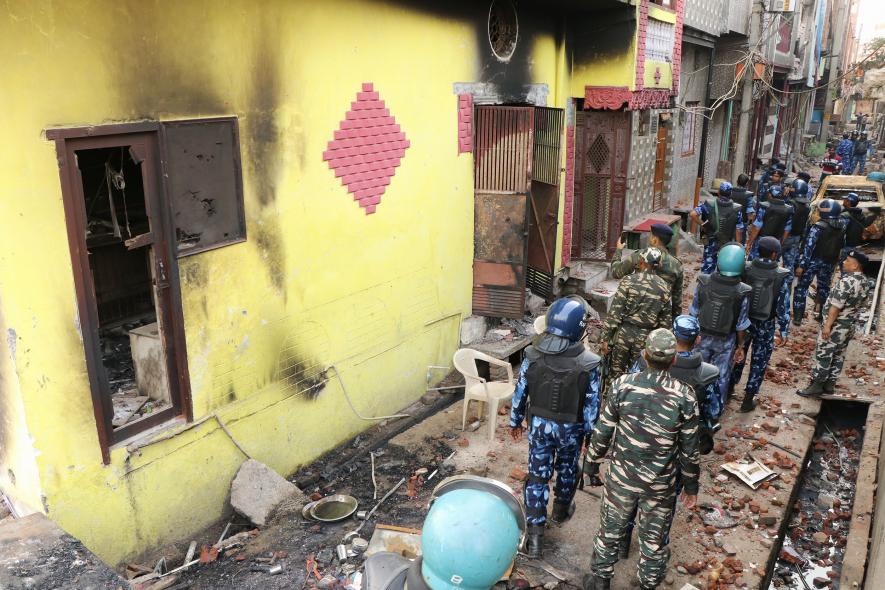 New Delhi: Even a year after the communal violence in north-east Delhi that killed at least 53 and injured around 600 people, no breakthrough seems to have been made in six first information reports (FIRs) registered under sections of murder, kidnapping, arson, criminal conspiracy, among others.
No record of these cases is available in Karkardooma and Shahdara courts, which have jurisdiction over the area. It means, the investigations, if any, are still pending and no arrests have been made so far. Not even charge-sheets – which should have been filed within 90 days of registration of the FIR – have been filed in the cases a year later.
As per FIR number 60/2020 filed at Karawal Nagar Police Station on February 27, 2020, under IPC (Indian Penal Code) sections 147 (rioting), 148 (rioting, armed with deadly weapon), 149 (unlawful assembly in prosecution of common object), 436 (mischief by fire or explosive substance with intent to destroy house, etc.), 427 (mischief causing damage to the amount of fifty rupees) and 302 (murder) and under sections 3 and 4 of the Prevention of Damage to Public Property Act, 1984, against unidentified people, a blood-soaked body of an unknown Muslim man aged between 30 and 35 years, who had deep bruises on his face, was found lying at Toll Tax Pushta Road at Karawal Nagar.
Based on information received by the Police Control Room (PCR) through a telephone call, the FIR stated, Assistant Sub-Inspector (ASI) Sukhpal rushed to the spot, had the body in custody and sent it to GTB Hospital for preservation. The report further said since the situation was tense and vehicles and private properties were set on fire following a "clash" between "anti and pro Citizenship Amendment Act (CAA) protesters" and given the "sensitivity of the situation", "calling a crime team (for inspection of the crime scene essential for the purposes of probe and trial) was difficult. Therefore, it was not called for and the body was sent to the hospital's mortuary.
What happened following that is not known.
The second FIR (number 76, Karawal Nagar Police Station) was registered based on a statement by 18-year-old Salman, a resident of Budh Bazar Nagar Colony, Loni, Ghaziabad, Uttar Pradesh. He said that he, along with his father (Ayyub), used to live together at the said address after his mother Rizwana abandoned them. He was a rag picker and his father was also in the same business. He said his father had left for Shiv Vihar and Karawal Nagar in New Delhi for scrap collection at around 4:30 pm on February 28, 2020.
Salman said his injured father was brought back by two unknown persons. He was said to have been thrashed by a mob at Shiv Vihar. Ayyub was then taken to GTB Hospital where doctors declared him brought dead. On the basis of Salman's statement the police presumed that the deceased was physically assaulted by the "rioters" who were protesting against the CAA and registered a case against unknown people under sections 147, 148, 149 and 302 of the IPC.
There are no details available on further developments in the case.
In FIR number 81/2020 registered at the same police station on February 29 under Section 365 (abduction) of the IPC, the complainant, Anis Ahmad, told the police that his brother-in-law Firoz Ahmad, aged around 35 years, had gone to Chandni Chowk in Delhi on February 24, 2020. He generally returned home via Khajuri Pushta. However, he did not come back home that day.
Anis said he got a call at around 9:30 pm on the same day from Firoz, who told him he was hiding at the residence of someone who had rescued him from rioters. He also said he had suffered injuries to his hand. According to the FIR Firoz told Anis the man who came to his rescue was a resident of Shaheed Bhagat Singh Colony in north-east Delhi's Karawal Nagar, and the number which he was using to call him belonged to the man. The complaint said he spoke to Firoz twice till 10 am the next day (February 25, 2020) on the same number, only to find it switched off later.
"After we failed to get any information about him and with regard to his exact whereabouts, we went to GTB Hospital on February 28, 2020 to look for him there. But we did not get to know more about him from there either," read the FIR.
Again there are no further details available about the case.
In FIR number 139/2020, again registered at Karawal Nagar Police Station on March 3, 2020, Assistant Sub-Inspector Arvind Kumar said Dr. Roopesh Kumar from Rajiv Gandhi Super Speciality Hospital told him on the phone that one 90-year-old Sharif Khan, who had suffered suffocation as a result of inhaling smoke after his house (Number 321, Street Number 1, Shiv Vihar) was set on fire by a mob at around 8 pm on February 25, 2020, was brought to the hospital from GTB Hospital on February 27, 2020. He was declared brought dead following examination by doctors at Rajiv Gandhi Hospital.
The body was sent to the GTB Hospital's mortuary, but what happened after that is still not known as far as court records are concerned. The case was registered under sections 147, 148, 149 and 302 of the IPC.
In FIR number 140/2020 registered at Karawal Nagar Police Station on March 3, 2020 under sections 147, 148, 149 and 302 of the IPC, ASI Arvind Kumar said one Jamaluddin, 30, a resident of Shiv Vihar, suffered injuries after he was brutally assaulted by rioters at the Shiv Vihar trisection on February 27, 2020 at 5:45 pm. He was admitted to GTB Hospital where he succumbed to his injuries.
What transpired in the case's investigation and who were involved in the murder is not known.
In another such incident, a young unidentified man, aged around 25 years, was rushed to GTB Hospital from near Chand Bagh 'mazaar' (shrine) on February 24, 2020 in an unconscious and unresponsive state. He had a bullet injury in his chest. He was declared brought dead by the doctors at the hospital. An FIR (number 76/2020, Dayalpur police station) was registered on February 28, 2020 under sections 147, 148, 149, 436, 302, 120B (criminal conspiracy) and 34 (common intent) following a complaint lodged by one Shiv Charan Meena on February 24, 2020.
What is the status of the case? There is no answer as there is no information available on the concerned court's website.
Newsclick made repeated attempts to contact deputy commissioners of police (DCPs) of north-east Delhi and the Crime Branch, which is also investigating several cases related to the communal riots, to know details of the above mentioned cases, but got no response. The man who responded to a call to north-east Delhi's DCP said the officer was in hospital. Several calls made to the DCP Crime Branch went unanswered.
Lower-rung officers at the two police stations where the FIRs were lodged refused to make any comment.
The Delhi Police pegs the total number of arrests at 1,825 in 755 FIRs registered in connection with the February 2020 riots in the national capital. A total of 693 FIRs are being investigated by concerned police stations. The Crime Branch has been handling 61 cases. One case is with the Special Cell.
At least 300 charge-sheets have been filed so far in different courts in Delhi following a one-year probe into the deadly violence which had broken out on February 24 last year and continued till February 27 after clashes spiraled.
Several north-east Delhi localities such as Jaffrabad, Maujpur, Gokalpuri, Karawal Nagar, Shiv Vihar, Bhajanpura, Chand Bagh, Khajuri Khas and Dayalpur were hot-spots of the riots. These areas recorded cases of murder, arson and rioting.
Eleven police stations in north-east district in Delhi registered the 755 cases, including one (FIR No. 59/2020 registered under the stringent anti-terror law UAPA) by the Special Cell in the larger conspiracy case.
The Special Cell has arrested 21 people, including student activists Natasha Narwal, Devangana Kalita, Sharjeel Imam, Gulfishan Fatima and Safoora Zargar, local political leaders Tahir Hussain and Ishrat Jahan and activists Umar Khalid and Khalid Saifi. The police allege they were involved in planning and orchestrating the violence in the garb of anti-CAA protests.
They have been arrested under stringent sections of the sedition law and the Unlawful Activities (Prevention) Act or UAPA. 
Of the 1,825 arrests, 544 people have got bail till date, while 1,204 are behind bars. As per district court records at least 4,347 bail applications were processed in one year since the deadly riots. 
The police said it used video analytics and facial recognition systems to analyse 945 pieces of CCTV footage and video recordings obtained from several sources to identify the accused. Investigators further claimed 231 of the total arrests were made using the latest technology at their disposal. 
Aside from these tools, the police have reproduced WhatsApp chats that the alleged conspirators were part of. In the 7,500-page charge-sheet filed by the Special Cell in the larger conspiracy case, at least 100 WhatsApp chats have been attached.
Of the 755 cases, the police claim 400 have been worked out. In 349 cases, charge-sheets have been filed and cognisance has been taken in 303 cases.
Amid accusations that the Delhi Police is targeting the minority community, a Delhi Police spokesperson said: "Of the total number of rioters arrested so far, 869 are Hindus and the rest 956 are Muslims. The numbers speak for themselves: our investigation has been fair, unbiased and impartial, relying on credible material and scientific evidence."
However, multiple bail orders are contrary to the Delhi Police claims. Several accused have been implicated in multiple FIRs, "false witnesses" were "planted", policemen are sole eyewitnesses to the crime in several cases but filed their complaints after considerable delay and the accused in many cases purportedly confessed their involvement but most of their "confessions" were recorded under Section 161 of the CrPC, which are inadmissible in a court of law.
Get the latest reports & analysis with people's perspective on Protests, movements & deep analytical videos, discussions of the current affairs in your Telegram app. Subscribe to NewsClick's Telegram channel & get Real-Time updates on stories, as they get published on our website.
Subscribe Newsclick On Telegram