Power of Narrative: Hindus Did Not Suffer More than Muslims, Yet Believe They Did
In Shiv Vihar, residents parrot TV and WhatsApp propaganda, which substitutes for facts.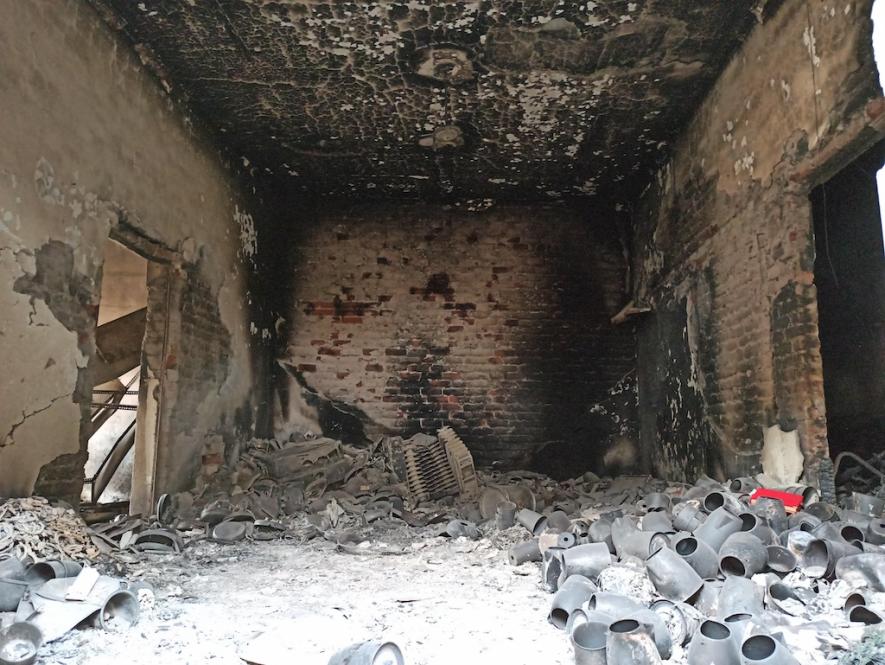 Walk into Phase 6 or 7 of Shiv Vihar and the only narrative you hear is the Hindu one. You will not hear a Muslim version of the violence that engulfed this urban sprawl in north-east Delhi. This is because there are no Muslims here—they have fled Shiv Vihar and taken refuge elsewhere.
If you go looking for the Hindu properties that were destroyed during the riots in these phases of Shiv Vihar, you will find three—a ration shop, a private residence and a potato-trader's store.
By contrast, scores of Muslim-owned properties have been looted and burnt down. Yet, you will repeatedly hear the Hindus say that a "mob of Muslims" descended on them on February 24 and 25 and wreaked widespread damage.
They will say the Muslim attackers came from across the wide stinky drain that separates their locality from Babupur and Old Mustafabad. They then attacked their homes, shops and religious places. The Hindus were so petrified that they locked themselves indoors for four days, a shock from which they began emerging only on Saturday.
The search for Hindu properties destroyed in Shiv Vihar begins with Priti, whose home near Gali Number 3 of Phase 7 is on the main road, along the dismal drain. Her two young children have not attended school ever since the violence broke out. "Hindu homes have been burnt and looted on that side," she says, pointing north, towards what is the bowel of  Shiv Vihar. Beyond this locality, north-east Delhi merges with Uttar Pradesh on the border with Loni.
Another neighbour, also a Hindu, shares Priti's sense of terror. She says that a mob "came from the masjid" and wreaked havoc on her co-religionists. The mosque the women are referring to is a large, boxy green-and-white building across the drain. That is where the Muslim-dominated Babupur and Old Mustafabad sit face to face, overlooking Phase 6 and 7 of Shiv Vihar.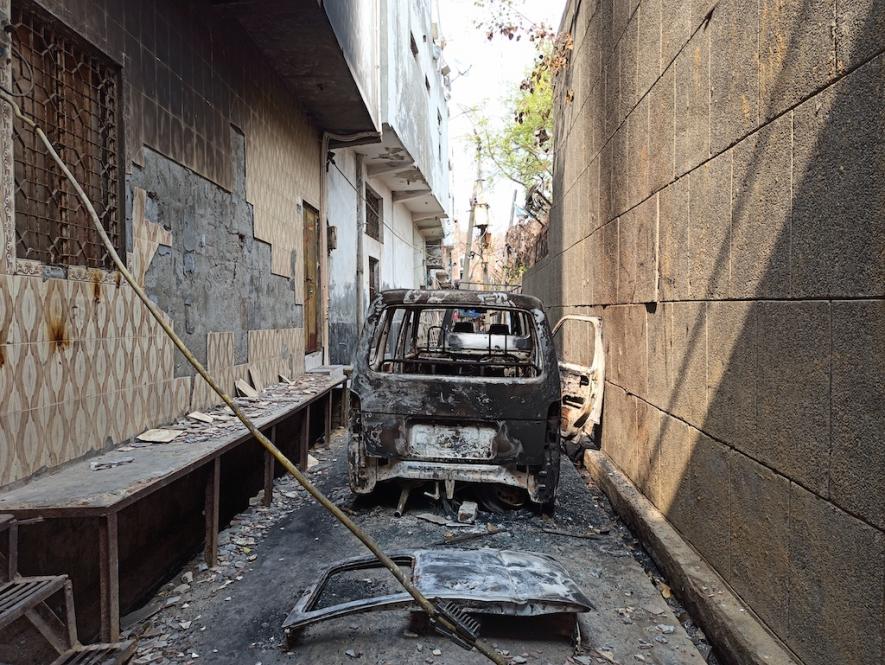 The women and other Hindus here are also convinced that the Hanuman temple in Babupur was desecrated during the riots. When you show them a photograph, taken 15 minutes earlier, of the temple completely intact, she adds to her narrative: 'An old Hindu woman who lived in that temple was beaten—['khatam hi kar diya']—by the mob.'
This talk about the desecrated temple has spread far and wide in the area, repeated virtually by every Hindu you meet in this area. Yet it is untrue.  
And if you follow the directions provided by Priti and other Hindu residents and enter the lanes and by-lanes of Shiv Vihar, you will indeed find gutted homes and shops. For example, several bakeries owned by Muslims, which supply inexpensive snacks called rusk and 'fan' to roadside tea stalls, are looted. Baked goods are strewn on the streets, a grim reminder of the recent horror.
To get to these bakeries, you will have to jump over or crawl past barricades fashioned by Shiv Vihar's Hindus from piled-up beds, motorcycles, push-carts, bicycles and planks of wood. The Hindu residents say that these barricades are "for their protection".
Shiv Vihar is a "mixed neighbourhood" on paper. In reality, though, only a few Hindus have homes in Muslim-majority by-lanes and vice versa.
Many Hindus say they had also fled this part of Shiv Vihar during the violence, but that they are now trickling back.
Not Muslims though. A few of them ventured to retrieve their belongings, but they say they were disallowed from entering Shiv Vihar. Their stores and homes have been looted, they say. This is obvious from a walk through the zone which has been barricaded out. 
There is also a large contingent of security personnel in the interiors of Phase 7, but the boots are only on the side where the Muslims once lived. They are also preventing the Muslims from crossing the bridges that link the Hindu-dominated and Muslim-dominated colonies on either side of the drain. 
It is palpable the Muslims suffered in Shiv Vihar. It is also very likely they will not be able to return and reclaim their homes.  
Yet the Hindu residents insist that it is they who bore the brunt of the recent communal clash. The irony does not end there—the Hindus who live on the main road claim their religious brethren suffered inside the labyrinthine Shiv Vihar colony. Those residing deep inside Shiv Vihar insist the Hindus on the colony's outskirts, near the main road, were battered and looted. In this way, you are tossed from one end to another, discovering along the way damaged Muslim properties. 
Call it the power of narrative, which has been constructed by the Bharatiya Janata Party with a little help from the media. Or call it a psychological necessity of Hindus to imagine losses to assuage their guilt at the merciless targeting of Muslims. Either way the narrative will only widen the gulf between Hindus and Muslims and make it permanent. 
Such is the power of narrative that some of the charred buildings are claimed to have belonged to Hindus. Look closer and almost all still have tell-tale signs of the religious identity of their owners. They belonged to Muslims, of this there can be no doubt. 
For instance, they describe a deserted digital service centre as a Hindu establishment. Its tattered signboard displays the proprietor's names—Farid and Wasim Khan. Ditto Israr Ahmed's burnt home and auto-garage and Pervez Alam's gutted medical store.
The narrative of Hindu victimisation has blinded them from facts staring at them. Soon, perhaps, these signs will be obliterated to provide credence to the manufactured reality. 
Yes, there is a Hindu house that has been extensively damaged. It shares a boundary wall with the Madeena Masjid, which has been vandalised. Was the house, which is owned by an insurance agent, damaged before or after the mosque was raided? The youthful owner hemmed and hawed, refusing to provide an unambiguous reply.
Once you have figured out these claims, you will want to know: Where are the Muslims of Shiv Vihar? Are they dead and buried?
No, they fled across the drain to Old Mustafabad and Chand Bagh or Loni. For instance, the bakers of Shiv Vihar have found refuge with their relatives in Chand Bagh. They, too, are bakers. With them is also the maulana, Farook, of Aqsa Mosque, Shiv Vihar's other mosque that was destroyed.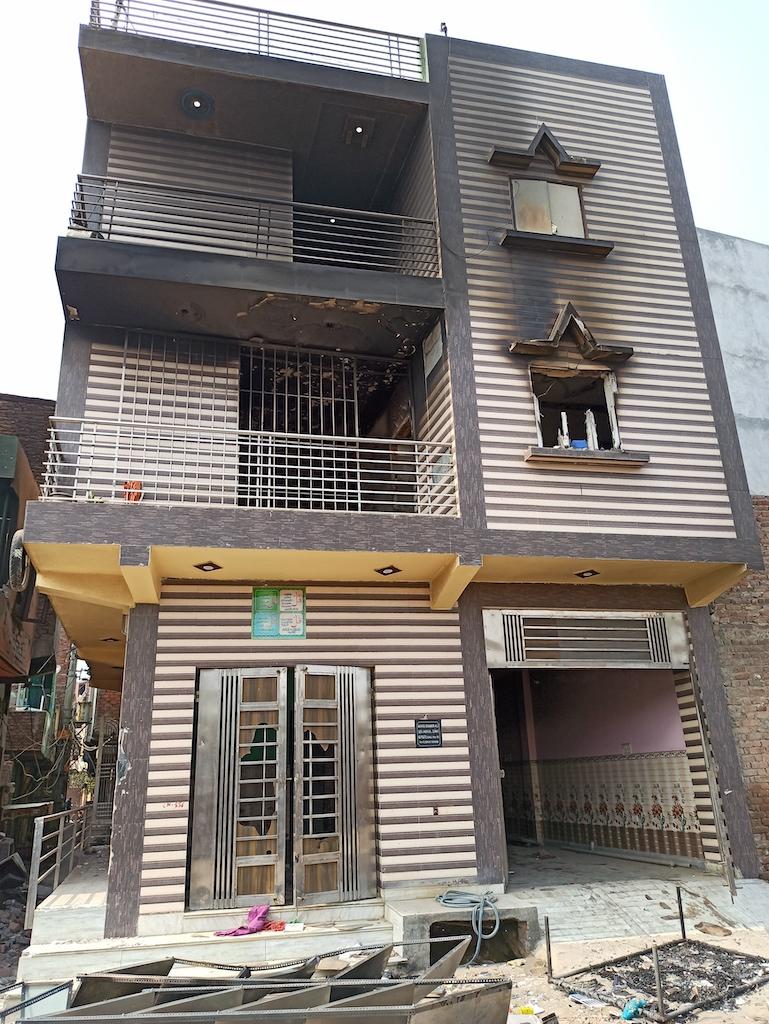 For six days, around 15 Muslim women, children and men have squeezed into a small room up a narrow flight of stairs above a bakery in Chand Bagh. Farook says that the Hindus who lived near Madeena Masjid are the ones who vandalised it. 
That is precisely where Priti had said the Hindu victims would be found. Tell Farook about the narrative of Hindus and he will say, "If Muslims did anything [violent] before we vacated Shiv Vihar, it was to protect themselves or their properties."
Undoubtedly, from the 24th onwards, Muslims and Hindus fought a pitched battle in Shiv Vihar. It is that which led the Hindus to erect barricades at the ends of lanes. Importantly, both Hindus and Muslims of Shiv Vihar say that "outsiders" had participated in this fight. Guns were fired, brickbats hurled, and lives lost, of and by members of both religions. 
Perhaps the traumatic experience of the pitched battle framed the narrative that the Hindus has suffered inordinately more than the Muslims. With TV channels adding their own flourishes, the Hindus will prefer to adopt this narrative as an incontrovertible truth, so that neither guilt nor remorse will torment them.
Even during the riots, the boundary between Hindus and Muslims, at times, melted away. At least in Gali No.14, where they fought together against the marauding mob, it did.
On Saturday 29 February, close to a week after the riot, a few Hindu men were helping their Muslim neighbours to retrieve their belongings from their homes. Raees has come to pick up some important belongings from his locked-up home. He says the other Muslim's homes and shops have been looted and burned. "Whatever we have is because of our Hindu neighbours who helped us," says the middle-aged carpenter. 
"For two days, if we heard a mob crying out Jai Shri Ram, we Hindus stepped forward and told the mob that no Muslims live here. If we heard 'Azaadi' slogans, the Hindus would hide indoors and Muslims would tell the crowd that no Hindus live here," says Harish Pal, a resident of Gali No.14, which had 12 Muslim families and eight Hindu families. 
They kept the mob at bay until the situation turned overwhelming. That is when the administration also landed in the locality. 
Another resident, Riasul, also here to collect his important documents, says he decided to flee because Muslims living in the other lanes had fled. Their isolation made them feel more vulnerable, leading to a complete exodus.
Pal says that he has been watching a lot of TV over the last few days, as he guards the streets from looters with his friends. The lanes where Muslims and Hindus live in roughly equal proportions wanted nothing to do with the fighting, he says. "But the TV news shows heavy preparations by the Muslims," he says. People in the Hindu-dominated areas, mixed with outsiders, clashed with the Muslims in parts of Shiv Vihar, according to him.  
Gali No.14 is still a glimmer of hope. But, let us face it, the violence in Shiv Vihar was a one-sided affair. Unless this is accepted, the false narrative will render any possibility of reconciliation impossible.
Photos by Pranita
Get the latest reports & analysis with people's perspective on Protests, movements & deep analytical videos, discussions of the current affairs in your Telegram app. Subscribe to NewsClick's Telegram channel & get Real-Time updates on stories, as they get published on our website.
Subscribe Newsclick On Telegram