Delhi Riots: Not Spontaneous, But Crudely Designed?
Newsclick spoke to several people who claimed to have actively participated in the violence.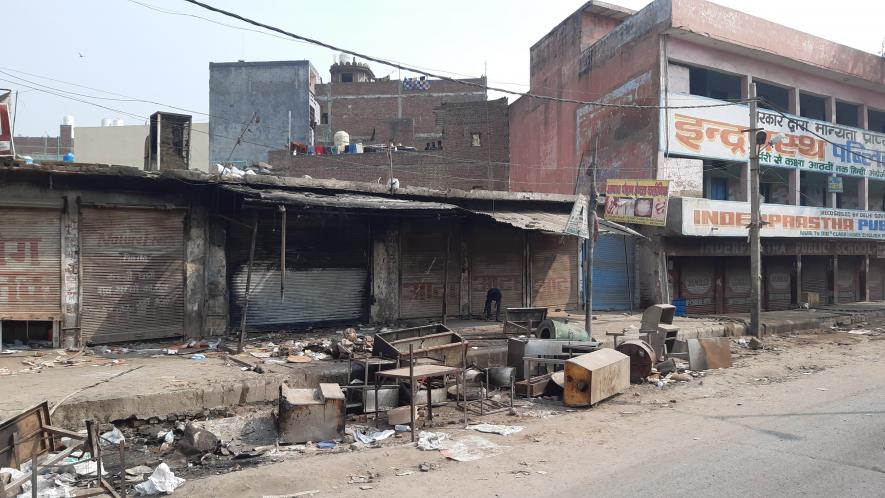 New Delhi: As riot-hit Northeast tries to limp back to normalcy, tales of horror, sorrow and hopelessness are emerging from those who were affected in the three-day violence that has left at least 45 dead.
In contrast, some of the perpetrators, who claim to have wreaked havoc, have been openly celebrating and bragging their acts of 'bravery', and posting pictures on social media, display no remorse, saying: "Jo hua who bahut achcha hua (whatever has happened is for good). This was needed to restrain Muslims". But what they are forgetting is that they are not echoing the sentiments of a major section of their own community, which is of the view that the damage done is beyond repair.
In a bid to get an insight into what triggered the violence and how the riots were engineered and executed, whether there was any planning, Newsclick spoke to few people, some of whom admitted active participation in arson and vandalism.
Detailed conversations with them also suggested that the communal riots were not spontaneous. Tension was simmering for long and the immediate trigger was the blockade of the Jaffarbad-Seelampur main road, the lifeline for a large population living in the vicinity, such as Kardampuri, Noor-e-Ilahi, Maujpur, etc.
If some of these 'perpetrators' are to be believed, once the violence began, the chain of events was strategised, and soon support began pouring in, in terms of mobilisation of people, arms and ammunition and even brain washing those who had never participated in any such violence earlier. Local factors and dominance of a particular community and the political patronage they enjoyed also played an important role.
"Yeh bahut zaroori tha, agar aisa nahin hota to musalman har sadak pe baith jaate (it was extremely necessary; had it not happened, Muslims would have occupied all roads)," a self-proclaimed rioter in Maujpur told Newsclick.
When we sought to know his name, he smiled and said: "Abhi to ek hi naam chal raha hai — Jai Shri Ram (there is only one name right now and that is 'Jai Shri Ram' — a religious chant in India)."
Asked how they managed to orchestrate violence on such a large scale, he said: "Bahri koi aadmi nahin tha, hum logon ne Maujpur se shuruat ki, Ghonda chowk pe morcha sambhala, Noor-e-Ilahi men mara, Chand Bagh men hamare bhaiyon ne morcha sambhal hi rakha tha (there was no outsider involved in it, we started from Maujpur and then moved to Gonda chowk, thrashed people in Noor-e-Ilahi and our brothers were already holding fort in Chand Bagh)."
Some others who were around during this conversation nodded their heads in agreement. One of them added some new information. He said: "Initially, we mobilised people ourselves, holding small meetings to pursuade people to hit the streets. We explained how Muslims' reign of terror has ceased to be effective. Later, when the clashes began, we got help from several Hindu groups who came to our colonies, held several meetings and strategised everything. We also got help from their members. They stationed us at strategic locations to ensure maximum damage (mentally, emotionally, physically and economically) was inflicted upon Muslims. The same groups arranged arms and ammunition. Our work was made easier by local criminal gangs who settled scores with the rival Muslim criminal gangs. Some Gujjars living in and around the city also played an important role. In fact, they are the ones who were deployed to use fire-arms."
A third man then stepped in and gave a perspective to the entire discussion, justifying the violence. "Muslim youth in Seelampur and Jaffrabad are largely unemployed. They are the ones who indulge in snatching and eve-teasing. They have made our lives hell. Our women were unsafe. They have the support of Matin Ahmed (former Congress MLA from Seelampur). His defeat in the Assembly election helped us a lot. Had he been on ground, the situation would have been different."
"Resentment was simmering. The anti-CAA protest and the road blockade, first at Shaheen Bagh and then Jafrabad, was just a trigger. Locals felt it is high time for everyone to contain Muslims," he concluded.
Asked about the role of BJP leader Kapil Mishra in the entire episode, he rubbished it, saying: "Who knows him here? His only contribution was his ultimatum to the Delhi Police. That worked. It gave everyone a sense of security that at least someone is with them from the ruling party who understands their problem. Had the protestors cleared the road, they could have avoided the violence."
He continued, "Though we are happy that what has happened has hit the confidence and morale of Muslims and they will think hundred times before committing any crime and raise their heads, yet we too have remorse that the actual culprits are still largely unaffected. Those who died are poor people and daily wagers, who are migrant workers. The auto and cycle rickshaw drivers and the labourers were out, and it they who were killed in the cross-fire and stone-pelting."
As our conversation was on, an paramilitary force officer, which was conducting flag march, arrived and asked everyone to disperse.
In another conversation in Chand Bagh, a man said Kapil Mishra made him and others realise they were Hindus. "He made us realise that we are Hindus and the country belongs to us only. After Partition, we gave Muslims a separate nation to reside. Those who are living here have problems with a legislation that seeks to give citizenship to persecuted Hindus living in Pakistan. This is the country of Hindus. If not India, where will our community go? And who have given Muslims the right to object to the government's decision?" he asked.
This candid man claimed that he burnt down several shops and a mosque.
The riots also threw up some new patterns. For instance, many rioters were doing Facebook live of their acts of barbarism. As usual, Facebook and WhatsApp were used to spread rumours to incite violence. One more noticeable thing was the participation of different sections of the society. There is a perception that better-off people generally don't take parts in such violence. But this time round, people belonging to different social, educational and economic backgrounds were out on streets and were seen indulging in arson and vandalism.
Asked why journalists were attacked and not even Hindus were spared, this man said: "People were enraged with one-sided reporting by the media. They are Hindus but act like Islamists and communists."
After these conversations, one can safely draw conclusions that Delhi Police's inaction for three days not only amplified the riots but also gave the rioters a sense of security that they will not be touched. Second, the Aam Aadmi Party (AAP)-led government remained a mute spectator to the carnage whereas the party had enough resources and volunteers to mobilise and contain the impact of riots on the ground. Third, the Ministry of Home Affairs failed to deploy forces, such as Rapid Action Force, which specialises in containing violence in riot-like situations.
Get the latest reports & analysis with people's perspective on Protests, movements & deep analytical videos, discussions of the current affairs in your Telegram app. Subscribe to NewsClick's Telegram channel & get Real-Time updates on stories, as they get published on our website.
Subscribe Newsclick On Telegram