Delhi Violence: Ashes, Embers… And Life in the Shadow of Fear
There is 'peace' in Northeast Delhi and surrounding areas, but an atmosphere of fear and panic reigns. Newsclick's special report.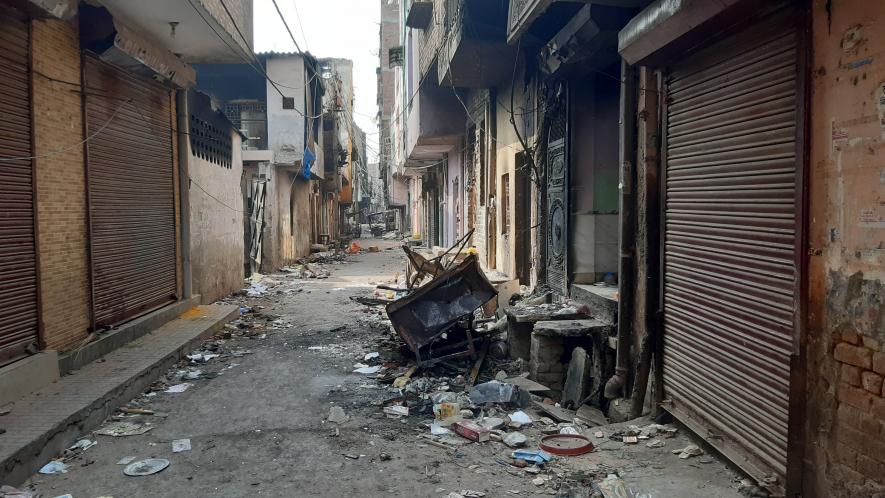 New Delhi: An uneasy calm prevails in most communal violence-hit areas of Northeast Delhi. After a maelstrom of violence engulfed the district since February 24 evening till February 27, what it left behind was embers of snuffed lives, burnt shops, homes, schools, vehicles and shattered families in what was hitherto a peaceful capital city.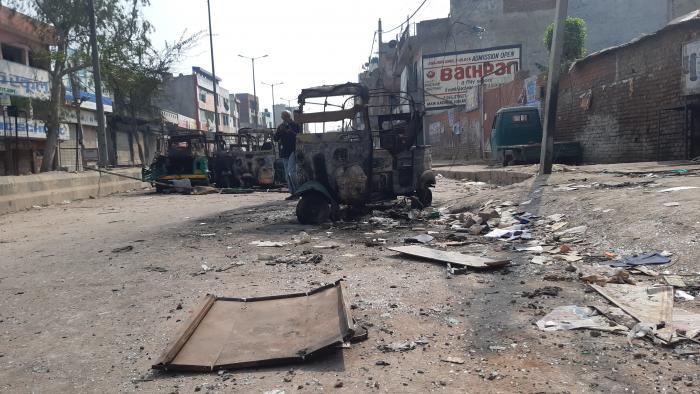 Newsclick visited some of the affected areas, ravaged by the violence and destruction. Amid heavy police deployment of Delhi Police, the Central Reserve Police, the Central Industrial Police Force and the Seema Suraksha Bal at Khajuri, Karawal Nagar, Bhajanpura, Gokalpuri, Kardampuri, Kabir Nagar, Maujpur, Jaffrabad and Mustafabad, there an atmosphere of fear and panic among people, especially those belonging to the minority community.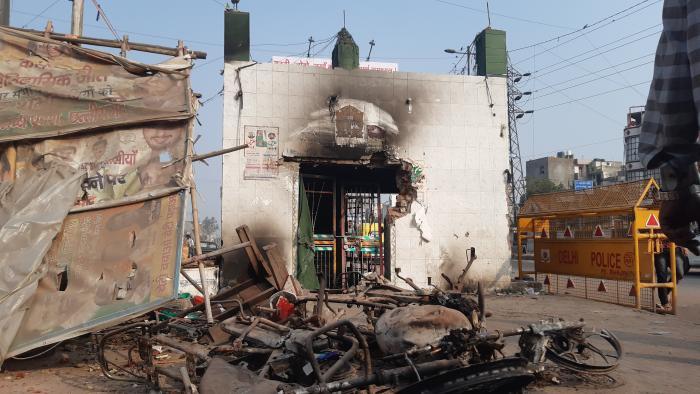 In minority-concentrated areas, old and young, men and women can be seen huddled in every nook and corner of their colonies, talking about violence and watching video clips of the brutalities on cell phones. Fear, panic, anxiety and lurking consequences are clearly visible on their faces.
On the other side, no such sight is visible in majority-dominated areas, except in a few places. While passing through a street at Pakki Khajuri, which is dominated by Gujjars, we heard a group of young men discussing the riots. One of them as saying in a loud voice, "Unki phati pari hai, yahan aa kar maafi magenge. Sabaq sikha diya unhen is baar (They are scared, they will come here and apologise. We have taught them a lesson this time)."
A sense of victory was clearly visible on their faces.
Most of the shops in the affected areas are closed. A large number of shops were torched or vandalised. Stones, broken glass pieces, ashes mark the roads, with burnt vehicles and other paraphernalia lying here and there. We saw heaps of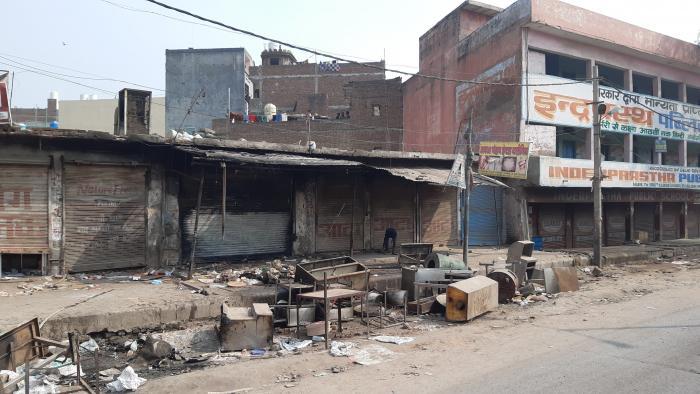 torched vehicles in Khajuri, Karawal Nagar and Bhajanpura. Torched houses in localities stand testimony to the cruelty and madness that took over the city for three days. Sources of livelihoods have been turned into ashes by hate-driven violence.
STORIES OF LOVE AND BROTHERHOOD
Amidst the distressing and cold hate stories, there are some heart-warming tales of peace and love. One such is of Champa Devi (55), who lives in Muslim-majority Shrirampur Colony in Khajuri Khas.
"There was a lot of stone-pelting from the other side. The police fired several rounds of tear gas shells to disperse violent mobs. A boy from the locality was killed, but our neighbours protected our house. Everyone lives here peacefully. Because of wide-scale destruction and torching of shops and vehicles, mostly auto rickshaws, the residents here are facing livelihood challenges. Despite living in a Muslim-dominated colony, not once did I feel that I should go and live somewhere else due to the riots. Our neighbours assured us of security," she said.
Similarly, Rakesh Kumar, who owns a general store in the Muslim-concentrated Chand Bagh, said: "After the riots broke out, I had to stay awake all night. Social media platforms were flooded with rumours and hate mongering. A tomb was burnt close to our house. But no one touched the adjacent temple. We and our Muslim neighbours stayed awake all night to protect our street. Nobody targeted me for being a Hindu here."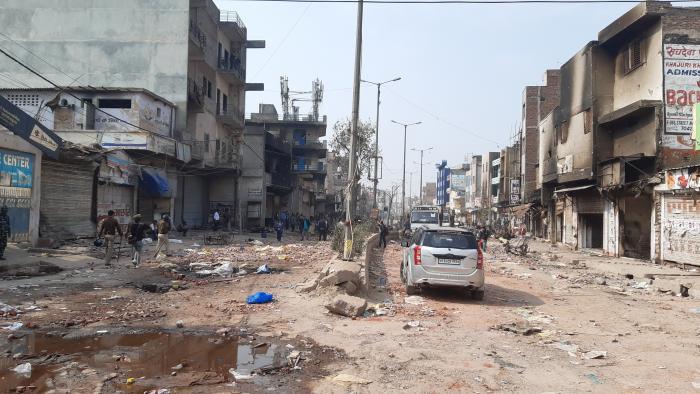 Similarly, in Hindu-dominated Sonia Vihar, rioters surrounded a house and a shop owned by a Muslim on February 26 night. But they were chased away by the Hindu residents of the area.
Since the rioters set on fire a few Muslim homes at Ashok Nagar on February 25, their Hindu neighbours gave them shelter. Sajid, a victim of the violence, said: "When the mob from outside burned everything, we could not understand where we would live now, but our Hindu neighbours helped us. They did not leave us alone."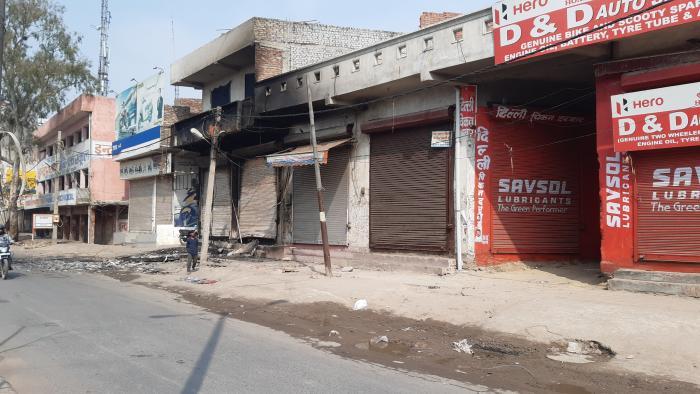 STORIES OF FEAR AND HATE
While roaming around the riot-affected areas, we heard many such stories of communal amity. But on the other side, the hate stories are dreadful. There were people who said they protected Muslims in Hindu neighbourhoods, but Hindus were not protected in Muslim areas. Or, in Muslim-dominated areas, there are stories of Muslims protecting houses and shops of Hindus, but this gesture was not seen in many Hindu-dominated areas.
We came across a juice shop that was set ablaze on February 24 evening when the violence broke out. Even after four-five days of violence, fruits were still scattered on the streets.
Bhure Khan, the owner of the shop, said: "Our ancestral shop was burnt. We had built it with our blood and sweet. The rioters did not even care about the good relations we had. They took no time to torch our shop and the house above it." Khan alleged that all this was done under the watchful eye of Bharatiya Janata Party leader, Kapil Mishra, who was present on the spot when his shop and house were torched.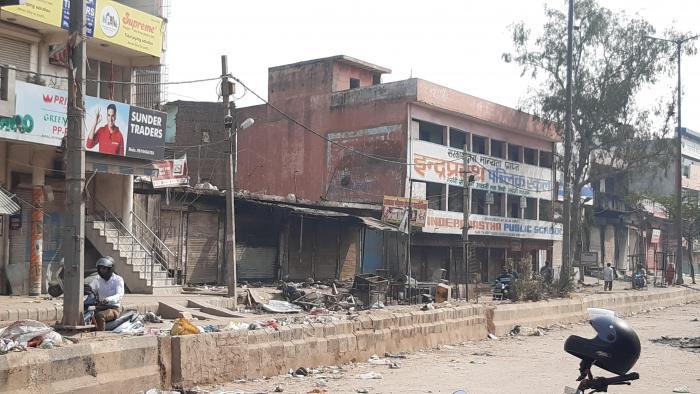 "He is the same man whom I had helped when he contested the election when he was with the Aam Aadmi Party. How can we forget this? They have given me a deep wound which will never heal. The destruction will always haunt me," Khan said.
Similarly, a mattress shop in Khajuri Extension, a little ahead of Chandbagh, was set on fire. Its owner, Dilshad Ali, said: "I am an authorised dealer of Jindal and Varun foam mattresses. Everything in this shop has been turned into ashes. I have suffered a loss of Rs 2 crore. I had closed the shop after the violence erupted, but later I came to know that it was burnt. This shop was our everything, our only source of income. Now, everything is ruined. Insurance gives a very nominal amount. Our future seems dark."
About a 70-80 houses in Khajuri Khas Extension have been set on fire. These belonged to the minority community. A visit to two streets where these burned houses stand determines the fact. There is not a single scratch on three houses belonging to the majority community in one of the streets. The scene here is so horrible that you might not be able to stand for long.
Like all other riots in the country, this time, too, the police, administration and politicians were missing when the violence took place.
Technology, too, appears to have contributed the barbarism. For instance, the rioters at Karaval Nagar Pushta were reportedly using the Transport Department App to identify the religion of vehicle owners before setting them on fire.
Rumours were also fast becoming viral through social media (Twitter, Facebook, WhatsApp and other mediums). While walking in the riot-stricken areas, most people said that social media played a negative role. It helped in sowing seeds of fear and hatred.
GTB HOSPITAL: THE SCENE OF SUFFERING
While many people in Northeast Delhi were grief stricken because they had lost their near and dear ones in the violence, they had to wait for a long time outside Guru Teg Bahadur Hospital's mortuary to collect the bodies, which were to be handed over after the post-mortem.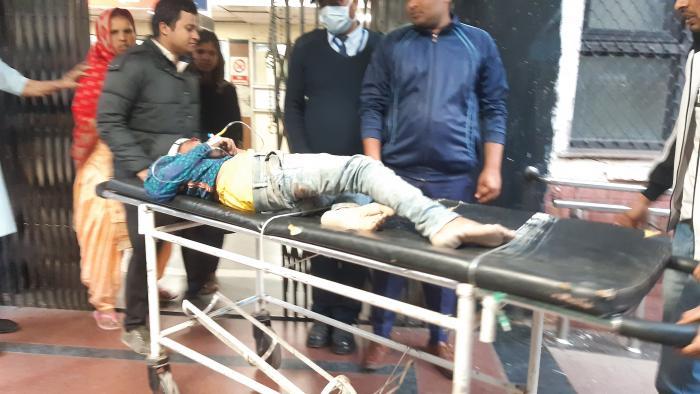 The most painful sight was of families of people who have been missing since the violence erupted, who were asking the hospital authorities to find out whether their bodies were there or if they were being treated in the hospital.
Waiting outside GTB hospital mortuary, a 35-year-old started crying as he talked. He was blind. His father-in-law, Naseeruddin, was burnt by rioters in Shiv Vihar. "We have arrived yesterday afternoon. It was revealed yesterday that the files are ready and post-mortem will be done. We were told today that IO will come from Karaval Nagar police station, then the corpse will be found, but it has not been found yet," he said.
Injured and killed people are still being brought to GTB Hospital. A 15-year-old boy named Shahid was brought and admitted to the emergency when Newsclick's team reached the hospital premises around 6 p.m on Thursday.
When he was going for work, the rioters accosted him and asked him to show his genitals. After his religious identity was established, he was thrashed mercilessly. He was bleeding profusely.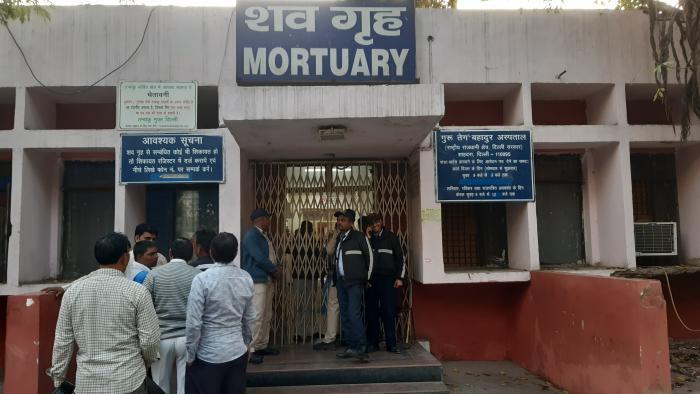 Mohammad Mansoori, who has a tailoring shop at Shiv Vihar, was fired at when he, along with others, went to his locality to see their burned houses. He has been admitted in GTB Hospital. His father Jamaluddin said, "Ever since the riot started, we had fled to a safe place. On Thursday, when we felt that everything was normal, we went to see the situation in our house. But as soon as we reached Shiv Vihar's culvert, the rioters started firing. We were 15–20 people. All of us started running. Meanwhile, my son was shot. The policemen were standing far away. The rioters escaped by the time they could reach us on the main road. Later, the police brought my son to the hospital here."
Late Thursday evening, the GTB Hospital Administration told Newsclick that more than 51 injured were being treated there, of which one was in a critical condition. Nine persons had died during treatment, while so far overall, 42 people have died in the horrifying hate violence that gripped the country's capita
Get the latest reports & analysis with people's perspective on Protests, movements & deep analytical videos, discussions of the current affairs in your Telegram app. Subscribe to NewsClick's Telegram channel & get Real-Time updates on stories, as they get published on our website.
Subscribe Newsclick On Telegram