Desperate Indians Used Savings, Took Loans to Survive COVID-19 Pandemic
In effect, people have used up their future security to deal with the present, while the government stood by silently.
Representational use only.
How do you deal with a catastrophic pandemic which affected over 30 crore people and killed nearly four lakh in the past one year? And, how do you deal with ill-conceived lockdowns and other restrictions that had, at one point, left over 12 crore people without jobs?
In the absence of meaningful government support, people had no option but to use up their meagre savings, and even take on loans just to survive. This distress driven financing for survival is partially – but starkly - reflected in the latest information on household savings and loans, released by the Reserve Bank of India (RBI) recently.
Quarterly data for household debt shows that between the quarter ending March 2020 (when the COVID-19 pandemic was just beginning to take hold in India) and December 2020 (when the first wave was in decline), household debt ballooned from Rs 68.9 lakh crore to Rs 73.1 lakh crore. That is an increase of Rs 4.25 lakh crore in nine months [See chart below]. The RBI has released data only upto the quarter ending December 2020.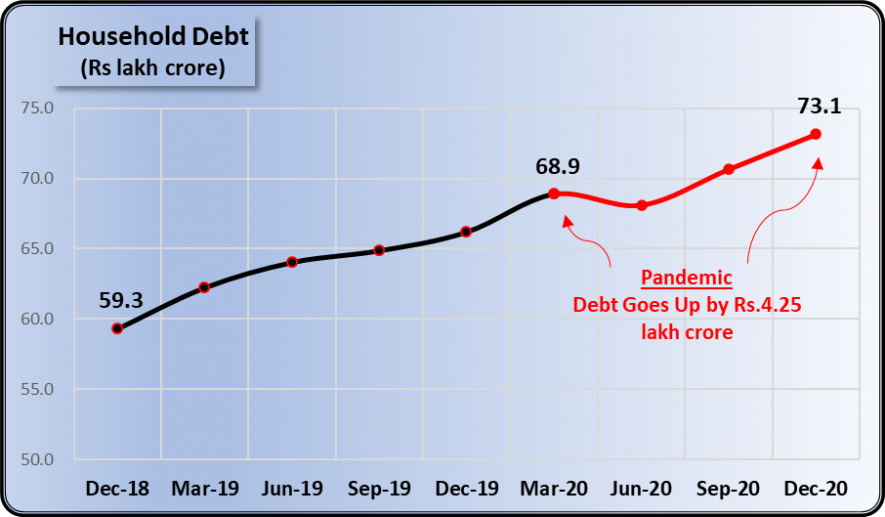 Debt is often measured as a proportion of Gross Domestic Product (GDP). This gives an idea of the scale of indebtedness and other clues about the nature of the economy. As the RBI release points out, household debt was 33.8% of the GDP in the quarter ending March 2020. From there it jumped to 37.9% of the GDP in the October-December quarter. This is a period of falling economic growth; the GDP is not increasing much. In such conditions, the huge increase in household debt as a share of GDP indicates its enormous scale and impact.
It should be remembered that only a section of people can manage to get loans from banks or other institutional avenues. Not many have insurance policies nor do many save their money in small savings schemes – they just don't have that much of earnings to put aside some portion. So, most people have to depend on informal borrowing – from friends and family, from local money lenders, or employers. This part is not covered under the above figures.
Yet, the increase in household debt by over Rs 4.25 lakh crore is a chilling reminder that people in India were largely left on their own when dealing with the deadly pandemic. And, to survive, they had no option but to get more indebted.
Using Up Savings in Banks
The picture is however, not yet complete, not without looking at another dimension, also revealed in the same data released by the RBI. This relates to the fate of bank deposits. As shown in the chart below, bank deposits crashed from Rs.3.6 lakh crore in the July-September quarter of 2020 to less than half – to Rs.1.7 lakh crore by the October-December quarter. Remember that the first wave of the COVID-19 pandemic peaked in September 2020.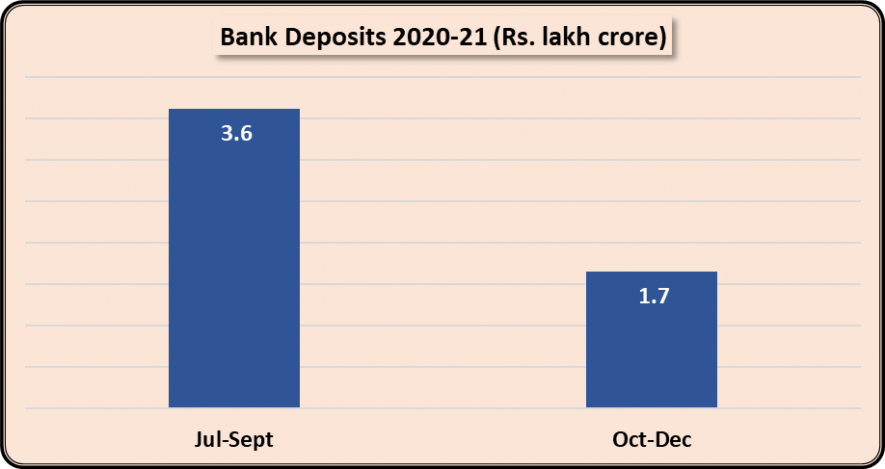 What this shows is that people withdrew nearly Rs two lakh crore from their bank accounts in just three months, possibly the largest ever withdrawal in such a short period. There can be only one reason for this: dire financial need to meet COVID-19 related expenses and more generally, to spend the money on buying essentials. Although the lockdown had eased by this time, earnings were very badly affected and joblessness was very high still. So, people were withdrawing the money they had put in the bank to defray their expenses on essential needs.
Bank deposits as a share of GDP dropped precipitously from 7.7 per cent in July-September to just three per cent in October-December, again indicating the deep impact and wide scale trend reflected in these figures.
Putting these two dimensions together, the picture that emerges is of a desperate scramble by families to raise resources to tide over the deep and pervasive economic crisis. Part of the need is being met by loans, and another part by using up savings. As mentioned earlier, all this is within the institutional system, and does not include the informal debt or savings systems that a large number of people have to depend on.
Cutting Down Spending
Ironically, and tragically, even these desperate measures have not prevented families from suffering a decline in their already low living standards. There are widespread reports of families even cutting down on food items in order to survive, besides stopping various other kinds of expenses. Even the last release of GDP data by the government showed that private consumption expenditure (the sum total of spending done by households) had slipped to 56% of GDP in 2020-21, compared to 57.1% in 2019-20 and 56.3% in 2018-19.
The reason for this is that most families do not have any or much savings, and whatever meagre savings exist are not kept in banks. For them the option of withdrawing savings or taking loans from banks is impossible to imagine.
Government Didn't Help
Families would have been able to conserve their savings or avoid being indebted if the government had adopted a more humane policy. It could have provided financial support to the poorer sections, arranged delivery of more food grains and other essential commodities through the public distribution system, provided free medical support to affected families and compensation to those families who lost members to COVID-19. Not only would have this provided succour to desperate families, but it would have made good economic sense too, because all this fiscal spending would have boosted demand in the economy and helped lift it out of the current slow down it is struck in.
Almost all major trade unions, farmers organisations and Left parties had repeatedly raised these demands, which included Rs 7,500 monthy income support to families with no income tax paying member, increase of extra food grain allocation to 10 kg per person per month from the current five kgs, and free medical coverage for COVID-19 patients and free vaccinations for all. However, the Modi government stubbornly stuck to the alternative course – giving easier loans and exemptions to businesses and employers in the vain hope that this would help revive economic activity. It left the people completely on their own, apart from providing Rs 5,00 per month (for three months) to Jan Dhan account holders, giving five kg extra food grain and free LPG refills under the Ujjwala scheme.
This year, as the much more brutal second wave hit the country, even these inadequate relief measures were stuttering or withdrawn, with only the reintroduction of five kgs extra grain announced by the government.
Families in India will take years to recover from the economic devastation caused by the pandemic, but more so by the indifferent policies of the Modi government.
Get the latest reports & analysis with people's perspective on Protests, movements & deep analytical videos, discussions of the current affairs in your Telegram app. Subscribe to NewsClick's Telegram channel & get Real-Time updates on stories, as they get published on our website.
Subscribe Newsclick On Telegram