Dhobi Ghat Paathshaala: Promise of Education at the Site of Demolition
"At this point, if I'm asked to choose between my jhuggi and the Dhobi Ghat Paathshaala, I would choose the Paathshaala," said a resident.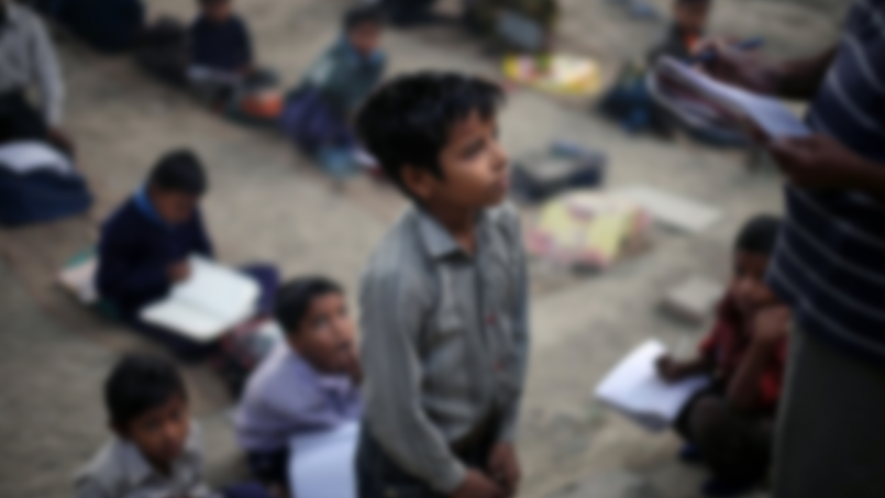 Representational image. | image courtesy: pinterest
At the far end of Batla House, near the banks of the Yamuna, there is an area called the Dhobi Ghat. Before the Delhi Development Authority (DDA) directed its JCBs towards this nondescript locality, Dhobi Ghat was home to about 1,000 people, mostly working as construction workers, rickshaw-pullers and domestic labourers. All that changed on September 24 last year, when DDA illegally demolished over 200 hutments and forcefully evicted more than 700 residents from the area. And this was just phase one of the demolitions.
The demolition was carried out without any prior notice being served to the residents. Unable to understand what was going on, people scrambled, many unsuccessfully, to gather their most important belongings. Several families lost not just a lifetime's worth of goods, but also documents – their Aadhaar cards, voter IDs, ration cards, etc. The loss of their homes has severely compounded the hardships these working-class residents were already facing during the poorly planned, thoughtless and brutal lockdown in the wake of the pandemic last year.
The residents say that they are constantly being harassed by the local builder lobby. The builders claim that the land is theirs and demand that the residents clear the site at the earliest. Mobina, who lives in a makeshift jhuggi at the Dhobi Ghat, said, "The builders hurl abuses at us and they threaten us with dire consequences if we don't clear the site of demolition at the earliest. In early February, the builders forcefully tore down our shanties in the middle of the night." She hesitantly adds, "On the night of February 9, three builders and their goons attacked Asif and friends with laathis and rods. They also seized their phones and cameras." The residents allege that a complaint was registered with the DCP of South East Delhi, but no action has been taken yet.
To curb the spread of COVID-19, educational institutions switched to the online mode of teaching in March last year and a majority of schools are yet to open. "How would people, who can't afford to have one square meal a day, can pay for an internet package, separate smartphones, separate rooms for each of their schooling children, especially after losing their livelihoods?" questions Shabani, a resident of the area, pointing to the Delhi and central governments' apathy. 
According to Bibi Akhtari, another resident, "Critical among the things that got destroyed were the textbooks of children". Drop-out rates, as a result, have accelerated once more. The plight of these children was a tragedy that demanded urgent attention and action.
When asked about his thoughts on a school for the children of Dhobi Ghat a few days ago, a local understandably expressed his pessimism. "Let's be realistic about what's possible with this community, shall we?" he said.
However, with the determination and joint efforts of All India Students' Association (AISA), Revolutionary Youth Association (RYA) and the women-led Dhobi Ghat Jhuggi Adhikar Manch, a school named Dhobi Ghat Paathshaala was established in the slums of Dhobi Ghat, Batla House on February 28. 
Mohammad Asif, an RYA activist who has been working in the area, said, "Earlier, we thought of renting a space for teaching children but due to a lack of funds, that plan didn't materialise. Improvising, with the help of all the residents, we then built a makeshift jhuggi and started teaching the children there. We wish to train these children for formal schools and to provide them with a safe environment to learn, think and question. They have been kept away from education for too long. We want to change that." Many children at Dhobi Ghat had no background in formal education. But when the opportunity arose, their enthusiasm knew no bounds.
It should be mentioned that the school is not a mere skeletal shanty. The children have already managed to paint it in bright and lively colours. The school runs from Monday to Saturday, from 10 am to 2 pm. More than a hundred children, aged between 5-17 years, are being taught in two shifts of two hours each. For the time being, activists and students of Jamia Millia Islamia are volunteering to teach the kids. But plans are already underway to hire a tutor, money for which is being pooled by the volunteers from their pockets. They intend to prepare the students for entrance exams and provide a complementary (and in several cases, where students had previously dropped out of their schools, an alternative) avenue to continue their education. Alisha, a grade VII student, who lives in the jhuggi cluster, said, "In the government school where I study, teachers don't focus on English so much because of which I've fallen behind in many subjects. But here in the Dhobi Ghat Paathshaala, apart from teaching Maths, Hindi and Urdu, the teacher tries to improve our English. She makes us read the passages out loud. Here, no one laughs when I make mistakes. This is helping me with my confidence level."
Also read: Kashmir: Clashes Erupt After Authorities Thwart Mirwaiz Umar's Friday Address
Since the parents of the children can't afford to pay for textbooks and notebooks, the Dhobi Ghat Paathshaala has decided to provide stationary including writing material, textbooks and notebooks to all students. A striking feature of the school is a globe that sits on the table at the right corner of the Paathshaala. A huge political map of India also hangs on one side of the makeshift jhuggi. When asked about the globe and the map, Sahil, a grade V student said, "I've only seen Batla House, Jamia school and NFC because that's where my school is. I only knew about a few cities like Delhi, Mumbai, Deoband and Patna. But now I can name more than 15 cities and as many countries. I love looking at the blue shade of the globe."
Locals and activists alike see the struggle of the Dhobi Ghat residents as a reflection of the Shaheen Bagh movement of 2019. Their defiance of the governmental, social, economic and patriarchal oppression has been inspiring for many. Like with the Shaheen Bagh movement, women have been at the forefront of this fight for the right to live a dignified life. Defying societal norms and patriarchal traditions, they have mobilised and formed the Dhobi Ghat Jhuggi Adhikar Manch. Working as house help and construction workers to support their families, the majority of these women had never been sent to schools beyond a certain point – their families often didn't have the resources and seldom considered it important to educate the girls. The school has given them a chance to pick up where they left, or in some cases, to start all over.  
As per Shreya, an AISA activist who has volunteered to teach at the school, COVID-19 has again highlighted the magnitude of gender inequality everywhere, with women among the groups worst affected financially and socially. Through the school, these activists aim to sensitise the local population to the issues around women's rights and equality. "We have seen that the government does not prioritise women's health. We have seen how bad the situation of sanitation is in jhuggis. Women here are at a great risk of vaginal infections due to open defecation since the washrooms were also razed during the demolition drive," she said, adding that hygiene should be a fundamental right and not a privilege. "We also need to break the taboo around menstruation. For that to happen, we need to educate both boys and girls," added Shreya.
Saud Ahmad, an AISA activist from Jamia Millia Islamia, who is also volunteering at the Dhobi Ghat Paathshaala, told NewsClick, "Along with teaching children, it is critical that we sensitise the parents. Parents play a major role in shaping their child's behavioural patterns. We need to teach parents how to act around their children, how to respond to their needs and how to better engage with them."
Geeta, another resident of Dhobi Ghat, said, "For the first 3-4 days everything was running smoothly and no one had any problem with the Paathshaala. But on March 5, a builder named Nadeem came and threatened to tear down the Paathshaala." 
"At this point, if I'm asked to choose between my jhuggi and the Dhobi Ghat Paathshaala, I would choose the Paathshaala," she said. The road ahead for the Dhobi Ghat Paathshaala is rough and lined with obstacles. But the passion and ambition brewing among the students and local residents point to the way forward. 
The author is a student of history at Jamia Millia Islamia and an AISA activist.
Also read: 'Privatisation to Hurt General Public the Most': Finance Employees Prepare for Strike
Get the latest reports & analysis with people's perspective on Protests, movements & deep analytical videos, discussions of the current affairs in your Telegram app. Subscribe to NewsClick's Telegram channel & get Real-Time updates on stories, as they get published on our website.
Subscribe Newsclick On Telegram