Displaced from Bengal, Left Supporters Reconnect With Their Party in Delhi
Feeling abandoned after the lockdown, some Muslim Bengali migrant waste collectors sought out CITU, and are being helped with food and other relief.
The sudden 21-day countrywide lockdown announced by the Narendra Modi government on March 24 has brought life to a standstill for many. However, like any unplanned government action, the worst affected are the poor. Among the poor, migrant labourers who have absolutely no social-security nets and, therefore, completely dependent on pro-active state interventions or charity of non-state actors, are the worst affected.
As social science scholars who are involved in a limited way to address some concerns of migrants due to lockdown, our queries when we meet them are not merely limited to their experiences during the crisis and contemplation of possible solutions. We also try, with our limited cognitive skills, to understand why migration happened in the first place. And in most cases, responses are rooted in economic distress or unemployment. But here, in this particular narrative, along with post lockdown difficulties faced by migrants, we also want to highlight the plight of those who migrate due to a factor unique to the state of West Bengal; political threats.
In the first week of April, the Centre of Indian Trade Unions (CITU), Delhi, got a distress call from some Muslim Bengali migrants living in a slum in South Delhi. One of us was part of the CITU team and arrived at the spot and provided them with relief, primarily in the form of foodgrains and other edibles.
Since the third week of March, these migrants have had no stable employment opportunities. The only avenue of income since then, albeit limited, has been the collection of waste from nearby residential complexes. However, since more than a week, due to the threat from COVID-19 thr residents of these apartment complexes have refused entry for outsiders, thereby closing even that avenue for income.
Since most of these slum dwellers are daily wage earners in the waste industry, and have no savings, one option left to explore was State benevolence. However, the State has been criminally absent. The only intervention on the part of the state was the distribution of cooked food packages on a particular day, which many of them said gave them diarrhoea. Government websites for distress calls are not working. The only other option left for them was to request help from a non-State actor. Here comes the role of CITU.
But we were intrigued. Why did they call CITU? After all, the CITU is one among the several non-State actors in Delhi. We realised that one of the migrants in the colony, Ali, had called a former Left Front MLA in Bengal for help. He connected him with CITU Delhi. Curious, we sat down with Ali (name changed), generally asking about his background.
Ali's family owns land in North Bengal. Although limited, it was sufficient to not warrant migration. Ali was a partisan of the Left in Bengal. His father was a member of the Communist Party of India (Marxist) or CPI(M). When the 2011 Assembly election results were declared, Ali was attacked by local Trinamool Congress (TMC) members. Many of them were opportunistic elements who had shifted to TMC, after the election result.
Ali was admitted in a hospital for 12 days. He complained to the police, only to have false complaints registered against him instead. Apart from these vicious actions, a portion of his land was taken away by local TMC leaders. The only option left for Ali then was total submission to the TMC in the region. While his brothers somehow grudgingly decided to go along with this, Ali could not. Even if such an action would have ensured physical safety for himself and his family, Ali just could not resign himself to do it, which in his eyes, was nothing short of backstabbing the organisation he cared for.
Ali had no choice but to leave his village and move to some other place. Since he had relatives in Delhi, he immediately shifted here. Since then, he has been working as a daily wage earner in the waste industry, with a maximum wage of Rs 320 a day, which is far below the minimum wages in Delhi.
Since then, Ali and his family have been living in the same place. His wife works as a maid, bringing in additional income, without which the family of five would find it exceedingly difficult to make ends meet. Like all other migrants in that camp, they live in a 10x8 shed, where norms of social distancing do not apply. However, when things got particularly difficult due to the lockdown, Ali had no option but to call his former comrades in Bengal. They gave him the number of CITU leaders in Delhi, and after nine years of his stay in Delhi, he got in touch with his comrades once again.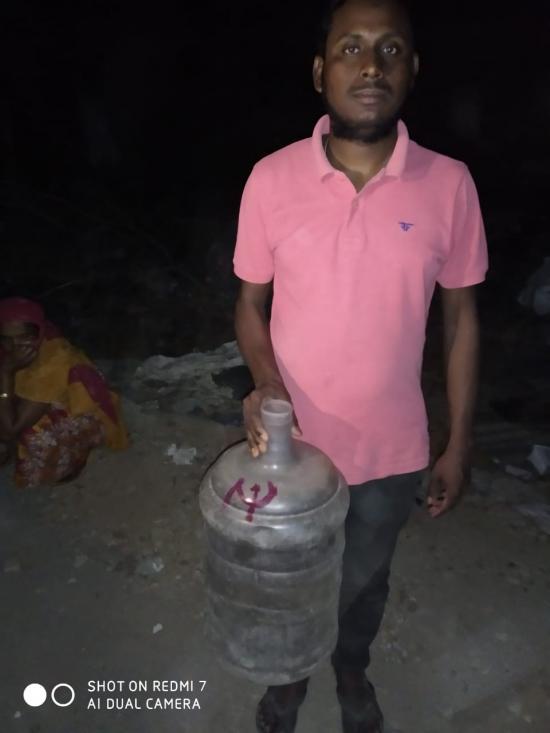 We also met Azeebar Ali, who hails from Cooch Behar district of West Bengal. Azeebar used to live in his own house in Tufan Ganj, Dev Sarai, where his father received 20 cents of land from the government because of the land reforms carried out by the first Left Front government. Like Ali, Azeebar also works as a ragpicker, collects waste from individual houses and local dustbins, segregates the waste, and sells it to a local contractor.
The similarities in the trajectories of Ali and Azeebar's lives are not limited to this. Azeebar also had to flee Bengal after the 2011 Assembly elections. He and his father were both members of the CPI(M), working at the booth level. Soon after the results were declared, in the early hours of a morning, he received information about an imminent attack on his house by a TMC mob. Without wasting any time, Azeebar and his family left all their belongings and fled from the village. The mob completely ransacked and destroyed his house, and stole valuables, including a pair of gold earrings, which belonged to his wife. Before this incident, his father was beaten up in the market. Azeebar did file cases with the local police on both counts. However, no action was initiated by the police. Later, they were forced to withdraw the cases.
Azeebar reached Delhi when he was just 24 years old. He had to wait for two years before visiting his village again, that too only after paying Rs 20,000 as 'zarimana' (a form of penalty or fine) to the local TMC committee.
However, Azeebar's mother could not cope with the Delhi cold and left for their village. This could happen only because they paid an additional zarimana to the local TMC leadership. But hopes of getting back to a normal life, even for his old mother, soon proved to be wrong. Despite being a member of All India Democratic Women's Association or AIDWA, she was humiliated in the local market, when she was forced to carry the TMC flag and join their Jatha. She passed away a few days later. Azeebar believes that this humiliation and the pressure-induced by it resulted in her death.
Till date, Azeebar visits his village every election, to campaign for the Left. Each visit costs him savings since 'zarimana' has to be paid for visiting the village during elections. But, even after payment, he and his family are not allowed to vote nor are they allowed to visit the local market. He sits in the party office, doing the required work and silently campaigns among his peers to vote for the Left. "Problem jo bhi ho, kaam toh karna hi hein, tabhi toh aage badenge, aur party badegi" (Irrespective of the problems, we have to go and work, then only we can develop, along with us the party).
When asked, if he is worried about repercussions during these visits, "Abhi hamara dar nahi hein, pura ghar tod diye, sab kuch le liya, abhi aur kya hi lenge"(We don't fear anymore, they have destroyed my whole house, took away everything, what else they can take.).
For both Ali and Azeebar, the future remains uncertain. Living on the margins of the informal economy, there is uncertainty regarding everything, including their current place of residence. With the complete absence of any support, apart from CITU, their future in Delhi is dependent on the hard-hitting power relations that exist between the slum and the outside world, the balance of which is not in their favour.
It is, therefore, extremely important to understand the catalyst, which spiralled their life into such uncontrollable uncertainty; their political partisanship. When the entire country is engulfed in fighting COVID-19, this is probably not the right time to write about Left partisans. However, when the prevailing common sense turns a blind eye to the immeasurable sufferings which Left Front supporters in Bengal have been facing since the past several years, it becomes the duty of any democratic-minded individual to expose it by giving a voice to the voiceless.
While about to leave, we could not help but ask them if they wished to go back and settle in their villages in Bengal. "Agar mein wahan jaaunga to unke sath jabardasti judna padega. Woh nahi kar paunga mein. Mohabbat hua na hamara party se" (If I go, I will be forced to join them. That I can't. I love our party), Ali said. Azeebar did not reply. Maybe there was a smile hinting at his helplessness. We do not know. But when we sat on the bike, he came near us. He showed us his water jar. On top of it, in red colour, was that sign; the hammer and sickle.
The writers are senior researchers in the Centre for Equity Studies. The views are personal.
Get the latest reports & analysis with people's perspective on Protests, movements & deep analytical videos, discussions of the current affairs in your Telegram app. Subscribe to NewsClick's Telegram channel & get Real-Time updates on stories, as they get published on our website.
Subscribe Newsclick On Telegram