How Trump Trumped Economists' Forecast on 'Record' Job Losses
The US, which added 2.5 million jobs last month, is spending about 10-11% of its GDP in direct cash transfers, financial aid and easy loans.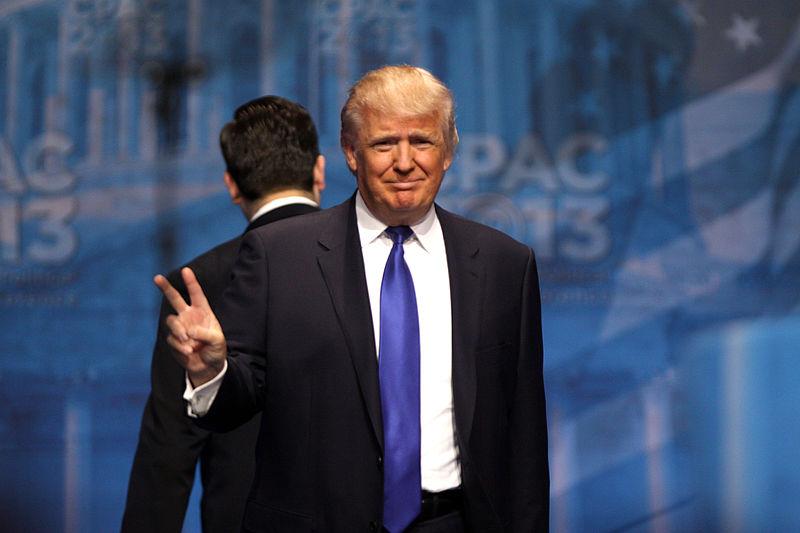 Image Courtesy: Wikimedia Commons
Donald Trump is mostly wrong. But he has one thing down pat – he never listens to experts. That is what has helped the US President trump the economists, who predicted record job losses in May. Instead, the United States added 2.5 million jobs last month. The pundits said unemployment will cross 20%. Instead, it has dropped to a shade over 13%. All right, there were some accounting errors. However, even with that, the unemployment rate was at least 5 percentage points below what economists had estimated.
Herein lies a lesson for Prime Minister Narendra Modi – a very crucial one -- as India ends its two-month-long lockdown. The biggest gains in employment, in the US, have come in the most vulnerable sectors – restaurants, hospitality and retail. Analysts thought that these will take the longest to recover because consumers will be scared to eat out, travel and shop, even after they are officially let out of their homes.
So, what caused this unexpected bounce?
There are three key reasons for it – government spending, government spending and government spending. The US is spending about 10-11% of its GDP in direct cash transfers, financial aid and easy loans.
One cleverly designed loan-scheme – the Paycheck Protection Program – virtually gives money for jam to businesses if they protect jobs. Companies are given loans to pay salaries and meet routine expenses. They have to follow three rules – rehire everyone by the end of June, spend 75% of the loan amount on paying wages and salaries, and the remaining amount on business expenses like rent and utility bills. If they do this, the entire loan amount will be forgiven.
As the New York Times reports, many businesses that have hired people in May said they could do it because of the Paycheck Protection Program. But that's one side of the story. Entrepreneurs will only keep their employees on board, if they expect their business to revive after the lockdown. That depends on consumers and how much they spend. Common sense tells us that if people lose jobs, they spend less. The only thing that could change this is if the government gives them money even if they don't work.
That is precisely what Trump has done. Millions of Americans have got extra cash during the lockdown. Unemployment pay has gone up by $600 (Rs.45,000) a week, and even those without jobs are going to shops, restaurants and fast-food chains. Money in the hands of consumers has boosted demand, giving a reason for entrepreneurs to stay invested. At the same time, payroll aid has helped them keep people employed even when they had no revenues.
This is exactly what India needs as well. More than half of the country's annual income comes from services. Much of this is lost forever. For instance, if people don't eat out for two months, they aren't going to make up for it in the remaining 10 months. Tourism gets a boost during summer vacation months, and that has to be written-off this year. Imagine what this means for a small business in the leisure and hospitality sector. Two months of business lost amounts to over 16% of the year's business. There is no way to make up for it in the rest of this fiscal.
Many of these small and medium entrepreneurs have held on to at least a part of their staff. That means, they have paid a proportion of salaries and wages, even without any earnings. Along with that are regular expenses, such as rent and telecom bills. The only way to ensure such businesses can stay afloat and continue to pay their employees is to give them something like America's Payment Protection Program. The Modi government's loan guarantee scheme for MSMEs simply doesn't cut it.
I have argued earlier as well, that the middle class needs income boosts for India's economy to survive. Much of our economy depends on what the top 20% of income earners buy. If they cut back on expenditure, the entire consumption cycle will collapse. We have already seen that happen in the past couple of years, as the Modi government has failed to sustain middle class consumption. Right now, the lower middle class has to be given income support, and those above this bracket, have to be given big tax breaks to sustain private consumption.
Mainstream economists will continue to talk about the dangers of increasing government spending and widening of fiscal deficit. Sadly, till now, Modi has stuck to the path of fiscal fundamentalism. His economic advisors have publicly spoken about austerity and sacrifice. This is a recipe for disaster and Modi either needs to replace them or ignore them entirely.
The US jobs data suggests that the global economy might recover faster than most economists expect. That is partly because three decades of rampant rule of neoclassical economics has made us forget how successful government spending can be in pulling economies out of recession. Most countries have opened their coffers to keep their economies above water. The impact of these stimulus packages might turn out to be much more positive than our economic models can calculate. 
Aunindyo Chakravarty was Senior Managing Editor of NDTV India & NDTV Profit. He runs the YouTube channel Desi Democracy and anchors a weekly show, 'Economy ka Hisab Kitab', on Newsclick. The views are personal.
Get the latest reports & analysis with people's perspective on Protests, movements & deep analytical videos, discussions of the current affairs in your Telegram app. Subscribe to NewsClick's Telegram channel & get Real-Time updates on stories, as they get published on our website.
Subscribe Newsclick On Telegram