ECOFarm: Where Pune's Kitchen Waste Turns into Organic Vegetables
The waste-to-farm integration process is run by an engineer couple in partnership with Abhijeet Wagh, also a mechanical engineer, who became interested in managing city waste some years ago.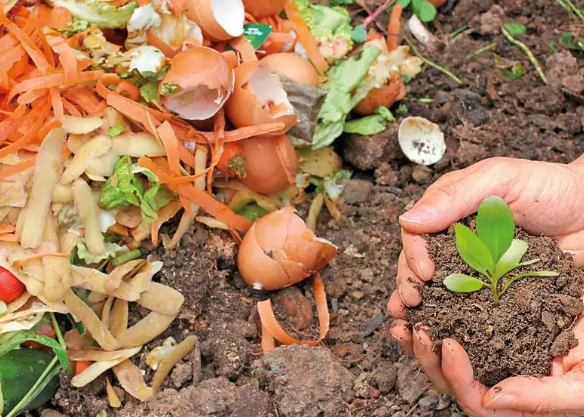 Image Courtesy: Times of India
Parikshit and Prachi Dhulugade run ECOFarm (Earthy Companions Organic Farm) on 30 guntas (one acre is 40 guntas) of land at Velhe Road in Nasrapur village of Maharashtra's Pune district, about 35 km from the city. Engineers Parikshit and Prachi quit their jobs to take to farming, and have been engaged at this farm for about four years now.
They are, however, more than farmers – their farm is also a recycling unit for domestic organic waste from three different housing societies in Kothrud, Karve Nagar and Warje, in the city. The kitchen waste of 800 households currently finds its way to the farm each day, which is equipped to handle waste from 1,500 households.
The waste-to-farm integration process is run in partnership with Abhijeet Wagh, also a mechanical engineer, who became interested in managing city waste some years ago. He monitors the collection and transport of the waste to the farm. At the farm, three large barrels on a stand controlled by electricity churn the waste at regular intervals so it is properly aerated. This device, a Wagh invention, was created some years ago.
"Initially, when I first began work in waste recycling, I made these machines and sold them to people in independent houses to encourage them to manage their domestic waste on site. I would sell a device and then wait for feedback, and go check to see how they were working. That was when I discovered that one big reason people bought my device was to show the city corporation that they were managing their waste on their own, to avail the 5% rebate on property tax," he told NewsClick.
In 2008, the Pune Municipal Corporation introduced the property tax concession as an incentive for people who processed their wet waste within their own premises.
"The actual task of working the machine was being handed over to either the security personnel or the domestic help, and they did it as just another chore, without a feeling of connection with the whole process of recycling waste," Wagh said. 
However, he was discouraged to see his machines lie idle. "It made me wonder what I was doing with my life. So I thought I would just start working on the composting process myself. I worked with an NGO to set up a composting plant in a city slum, as a pilot project. That work showed me that installing the machine alone would not do – I would need to provide maintenance and help with operating it too. When this opportunity to partner with Parikshit arose, I took it up and started collecting waste from the housing societies," he added.
Also read: New Report Reveals a Planet Overwhelmed by Tidal Wave of Plastic
Parikshit and Prachi tend to the vegetables and also take care of the selling process. When this correspondent visited the farm on January 29, a fresh crop of tomatoes had only just been harvested. There were also beans, parsley and the herb called rocket. Other vegetables – beetroot, cabbage and green leafy vegetables were also getting ready for harvest.
The Dhulugades live in Pune city, and their son Shaurya, about eight years old, also accompanies them to the farm. A local couple, Biradar and his wife, live on the farm and work full-time, receiving a monthly salary. 
Parikshit said he had attempted first to grow crops the regular way, using chemical fertilisers and pesticides. "I began as a chemical-using farmer, but grew to see the problems with that. As I read deeper, I realised that the soil needed to be treated to achieve better health. Organic carbon in the soil was very low, and adding this compost improved the soil health," he said, adding that he still uses some other inputs, like lime for calcium.
The initial round of attempting to be a farmer was on land that he had rented. At Velhe Road, a friend who owned the land allowed him to farm, so that the land was secure and free of people parking themselves to enjoy a drink, leaving behind empty bottles.
According to the Dhulugades, the household kitchen waste that arrives at the farm, while still fresh, is shredded if necessary and then fed into the different compartments in the barrels. Once the waste in the barrels is about two weeks old and after some regular churning for aeration, it is removed and laid out in rows under a shed, protected from direct sunlight, but given enough space, air and moisture. There is a mild smell at the site, but that would have been much stronger in a closed space, as a city-based unit might be.
The compost is allowed to "cook" for about two months. The microorganisms get to work, and the temperature under the mound of compost can go from 52 to 65 degrees Celsius, Parikshit said, using a spade to make a crevice in one of the mounds – one could see steam rising, and it was indeed quite hot. Wagh has a thermometer too, and he measured the temperature in the mound – it was 54 degrees Celsius.
"The heat is an indicator that the process is going well. The whole thing gets cooked, and it needs just the right quantity of air and moisture. This requires space and proper aeration, which is hard to find within city limits. Also, many housing societies do not feel enthusiastic about trying this because of the smell involved, but any cooking process emits smells," he explained.
The cooking process is completed in about 60 days, after which the compost can be laid in beds prepared for vegetables.
Also read: Bandhwari Waste-to Energy Plant Triggers Protests in Gurugram
This partnership rests on quid pro quo – while the farm is free to use the compost generated, Wagh gets free use of the space, and access to electricity and water at no monetary cost. To collect and transport the waste from the city, Wagh has a vehicle and has engaged some staff – this expense is taken care of by charging the housing societies a small user fee.
"But getting the housing societies to pay is hard – they each have resident welfare committees long used to seeing the cheapest option as the most suitable; it is hard to convince them that this is a solution that takes care of the waste responsibly," Wagh added.
"While the NGO that works in partnership with the municipal corporation charges Rs 60 per household per month for waste collection, we cannot run our operations without charging our people at least Rs 80 per household per month. Even so, since we offer presentations and also allow some of them to buy these vegetables from the farm, the interest in this project is now somewhat steady. I have also started issuing what we call "gratitude cards" to some of our patrons. I have arrangements with local shopkeepers and even one homeopathic doctor, who have agreed to offer clients a small discount on producing these cards, as a mark of their support to the work we do," he further said.
At the farm, there is one plot where dry leaves are laid on the ground, in preparation for planting. The process here is very different from the kitchen waste – under the top layer of leaves, there is moisture and it feels cool to touch. The dry leaves are brought once a week from Pune households where garden waste is gathered.
Wagh said that in his early days, when he was still negotiating with one housing society, he was asked, "Ok, since this household kitchen waste actually is an input into your business model, would you, instead of charging us a fee, not like to pay us for having it?!"
There are also other challenges to this work – the maximum capacity of waste that this farm can handle per day is one tonne (1,000 kg). It currently handles about 600 kg per day. There is a limit to how much these operations can be scaled up – Wagh is not keen on bringing more than that can be handled by the farm.
He said that even though all city waste cannot possibly be handled here, this is a model the Pune Municipal Corporation could consider to shed some of the load of garbage that needs recycling on a daily basis. 
Since this farm deals with only a small part of the nearly 1,600 tonnes of waste generated in the city each day (as per the Pune Municipal Corporation website for 2016), the local city government has not yet engaged with this model.
"We still have to find a viable way to manage operational expenses. We have well-wishers and contributors who make financial investments because they appreciate what we do. We are a small community, and we share regular updates about our project. I believe that selling compost is not a good option – it has greater value in the soil that in the market," said Wagh. 
(The writer is a freelance journalist based in Pune. She is currently working on a report on urban farming, under a fellowship programme with the People's Resource Centre, New Delhi)
Get the latest reports & analysis with people's perspective on Protests, movements & deep analytical videos, discussions of the current affairs in your Telegram app. Subscribe to NewsClick's Telegram channel & get Real-Time updates on stories, as they get published on our website.
Subscribe Newsclick On Telegram