Dumb and Dumber: Facing Slowdown, Govt Squeezes Expenditure
Rather than spending more, government expenditure by July 2019 is less than what it was last year as share of annual budget, with key public welfare related ministries cutting most.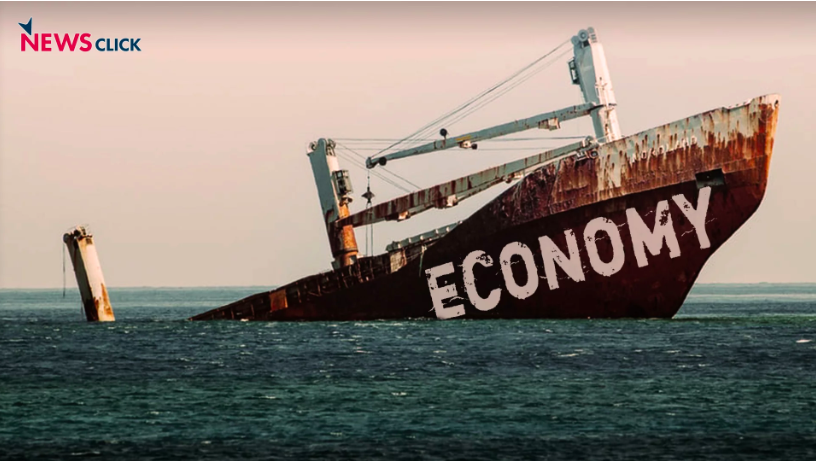 India is facing an unprecedented slowdown of the economy with GDP growth slumping to 5% in the June quarter, agriculture growing by only 2% and manufacturing by a mere 0.6%. Private consumption expenditure – spending by families on consumption – has slipped downwards, bank credit has decelerated, and there are reports of widespread job losses from across the board while monthly unemployment has climbed to a record 8.3% in August as per CMIE estimates. 
This is a situation that is crying for more public spending which would kickstart the economic cycle, put more money in the hands of people to spur demand and pave the way, hopefully, for more private investment. Yet the Modi government, a prisoner of the discredited neo-liberal dogma, is sticking to squeezing public spending. Latest details of government revenues and expenditure as released by the Controller General of Accounts (CGA) for July 2019 show this in indisputable terms.
Here's the big picture: total government expenditure (as share of annual budgeted expenditure) is down to 34% by July this year compared to 36% up to July 2018. [See chart below] This is made up of two components, revenue and capital expenditures. Of these, the latter is drastically down from 37% last year to 32% this year. Capital expenditure is investment in plant and machinery, buildings, roads and other infrastructure.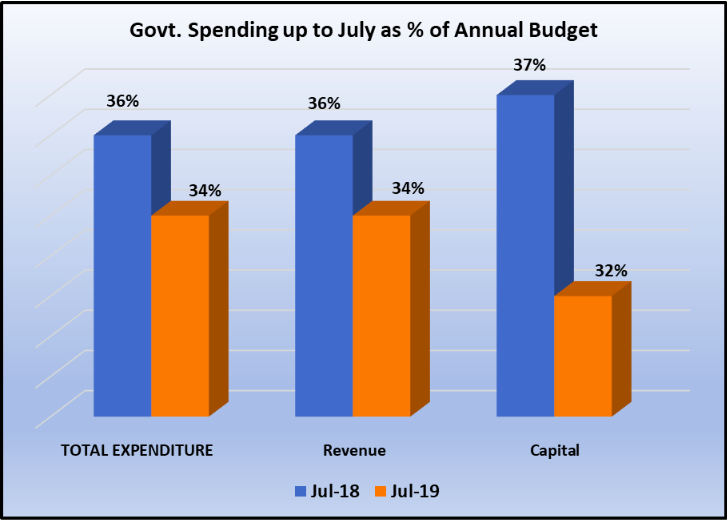 Clearly, the Modi government thinks that saving government funds will help the economy better than spending them. Perhaps, the hope is that this will encourage private sector investors to spend more – something that has never happened, and is unlikely to happen now. 
What is even more intriguing is the details of where exactly the spending cuts are being implemented. The table below summarises spending data from some of the key ministries and departments.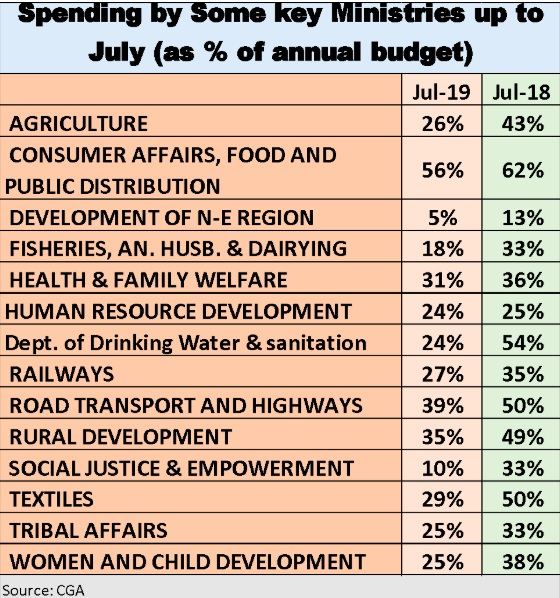 With all the talk of helping farmers through PM-KISAN dole of Rs 6,000 per year and several other announcements, the spending of this important ministry is down to just 26% in the first four months of this fiscal year compared to 43% last year. Similar is the fate of the related animal husbandry and dairying ministry. The food and public distribution ministry looks after the crucial PDS scheme for distribution of subsidised food grain to needy people. Its spending is down from 62% last year to 56%.
The ministry of rural development runs a slew of welfare schemes, including the rural job guarantee scheme (MGNREGS), the rural housing scheme (PMAY) and the rural roads scheme (PMGSY). Its spending has come down from 49% last year to 35% this year. This would have a direct impact on rural jobs created through the job guarantee scheme. The textile ministry handles not only the mill sector but also lakhs of handloom weavers. But, by July, it had reduced its spend from 50% of the annual budget last year to just 29% this year, putting lakhs of weavers in jeopardy.
Although the prime minister is promising drinking water to every household by 2024, the department of drinking water and sanitation has cut its spending to nearly half compared to last year. 
Both health and education ministries have squeezed funds with the health ministry down to 31% from 36% and the education (human resource development) ministry down to 24% from 25% last year.
Both social justice and tribal affairs ministries, dealing respectively with Dalits and Adivasis have seen huge spending squeeze with the social justice ministry reducing its expenditure from 33% last year to a mere 10% this year and tribal affairs from 33% to 25%. These cuts would be reflected in spending for such key schemes like pre- and post-matric scholarships for Dalit and Adivasi children, and income augmentation programs. Even the ministry tasked with development of the North East region has curtailed its spending.
The women and child development ministry which runs such key schemes as the ICDS (for nutritional support to infants and pregnant/lactating mothers) has reduced its spending from 38% last year to 25% this year.
This summary of the government's approach towards the slowdown reveals a macabre thinking that people's welfare and, indeed, life giving policies (like mid day meals, infant nutrition, primary health services, scholarships, jobs) can be sacrificed in the pursuit of some hazy notions of controlling the fiscal deficit. 
In view of all the concessions that the government has been handing out to corporates – and promising more – in recent weeks in order to mollify them, this other side of government policy is worrying and raises questions about its capacity to deal with the ongoing all round crisis.
Get the latest reports & analysis with people's perspective on Protests, movements & deep analytical videos, discussions of the current affairs in your Telegram app. Subscribe to NewsClick's Telegram channel & get Real-Time updates on stories, as they get published on our website.
Subscribe Newsclick On Telegram